This peach and pineapple salsa is my family's all-time favorite fruit salsa recipe. Make this as an easy way to add some flair to your weeknight meals. It works with a variety of chicken, fish, and pork dishes, or use it as a taco topping. You'll love this tomato-free salsa alternative that offers tropical flavor and just a hint of heat.
I had planned to enter my sweet and spicy cherry peach salsa in a local salsa contest at the end of September. Unfortunately, I was no longer able to find fresh cherries, so I needed to come up with something else. My husband suggested a peach and pineapple combo, and this delicious peach and pineapple salsa is the result.
I was lucky that our local farms were still selling fresh peaches that I could put to use in this recipe. Using the best quality ingredients that you can afford matters greatly in simple recipes such as this one. The flavors of the fruits you use will shine through.
As much as I like the convenience of canned pineapples and peaches, this recipe is best with fresh fruits. I can't get local pineapples here in Connecticut, but I was able to find some ripe fresh pineapple to use.
Of all of my homemade fruit salsa combinations, this one is currently my family's favorite. (I still favor the cherry peach salsa, but I'll have to go without it until it is cherry season again.)
I have one more salsa recipe coming this Friday, so stay tuned. The next salsa coming up incorporates delicious autumn fruits. I guess you could say I've been on a bit of a salsa kick lately!
Update - This salsa placed first at the fair!
My family members are not the only ones who love this salsa. A fair judge agreed that this was a great recipe and awarded me a blue ribbon! My chocolate hazelnut granola with raspberries earned an honorable mention (and I love the autumn display they created to showcase it).
I appreciated that the judge noticed that I took the time to cut the fruit into uniform cubes. The chef in the dining hall kitchen I worked at in college (in the late 90s) would notice details like that. Honestly, it's not something that I bother with in my home cooking, but I went the extra mile here.
Since the salsa took first, it was displayed (unrefrigerated) at the fair for the rest of the week. I learned that they spray it with hairspray and insect spray to keep it looking fresh. Keep that in mind the next time you see the showcase of award-winning fresh foods at your local fair. Haha
A few other food-related fun things...
I tend to be drawn towards the creative arts exhibits at fairs. In keeping with the food theme of this site, here is some amazing giant pumpkin art that was on display.
I found this display on the different cuts of beef to be really informative. I tend to stick to a few favorite cuts but I may be missing out! You will probably have to zoom in to read this one.
One more photo before I get to the peach and pineapple salsa recipe. This one comes with a PSA. It's not a good idea to use quotes to indicate emphasis. It can be misconstrued as sarcasm.
I know someone that used to do this regularly and it resulted in some rather funny communications. Say no to "real" food. Haha
And now for the disclaimer…
All recipes on this website may or may not be appropriate for you, depending on your medical needs and personal preferences. Consult with a registered dietitian or your physician if you need help determining the dietary pattern that may be best for you.
The calorie information is an estimate provided as a courtesy. It will differ depending on the specific brands and ingredients that you use. Calorie information on food labels may be wildly inaccurate, so please don't sweat the numbers too much.
For more information on how the three recipe levels may help with a weight management goal, refer to this post. Let's get cooking!
Like this recipe?
Leave a rating by clicking the ⭐ below!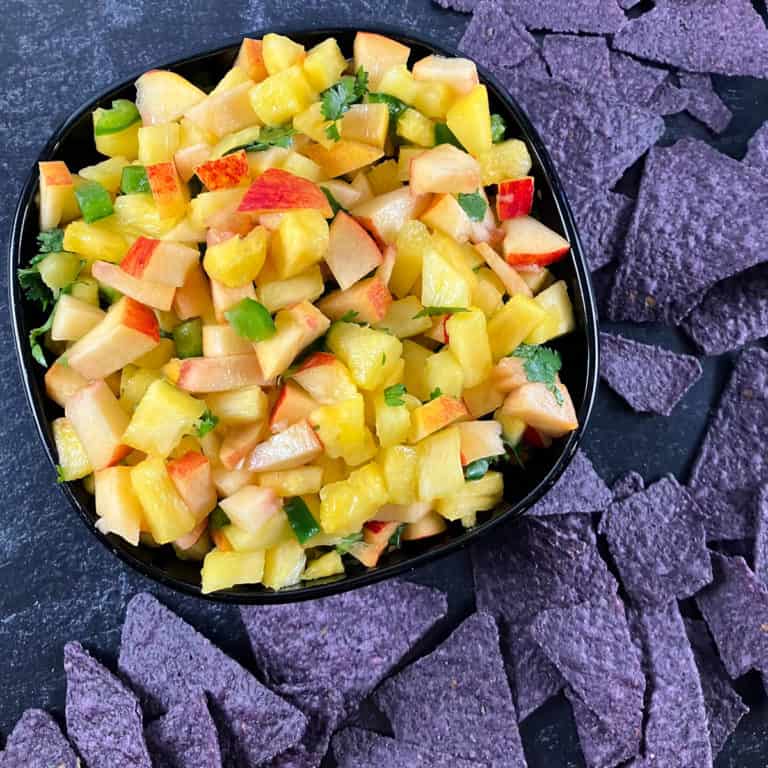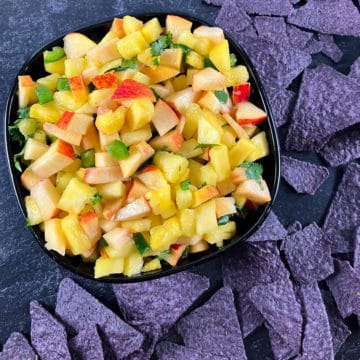 Peach and Pineapple Salsa Recipe
This peach and pineapple salsa is my family's all-time favorite fruit salsa recipe. It's a tomato-free salsa alternative with a hint of heat.
Equipment
Ingredients
1½

cups

fresh pineapple

1½

cups

fresh peaches

1

medium

jalapeno pepper

2

tablespoons

cilantro

1

lime
Instructions
Peel and core the pineapple, and chop it into ¼-inch dice (0.6 cm). Chop the peaches into ¼-inch dice (0.6 cm) as well. (You do not have to peel the peaches.) Cutting the fruit into small, uniform cubes will make the dish look nicer.

Finely chop the jalapeno and cilantro. Remove the seeds from the jalapeno if you dislike spicy heat. Juice the lime. You should get about 1 tablespoon of lime juice.

Combine the pineapple, peaches, jalapeno, and cilantro in a medium-sized bowl.

Sprinkle with the lime juice. Chill until ready to serve.
Notes
This is a level 1 recipe (may help support fat loss).
I'm categorizing this salsa as a snack, but incorporating it into a meal is more likely to be supportive of a weight loss goal.
I photographed the salsa with tortilla chips because that's what people typically pair with salsa. However, I'm hoping to convince you to add it to meals instead.
😊
The first time I made this, I served it over chicken with a side salad and sorghum (a type of grain). This time, I added wild rice and steamed broccoli. If you don't like chicken, try serving this salsa over fish, pork, or even marinated tofu.
I don't find corn chips and salsa to be very satisfying, so that is not a snack I choose often. Putting this salsa over a source of protein in my meal is a far more satiating way to enjoy similar flavors. If I added a glass of milk to the meal shown, I'd have all of the food groups covered.
Don't forget that you can turn up the heat by leaving the seeds in the jalapeno or adding another jalapeno to the recipe. Spicy!
Nutrition information is for one serving of the recipe.
Nutrition
Calories:
57
kcal
Carbohydrates:
14.7
g
Protein:
0.9
g
Fat:
0.2
g
Fiber:
1.9
g
Vitamin A:
8.2
% DV
Vitamin C:
47.7
% DV
Calcium:
8.9
% DV
Iron:
1.1
% DV
If you have a favorite way to incorporate fruit salsas into your meals, let me know in the comments below! Feel free to link a recipe from your site. I would love to check it out.