Hardees fish sandwich features breaded pollock fillet, creamy tartar sauce, and lettuce, all on a sesame seed bun. While I wouldn't say Hardee's fish sandwich is the very best fast food fish sandwich, the price is pretty reasonable at $3.59. Additionally, you can often find Hardee's fish sandwich 2 for $5 offers to sweeten the deal. Get the scoop on this popular Hardee's menu item in this Hardee's fish sandwich review and copycat recipe.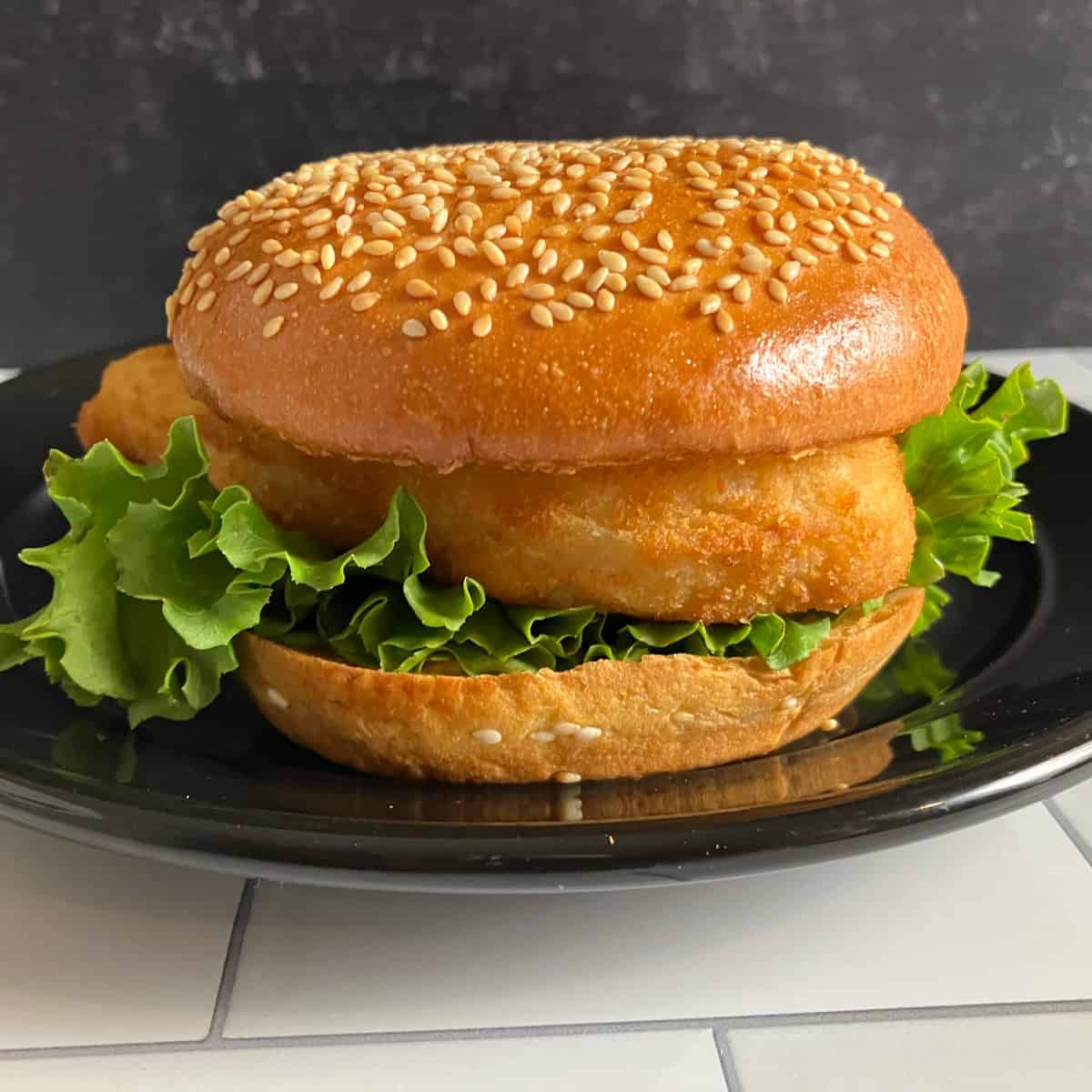 Jump to:
🐟 Hardees Fish Sandwich
Does Hardee's have fish sandwiches? Yes! You can find the Hardees fish sandwich (AKA the Carl's Jr fish sandwich out west) for a limited time. These sandwiches are offered yearly over the Lenten season, and only at certain Hardee's locations.
The Hardee's near me when I was in Florida didn't have the breaded fish sandwich. Luckily, we eventually found the Hardee's panko fish sandwich at another Hardee's restaurant connected to a gas station.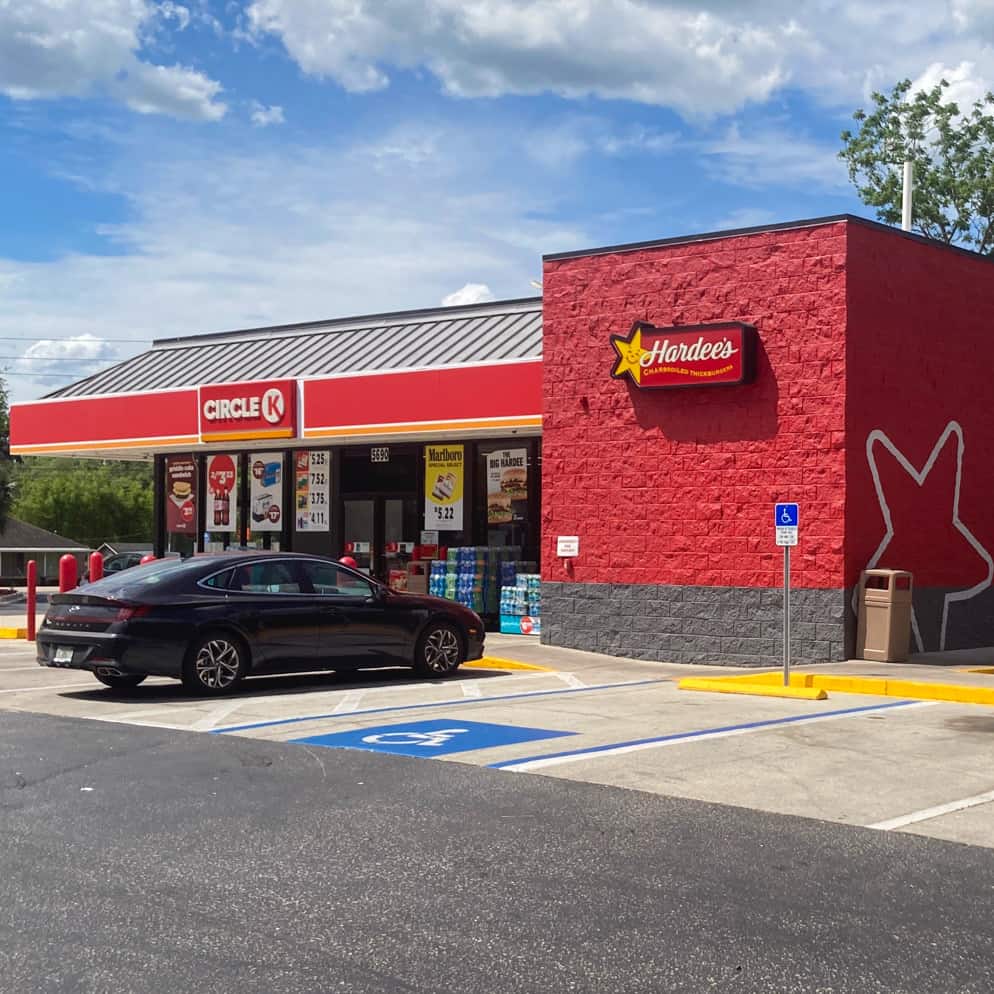 Here are the ingredients you need to make these Hardees sandwiches:
Panko breaded pollock fillet
Tartar sauce
Hamburger buns
Lettuce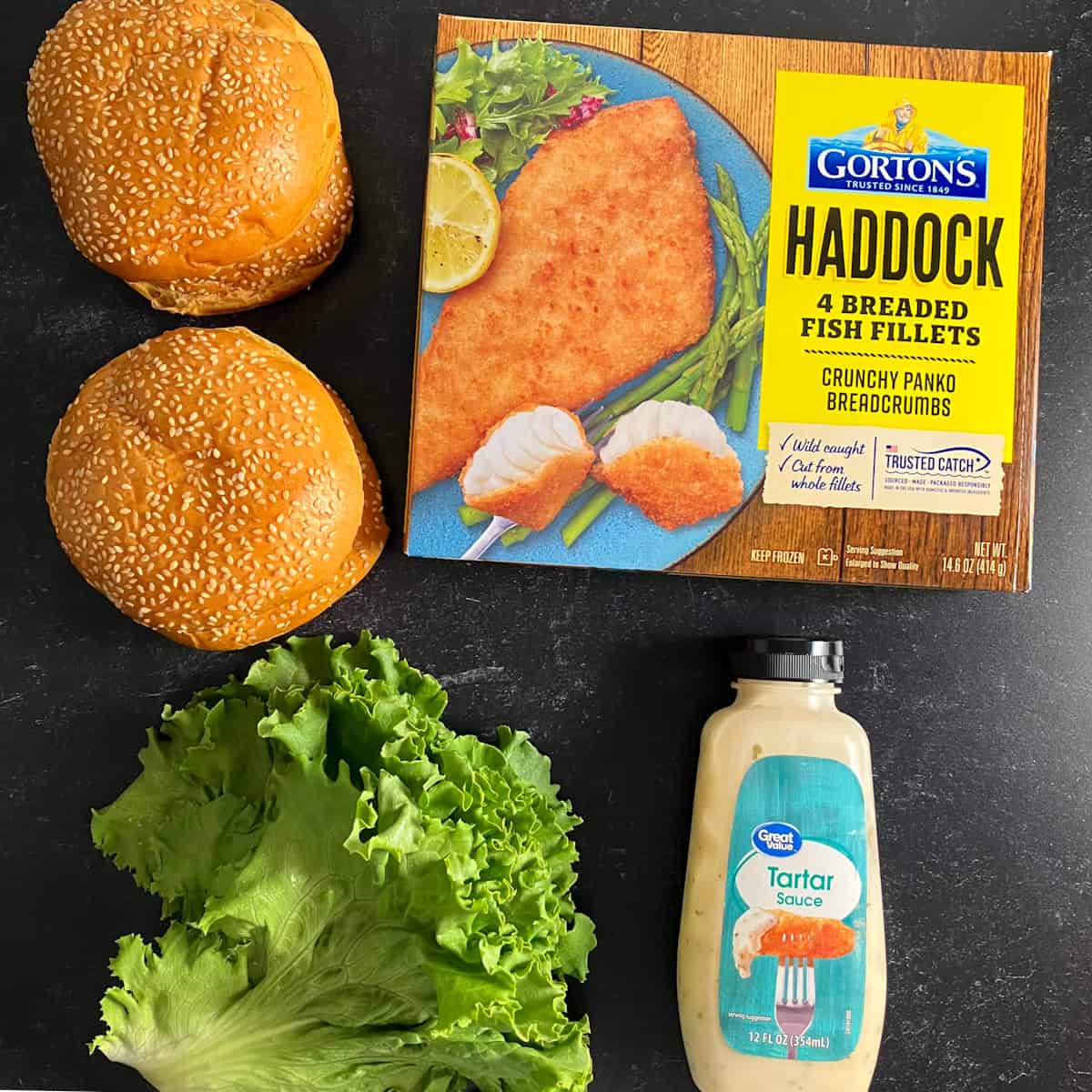 You can use pollack like Hardee's did, or use panko breaded cod instead for a Hardee's cod fish sandwich. Panko breaded haddock or your favorite beer battered fish works well too.
The Hardee's website says they use shredded lettuce, but our sandwich appeared to have a single piece of green leaf lettuce on it. Make it a combo with fries for a Hardee's fish and chips meal.
To make a copycat Hardees fish sandwich, cook the fish according to package directions. Toast the buns (cut side up) in an air fryer or oven, then assemble the sandwich. Hardees puts a light to moderate amount of tartar sauce on both sides of the toasted bun.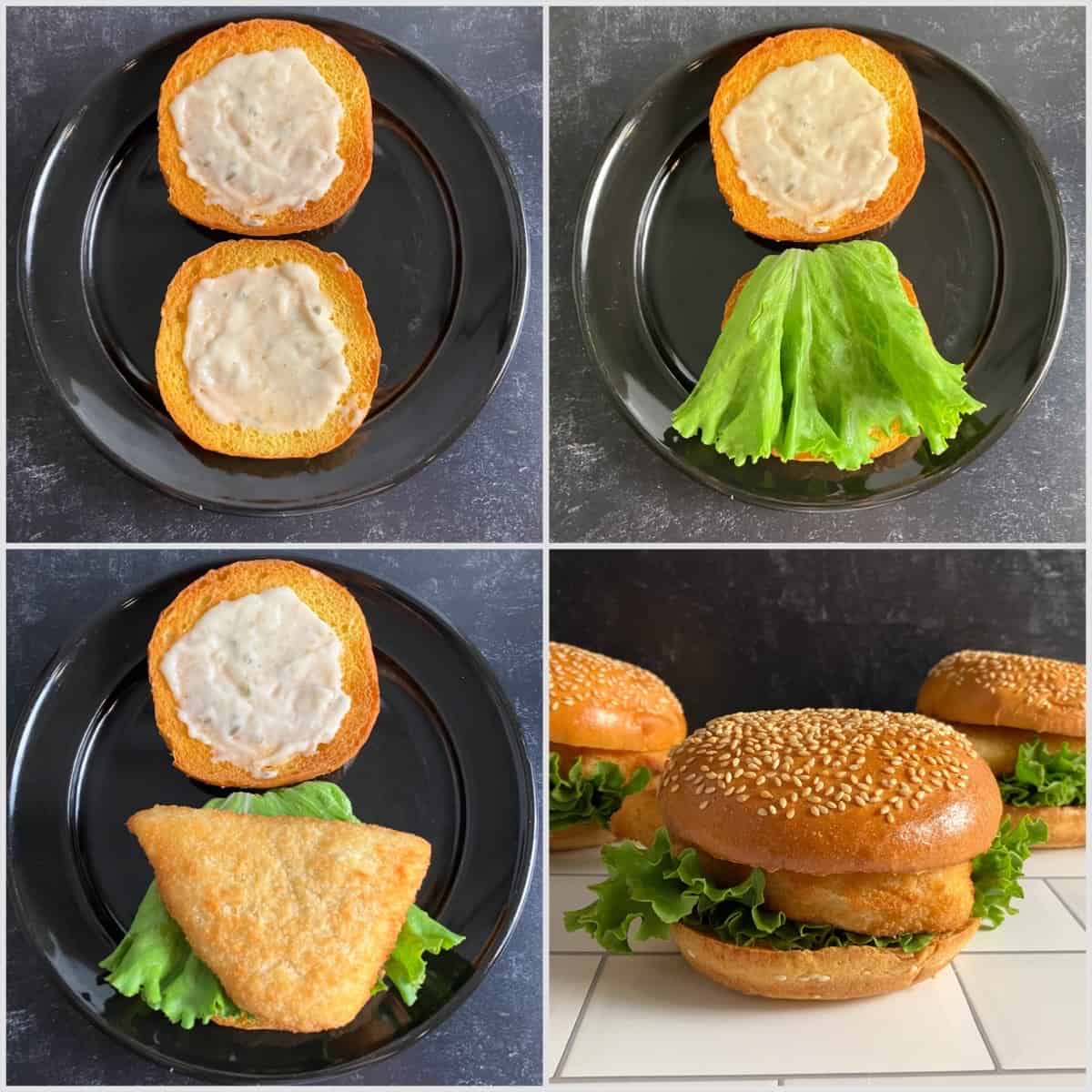 You can customize your order by skipping the lettuce and/or tartar sauce, if you wish. (Both at Hardee's and at home.) You can add tomato, American cheese, and/or bacon for an added fee at Hardee's.
Is Hardee's fish sandwich good?
We thought this fish sandwich offering was ok, but maybe not our #1 favorite fish sandwich. Hardee's fish sandwich seemed smaller than the Burger King Fish Sandwich in size, but more crispy. We liked the tartar sauce and seasoning level, but some may prefer their fish more heavily seasoned.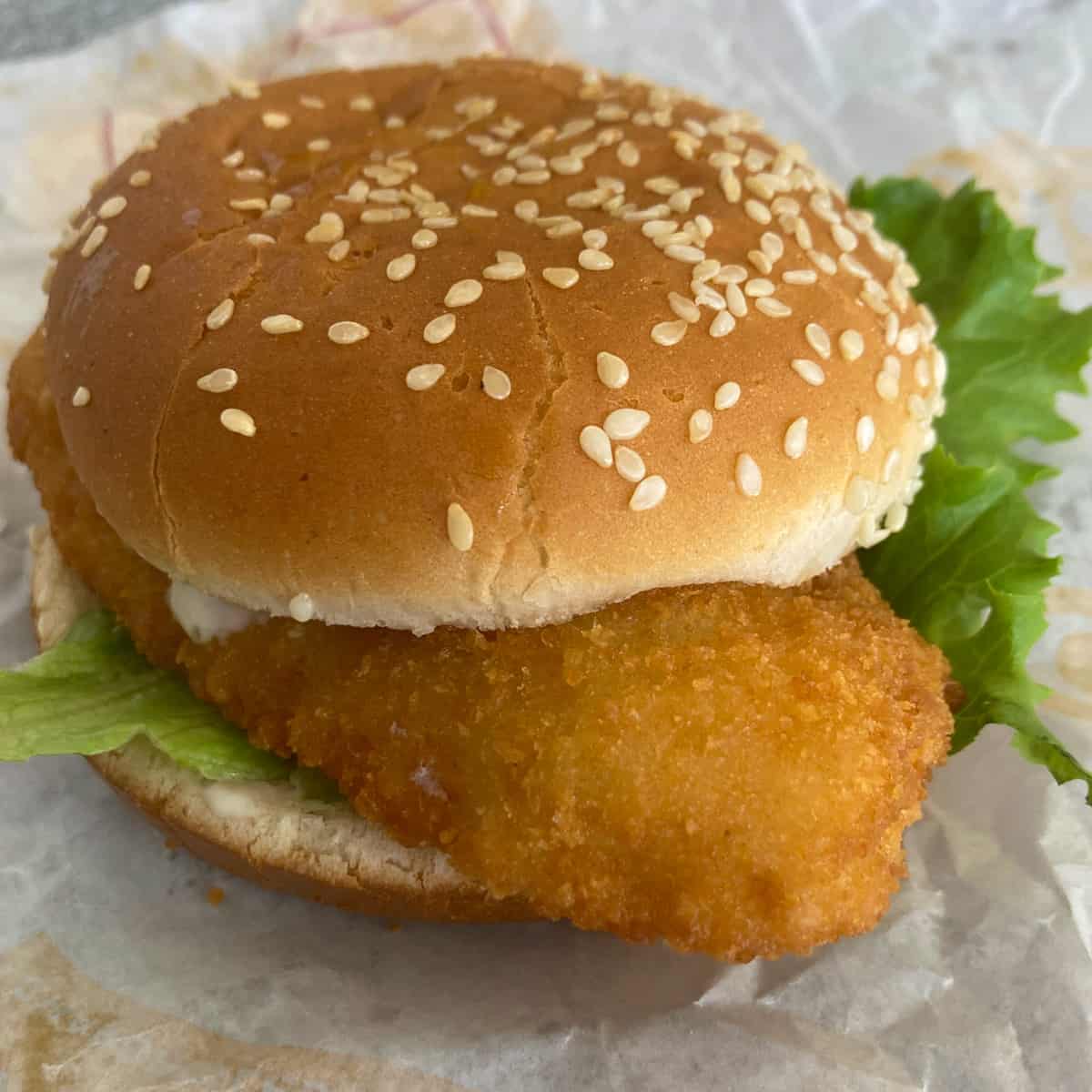 Taste is subjective, so I recommend trying this one out for yourself to form your own opinion. You don't have much to lose for the price, which is about $2 less than a BK fish sandwich up north. It's nice that they offer this one as an option during Lent.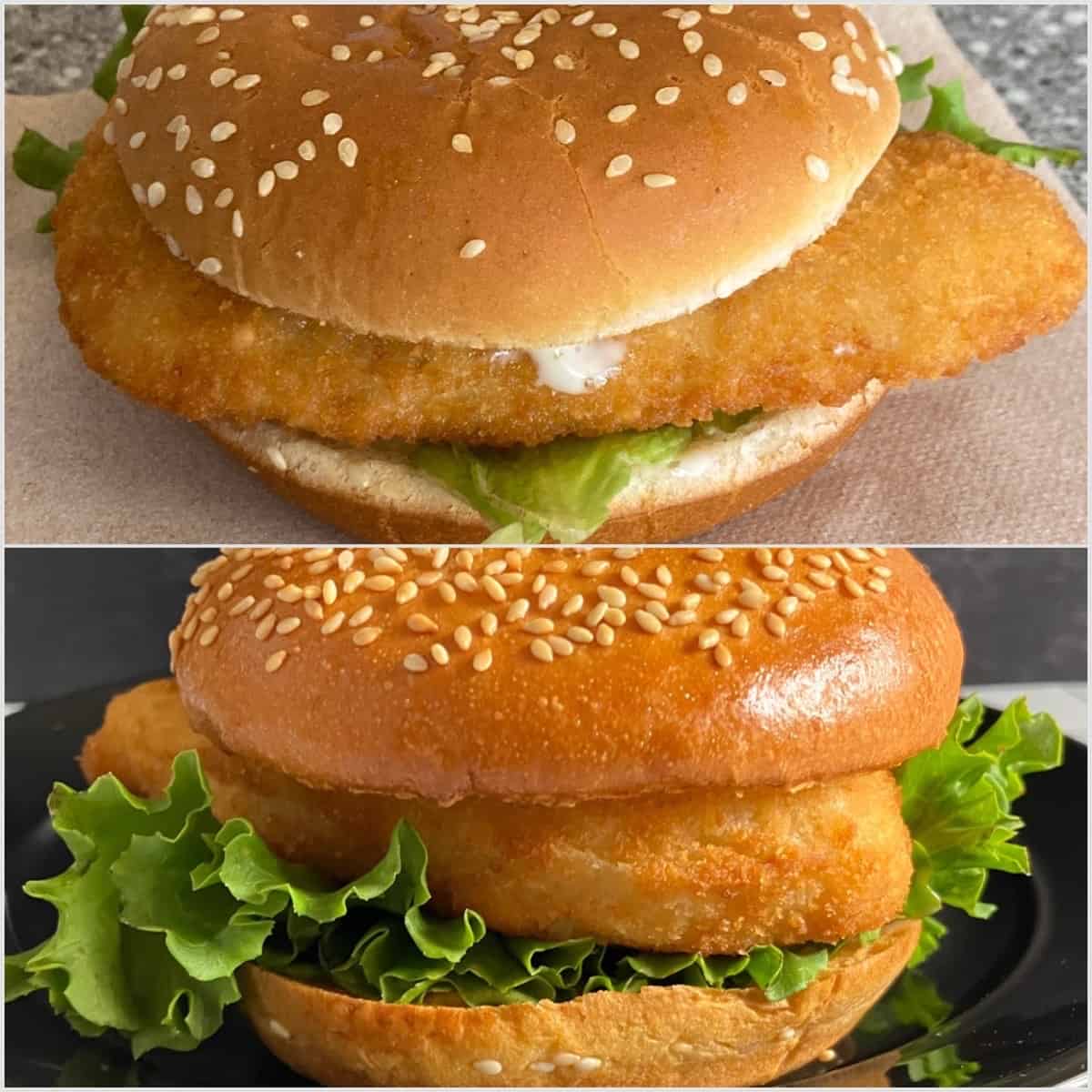 Top photo: Hardee's panko-breaded fish sandwich
Bottom photo: copycat Hardee's fish sandwich
FAQ
How much is Hardee's fish sandwich?
Hardee's fish sandwich price in 2023 is $3.59, and may vary by location. Carl's Jr fish sandwich price in 2023 is $5.49, and again may vary by location.
How many calories in a Hardee's fish sandwich?
Hardee's fish sandwich has 540 calories, according to a cached version of the Hardee's website. The nutrition information for Hardee's fish sandwich isn't currently available on their site.
What kind of fish is in Hardee's fish sandwich?
The Hardee's fish sandwich we tried contained panko-crusted pollock in a triangle shape. They've also offered a beer battered cod sandwich in the paste.
Who has a filet of fish sandwich?
McDonald's has the Filet-O-Fish, but Burger King, Wendy's, Arby's, Popeyes, Chick-Fil-A, and Whataburger offer a classic fish sandwich too. Like at Hardee's, some of these fish sandwiches are seasonal items.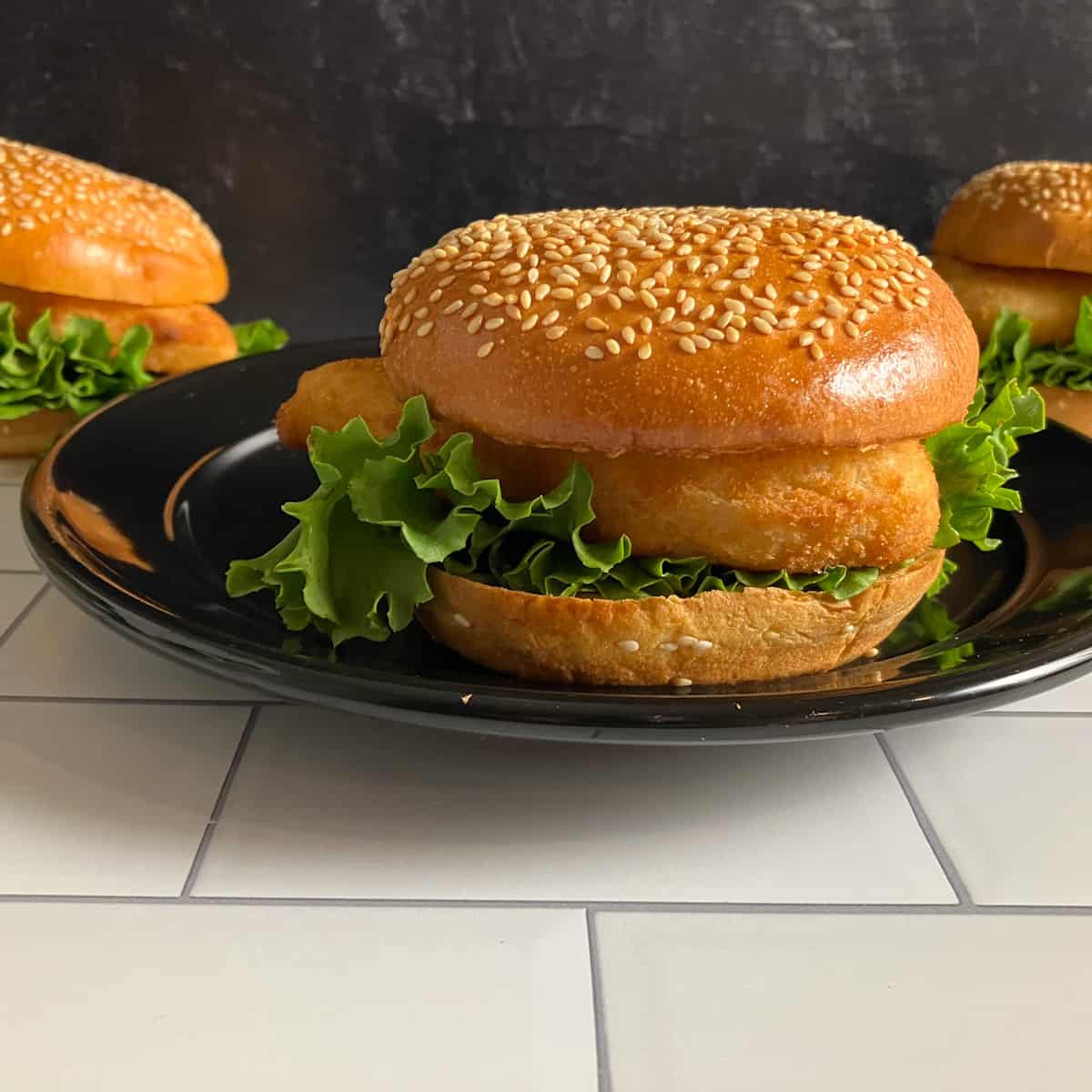 👩🏻‍🍳 More Fast Food Reviews
Here are some other copycat recipes and reviews for foods at fast food chains you may like:
Join our community! Subscribe and be kept up-to-date on all of the latest and greatest recipes! You can also follow me on Pinterest, Twitter, Instagram, and YouTube!
📖 Recipe
Like this recipe?
Leave a rating by clicking the ⭐ below!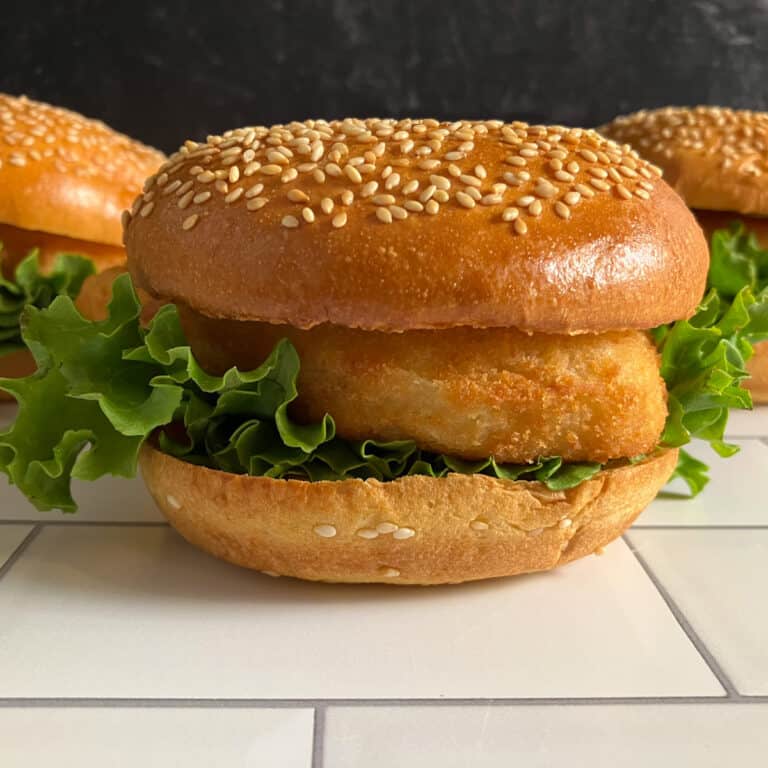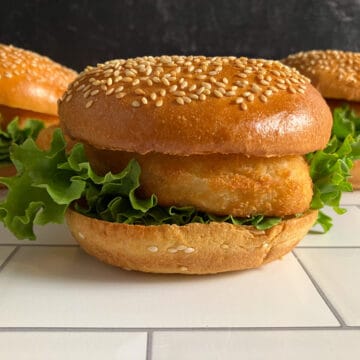 Hardees Fish Sandwich (Hardee's Cod Fish Sandwiches)
Hardees fish sandwich features breaded pollock fillet, creamy tartar sauce, and lettuce, all on a sesame seed bun.
Equipment
Ingredients
4

panko breaded fish fillets

4

toasted burger buns

6

tablespoons

tartar sauce
green leaf lettuce
Want to Help?
If you love this recipe, please come back and leave a rating. This helps readers and I'd love to hear from you. Thank you ❤️
Instructions
Cook the fish according to the package directions. My fish needed to be cooked in the oven for 22-24 minutes at 425℉ (218℃), flipping halfway through cooking time.

Toast buns using your favorite method. I like toasting buns cut side up in the air fryer at 400℉ (200℃) for 2-4 minutes.

Assemble the sandwiches by spreading about 1½ tablespoons of tartar sauce on each sandwich. Add a lettuce leaf and a piece of fish, and close the sandwich. Serve immediately, and enjoy.

To reheat: You can reheat the leftover cooked fish (without the bun or tartar sauce) in an air fryer at 400℉ (200℃) for 4 minutes.
Notes
Notes: Gorton's haddock breaded fish fillets (with panko breadcrumbs) were very good here. Use a sesame seed bun to make it more like Hardee's version.
The Disclaimer…
All recipes on this website may or may not be appropriate for you, depending on your medical needs and personal preferences. Consult with a registered dietitian or your physician if you need help determining the dietary pattern that may be best for you.
The nutrition information is an estimate provided as a courtesy. It will differ depending on the specific brands and ingredients that you use. Calorie information on food labels may be wildly inaccurate, so please don't sweat the numbers too much.
For more information on how the three recipe levels may help with a weight management goal, refer to my
overnight oats no sugar
post. Let's get cooking!
Nutrition information is for one serving, and depends on the specific ingredients you use.
Nutrition
Calories:
415
kcal
Carbohydrates:
50.4
g
Protein:
16.3
g
Fat:
16.4
g
Saturated Fat:
2.1
g
Sodium:
720.5
mg
Potassium:
237.3
mg
Fiber:
2.3
g
Vitamin A:
35.5
% DV
Vitamin C:
3.7
% DV
Calcium:
2.9
% DV
Iron:
7.1
% DV