Learn how to start a blog on Bluehost! Bluehost is great for beginners, since no web design or web development experience is needed. Whether you're interested in starting a blog professionally, or as a hobby, I'll teach you why you need a Bluehost blog. Learn how to start a WordPress blog on Bluehost in 2023, including step-by-step directions, pricing, and more!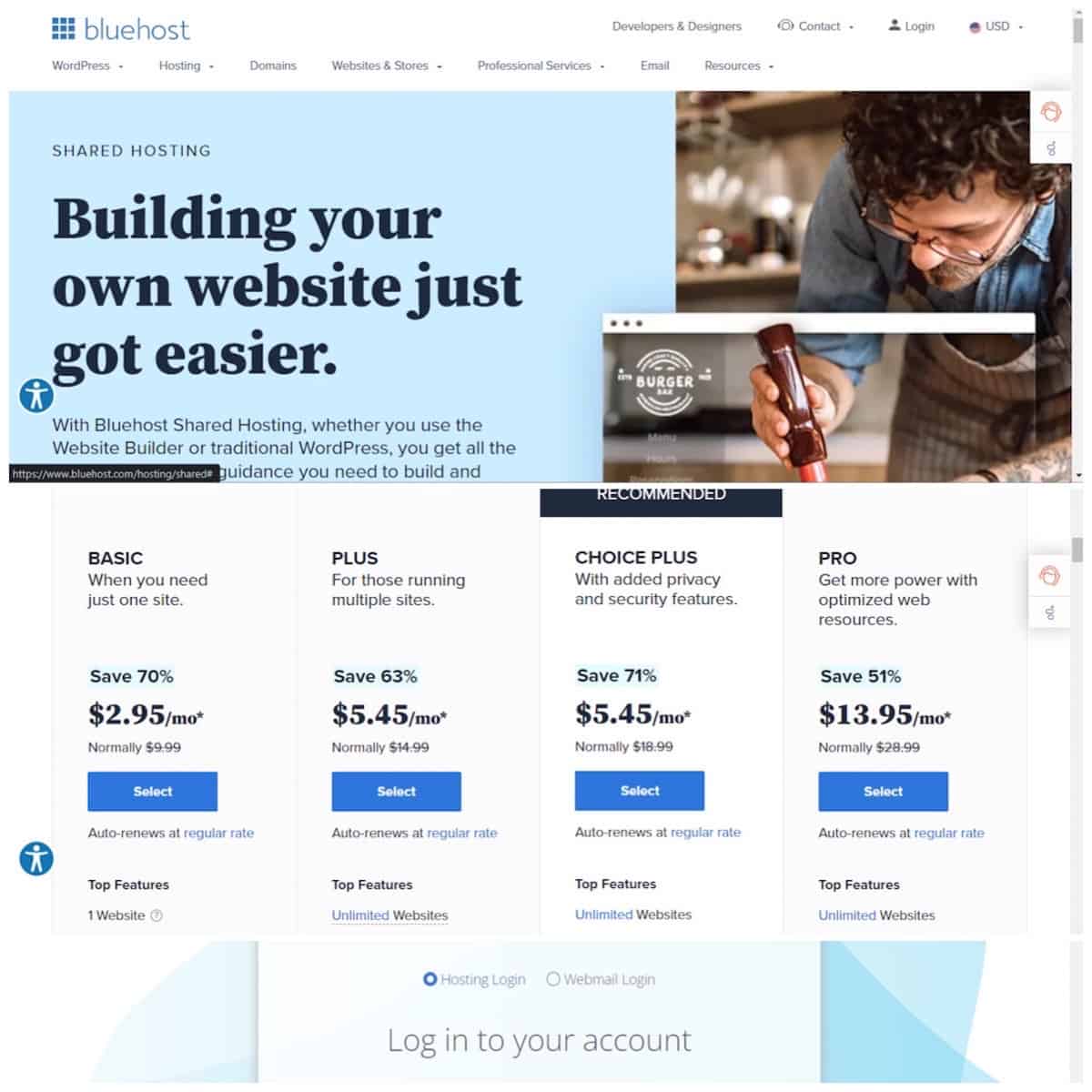 Today you'll learn how to create a WordPress website with Bluehost. Learning how to start a self hosted blog allows me to work from home with a completely flexible schedule.
If you want to turn your blog into a business one day, it's easier to monetize WordPress.org compared to the free blogging platforms. (This includes Wix, Blogger, Blogspot, and WordPress.com). Your WordPress and Bluehost blog will also appear more professional if you need a professional website for your business or service.
This article is on Bluehost for beginners, so let's start with some definitions. Here's what you need to start a WordPress blog on Bluehost (or another host):
Hosting Plan: Your website is rented space on the web. Your web host is who you rent the space from; in this case it's Bluehost. Some describe thinking of your hosting plan as your landlord, a good analogy.
Domain Name: The domain name is the actual address your visitors drop by. Right now, you're visiting me at my domain name, SummerYule.com (Welcome!) If you don't pay your rent (host), you'll get locked out of your address (domain name). This leaves your domain open to getting "rented" by others.
Blogging Platform: Your blogging platform is the behind-the-scenes map where you add content and other "home improvements" to your website. It's a place only you go, not your website visitors. Here we're using WordPress as our blogging platform.
Jump to:
Why use Bluehost for WordPress
Bluehost is not the only paid host out there that you can use for a site with ads and affiliate marketing. So why use Bluehost for web hosting? Why not use AWS, SiteGround, A2 Hosting, BigScoots, GoDaddy, or another host?
The main reason to go with Bluehost when deciding between BigScoots vs Bluehost, Bluehost vs GoDaddy WordPress Hosting, or another platform is price.
Shared hosting on Bluehost isn't the fastest but it has little downtime and is one of the most inexpensive options for blog hosting. Most bloggers I know, including yours truly, start with Bluehost.
Start a Blog on Bluehost
Here are some other reasons you'll want to start a blog on Bluehost:
Free domain name: Yes, your domain name is free with hosting on Bluehost. (Note: some domains do cost extra.) This can save you $10-20 per month or more!
Easy to set up: I'm going to walk you through step-by-step directions on how to start a blog with Bluehost and WordPress. I think you'll be amazed at how easy how to start a blog on WordPress is.
Customer service by online chat or phone: If you run into any issues learning how to launch a WordPress site on Bluehost, customer support is available 24/7. You can reach Bluehost by online chat or phone. I've used both in the past, and the customer support team at Bluehost was always helpful in resolving my issues.
Free custom email: A wonderful feature of Bluehost is that they offer free custom email. For example, I can use Summer at SummerYule dot com so I don't have to use my personal email address. This looks more professional and is another way Bluehost saves you money.
Free staging site: You can also create a free staging site with Bluehost. Staging sites are areas where you can experiment with site changes, instead of experimenting on your live site.
30-day money back guarantee: Bluehost offers a 30-day hosting money back guarantee for new users. This means you can try their hosting service with no risk. What have you got to lose by trying them out?
To sweeten the deal a bit more, I partnered with Bluehost to create a special deal just for readers. For a limited time, you can access it by clicking the button below:
How do I start a WordPress blog on Bluehost 2023?
Are you ready to learn how to start a blog on WordPress with Bluehost in 2023? Here's your helpful guide in setting up a website:
1. Visit Bluehost and pick your web hosting plan.
The plans start at $2.95 per month for the basic plan. This is what I started on, and what I would recommend to most new bloggers. However, there are other plans if you are running multiple sites or have other needs.
| Bluehost Plan | Price (per month) | Features |
| --- | --- | --- |
| Basic | $2.95 | For one site |
| Plus | $5.45 | For multiple sites |
| Choice Plus | $5.45 | Added privacy and security |
| Pro | $13.95 | Optimized CPU resources |
Click on the button that says "Host your site" or "Shared Hosting" in the drop-down menu in the Hosting tab.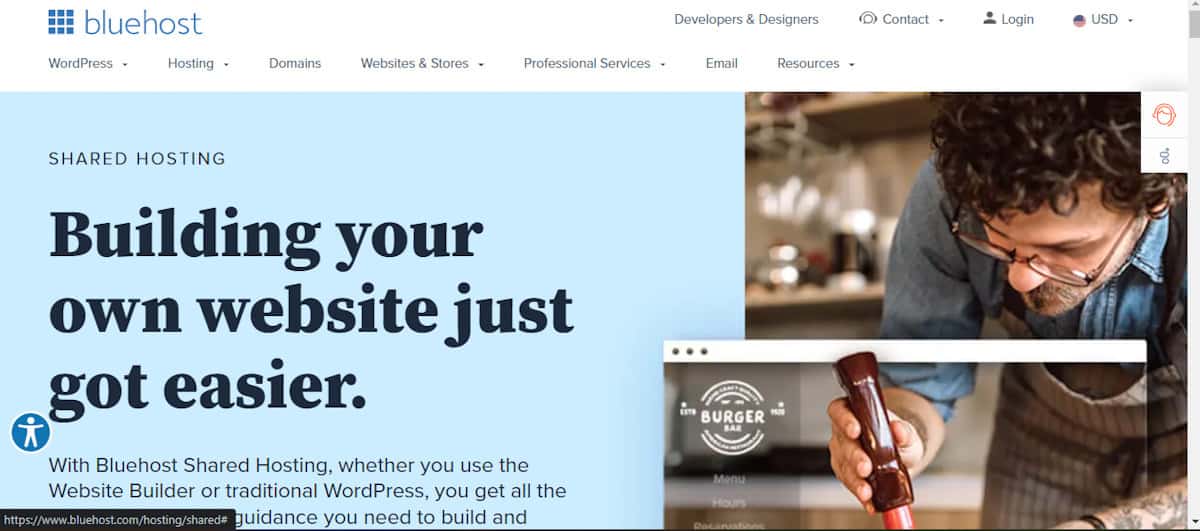 Scroll down and select the button for "Basic" (or your preferred plan). At the time of writing, the 36-month Basic plan is the best deal at $2.95 per month. The 12-month plan is $4.95 per month.
When I signed up for Bluehost, I was able to get the 36-month plan for $2.95 per month. However, I only used the plan for 2 years before needing to upgrade (and switching hosts), effectively paying for a year I did not use. You may find that the one year plan is fine for your needs.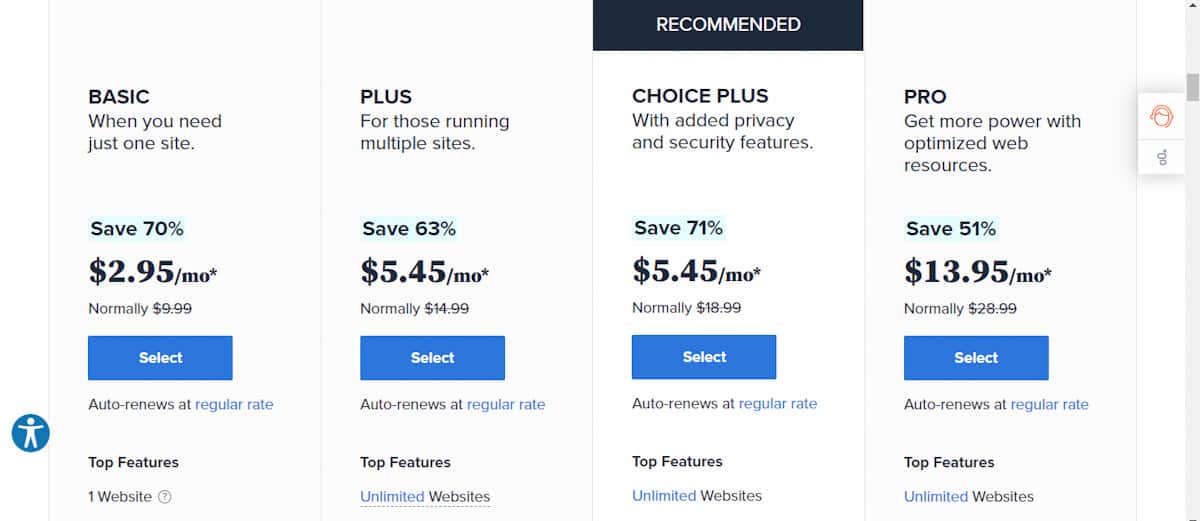 2. Choose a domain name.
Now it's time to pick your domain name, i.e., your site's URL. Choose wisely! If you aren't sure exactly what your blog will be about yet, it's fine to use your name. (I did!)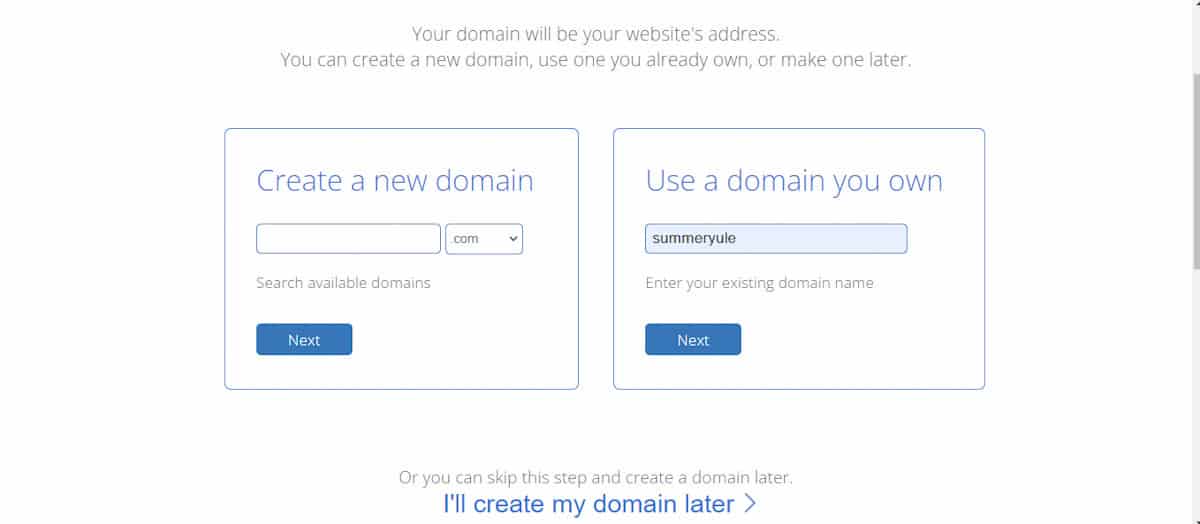 Sometimes the domain you want won't be available, so you'll need to choose something else. If you haven't decided on a domain name yet, click on "I'll create my domain later." Otherwise, you can register your domain right now.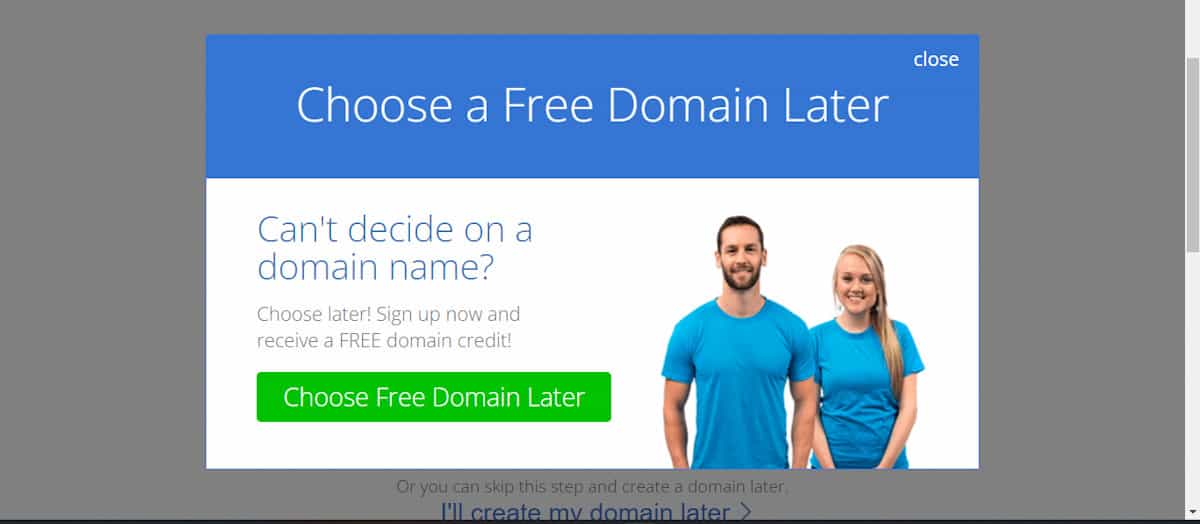 3. Fill in your Bluehost account information.
Next, you need to fill in basics, such as your name and address.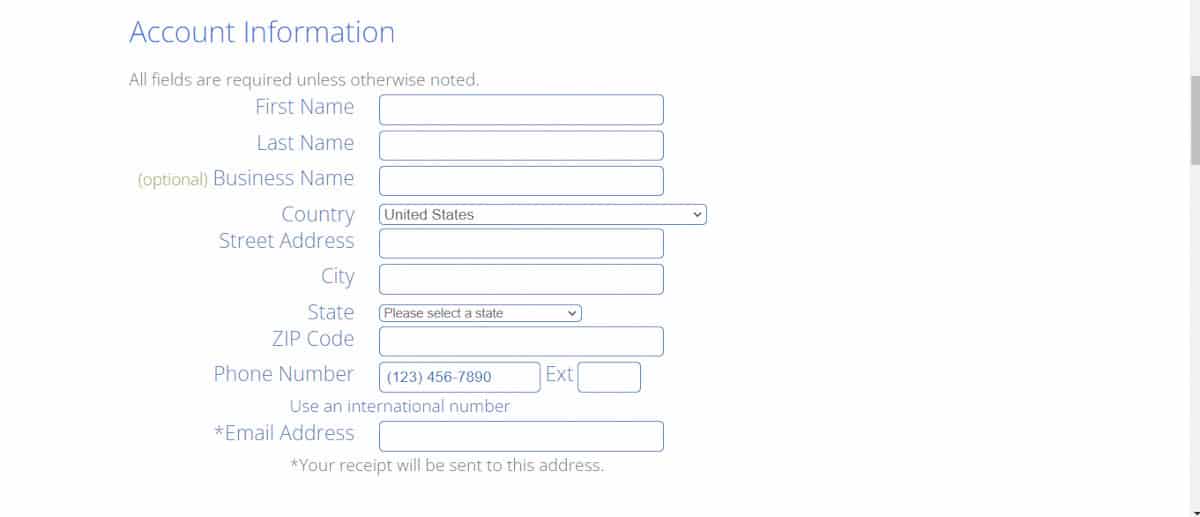 Scrolling down, you'll see Bluehost offers a lot of potential add-ons. You can easily double or triple the price of your webhosting if you select a lot of package extras.
The only extra I'd seriously consider as a beginner blogger is the domain privacy protection for $1.25 per month. This removes your name, address, phone number, and other personal info from the whois database that lists website owners. It's essentially like having an unlisted number.
Here are the other package add ons you can choose from:
Codeguard Basic: Daily backups for your site, and the ability to restore your website in one click. ($2.99/month)
Yoast SEO Premium: Learning SEO to get found on search engines is critical for professional bloggers, and I recommend taking a course for this. It's not necessary for hobby bloggers and there are additional keyword tools I'd recommend for SEO anyway. ($2.99/month)
SiteLock Security Essential: This is an automatic monitoring tool to help protect your site from malicious attacks. I'd save money and get the free WordFence plug in for site security instead. ($2.99/month)
Single Domain SSL: You're getting Let's Encrypt SSL for free with the basic package, which is fine for beginners. I'd skip paid SSL for now. ($3.33/month)
4. Enter your credit card information to register with Bluehost.
It's time to pay and hit submit. Your plan will automatically renew unless you call customer support at +1 855 984 4546 to cancel. IMVHO this is a good thing, since you don't want to lose your website because you forgot to renew.
5. Let your WordPress installation finish.
You did it! Now that you have a web host, let's talk about how to set up a WordPress blog.
How to Set Up a WordPress Site on Bluehost
How do I launch my WordPress site on Bluehost? There are two ways to log in to your WordPress dashboard. The first is to log in to the Bluehost dashboard, and click over to your WordPress dashboard from there.
Go to Bluehost and click "log in" in the upper right corner of the screen. This will take you to your hosting login (or your webmail login, if you'd prefer).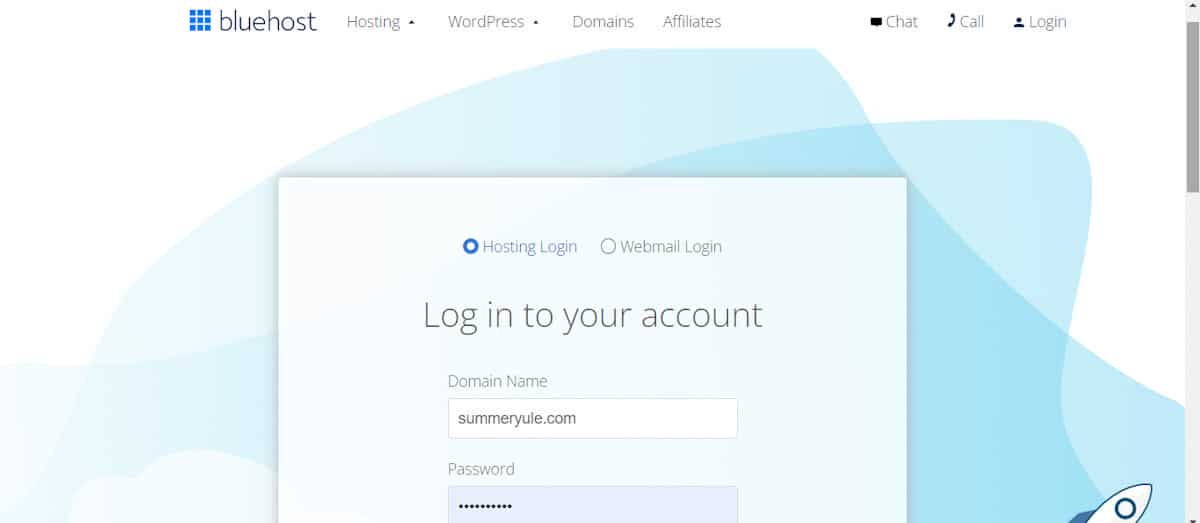 You can reach the WordPress dashboard by clicking "My Sites" in the menu on the left.
The second way to reach the WordPress dashboard is by logging in at yoursite.com/wp-admin Here's what my dashboard looks like: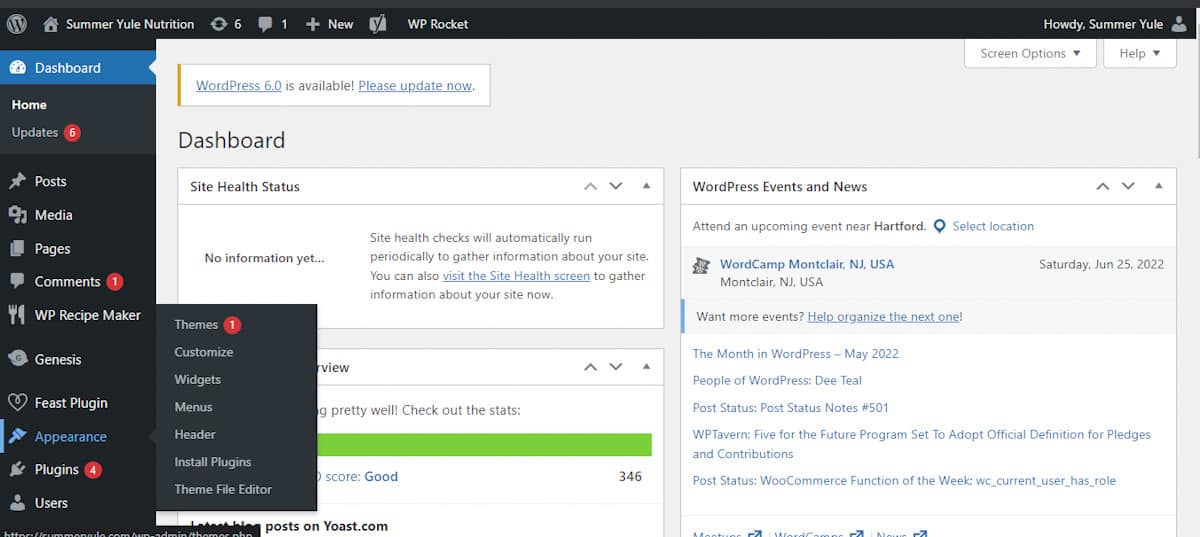 My dashboard is going to be more complicated than yours since I've been blogging for years. However, your dashboard should have an "Appearance" section. One of the first things you need to do when starting a blog is pick a WordPress theme.
How do I get a free theme in WordPress with Bluehost?
In the WordPress dashboard, find lots of options for free WordPress themes under Appearance > Themes > Add New. Keep in mind that you may want to switch to a paid theme later if you turn your blog into a business.
Astra and Kadence are considered two of the best free Bluehost themes for blogs. They're both very fast with a simple design. You can upgrade to a paid version of Kadence later if you wish.
When I started this blog as a hobby blog, I used the ColorMag theme. I still love the design of ColorMag, but admittedly it's not the fastest theme around. If you're hobby blogging, I'd just pick a theme you like; it's easy to switch later.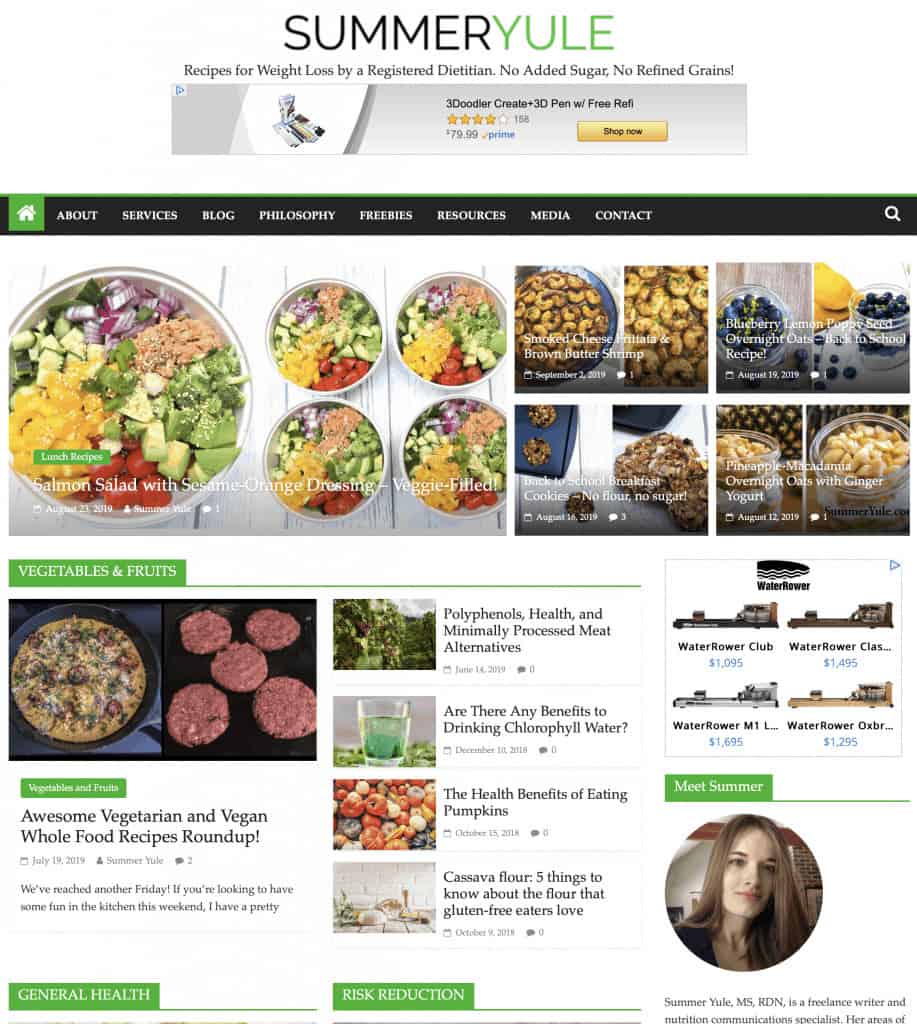 WordPress Blog Tutorial
Once you have a theme set up, you can write a post. To begin, click on Posts > Add New in the WordPress dashboard. It will take you to this screen: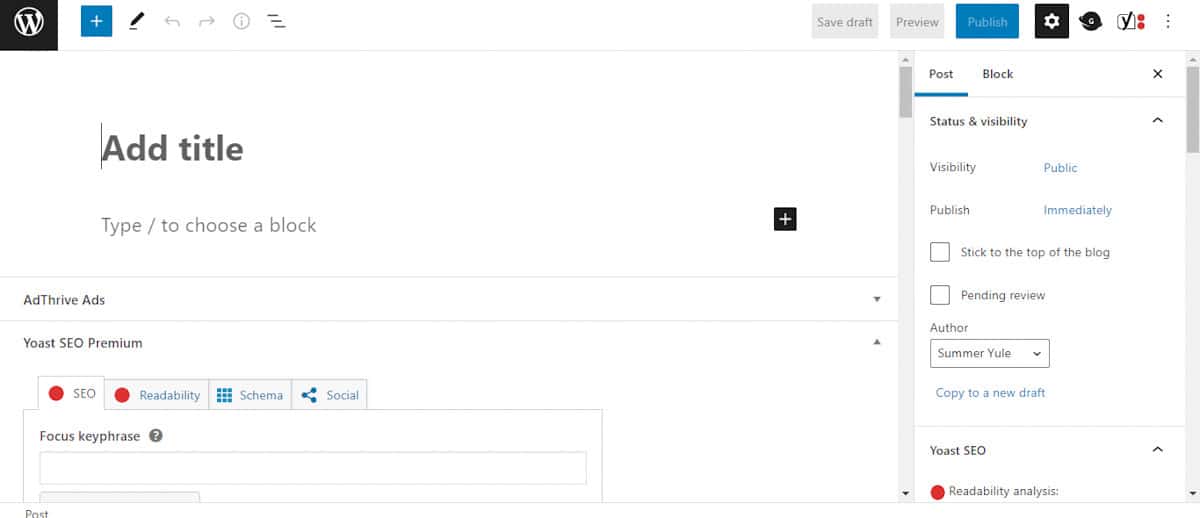 First, check out the right-hand column. Decide when you want your post to publish and add the date. Scroll down and add a featured image and a category (if you wish).
(This is beyond the scope of this review but I don't add tags. They create a lot of thin content pages that are bad for SEO. When I was first learning how to start a WordPress blog with Bluehost I created a mess with tags that took months to fix.)
Next, over in the left column you can add your title and start writing the body of the post. If you click beneath the center of a block, you can see the option to add media such as video and photos.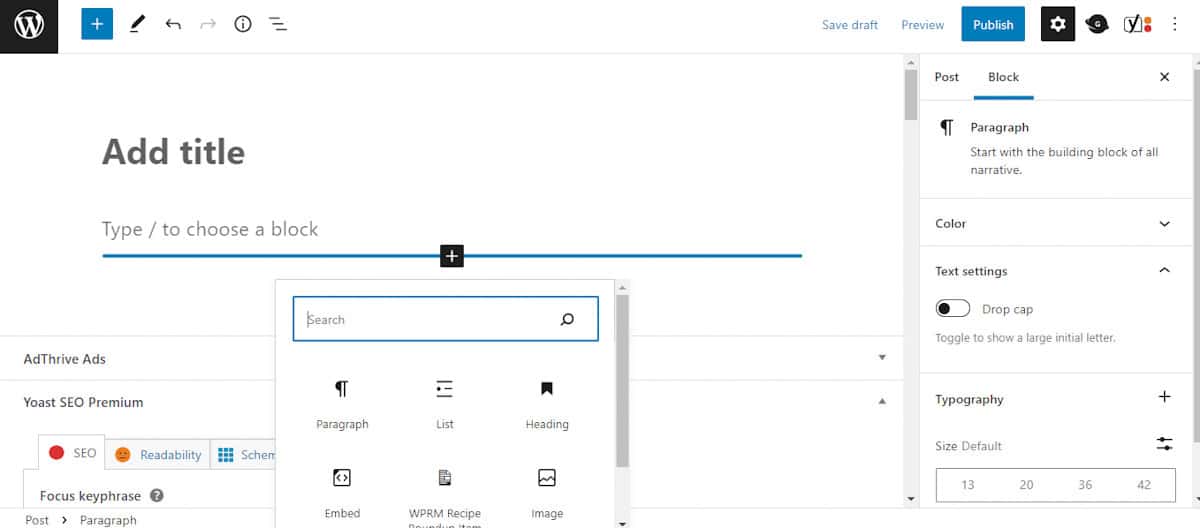 Here are a few quick tips for writing blog posts that look good on mobile devices:
Keep your paragraphs no more than 2-3 sentences.
Keep your sentences no more than 20 words.
Break sections up with H2 headers.
Keep the text between H2 headers under 300 words.
Use bulleted lists and lots of images in your post to help keep things interesting.
These practices are all great for SEO as well. When you've finished writing, hit the "Publish" or "Schedule" button on the upper right of the screen. Congrats!
Additional Tips for How to Start a Blog on WordPress.org
There's a few more things to know. First of all, don't confuse WordPress.org with WordPress.com.
You can set up a free site on WordPress.com but you don't own your domain. Instead, you are given a subdomain of WordPress.com Your URL would like something like this: https://yoursitenamehere.WordPress.com/
With WordPress.org, you own the actual domain, not just a sub domain of another site. That's why we've went to all this trouble learning how to start a blog with Bluehost and WordPress.
WordPress Plugins
Plugins can serve a variety of functions and can help your site run smoother. To access plugins, simply click "Plugins" in the left menu of the WordPress dashboard.
Here are some plugins I recommend for blogging beginners:
Jetpack: Jetpack is like the Swiss Army knife of plugins, it does so many things. One nice feature of Jetpack is that it comes with Askimet, a powerful filter against spam comments.
Wordfence: No matter how small your site is, hackers gonna try to hack. Wordfence is a security plugin that offers a free and a paid version. I highly recommend either one. (Advanced blogger tip: another way to protect your site is to switch your nameservers to Cloudflare.)
Yoast: Yoast is a popular plugin for learning basic on-page SEO. (I wouldn't get too hung up on it though, as the green/red light system can lead you wrong.) Yoast offers a free and a paid premium version. The free version is fine for beginners.
WP Recipe Maker: If you'll be posting recipes, you should use a plugin that creates a recipe card. I use WP Recipe Maker and love all of the features and customizations it offers.
As much as I love certain plugins, I recommend minimizing the use of plugins overall. If you have lots of them, it's more likely they will conflict with each other and create errors on your site.
When I was a beginner, I used around 40 plugins, and now I'm down to under 20. Less is more when we're talking plugins.
Also, don't set your plugins to auto update, and try not to update your plugins right away. New plugin updates often come with bugs which get fixed after a couple of weeks.
Other WordPress Blog Must-Haves
Here are a few places around the web I recommend registering your blog:
Speaking of which...
Join our community! Subscribe for all of the latest and greatest recipes, and follow me on Facebook, Pinterest, Instagram, and YouTube!
How to Back Up a WordPress Site on Bluehost
Bluehost Choice Plus offers automated back ups for the first year. Bluehost Pro offers automated backups as part of their plan.
Bluehost Basic and Bluehost Plus don't offer automated backups. However, you add Codeguard Basic to your hosting package for $2.99 per month. This gives you automatic daily backups of your site.
I highly recommend backing up your site, so that you have the ability to restore it if needed. I used Jetpack for backups when I was on the Bluehost Basic plan. Another option is to use the free UpdraftPlus plug in.
Bluehost WordPress Alternatives
There are other ways to blog if you don't want to use Bluehost and WordPress. For example, you can get paid for video blogging on YouTube or TikTok. However, using your own platform to reach your audience can provide a more secure and higher income.
Let me explain...
If you make your main platform a social media channel, such as TikTok, you can lose your audience quickly when algorithm changes. Additionally, if the platform dies down or disappears (think of MySpace), so does your audience.
Another issue is that social platforms act as middlemen and will take a cut of your income. The top ad networks (Mediavine and Adthrive/CafeMedia) pay US bloggers $20-35 per 1000 page views or more. (This is a general guide and can vary depending on where your audience comes from and your niche.)
I've heard that TikTok only pays 2-4 cents per 1000 views. A video watched on your website may earn you 30 times more than the same video watched on YouTube. Additionally, you have to continually feed your social channels new content to continue earning.
Social media can be a great way to expand your audience and draw awareness to your brand. But is it great to depend on social if you want to make money blogging? IMVHO, not so much.
Bluehost Web Hosting Alternatives
Of course, there's other web hosts you can use instead of Bluehost. Here is a cost comparison chart of some popular web hosting options:
| Host | Cheapest Plan | Limit |
| --- | --- | --- |
| Bluehost | $2.95 per month | 10GB SSD Storage |
| Go Daddy | $5.99 per month | 25GB Storage |
| Cloudways* | $12 per month | 1GB RAM, 25GB Storage, 1TB Bandwidth |
| SiteGround | $14.99 per month | 10GB Webspace (about 10K visitors per month) |
| WP Engine | $20 per month (currently on sale) | 10GB Storage, 50GB Bandwidth (about 25K visitors per month |
| BigScoots | $34.95 per month | 10GB SSD Storage (about 250K visitors per month) |
*This is the host I moved to after my site grew to high traffic levels.
Is Bluehost good for blogging?
In short, Bluehost is the best web host for blogging beginners. It is cheap, easy to use, and has excellent customer support. If you are interested in creating a website inexpensively, I highly recommend trying Bluehost.
For a limited time, readers of Summer Yule Nutrition and Recipes can take advantage of a special deal! Save money on Bluehost web hosting by clicking the button below!
FAQs
Is WordPress free with Bluehost?
Yes, WordPress comes with Bluehost for free.
How much does it cost to start a WordPress blog?
It can cost as little as $2.95 per month to self-host a blog on WordPress with Bluehost. The most expensive shared hosting package is currently $13.95 per month. There are also add-on packages for the basic plan, such as automatic backups and paid SSL which can add to the expense.
Does Bluehost charge monthly?
Bluehost charges in 12-month or 36-month increments. They do not have a month-by-month plan.
Can we use Bluehost without WordPress?
Yes, you can use Bluehost without WordPress, but I'm not sure why you'd want to. If you're technically inclined, you can set up your website with CSS and HTML files. However, WordPress powers over 30% of the websites on the internet, and is much easier to use. It's included for free with Bluehost, so why not take advantage?
How do I install a free SSL certificate on Bluehost to move a WordPress site to HTTPS?
All Bluehost customers get Let's Encrypt SSL for free. According to Bluehost, these should install and activate themselves. If you need to enable your SSL certificate manually, Bluehost has info on how to do so here.
Blogger or WordPress- which is best?
WordPress.org is best if you want to make money from your site. Blogger is free, but has more limited features compared to WordPress. If you want to own your own domain name on your Blogger site, you need to purchase it.
Is Bluehost recommended by WordPress?
Yes, Bluehost has been recommended by WordPress.org as a hosting provider since 2005. The latest version of WordPress is automatically installed in your new account when you sign up with Bluehost.
How do Bluehost and WordPress work together?
Bluehost offers a web hosting account and WordPress is a content management system. You need a host like Bluehost in order to have a live website.
Do I get Bluehost or WordPress first?
If this is your first blog, sign up for Bluehost first. Then use Bluehost's WordPress installation process to set up WordPress for your self-hosted blog in one click.
What are the four types of blogs?
There are many types of blogs but some categorize them into personal blogs, business blogs, niche sites, and affiliate blogs. Some blogs are a combination of these types.
Other Helpful Articles You May Enjoy
Now that you've learned how to create a WordPress blog on Bluehost, here are some other life hacks:
How to Start a WordPress Blog Using Bluehost Video
Pin It for Later!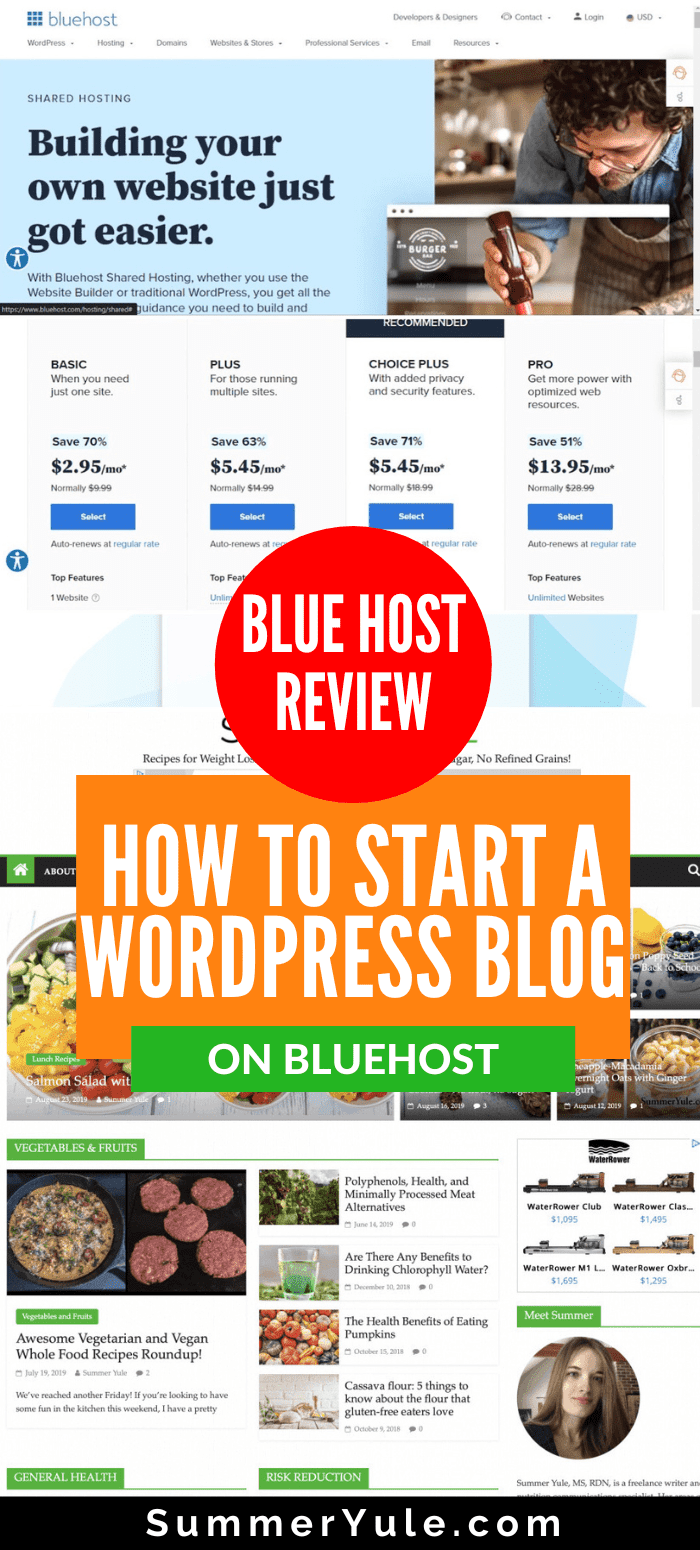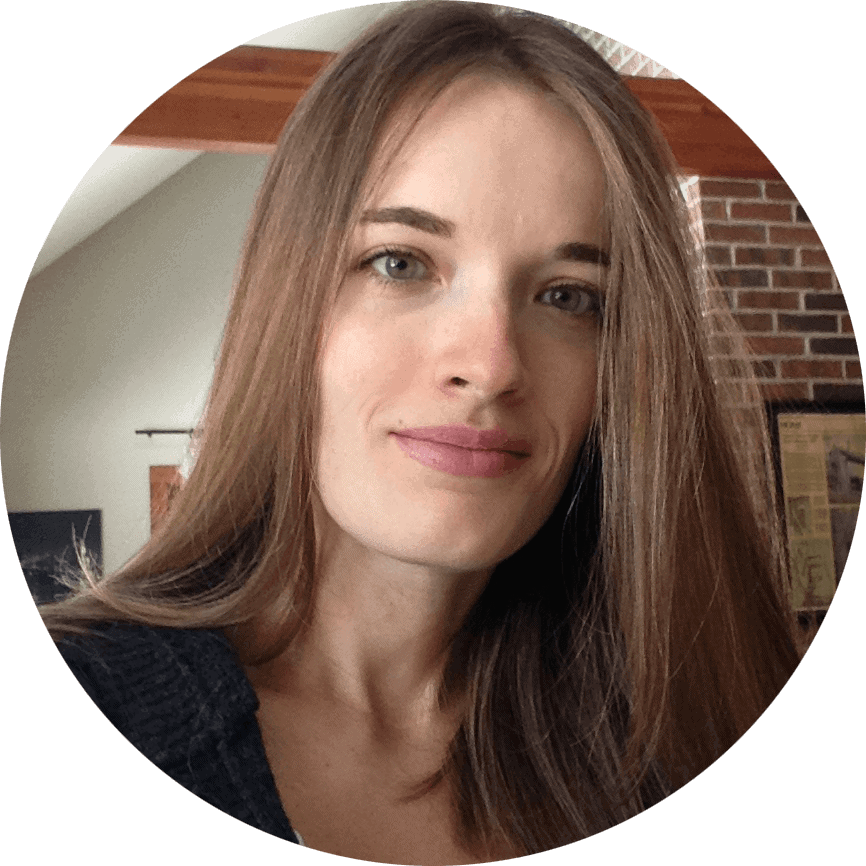 Hello! I'm Summer, a registered dietitian and home chef who loves to cook, eat, and create high quality content for you! Every recipe on this site has been tested by me to help ensure your success in the kitchen. All eaters are welcome here 🙂