Ibotta vs Fetch Rewards – what's the difference? Today we're comparing Fetch vs Ibotta, two free apps that give you cash back for shopping, or free gift cards. You'll learn about the best receipt reward apps, including the answer to is ibotta or fetch rewards better. You'll also get my fetch referral code and Ibotta referral code, so you can earn Fetch and Ibotta rewards faster.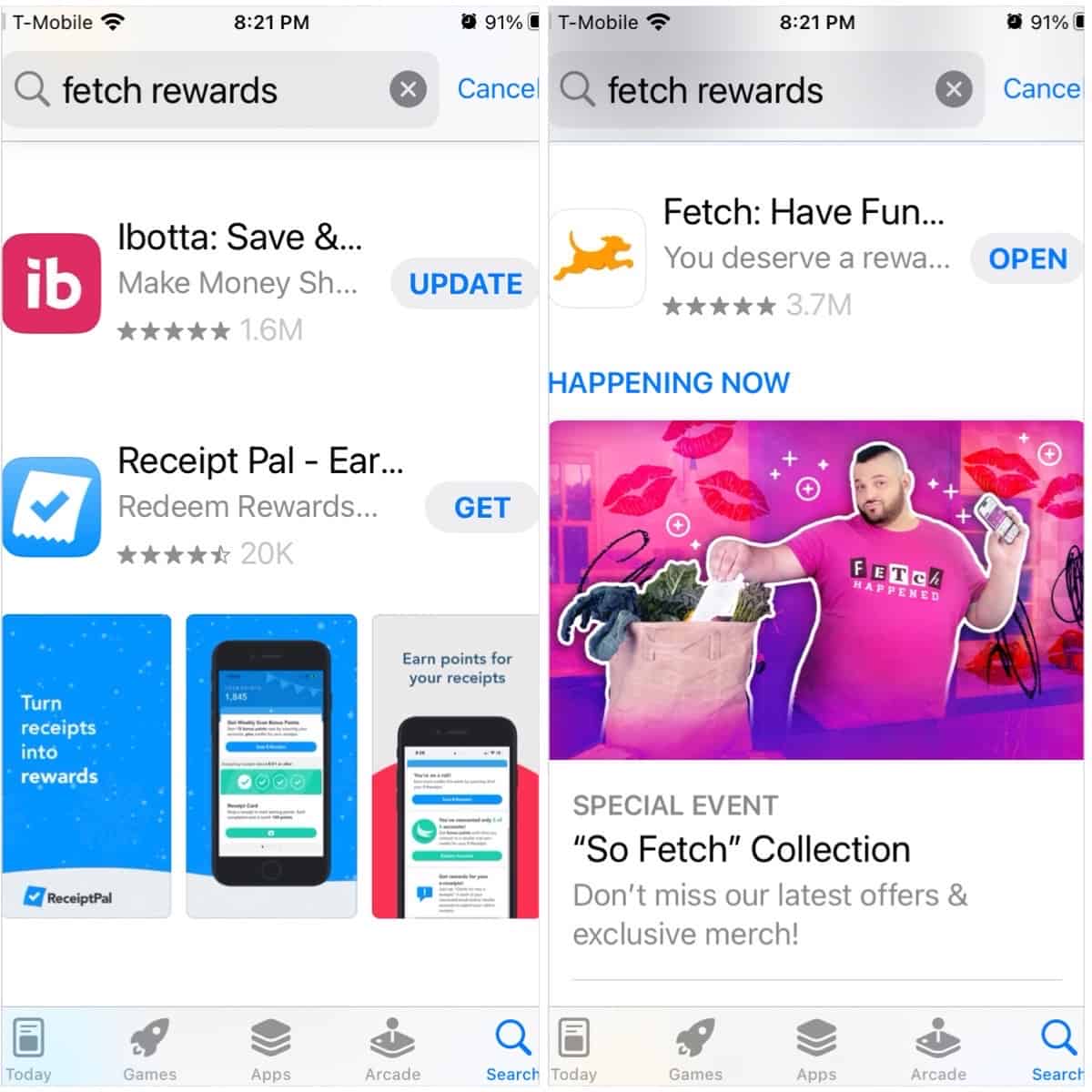 Is scanning receipts worth it? IMVHO, yes. Scanning Fetch Reward receipts and Ibotta receipt has earned me over $90, plus about $5 in gift cards over the past two months. If you enjoyed Sunday coupon clipping back in the day, I bet you'll love this modern way to save money.
The shopping rewards apps I'm discussing below are all free to use, so you lose nothing but time to sign up. Though I'm going to cover which is better Ibotta or Fetch rewards IMO, the answer depends on how you shop. I do feel there are apps better than Fetch rewards, but you won't know if you agree until you try them out.
Jump to:
Ibotta vs Fetch
Here is a quick summary of the Fetch Rewards vs Ibotta App:
Ibotta
Fetch Rewards
Type of Shopping
In store shopping or online shopping
In store shopping or online shopping
Type of app
iOS or Android (available in Apple App store
or Google Play store);
there is also an Ibotta Chrome extension
iOS or Android (available in Apple App store
or Google Play store)
Cash minimum to
cash out
$20 minimum cash-out
You can use as little as 100 points for a
sweepstake entry;
$10 gift cards start at 9500 points
Types of rewards
available
Bank transfer, PayPal payment,
gift card redemption options
Sweepstakes entries, gift cards,
charitable donations, Visa prepaid cards
When do rewards
expire?
Earnings subject to account maintenance
fees after 6 months of consecutive inactivity
Points expire after 90 day
of account inactivity
Best for...
Serious couponers, Walmart shoppers,
planning types
Casual shoppers who don't like planning ahead,
those who buy a lot of fresh foods that don't offer
coupons
How to try them
out
Visit Ibotta App
(use code qkayjiw)
Visit Fetch App
(use code N2QQEB)
Ibotta Referral Code
Hey friends, you can jump in and start earning Ibotta reward offers right now with my unique referral code! Simply head over to Ibotta, and enter my Ibotta code qkayjiw. I get a referral bonus, and you get cash too when you enter your first receipt. Double win!
Also, you can give Ibotta loyalty card info for certain stores, and you don't even have to scan receipts. The Ibotta grocery rebate app is able to track your purchases through store loyalty cards. How easy is that?
Fetch Referral Code
I also recommend trying Fetch, so you can get the Fetch reward offers too! Sign up here and enter my Fetch code N2QQEB to get the Fetch rewards offer. You get a welcome bonus just for being my friend, and I get a referral bonus too. Sweet! (So glad you found me!)
How Does Fetch Rewards Work
What is Fetch? The Fetch Rewards app is a free app where you submit pictures of your store receipts for points. They also offer referral bonuses, a daily bonus, and you can scan your email for online purchases through Amazon.
After you earn enough points, you can cash them in for the gift card of your choice. Purchasing certain brands mentioned in the app will earn you extra points. However, you can get at least 25 points on every receipt you submit to Fetch. That is the basic summary of how Fetch Rewards works.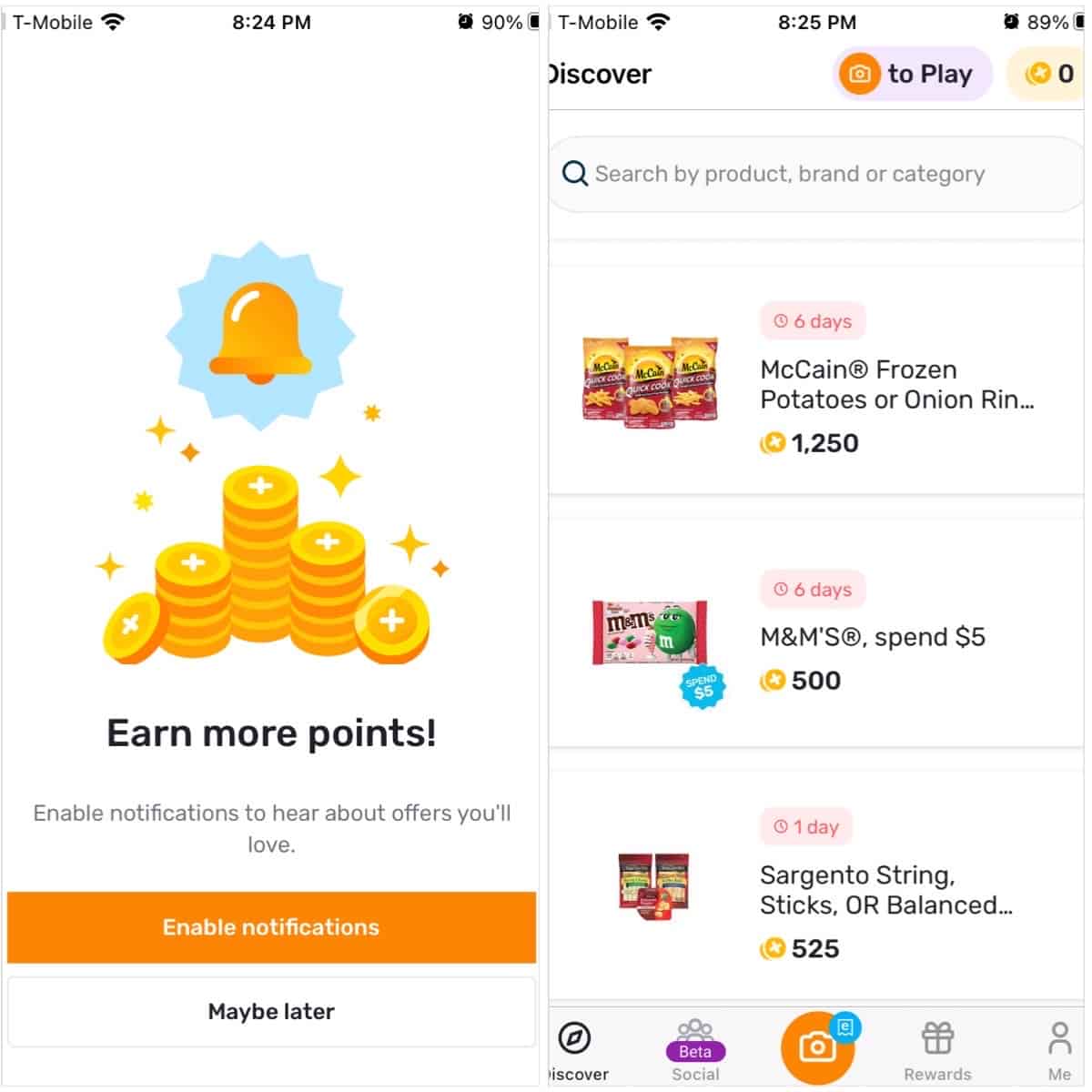 IMVHO, Fetch does a better job gamifying saving money than Ibotta. For example, they have a leaderboard so you can compete with friends to earn the highest points. They also track your personal record, if you prefer competing with yourself.
Every day that you submit a receipt, you can get a daily reward. To get it, you play a little carnival-type game in the Fetch Rewards app. My daily rewards tend to be in the 10-250 point range, but you may get lucky with a higher amount.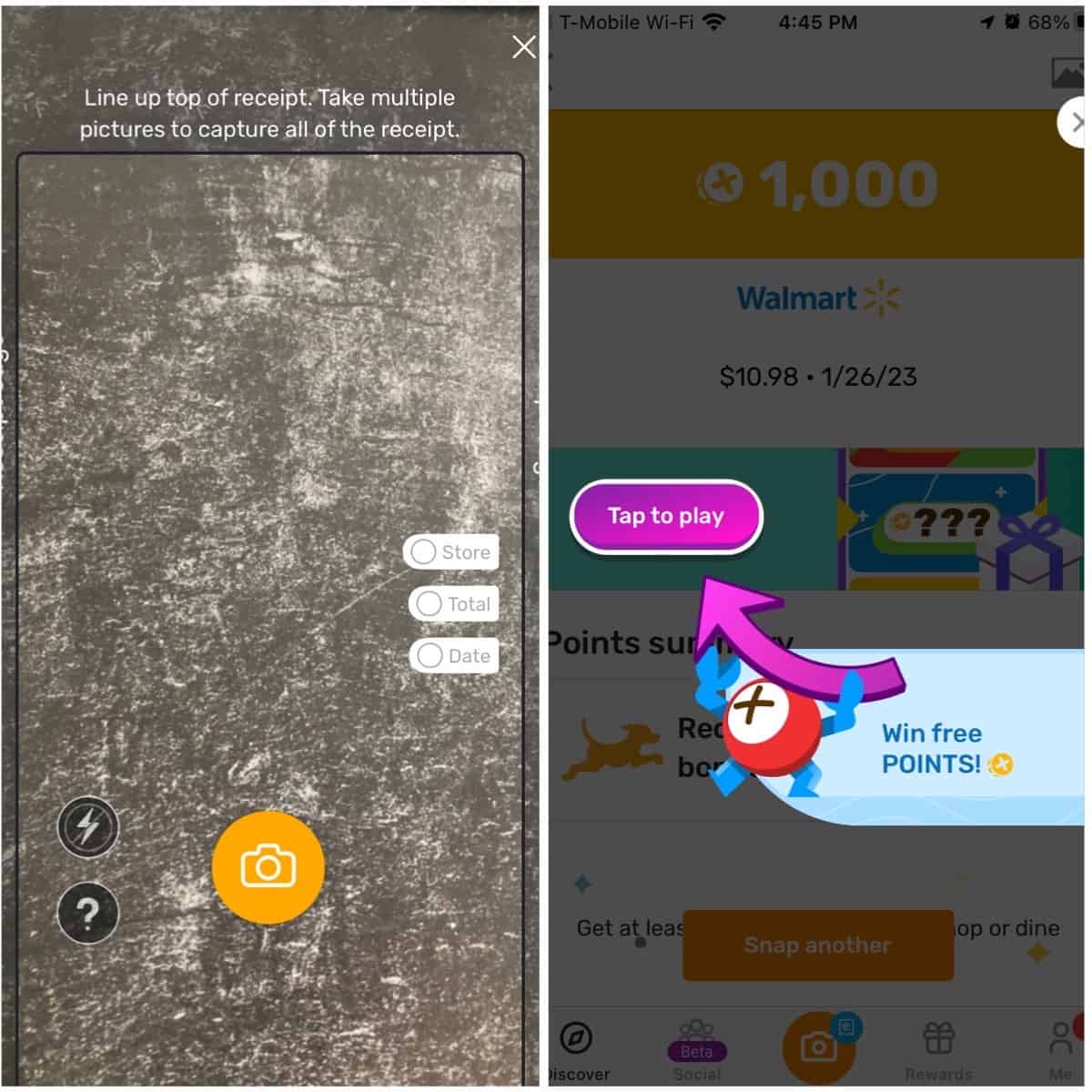 Are Fetch rewards safe?
Yes, Fetch rewards offers a safe and legit app. They compensate you for the data you choose to share with them. Fetch doesn't collect your bank account information or store loyalty account information.
You can choose to allow Fetch to scan your email for Amazon receipts, but you don't have to. You can simply send them photos of your receipts in their app to earn points. If you'd like more info on what Fetch does with your data, check out their article here.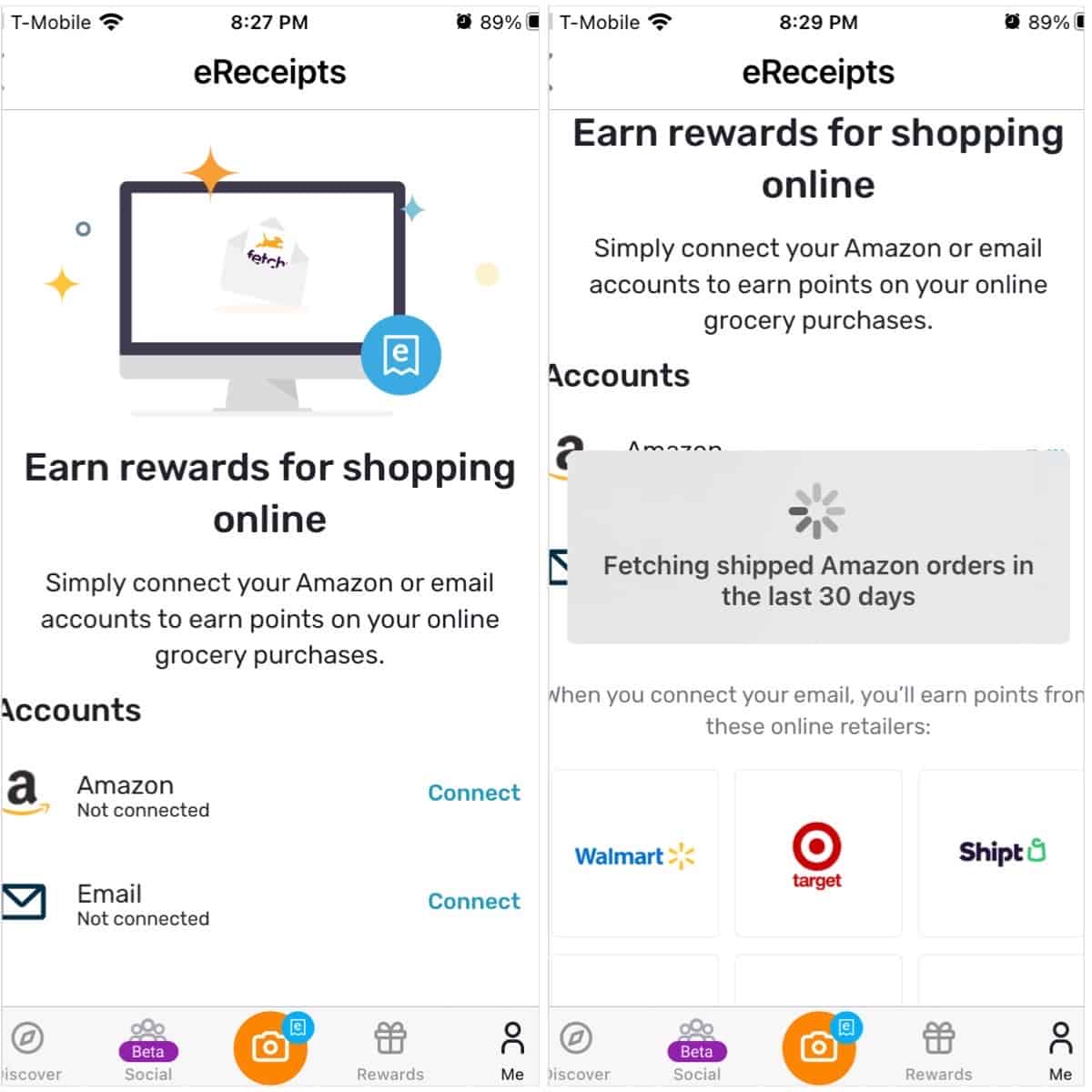 Does Fetch have a limit on receipts?
How many receipts can you scan on fetch per month? According to Fetch, you can submit up to 35 receipts every 7 days. At 35 per week, this means you can scan up to 175 receipts per month in long months, if timed carefully.
How many receipts can I scan on Fetch a day? You can scan 35 receipts in one day on Fetch, but then you can't scan more until a week has passed.
The scan limit is based on when you scan the receipt, not the checkout date on the receipt. Fetch states you may scan older receipts later if you hit your receipt limit for the current week (source).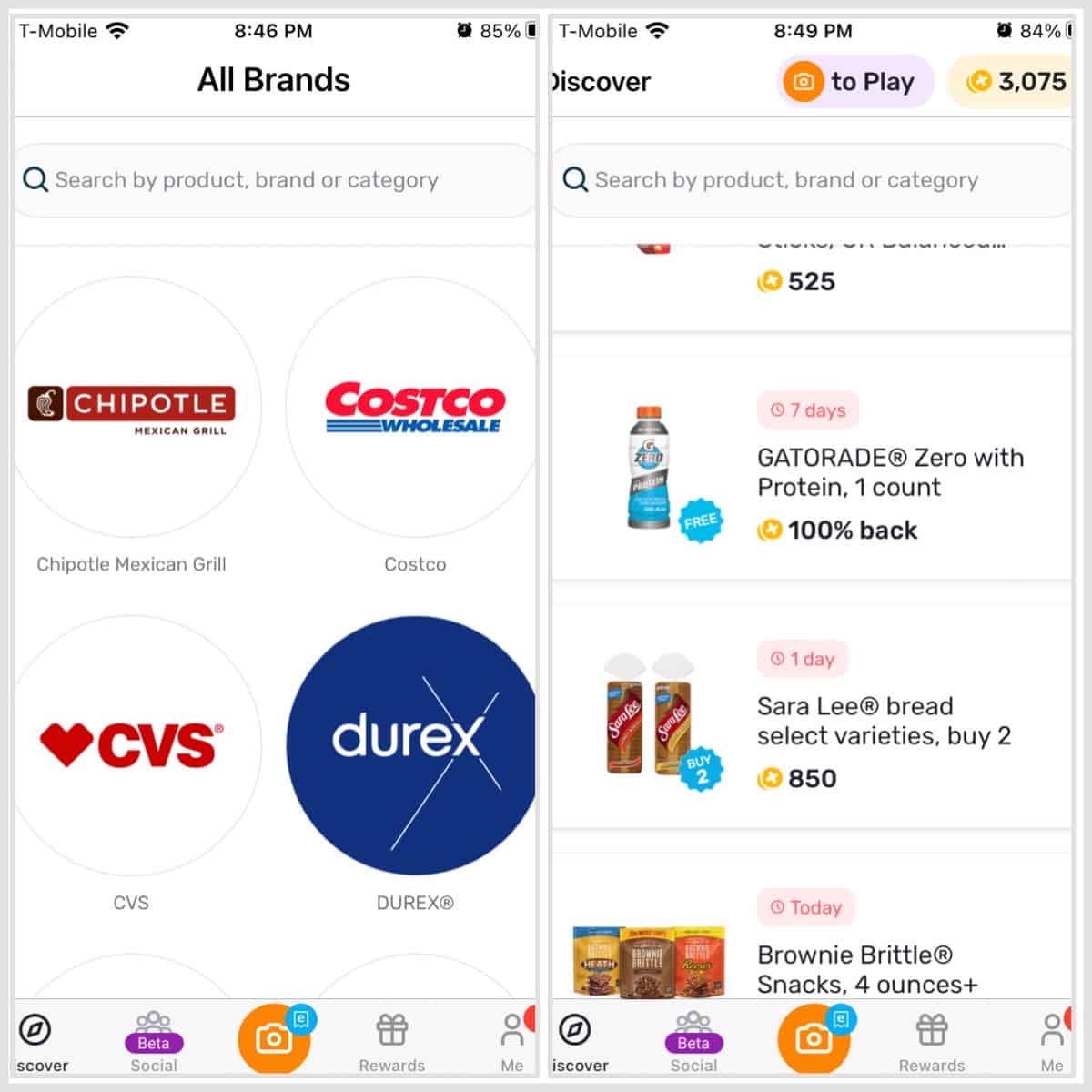 How much is 1000 Fetch points?
950 Fetch points equals up to $1, so 1000 Fetch points equals up to $1.05. However, some gift card rewards cost more points than others. At the time of writing, you can get a $10 Walmart gift card for 12,500 Fetch Rewards points.
I consider Walmart cards to be about equivalent to cash, which means I'd estimate more like 1250 Fetch points = $1. Using this conversion, here's the breakdown of Fetch points to money:
12.5 Fetch points = $0.01
250 Fetch points = $0.20
500 Fetch points = $0.40
750 Fetch points = $0.60
1000 Fetch points = $0.80
How many Fetch Rewards is $1?
How many fetch rewards equal a dollar? If you get the cheapest gift cards on Fetch, 950 Fetch reward points equals $1. For popular gift cards like Walmart, 1250 Fetch points equals $1.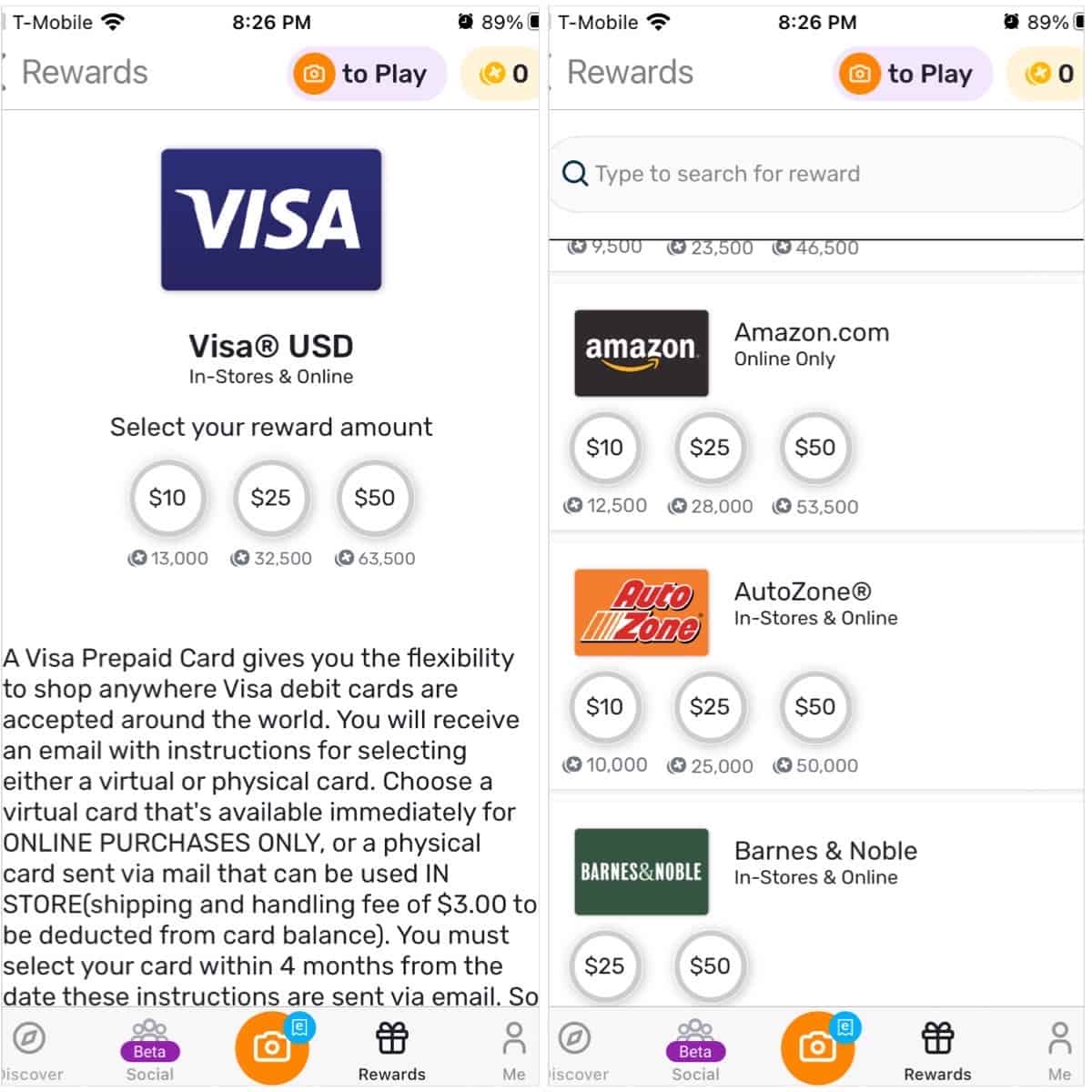 Why did Fetch Rewards ban me?
Don't look for ways to cheat Fetch, they will ban your account! Here are some reasons Fetch may ban you. These all go against their terms of service:
Snapping receipts for stuff you did not buy (i.e., submitting receipts found on the ground or receipts from friends and family)
Creating fake accounts or multiple accounts for referral bonuses
Submitting altered or fake receipts
What does Fetch rewards do with your receipts?
In short, Fetch Rewards uses your data for market research (source). After anonymizing the data on your receipt, they aggregate it with millions of others to study large-scale trends in shopping behavior. You're basically getting paid for helping science!
How old can receipts be for Fetch?
According to the Fetch Terms of Service, you can submit receipts to Fetch that are up to 14 days old. This is great for shoppers that don't like to plan ahead!
How Does Ibotta App Work
Ibotta is an app that gives you cash back on purchases made on certain items at certain stores. You can use it in-store, where it works like a digital rebate program. You can also purchase discount gift cards through Ibotta, and get special deals on online purchases.
IMVHO, Ibotta is the best app to scan Walmart receipts and get money back. There are always lots of free after rebate offers at Walmart. In the past couple of months, I got free cauliflower pizza, free vegan cream cheese, free energy drinks, free yogurt, free jerky, and more from Ibotta.
Ibotta is especially great for vegans and others who like vegan plant-based meat and dairy free milk products. You can nearly always find awesome deals on these. They also offer cash back on some other fresh foods like produce and meat.
Here's how to join Ibotta (Fetch Rewards is similar, and both are free):
Download the Ibotta app here from the Apple App store or Google Play.
After downloading, go into the app, and click "Sign up."
A window saying "Ibotta wants to use Ibotta.com to Sign In" will pop up. Click "continue."
Create an account with your Apple, Google, or Facebook sign in. Alternatively, enter your email address and choose a password. I like the Apple sign in because you can keep your email anonymous.
Enter your first name, birthdate, and referral code to create your Ibotta account. My referral code is qkayjiw, and you'll get a bonus offer if you use it!
How to Scan Receipt on Ibotta
Now that you know how to sign up for Ibotta, you're ready! Ibotta often has a "cash back on any grocery receipt" offer for new users. You'll also see your friend referral bonus offer if you used my referral code.
Select the offers you want at the store you're shopping at. It's important to select the offers before you scan your receipt. Some stores are no scan, and use store loyalty cards to track purchases. For these stores, you need to make sure to select the offer before making your purchase.
Inside the store's deals section on the app, click your list on the bottom right corner of the screen. Double check that all the offers you want to redeem are on the shopping list. Sometimes, Ibotta will have you view an ad or video before you can add the offer.
Click "submit receipt" at the bottom of the list page. For stores with a linked loyalty card, you don't need to submit a receipt. The purchases should automatically show up in your account.
Scan the barcode on the bottom of the receipt or take a picture of the entire receipt. Ibotta will tell you which you need to do for the store you shopped at. You can also enter the TC# if there's no barcode on the receipt.
Collect your rewards. Rewards from scanning the barcodes of Walmart receipts will go into your account immediately. Rewards from linked loyalty cards or photos of receipts generally take 24 hours or less to appear.
Cash out when you reach at least $20. Choose immediate payment by gift card, or direct payment to your bank account or Paypal. Bank transfers generally take 1-3 days.
Does Ibotta pay for every receipt?
No, unlike Fetch, Ibotta doesn't reward every receipt. You need to select specific offers you want to redeem from specific stores in the Ibotta app. There are a lot of offers, and using Ibotta is more time consuming than Fetch for this reason.
You can scan the barcode of items in the Ibotta app to make sure they qualify for the offer before purchasing. I've also found that Ibotta reads the receipts of major chains like Walmart more accurately than some smaller local stores.
Unfortunately, errors can arise, but you can easily contact Ibotta Care through the app if you're having problems. They credited me within 24 hours when I submitted an offer and receipt that wasn't picked up with my loyalty card. (I recommend hanging on to all receipts and product packaging until you get the Ibotta credits for them.)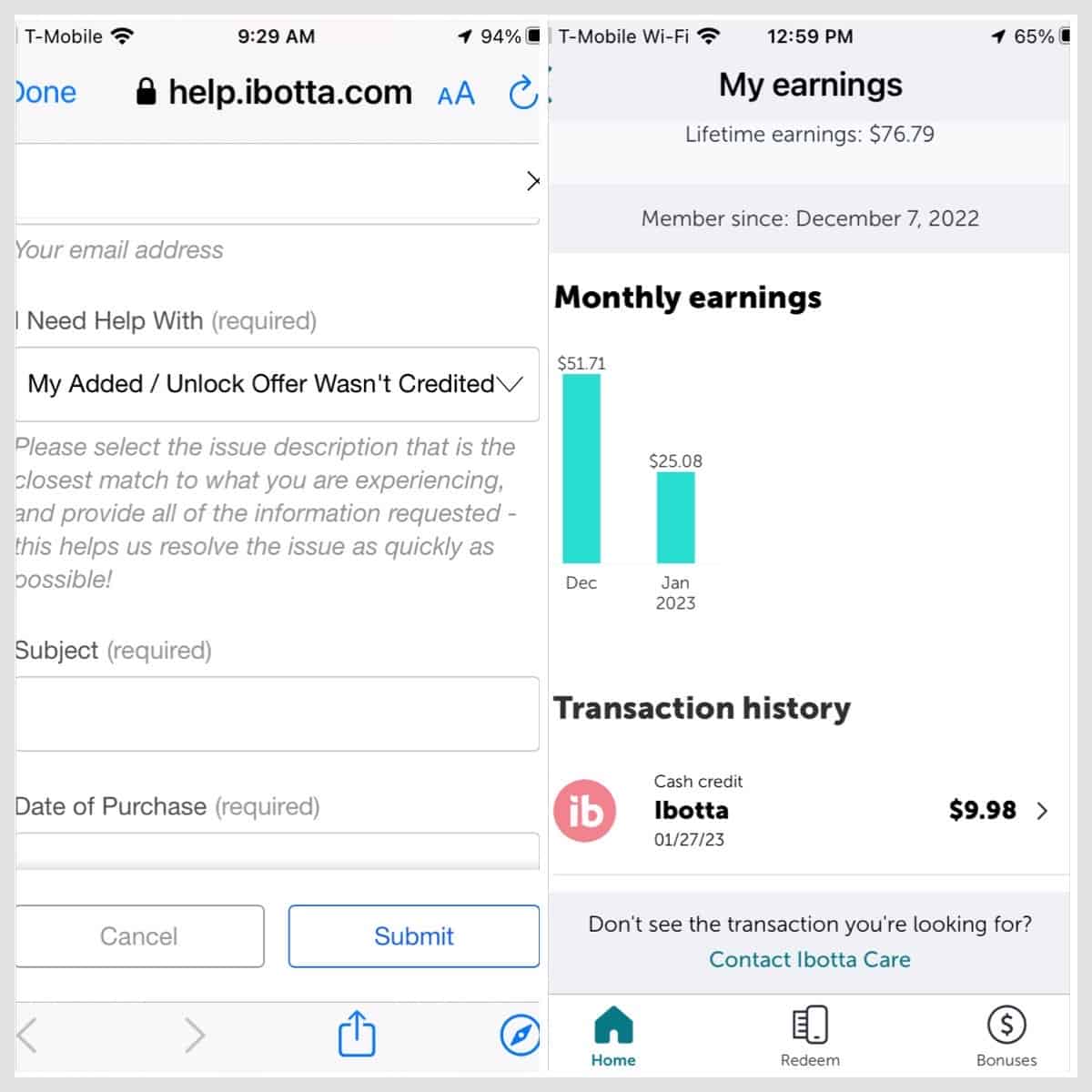 How much does Ibotta pay for each receipt?
How much can you make a month with Ibotta? I've been averaging $25-50 per month with Ibotta, but it's possible to make much more. Ibotta will pay for however many offers you take advantage of on your receipt, so the number can be highly variable.
Ibotta often has special offers that can push your earnings even higher. For example, right now Ibotta is offering a Weekend Warrior bonus of $5 when you submit 15 offers. These bonuses are only available for a limited time, so I recommend taking advantage of them when they pop up.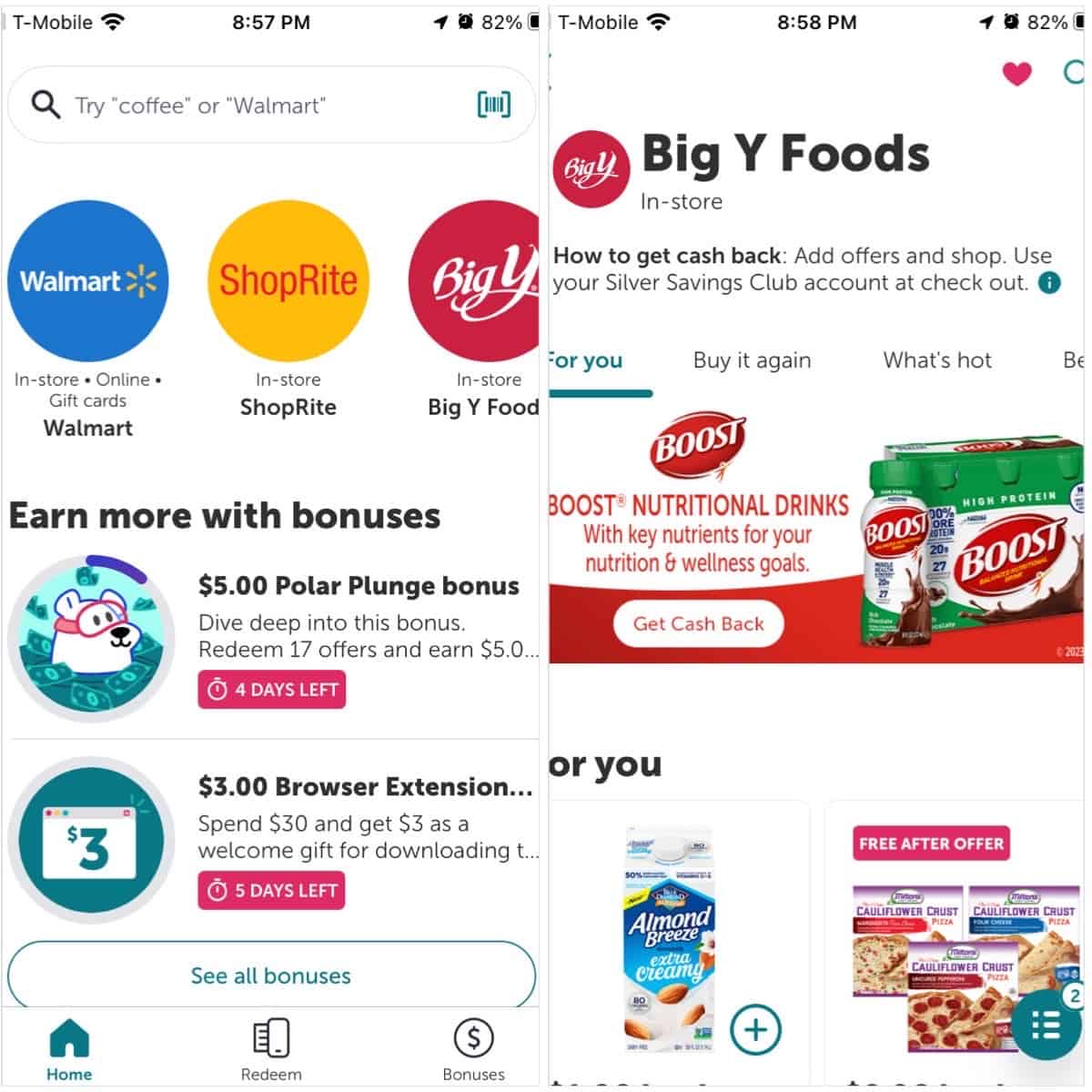 Is Fetch Rewards better than Ibotta?
It depends! I think planners who like to do single weekly shopping hauls at big chain stores will like Ibotta better. Those who dislike planning, do a lot of small shopping trips, and shop at stores not in the Ibotta app will prefer Fetch.
IMHO, these two apps complement each other, and I recommend trying them both. I personally prefer Ibotta, and have earned much more through them than I have with Fetch. Ibotta also offers much larger referral bonuses, but using Fetch is more fun, kind of like a game.
Try Ibotta! (use code qkayjiw)
Is there anything better than Ibotta?
What is better than Ibotta? The answer to this is subjective and depends on how you shop! For example, if you do a lot of online shopping, you might earn a lot more with Rakuten than Ibotta.
If you do a lot of higher end shopping, I think the Dosh app (code: SUMMERY15) may be a good fit for you. If you're looking for gas deals specifically, I highly recommend the Upside app.
What are the cons of Ibotta?
I've talked a lot about the benefits of Ibotta. Here are some Ibotta downsides:
You need to select offers before you shop. This is not a good app for those that hate planning!
The offers are store-specific, and sometimes the store doesn't offer the item. I've missed out on some good free after rebate offers because my store didn't have it!
The minimum cash out is high. The $20 needed to cash out at Ibotta is much higher than similar apps like Fetch. (However, I find it's much easier to earn that much at Ibotta versus similar apps.)
You have to make online purchases through the Ibotta app.
Sometimes the receipts aren't read accurately. Luckily, you can contact Ibotta customer service, and they'll help you resolve the issue quickly.
You won't get any credit for certain receipts. Apps like Fetch Rewards will give you a few points for just about anywhere you shop. Ibotta does not unless it's connected to a specific offer.
Can I trust Ibotta with my bank account?
You can choose to have your Ibotta earnings transferred directly to your bank account. However, this doesn't give Ibotta the ability to make changes to your bank account or to withdraw funds. Learn more about the safety of linking your bank account to Ibotta here.
You don't have to give Ibotta your bank information if you don't want to. You can also get your Ibotta rewards by Paypal, or by gift card.
How much does it cost to cash out Ibotta?
You need a minimum of $20 to cash out at Ibotta, and it is free to collect your earnings. I like to cash out as soon as I hit the minimum, in case this program is ever discontinued. There's no benefit to waiting for higher earnings to cash out.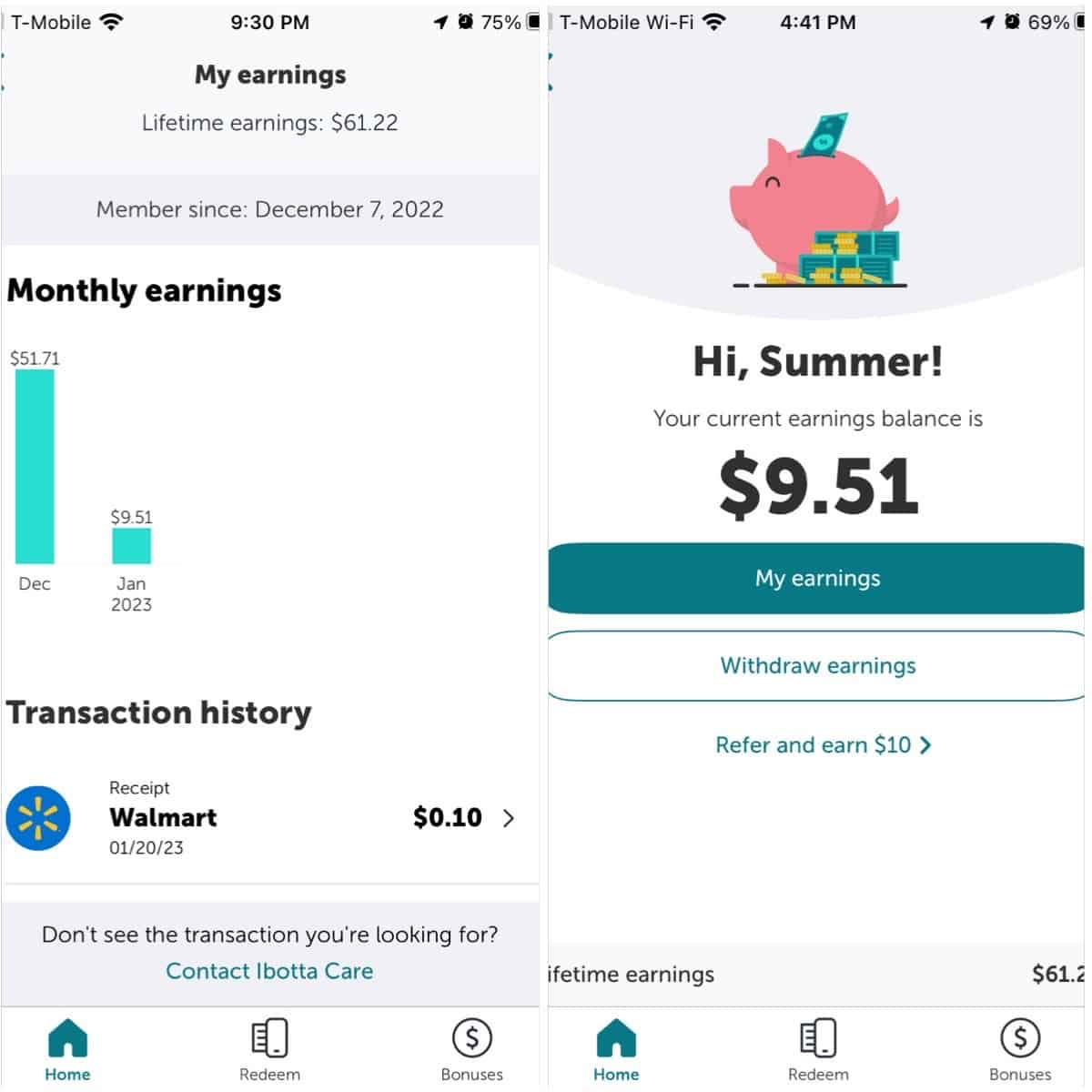 Fetch is different because some of the gift cards become cheaper if you wait to redeem a higher number of points. For example, the $10 Walmart gift card costs 12,500 points (1250 points per dollar), while the $25 Walmart card costs 28,000 points (1120 points per dollar).
What happens if I stop using Ibotta?
How long does money stay on ibotta? Does Ibotta cash expire? If you stop using your Ibotta account for 6 months or more, Ibotta may charge an account maintenance fee against your rewards.
That means your Ibotta cash may decrease if you stop using Ibotta for 6 months. You can leave your rewards in the account without penalty for as long as you'd like. The fee is only if you stop using the app.
Is it illegal to use Ibotta with food stamps?
You can use food stamps (i.e., EBT cards or SNAP benefits) on groceries, and stretch your dollars further with Ibotta. Here are directions on the Ibotta site for using EBT with Ibotta at Walmart. Check with your local SNAP office for the most current rules about using your EBT card.
Is it possible to pick up discarded receipts off the ground to use on ibotta and rack up cash?
Though you may get away with this for a while, it's not a good idea. Your account will look suspicious if it's filled with receipts with different store loyalty numbers and credit cards. There is a risk Ibotta may flag your account and you may lose access to this money saving app.
Some people want to know how to cheat ibotta. There are tricks that may work short-term. However, they're generally a bad idea and can get your account banned.
What will happen when I use a fake receipt on Ibotta?
Submitting fake receipts to Ibotta goes against their terms of use. If you are caught doing this, you risk losing any rewards currently in your account.
How many times can I redeem an Ibotta offer?
How many times can you submit the same receipt on Ibotta? You can submit each receipt once on Ibotta. However, if you missed an item, you can resubmit the receipt with the missed offer added if it's within 7 days of purchase.
Some Ibotta offers you can only redeem once. Other offers are available multiple times. Check the Ibotta app for details on the item limit for the offers you're interested in.
Can you scan old receipts on iBotta?
Yes, Ibotta takes old receipts, but there is a time limit of 7 days from the date and time of purchase.
How to Delete Ibotta Account
Deleting Ibotta is easy! Go to your profile in the upper left corner of the screen in the Ibotta app, then click "settings." There is an option to "delete account" listed among the options.
These directions only work on Apple devices. If you have another type of device, you can cancel Ibotta through the Ibotta chatbot on their help page. Cancelling will forfeit any rewards you've earned, so be sure to cash them in first.
Can you use Fetch and Ibotta at the same time?
Can you use multiple rebate apps at once? I noticed you can scan the same receipts in Ibotta and Fetch, and get rewards for each.
Ibotta is like using digital coupons, while Fetch is collecting info for market research (with occasional deals from specific brands). According to talk in the Ibotta community forum, using the two programs doesn't generally cause conflict.
Something to keep in mind though is that you will generally only get credit or points for the amount paid. So, if you use paper coupons, you may not get Fetch or Ibotta credits for the item.
Apps Like Fetch Rewards
Obsessed with shopping rewards apps yet? Haha Another app like Fetch Rewards is Receipt Hog.
With Receipt Hog, you enter receipts for points. Just like Fetch, you can use receipts from online shopping or brick and mortar stores. Each receipt earns a sweepstakes entry plus a Hog Slots spin for bonus points. Fun!
If you're all about lazy easy ways to save, here are three more programs to check out:
Paceline rewards you for living an active lifestyle. Simply connect your Apple Watch, Garmin, or Fitbit to the Paceline app and get moving. You can get a $1 Amazon gift card each week (or other rewards) for meeting the AHA's 150+ minutes of weekly exercise recommendation. It's like free money if you're already active.
Social Nature is not an app, but it's a website that will send you coupons for free products. I've tried so many new-to-me foods through them! The only thing they ask is that you write a short (140+ character) review after trying the item.
Pogo App allows you to earn points on every purchase, similar to Fetch. Currently, 10 points equals $0.01, which you can cash out in gift cards or PayPal.
Apps Similar to Ibotta
Here are a few more cashback apps to try if you like Ibotta. (I use them all!)
Dosh automatically gives you cash back on certain stores, and you don't need to submit receipts! Sign up for the app, link your credit cards, and watch the money roll in. I was so happy to get 8% back on my car repair through them the last time I went to Midas. They're currently offering 10% cash back for Lyft, 5% for Panera, and you can earn rewards for lots of other great places too! (Use code SUMMERY15 and sign up here.)
Upside is an app that can save you a ton on gas and groceries, depending on where you live. Sometimes I can find cheaper gas on there than Costco (usually the least expensive in the area). Additionally, I've taken advantage of 10-15% off my entire order at grocery stores like Price Chopper. When combined with a 5% cash back credit card, that's some serious grocery savings!
Rakuten is great for non-Amazon online orders. I've enjoyed discounts for diverse sites like Groupon, Apple, Butcher Box, and EveryPlate through them. Make sure to get familiar with this app before holiday shopping- it may save you a ton!
FAQs
Fetch vs Ibotta vs Rakuten – what's the difference?
Ibotta vs Fetch vs Rakuten all have different uses, so I'd try them all! Fetch gives you reward points for just about any online or offline receipt. Ibotta offers digital cash back on specific products purchased from specific stores. Rakuten often offers a % cash back on online purchases made at specific online retailers.
Fetch Rewards vs Swagbucks – what's the difference?
Fetch Rewards gives you points that are redeemable for gift cards for submitting store receipts. Swagbucks is a program where you mostly complete surveys for Swagbucks, which are redeemable for cash or gift cards.
Is Fetch App better than Receipt Hog?
I compared Fetch Rewards vs Receipt Hog, and I found it easier to get rewards with Receipt Hog. First of all, the minimum redemption amount is a $5 gift card with Receipt Hog, versus $10 at Fetch. Second, I found I was able to rack up points faster with Receipt Hog by linking my store accounts. For these reasons, I'd list Receipt Hog as an app better than Fetch rewards.
Does Ibotta report to the IRS?
Do you report Ibotta on taxes? It's best to bring tax questions to your accountant, not the internet. That said, Ibotta rewards are essentially like coupons that don't need to be reported on your taxes. If you earn a high amount of referral bonuses those may need to be reported, particularly if they are over $600 in a year.
How do Fetch Rewards and Ibotta make money?
Both Ibotta and Fetch make money from deals with the partner brands you see in their apps.
Does Ibotta work in Canada?
No, unfortunately Ibotta is currently only available in the United States.
Best Receipt Rewards App
What is the best app for getting money back on receipts? My favorite cashback app for getting money back for in store shopping is Ibotta. I find Ibotta is the receipt app that pays the most, and I do think Ibotta is worth the trouble for grocery savings.
However, if you don't like planning, have lots of small receipts from last-minute store trips, and want something with lower effort, you may prefer Fetch as the best cashback app. You may also like how Fetch is set up more like a game. The only way you'll know for sure though is to try them both out!
Join our community! Subscribe to be kept up-to-date on all of the latest and greatest recipes! You can also follow me on Pinterest, Twitter, Instagram, and YouTube!
Fetch vs Ibotta Video