Cherries, mangoes, and a hint of lime come together in these cherry mango popsicles with no added sugar. Go grab some popsicles molds and a food processor, and you can make these easy ice pops. Blend the fruit separately to create layered mango cherry popsicles or blend it all together to make pretty pink mango cherry pops. Either way, they are delicious!
I promised in the Chocolate Strawberry Banana Smoothie post that I had more smoothies up my sleeve. This week I'll be sharing those, as well as some other frozen dessert recipes, like these cherry mango popsicles. (Psst… I might also have a couple more air fryer recipes to share towards the end of the week!)
After that, we'll be back to our regularly scheduled three times per week recipes. It's been fun posting daily, but it's been a whirlwind to keep up with!
But back to the cherry mango pops. Just like in my Banana Mango Strawberry Smoothie, you want to use overripe mango here. Save your perfectly ripe mangos to enjoy fresh. Ripe to the point of mushy fresh mango is what you want for this ice pop.
Some grocery stores have a discount produce bin for the fresh fruits and vegetables that are teetering on the brink of spoilage. I often see bruised and slightly mushy mangoes in these bins. They would be great here!
The reason that I am stressing the use of overripe fruit is because these ice lollies have no added sugar. All of the sweetness is coming from natural sugars in the fruit (plus a tiny bit from the milk). Therefore, it's critical to use the sweetest fruit you can find for the best results.
Cherry Mango Popsicles Tips
I'm going to show you two ways to make ice pops, and you can choose the one that sounds best. For the first option, you can blend the fruits separately and layer the ingredients in your ice pop molds. The second option is to simply blend all the fruits together in one go.
The second option is a little easier, but you lose the aesthetic appeal of layered popsicles. An advantage of blending it all together is that you can use extra mango for sweetness. You don't need to keep the amounts of fruit equal for even popsicle layers.
In the recipe video, I'm going to show you how to make the blended popsicles. But if you decide on homemade popsicles with layers, may I recommend using a novelty ice pop mold? If you're a parent, I think these ice pops have some major kid-appeal.
I am a HUGE fan of using fun popsicle molds as a method to help increase fruit intake. (I'm talking about for kids, but that's cool if adults are into it too. Haha) Tovolo Popsicle Molds Recipes are kind of my jam.
In this mango cherry popsicle recipe, I've used sailboat popsicle molds. I picked mine up for around $1 many years ago at a discount store, but similar sailboat molds are available on Amazon. (The downside to the Amazon molds is that they cost a lot more. Sheesh, pricey!)
If you're more interested in the molds I used for the blended cherry mango ice lollies, I'm providing a link with the recipe below. The silicone popsicle molds are great because the pops release so easily from them.
Whichever way you choose to make these pops, I think you're going to enjoy them. Cherry and mango provide a flavor combination that is truly a match made in heaven!
📖 Recipe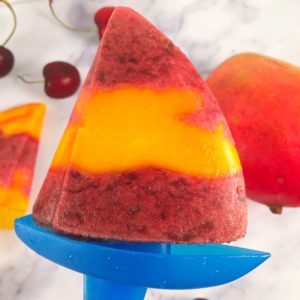 Cherry Mango Popsicles (No Added Sugar!)
Cherries, mangoes, and a hint of lime come together in these cherry mango popsicles with no added sugar. Make layered ice pops or blend it all together!
Ingredients
For the layered popsicles:
1

cup

pitted frozen dark sweet cherries

¼

teaspoon

lime zest

2

tablespoons

milk, 2%

1

cup

peeled and chopped mangoes

(mushy and overripe)
For the blended popsicles:
1

cup

pitted frozen dark sweet cherries

¼

teaspoon

lime zest

2

tablespoons

milk, 2%

2

cups

peeled and chopped mangoes

(mushy and overripe)
Don't be a stranger! 😊
If you love this recipe, please come back and leave a rating. This helps readers and I'd love to hear from you. Thank you ❤️
Instructions
To make the layered popsicles:
Blend the cherries and lime zest together in a food processor until smooth, drizzling the milk into the processor as it blends. You may need to stop the processor and scrape down the sides if ingredients are sticking. Set the cherry puree aside.

Clean your food processor and blend the mango until smooth.

Fill a few (2-3) pop molds ⅓ of the way with the cherry mixture. Fill another few (2-3) pop molds ⅓ of the way with the mango puree. Next, fill each pop mold to ⅔ full with whatever puree you did not use the first time (i.e., put a mango layer on the cherry pops and a cherry layer on the mango pops). Finish filling the molds with the final layer of fruit puree, so you get alternating layers of mango and cherry in each pop.

Freeze your popsicles for several hours (or overnight).
To make the blended popsicles:
Put all of the "for the blended popsicles" ingredients into a food processor or blender and blend until completely smooth.

Pour the mixture into ice pop molds and freeze for several hours (or overnight). Easy peasy!
Notes
This is a level 1 recipe (may help support fat loss). The nutrition information provided is for one layered popsicle. I was able to make five small popsicles with the layered ice pop recipe. The precise calorie count (as well as other nutrition information) will depend on factors like the size of your pop molds and how small you cut your fruit.
As I've mentioned previously, I consider popsicles made with whole blended fruit to be a good snack for fat loss. If they have no added sugars, they tend to be low in calories and must be eaten slowly (mindfully). In addition, kids who resist fruits and veggies tend to enjoy ice pops. This is the sort of tasty and healthy treat that may work well for the whole family.
Nutrition information is for one serving of the recipe.
nutrition info disclaimer

All recipes on this website may or may not be appropriate for you, depending on your medical needs and personal preferences. Consult with a registered dietitian or your physician if you need help determining the dietary pattern that may be best for you.

The nutrition information is an estimate provided as a courtesy. It will differ depending on the specific brands and ingredients that you use. Calorie information on food labels may be inaccurate, so please don't sweat the numbers too much.
Nutrition
Calories:
42
kcal
Carbohydrates:
10.3
g
Protein:
0.6
g
Fat:
0.2
g
Saturated Fat:
0.1
g
Sodium:
3.7
mg
Fiber:
1.2
g
Vitamin A:
5.3
% DV
Vitamin C:
17.3
% DV
Calcium:
1.1
% DV
Iron:
0.6
% DV
If you're on the lookout for more mango goodness, don't miss my Sugar Free Lassi.
Also, please don't keep it a secret if you've enjoyed these cherry mango popsicles! Share it on your social media or leave feedback and a rating below! It makes my day when I hear that someone has enjoyed one of my recipes.
Join our community! Subscribe for all of the latest and greatest recipes, and follow me on Facebook, Pinterest, Instagram, and YouTube!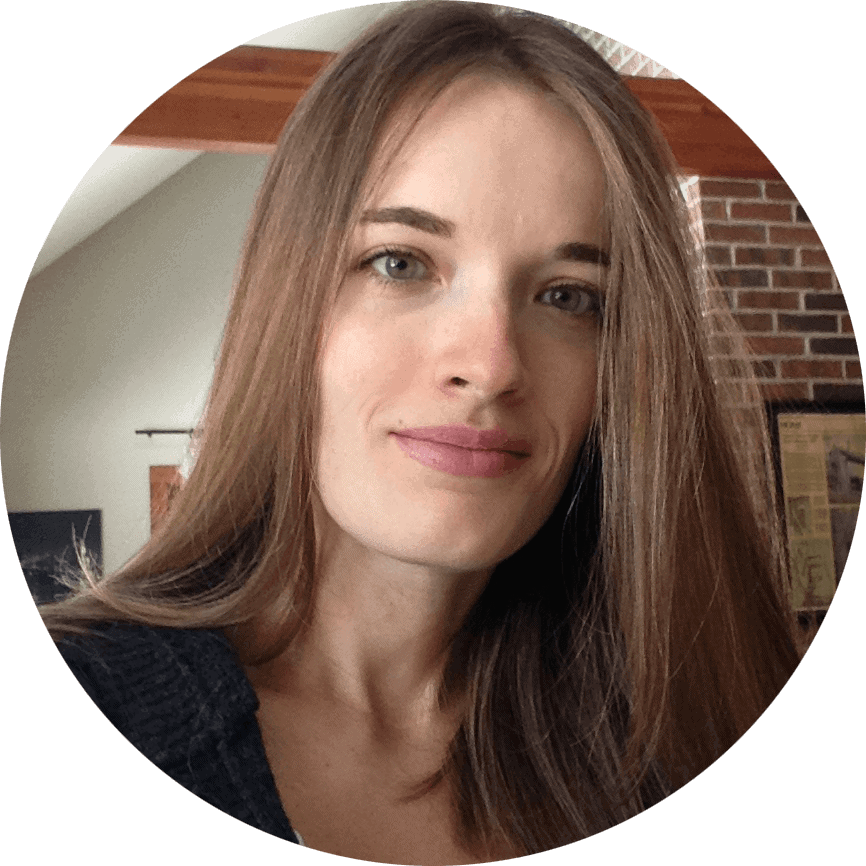 Hello! I'm Summer, a registered dietitian and home chef who loves to cook, eat, and create high quality content for you! Every recipe on this site has been tested by me to help ensure your success in the kitchen. All eaters are welcome here 🙂