The Pogo app is a cash back app where you earn money or Amazon gift cards rewards for purchases and taking surveys. After you download Pogo for iPhone, iPad, or Android and connect your data to Pogo, you can earn points called Pogo points to cash in. In this Pogo app review, learn more about how to save money with Pogo, is Pogo legit and safe, and more!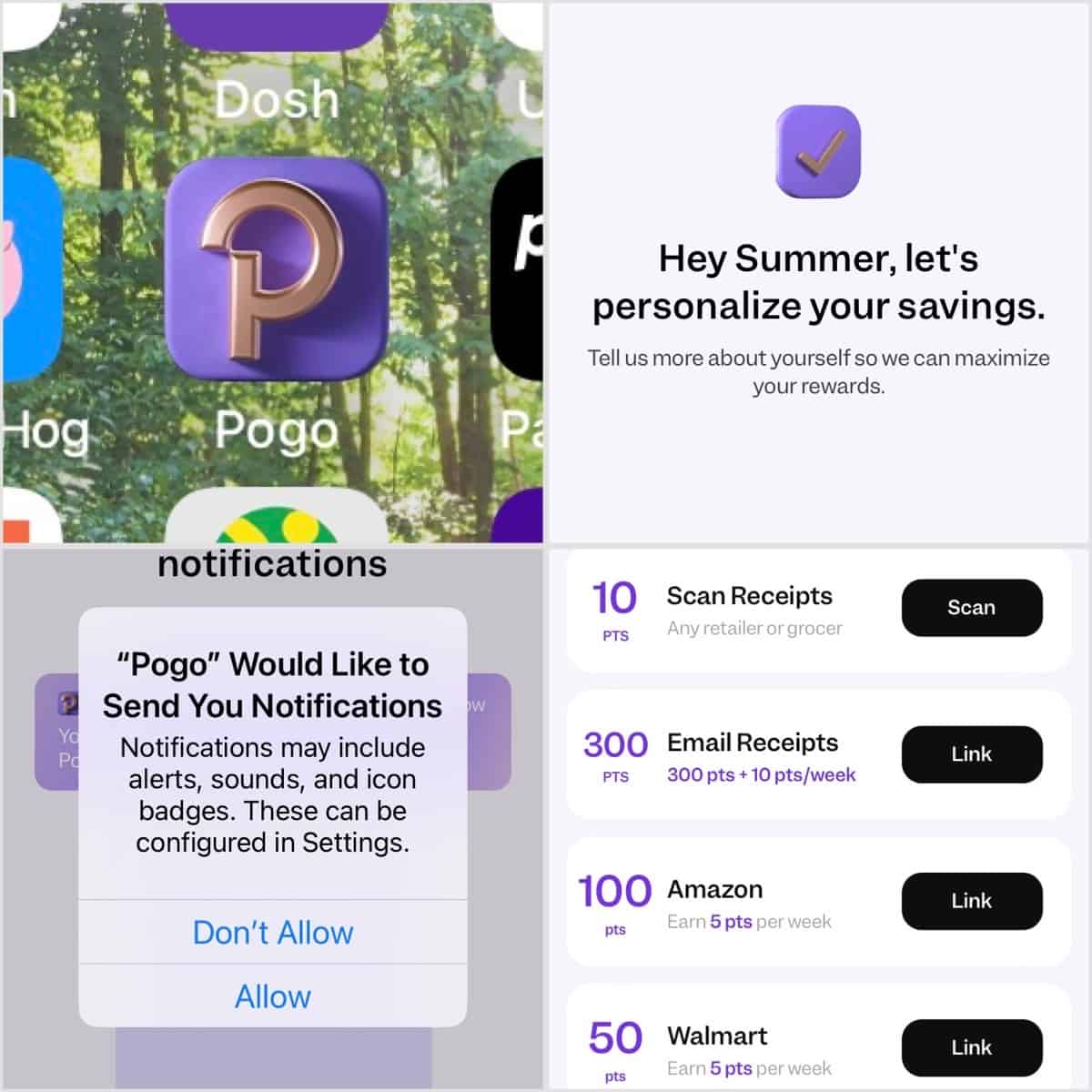 Jump to:
What does the pogo app do?
What is the Pogo money making app? The Pogo app is a mobile app to earn cash back rewards from purchases.
After downloading the app, you can set up a Pogo account by linking credit cards and bank accounts. Pogo can automatically track spending so you receive rewards on eligible transactions.
You can also scan receipts manually and take surveys to earn cash back and gift cards that way. Here is a summary of what the Pogo apps offers:
Pogo App
Type of
Shopping
In store shopping or online shopping
Type of app
iOS or Android (available in Apple App store or Google Play
store), or use the Pogo Chrome extension for desktop
Cash minimum to
cash out
$5 minimum cash-out
Types of rewards
available
PayPal payment, Amazon gift card redemption options
When do
rewards expire?
Earnings subject to expire after 180 days of consecutive
inactivity
Best for...
Those who want to save a little more money for purchases
they would have made anyway
How to try
them out
Visit Pogo App (use code L1GBW7)
Pogo simplifies the cash back process by eliminating the need for users to upload receipts or activate offers. Instead, the app tracks spending seamlessly, allowing users to earn points on everyday purchases like groceries and gas.
In addition to cash back rewards, Pogo also functions as a tool for users to save money on financial services such as bank accounts and credit monitoring services. The app achieves this through its automatic features, which help users find better deals on financial products.
Moreover, the Pogo app empowers its users by allowing them to monetize their valuable data. This transparent approach helps users understand the true value of their information and enables them to earn additional income by participating in the app's data-sharing feature.
How do you make money on pogo app?
Here are the step-by-step instructions to start earning money on the Pogo app:
Download Pogo app by visiting the Pogo website here. Use my Pogo referral code L1GBW7 and you'll get 250 points as a sign up bonus. (I'll get 250 points too, thank you!)
After creating your Pogo account, securely link your bank account with Plaid. Once the account is set up, Pogo app will automatically track your spending and reward you with points for your transactions, shopping history, and location data. (Alternatively, you can take photos of receipts if you don't want to link your credit cards and external accounts for automatic savings.)
Shop and earn rewards for every purchase you make - from groceries and restaurants to online shopping and bills. You also earn points when you answer paid surveys on survey sites, participate in special offers, or get location rewards for going to certain stores.
One more way to earn more points is to invite friends with your Pogo referral code.
Cash out when you reach at least 5000 points, or $5. You can redeem your rewards for a Paypal payment or Amazon gift card. This low minimum cash out threshold makes it easy to get the earnings quickly.
How much can you earn with the pogo program?
Pogo points are worth 1000 points per dollar or 10 points per cent in the Pogo app. You need to earn the minimums (at least 5000 points or $5 in real cash) before cashing out for gift cards or into Paypal accounts. We each earn 250 bonus points when you use my referral code L1GBW7, a nice bonus for signing up.
How much you ultimately earn with the Pogo app depends on how much you use it. You will accumulate points faster if you shop more often, participate in the surveys, share your location, and link your external accounts. The more you allow your data to be used in anonymous market research and for personalized advertisements, the more you'll make.
That said, I wouldn't expect these savings and rewards to make you rich. Compared to some of the other shopping apps I've tried, the earnings tend to be modest with Pogo. However, if you like using cash back apps and set this one up so you're earning passively, you'll earn a little extra pocket change for everyday transactions.
Is the pogo app legitimate?
Is pogo safe? Yes, the Pogo app is legit and secure. This user-friendly platform gets a 4.9 /5 star rating in the Apple app store, with over 46,000 ratings. These highly positive reviews from users indicate that the Pogo app is safe to use.
It's understandable that the data-sharing aspect of Pogo may lead to privacy concerns. However, the general consensus among users is that while earnings may be modest, the Pogo App maintains a high level of transparency and is not a scam. You can always delete your information and the app if you decide it's not for you.
Is pogo safe to link to a bank account?
Yes, Pogo prioritizes security to keep your linked bank information safe. Pogo employs a third-party secure bank linking platform called Plaid. Plaid is a reputable and widely-used service, utilized by many Americans to link bank accounts.
Plaid is responsible for encrypting and sharing transaction data, ensuring that sensitive information remains secure. The platform maintains substantial security measures, including strong encryption and access controls, to protect users' bank account, debit card, and savings information.
In addition to Plaid's security measures, Pogo has implemented its own precautions to safeguard users' finances. It is important to emphasize that Pogo does not store users' bank account login credentials (source). Users can confidently link their bank account(s) to the app, knowing that linking is vital for maximizing the rewards they receive on the platform.
It's true that no system is entirely foolproof. However, Pogo's use of Plaid and other security measures make it a safe option if you wish to link your bank account, while protecting your personal financial information online.
Pogo App Referral Code
Hey friends, you can jump in and start earning Pogo reward offers right now with my unique referral code! Simply head over to Pogo, and enter my Ibotta code L1GBW7. We'll both get 250 points after you sign up and earn at least 5000 points. Double win!
Pogo App Customer Service
You can send a message to Pogo customer service on their website here, or directly through the app. To reach customer service on the Pogo app, open the menu in the upper left hand corner. "Support & Help" is located at the bottom of the menu.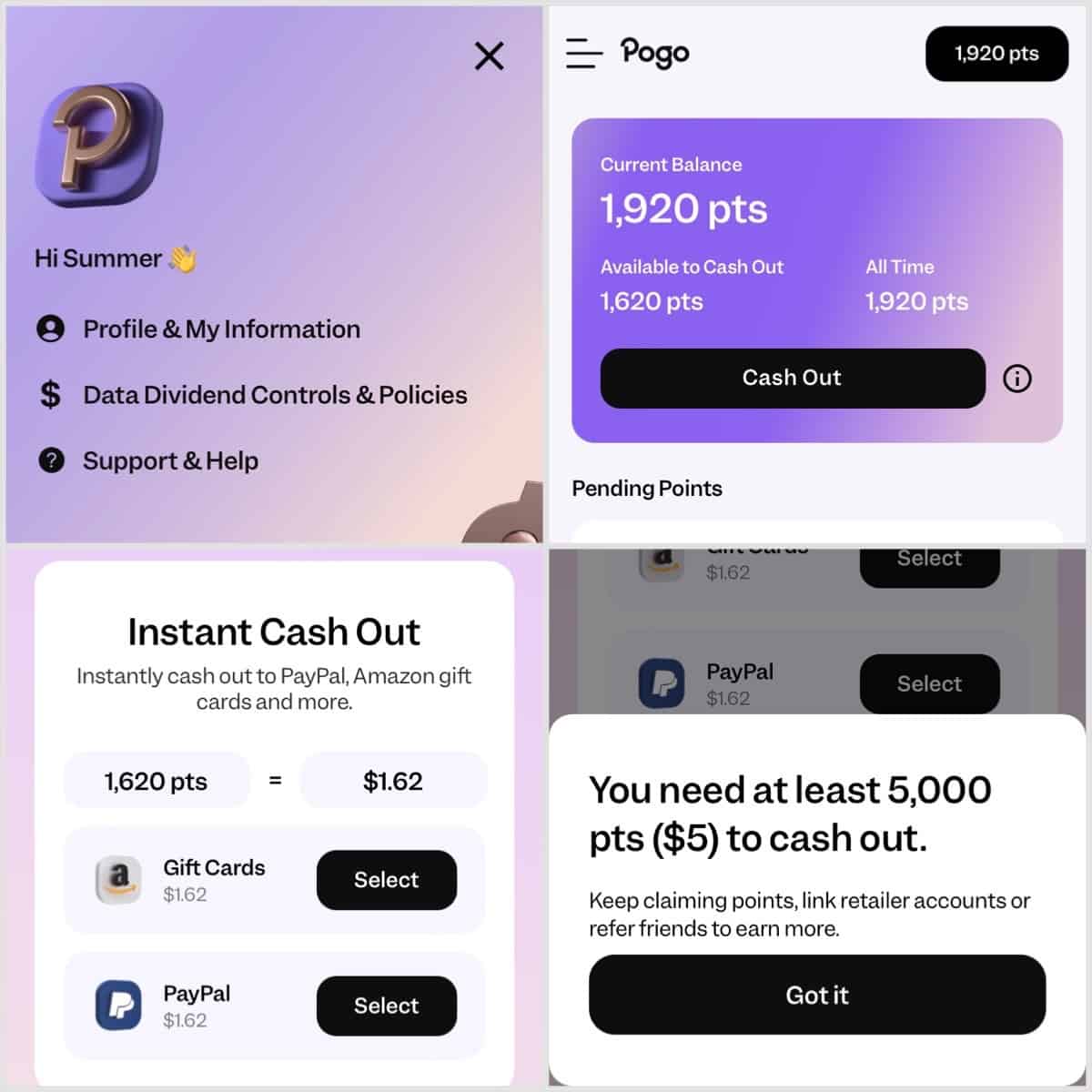 FAQs
What happened to the Pogo games app?
The Pogo games app was discontinued in 2020, but you can still play online games at pogo.com PoGO is also a nickname for the Pokemon GO game, another mobile game.
Is there Pogo for Apple Watch?
No, you cannot use the Pogo money saving app on Apple Watch. (Unrelated, the Apple Watch companion app for Pokemon GO was discontinued.)
Is there Pogo app for Android?
Yes, you can download the Android Pogo app in the Google Play Store. Use my referral code L1GBW7 and we'll each get 250 Pogo points!
Is Pogo App Worth it?
The Pogo reward app may or may not be worth it, depending on what you're looking for. It offers a small source of extra cash, though it likely won't make you rich. If you're comfortable with the data-sharing aspect, why not try it out and decide for yourself?
Other Shopping Reward Programs
Here are some other shopping rewards apps like Pogo app:
Don't miss my Ibotta vs Fetch savings apps review while you're here!
Join our community! Subscribe to be kept up-to-date on all of the latest and greatest recipes! You can also follow me on Pinterest, Twitter, Instagram, and YouTube!
Pogo App Video