If you haven't tried smoked tofu, you are missing out on one of the tastiest preparations of this popular soy food! Today, I'm going to cover how to smoke tofu using a Nordic Ware smoker. Smoking tofu is easy; it picks up delicious smoky flavors like a sponge! Whether you're vegan, vegetarian, or just like plant foods, you need this citrus-marinated smoky tofu in your life!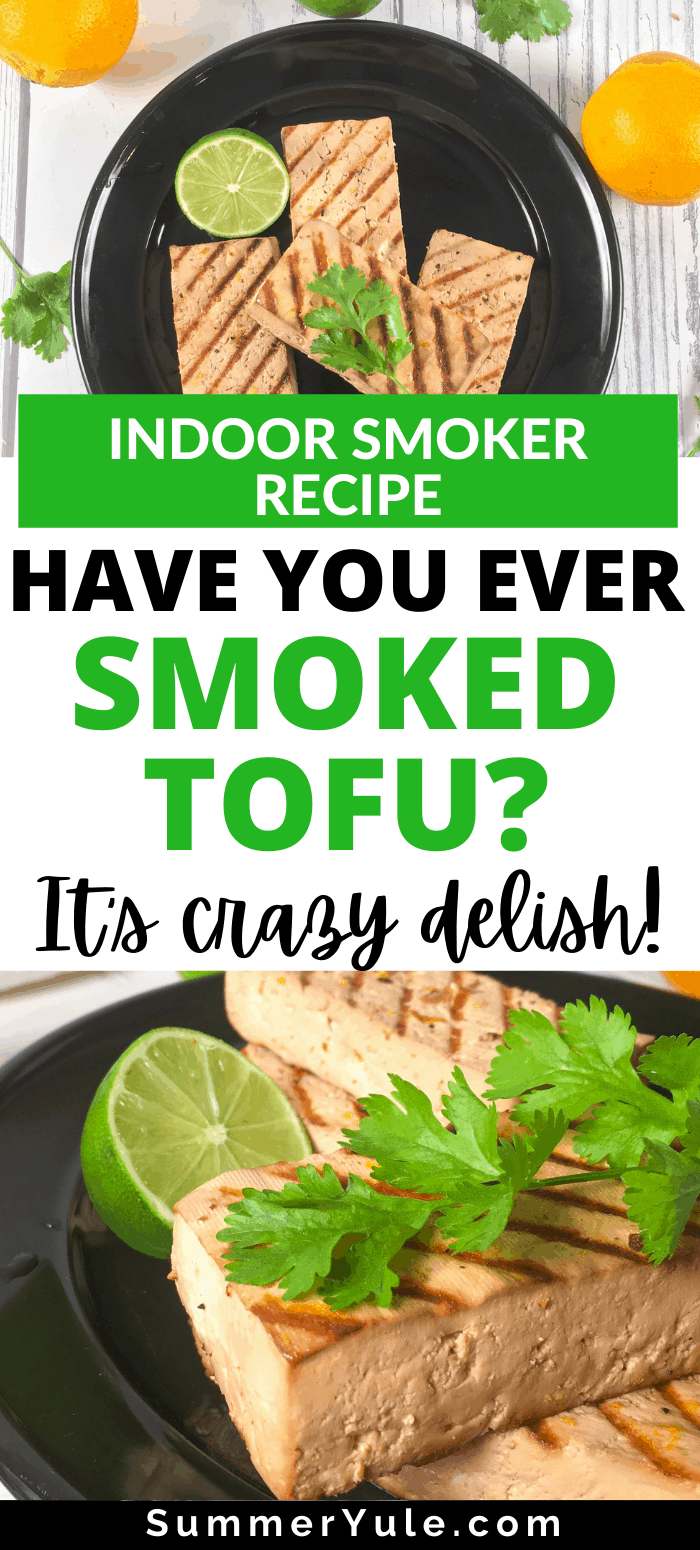 This summer has been smokin'!
Or perhaps I should say that Summer has been doing a lot of smoking this summer. Not the type of smoking that involves nicotine though, thank goodness. This is a health-oriented site, after all.
No, all of my smoking efforts have been put into foods. I shared my (crave-worthy!) recipe for how to smoke salmon a few weeks back.
Now, I'm going to show you how to smoke tofu. Time to break out the Nordic Ware smoker!
You might be thinking that tofu is some horrible, flavorless plant protein. If this is your current opinion of tofu, let's change it! The tofu you tried was probably prepared wrong, in ways that have not allowed it to blossom into its best self.
Think of tofu like it's a blank flavor canvas.
Initially, it appears that there is not much going on with tofu in the flavor department. But if you take a little time with it, you can use it to create a beautiful and tasty dish. It may even become a masterpiece!
Here, we are going to infuse the tofu with a bright, citrusy marinade. Then we're going to pop it into the Nordic Ware smoker, adding a layer of smoky flavor.
Seriously, this is probably my favorite way to prepare tofu. Smoked tofu can be difficult to come across in the store. You'll have a far more reliable source of this plant protein if you learn to make it yourself.
Here's what you DO NOT want to do with your tofu:
I'm not a fan of too many rules in cooking, but if we're going to have tofu rules, here is number one:
Don't skip flavoring your tofu.
I see so many recipes that use chicken, pork, etc. that say, "if you are vegetarian, just substitute tofu for the meat or poultry." Some may find this swap acceptable taste-wise, but I do not think this is a good suggestion in general.
As mentioned above, many have the perception that plain tofu is flavorless. If you don't season, marinate, or add some sort of flavoring to the tofu, it is! Unless bland is your thing, I recommend flavoring your tofu if it's not getting seasoned in the dish.
The short cut option would be to purchase a store-bought flavored tofu. The downside to doing this is that you cannot control the ingredients, and your flavor options are going to be limited. I often see only a couple types of flavored tofu carried by the conventional grocery stores and they typically have added sugar.
So, remember to flavor your tofu before trying to use it in place of animal-based protein in recipes.
I have another important tofu rule as well!
Do use the right kind of tofu for your recipe.
There are various types of tofu and they are best for different culinary applications. You may not be pleased with your results if you use a type that was not intended to be used with your recipe.
I'm using a block of extra-firm (regular, non-silken) tofu here. Firm tofu (again, regular and non-silken) will also work.
Please don't use the silken tofu sold in aseptic packages for this smoked tofu recipe. Silken tofu is excellent blended into non-dairy puddings and creamy desserts, but it is too mushy to use here. Also, skip the soft tofu here, silken or not.
The tofu tips above are based on decades of cooking experience.
I have a long, long history with tofu.
You probably know that I am a dietitian. But a decade or two prior to gaining my nutrition credential, I had learned my way around tofu.
I followed a vegan diet for a good decade of my life. During that time, I ate a lot of tofu and other soy products. It would not be uncommon for me during those years to eat 3-4 servings of soy foods per day (or more).
Since my estrogen-positive breast cancer diagnosis at age 29, I made the personal decision to seriously back off the soy. This isn't because I think soy is "bad" or that no one should be eating soy.
I just decided that what I had been doing up to that point didn't seem to be working well for me. There didn't seem to be much harm in giving a more varied dietary pattern a go.
Unlike those with ancestry from other regions of the world, my ancestors did not use soy foods as dietary staples. Though I love trying foods from all parts of the world, forcing soy into the position of dietary mainstay may not have been the best choice for me. Others, of course, may be thriving on it.
All of that said, I still incorporate some soy foods from time to time, just not as often as I used to. You can still find recipes here that are flavored with soy sauce. My family also enjoys the plant-based proteins edamame, tofu, and tempeh, which all come from soy.
(Ok, SOME of my family members like tempeh. One thinks it tastes like the most horrible thing on Earth, so I generally only make tempeh recipes when he's not around.)
Can I be a self-proclaimed tofu expert? Haha
The point is, I have a couple of decades of experience behind me in preparing soy foods. Even though I don't eat that much soy anymore, I figured there's no sense letting the knowledge go to waste.
For those looking for vegetarian or vegan protein sources, I'd consider tofu to be a better choice than the ultra-processed meat alternatives. It's a bummer when people turn to the fake meats because they think tofu (and other less processed legumes) taste bad.
I am currently an omnivore, and I do think tofu can be delicious. Additionally, I actually think it is best when it's not made into fake meat.
First of all, the fake meat recipes tend to fail in the copycat department. Some combination of looks, texture, taste, and nutrition often does not meet expectations.
This recipe for how to smoke tofu is not trying to make the tofu appear to be anything other than tofu. I've flavored it with a citrus marinade, but feel free to use your favorite type of marinade if you'd prefer.
The tofu takes on smoke flavor even better than any type of meat, poultry, or fish I've tried. Why should I try to make it pretend to be something it's not?
My personal opinion is that the obsession with making soy and other legumes into fake meat should be dissolved. Let's remove the disappointment involved in trying to force these foods to be something they are not. Instead, it might be easier to start appreciating them for what they are.
This smoky tofu with just a hint of citrus is SO GOOD! There is no need to make it pretend to be chicken, fish, or anything else. Promise.
Once you've learned how to smoke tofu, what the heck do you do with it?
Ok. So now you've smoked the tofu and you want to incorporate it into a meal.
I mean, you could just sit down with your tofu pieces and a fork and have at it. However, I think it might be ideal to get some other food groups in there.
I've got a really tasty recipe coming up on Friday that is going to show you how I'm using this tofu. And if you aren't interested in smoking tofu, you'll still be able to make the recipe! Just substitute a store-bought flavored tofu.
This tofu will lend itself well to dishes that need some more protein and that can benefit from the smoky flavor. I think it would be great on a variety of salads. In addition, unlike plain tofu, you could enjoy this smoked tofu as-is with veggie and grain side dishes.
Another idea for your smoky tofu is to throw it in a sandwich. Forget the peanut butter and jelly. We can elevate that standard lunch sandwich to another level.
For example, how does a TLT sound? That would be a (smoked) tofu, lettuce, and tomato sandwich. Since we aren't trying to make it a pretend BLT, how about some guacamole in place of the mayo?
Another thing I've been envisioning is this tofu in wraps with caramelized onions, sautéed mushrooms, cheese, and BBQ sauce. I know that smoky tofu could also work beautifully in many stir-fries.
Oh, just imagine the possibilities. You're going to love, love, love how versatile this smoked tofu is.
But you don't have to take my word for it. Follow the recipe on how to smoke tofu below and you can form your own opinion!
The disclaimer…
All recipes on this website may or may not be appropriate for you, depending on your medical needs and personal preferences. Consult with a registered dietitian or your physician if you need help determining the dietary pattern that may be best for you.
The calorie information is an estimate provided as a courtesy. It will differ depending on the specific brands and ingredients that you use. Calorie information on food labels may be wildly inaccurate, so please don't sweat the numbers too much.
For more information on how the three recipe levels may help with a weight management goal, refer to this post. Let's get cooking!
Like this recipe?
Leave a rating by clicking the ⭐ below!
Smoked Tofu (Nordic Ware Smoker)
Learn how to smoke tofu! Whether you're vegan, vegetarian, or just like plant foods, you need this citrus-marinated smoked tofu in your life!
Ingredients
1

clove

garlic, crushed

¼

teaspoon

dried oregano

¼

teaspoon

cumin

¼

teaspoon

salt

¼

teaspoon

pepper

¼

cup

orange juice, freshly squeezed

¾

teaspoon

orange zest

2

tablespoons

lemon juice

2

tablespoons

lime juice

1

tablespoon

avocado oil
Instructions
Mix all of your marinade ingredients together. Set this mixture aside while you prep the tofu.

Drain your tofu block, and press any additional moisture out. One way to do this is to place the tofu between two plates, and putting a weight (such as a heavy can) on the top plate.

After pressing, slice the tofu into four pieces. Place the tofu in the marinade. Cover, and marinate in the refrigerator for 4-6 hours.

After marinating, lift the tofu out of the marinade and pat the surface of the tofu slices dry with paper towels. Let the tofu rest in a single layer in the refrigerator for 2-4 hours. This drying step will help the smoke flavor adhere to the tofu.

Set up your full-size Nordic Ware smoker with 2-3 tablespoons of shredded wood chips that are meant for smoking food. I used the hickory chips that came with the smoker.

Put the drip pan and smoking tray in the smoker. Put the tofu slices down in a single layer on the smoking tray.

Put the lid on the smoker. Ensure the thermometer is attached properly and the lid vent is closed. Turn your stovetop vent fan on.

Put the smoker on a stovetop burner and turn the heat to medium-low. Allow the smoker's thermometer to come to 190°F (88°C).

Once the temperature comes to 190°F (88°C), turn the stovetop to low, and set a timer to smoke the tofu for 20-25 minutes. I chose to smoke the tofu for 25 minutes. Make sure that the smoker stays in the 190°F-210°F (88°C-99°C) range for the entire smoking period. You may need to adjust the stovetop's heat or open the vent on the lid. Keep a close eye on things!

If the heat on the smoker is rising too rapidly, you can always quickly lift the lid and peek at your tofu. This is an easy way to help bring the temperature back down.

After the timed smoking period, turn off the stovetop and remove the tofu from the smoker. Extinguish the spent wood chips by soaking them in water.

If you'd like your tofu to have nice grill lines, heat a stovetop grill on medium to medium-high heat. Grill your tofu for approximately 3 minutes per side.

Refrigerate the tofu and serve it chilled in your favorite dishes. Enjoy!
Notes
This is a level 1 recipe (may help support fat loss). The calorie count on this recipe does not include the marinade since most of it is not eaten. Tofu is a lean protein option that may be a great fit if you have a fat loss goal. On the other hand, it is also possible to create calorie-dense recipes with this tofu. (Psst… if this is what you're looking for, don't miss my next post for a super high energy vegan burrito bowl!)
Tofu fits many of the most popular special diets, including vegetarian, vegan, gluten-free, and low-carb. Some brands also provide a decent source of non-dairy calcium. If you have a Nordic Ware smoker and are looking to try something new, why not give this recipe a go? I bet it's going to win you over!
Nutrition
A couple of questions for you:
Are soy foods (like tofu) a regular part of your diet? If so, how often do you choose to enjoy them?
If you follow my recipe for smoked tofu, I would love to hear how you used it. You can tell me all about how you are getting creative in the kitchen below!