This blackberry strawberry banana smoothie recipe is a sweet treat that requires only 4 ingredients. Enjoy this banana strawberry blackberry smoothie recipe without yogurt as a creamy dessert, or even for breakfast! Learn all the options to make the best blackberry strawberry smoothie that's dairy free and vegan. It's the perfect way to use ripe bananas and frozen berries!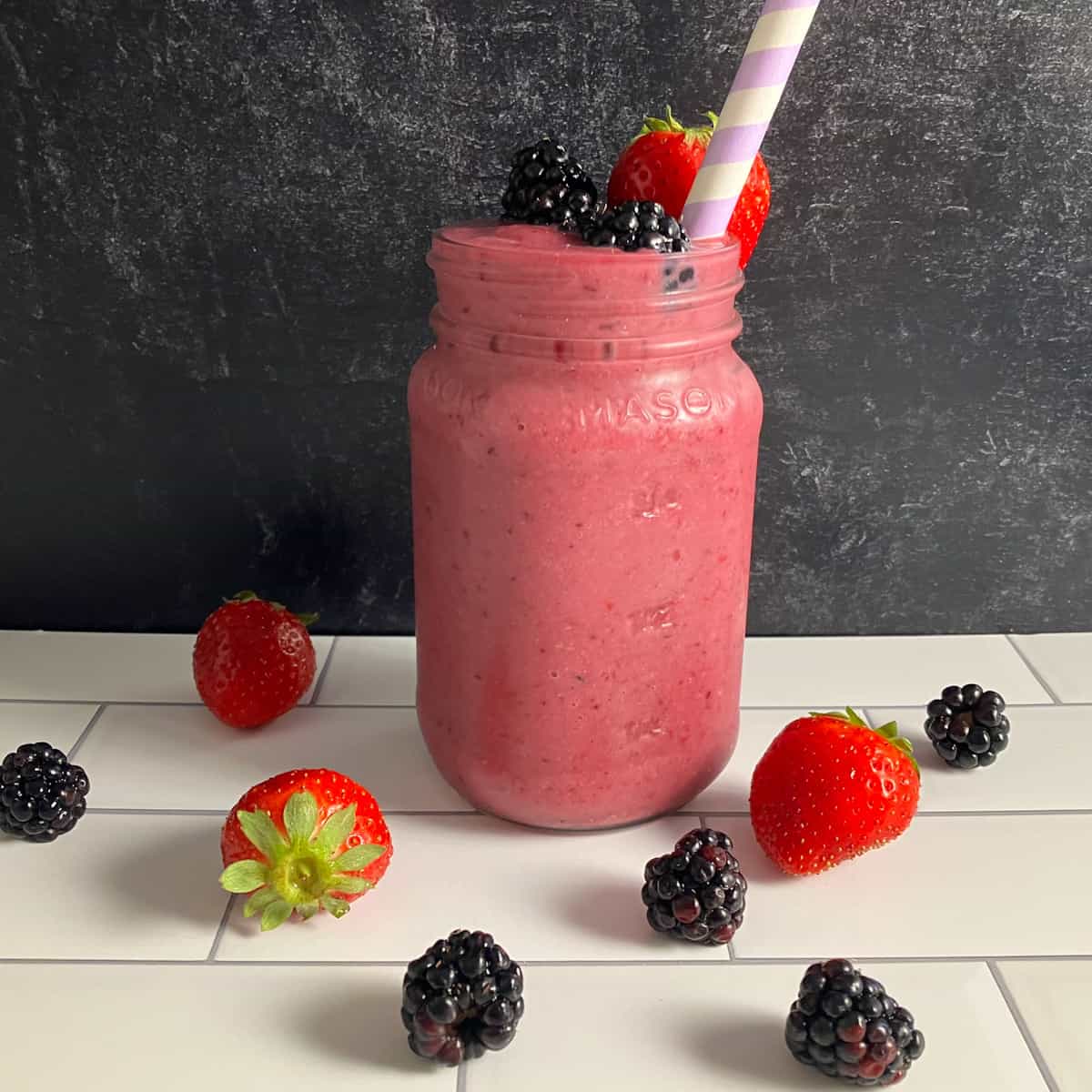 Jump to:
🍓 Blackberry Strawberry Banana Smoothie Recipe
Here are the ingredients for this banana blackberry smoothie with milk recipe:
1 frozen banana (broken into chunks)
1 cup halved frozen strawberries
¼ cup frozen blackberries
1½ cups almond milk (or your favorite milk)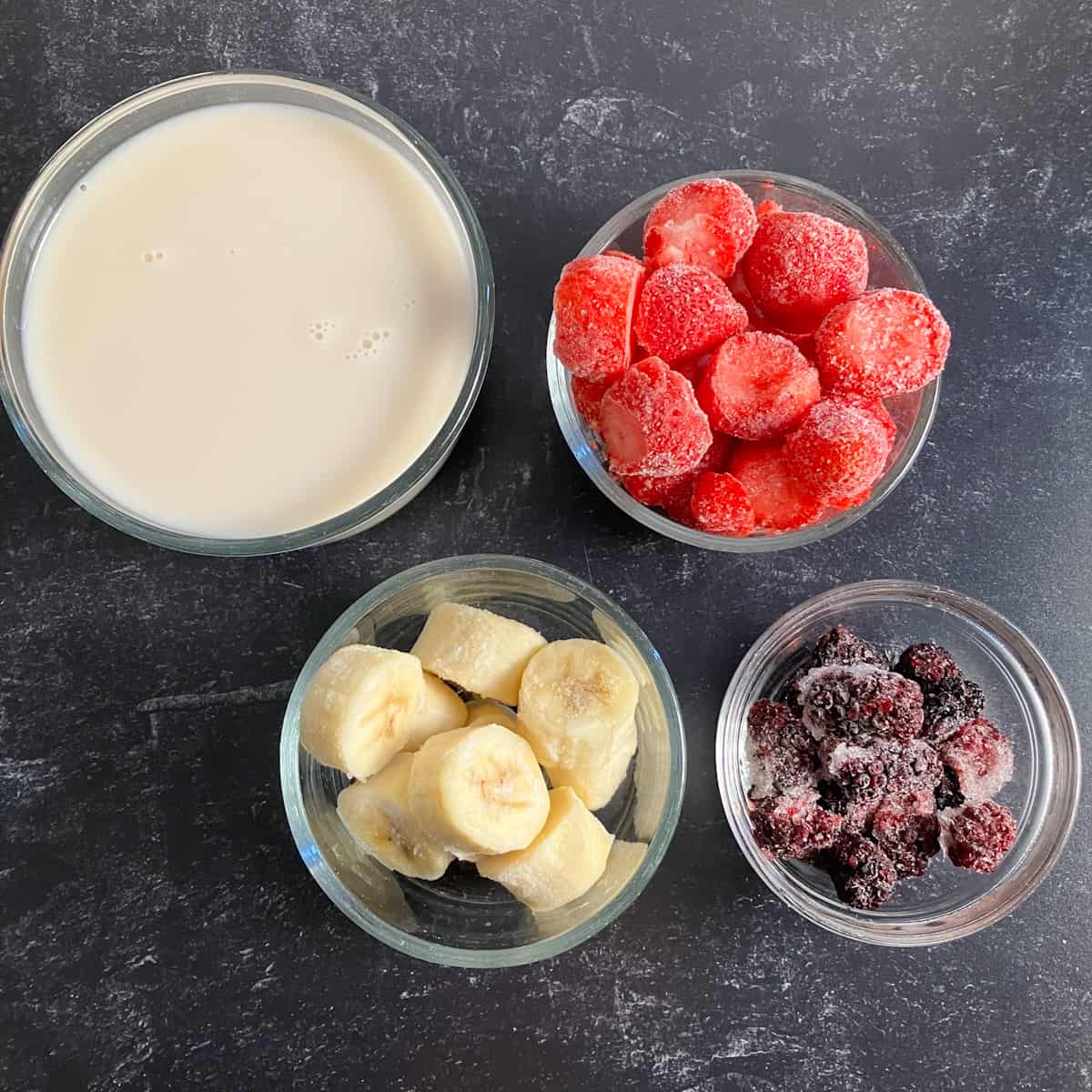 You can use sweetened almond milk in this recipe if you like things sweeter, or use unsweetened almond milk as I did. Use soy milk instead if you'd prefer more protein. Alternatively, go for dairy-free oat milk or coconut milk if you like the taste.
Dairy milk makes a very thick, creamy, and airy smoothie, almost like soft serve ice cream. However, the fruit flavor is less strong compared to if you use plant-based milk alternatives.
If berries are in season, you can freeze fresh berries for this strawberry and blackberry smoothie. This blackberry banana smoothie without yogurt is also a super way to use up overripe bananas. (I just know you're going to love this recipe!)
The kitchen equipment you need includes a food processor and possibly a sharp knife to cut the fruit. I like to serve smoothies with wide-width straws for easier drinking. (Plus, they are cute!)
How to Make a Strawberry and Blackberry Smoothie
Here are the step-by-step instructions to make a blackberry smoothie recipe (no yogurt):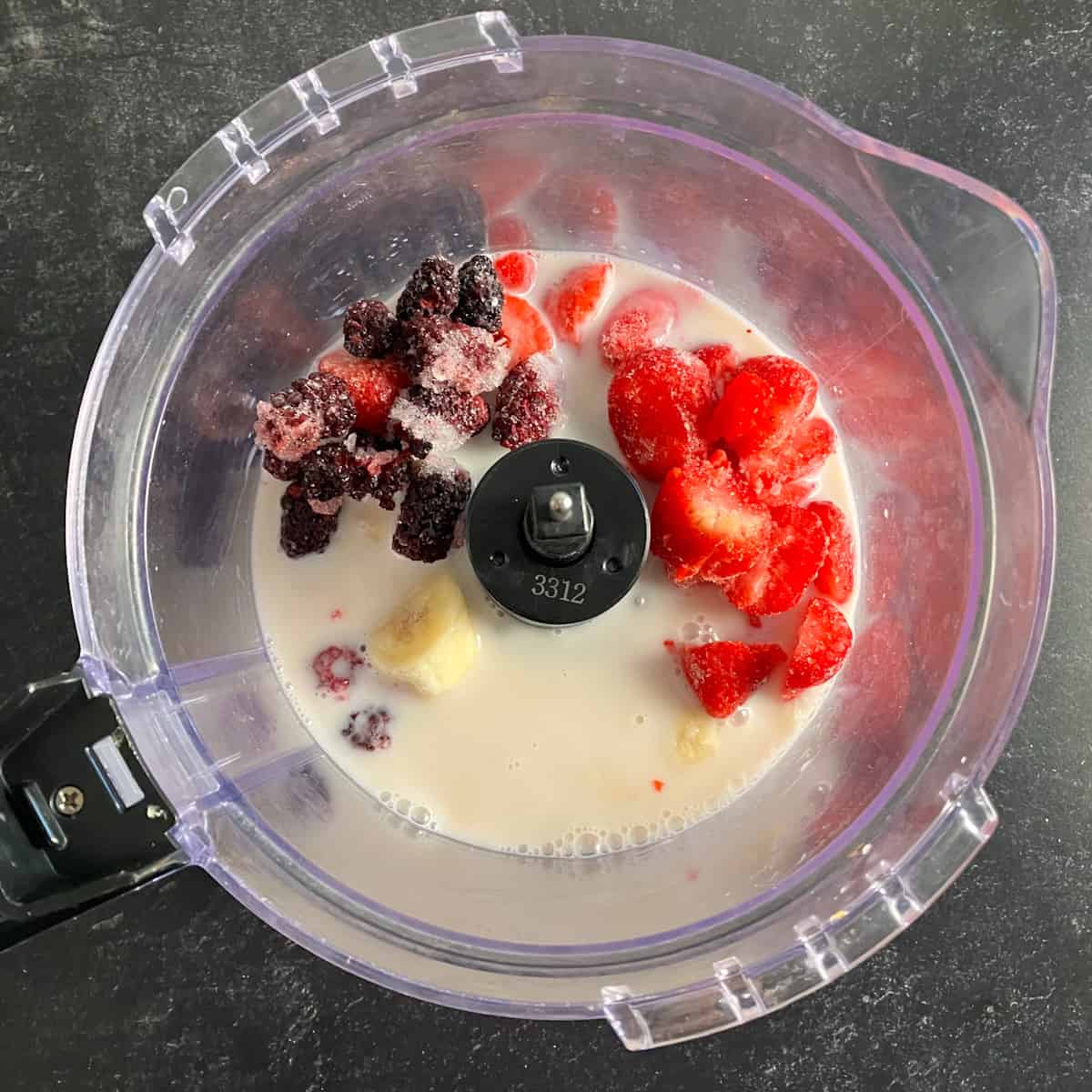 Halve the strawberries and cut the bananas into chunks (if necessary) for easier blending.
Place the blackberries, strawberries, banana, and almond milk in a food processor and blend until smooth. Pour the smoothie into a tall glass and serve immediately. Enjoy!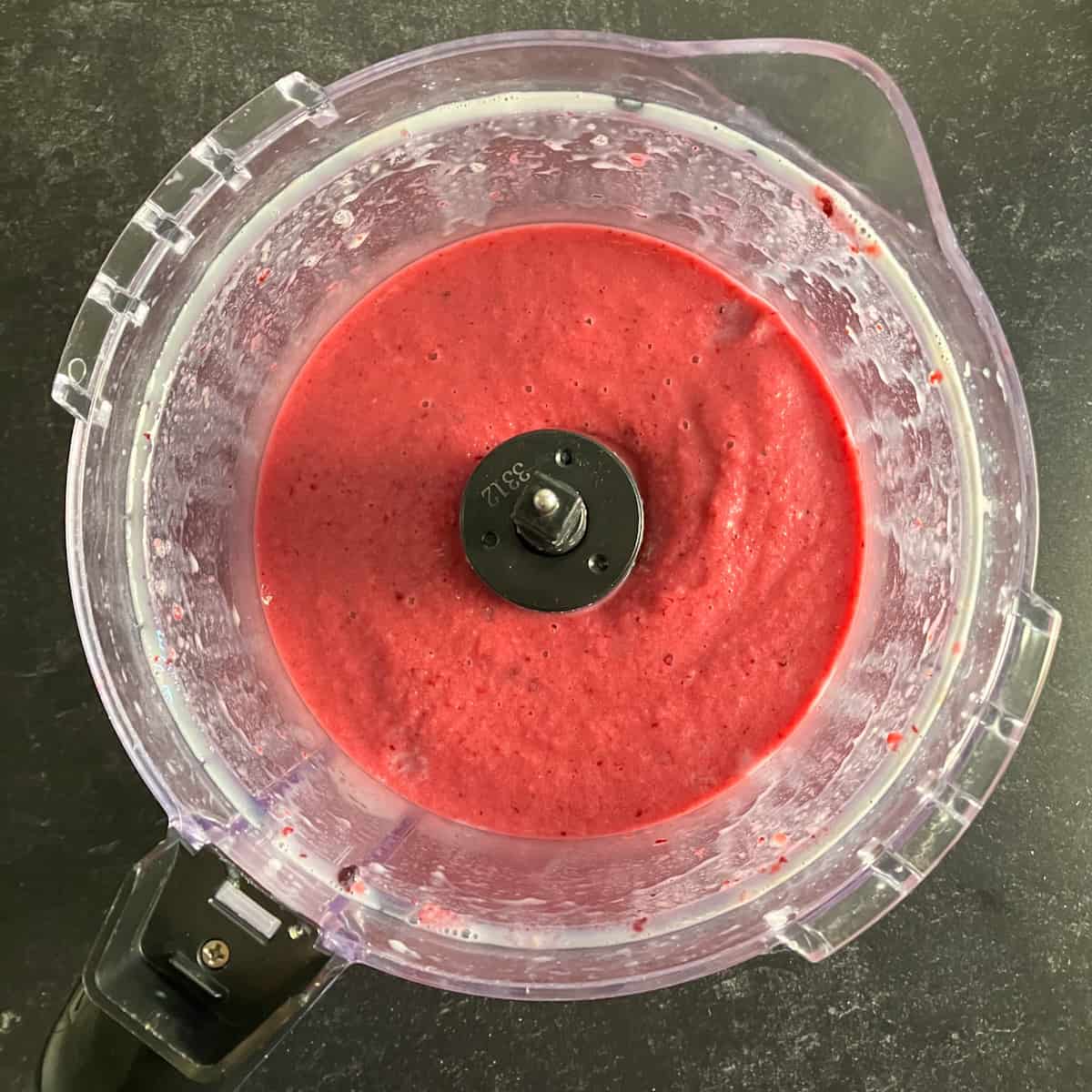 When making smoothies with blackberries, a little goes a long way to add flavor and color. If you add too many blackberries, your smoothie may become unpleasantly seedy. Strawberries and bananas are usually less expensive than blackberries as well, so we're using more of them here.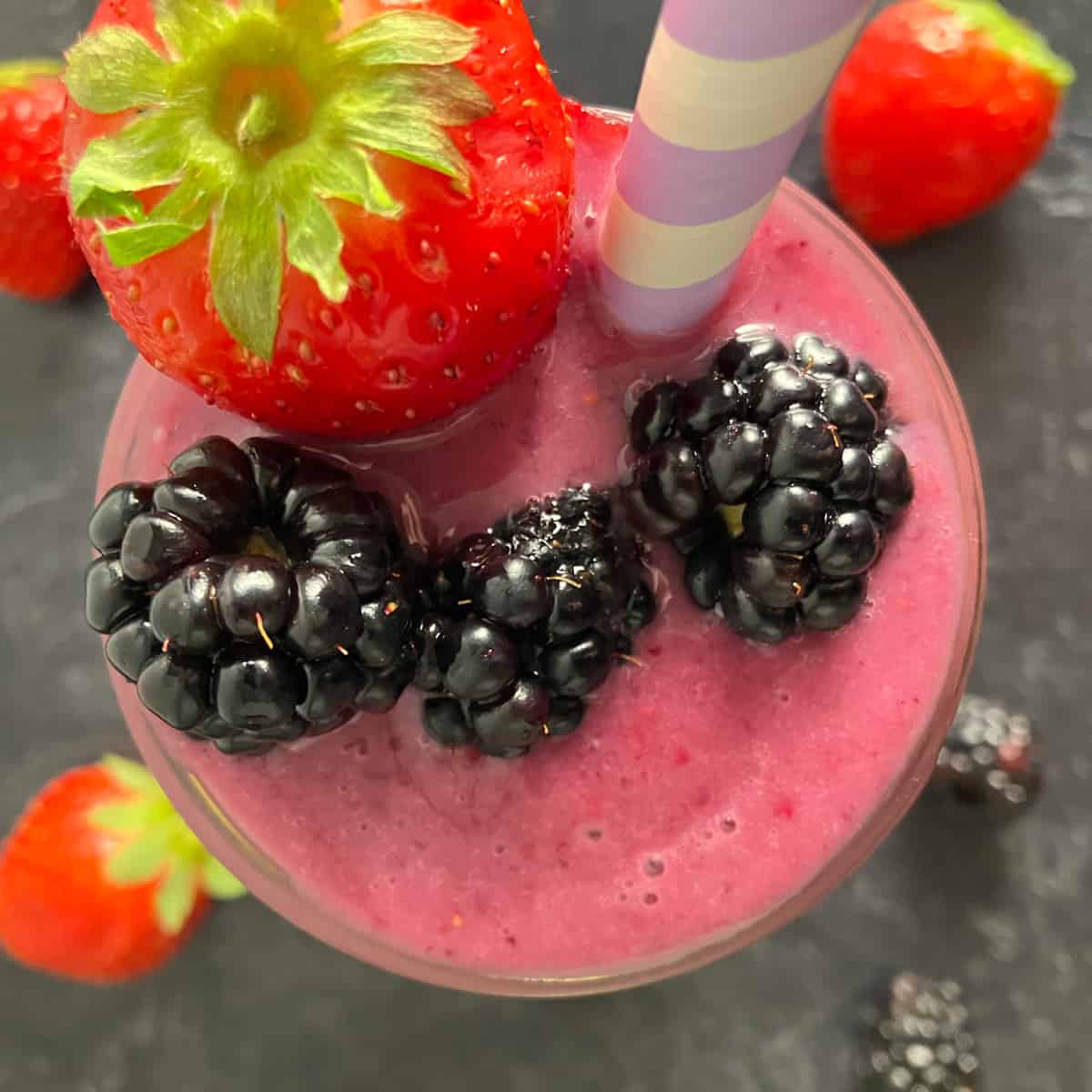 Hot tip: Get a printable recipe card at the bottom of the article!
⭐ Do strawberry and banana smoothies have benefits?
Are frozen berry smoothies healthy? Yes, blackberry strawberry banana smoothies are packed with numerous health benefits. These smoothies are not only delicious and refreshing but also an excellent source of several essential vitamins and minerals.
Firstly, the combination of strawberries, blackberries, and bananas provides a high amount of dietary fiber, which helps in maintaining a healthy digestive system, supports weight management, and aids in regulating blood sugar levels. Moreover, the low-calorie content of these fruits makes the smoothie a smart choice for people who want weight loss.
When it comes to nutrients, blackberries and strawberries are rich in antioxidants, including anthocyanins and vitamin C, which help protect your body from harmful free radicals, boost your immune system, and support healthy skin. Meanwhile, bananas provide a good dose of potassium, which can help regulate blood pressure and support heart health.
These strawberry blackberry banana smoothies are easy to prepare with minimal prep time (less than 5 minutes). Additionally, the high water content of the fruits contributes to your daily hydration. If you use an unsweetened milk, another benefit of the recipe is no added sugar.
🥤 Strawberry Blackberry Smoothie with Yogurt
To make a blackberry strawberry banana smoothie with yogurt, gather these ingredients:
½ cup strawberries
¼ cup blackberries
½ frozen banana slices
¼ cup Greek yogurt
handful of ice cubes
milk of choice (to adjust the thickness)
Place the frozen berries, frozen banana, yogurt, and ice into your blender. Then, add a splash of your preferred milk. If you like your smoothie a bit sweeter, feel free to add a drizzle of maple syrup as a natural sweetener. For an extra boost of protein, you may incorporate a scoop of protein powder to the mixture.
Keep in mind, using frozen berries and fruit helps create a thicker consistency, but you can always substitute fresh fruit if you desire.
Blend all the ingredients together until smooth, with a creamy texture. Adjust the consistency by adding more milk or ice cubes if needed. Once you've achieved the desired texture, pour the strawberry banana blackberry smoothie into your favorite glass or mason jar and enjoy!
🍌 Strawberry Blackberry Smoothie (no banana)
If you don't want bananas in your smoothie, try this strawberry blackberry smoothie without banana. This simple recipe is packed with frozen fruit, protein, and flavor, making it perfect for a nourishing breakfast or satisfying snack.
To make this smoothie, you'll need:
1 cup almond milk
1 cup frozen strawberries
1 cup frozen blackberries
½ cup of your favorite protein powder (sweetened)
½ cup ice cubes
Start by adding the dairy-free milk to your blender, followed by the frozen strawberries and blackberries. Blend these ingredients together until smooth. Add the protein powder and ice cubes, and continue blending until you reach your desired consistency.
Date paste, maple syrup, or honey can be used to sweeten this smoothie more if you'd like. You could also add chia seeds for a boost of omega-3 fatty acids (ALA).
Recipe FAQs
What fruit is best for smoothies?
The best fruits for smoothies are the ones you and your family enjoy! Bananas are a great base for smoothies as they provide natural sweetness, creaminess, and a good source of nutrients. Berries provide a pop of color, fiber, vitamin C, and other nutrients.
What to do with leftover smoothie?
Pour leftover smoothies into popsicle molds, put in the freezer, and make popsicles! You could also pour the leftover smoothie into an ice cube tray and freeze it. Once frozen, you can pop these smoothie cubes into your blender for a quick and refreshing smoothie bowl another day.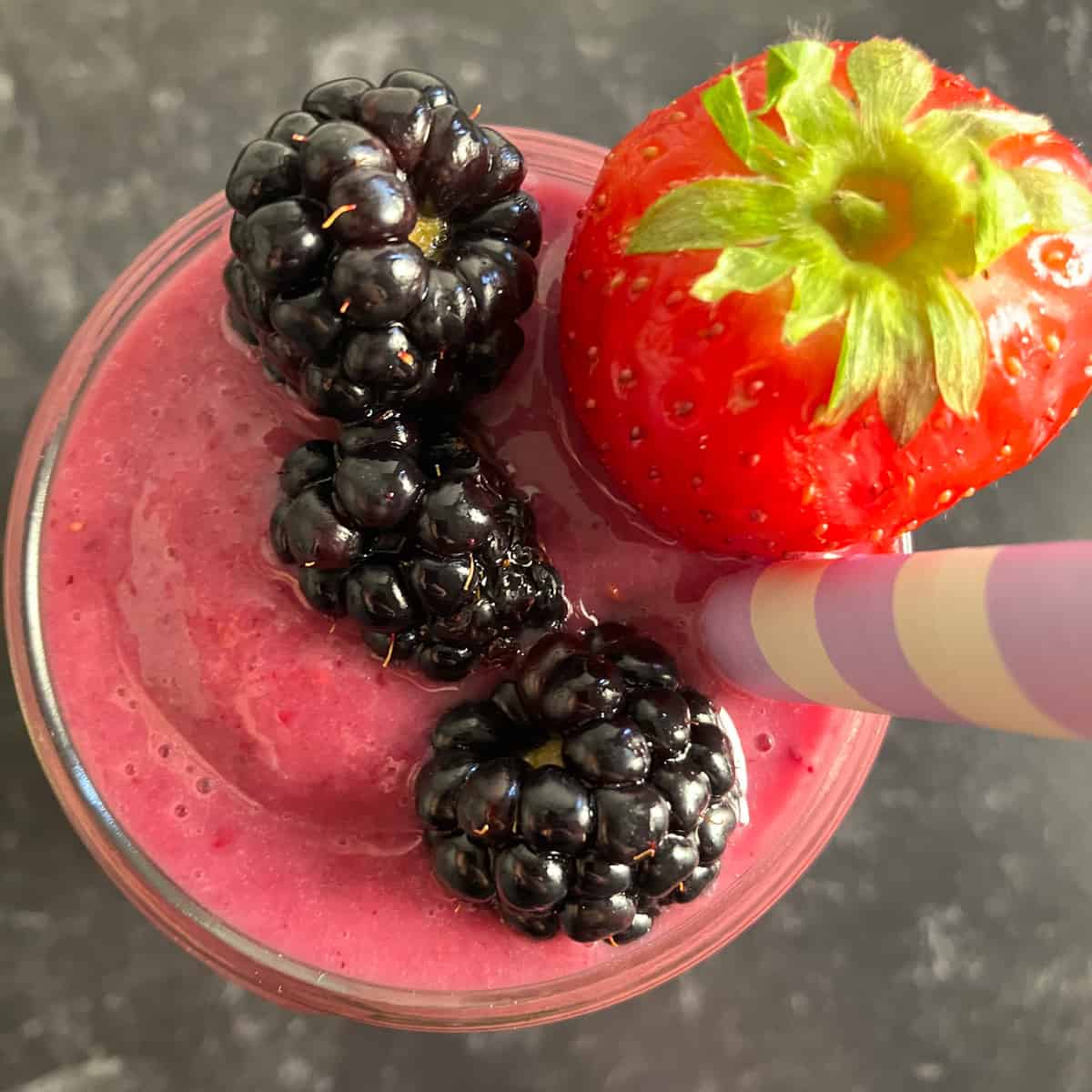 👩🏻‍🍳 More Smoothie Recipes
Here are a few more recipes for smoothies you may enjoy:
Join our community! Subscribe and be kept up-to-date on the latest and greatest recipes. You can also follow me on Pinterest, Twitter, Instagram, and YouTube!
📖 Recipe
Like this recipe?
Leave a rating by clicking the ⭐ below!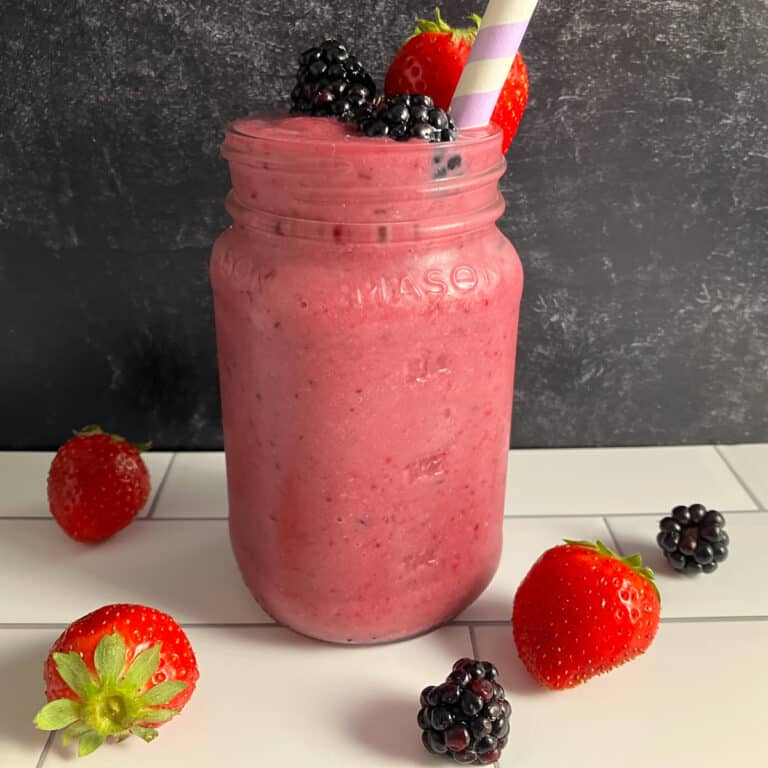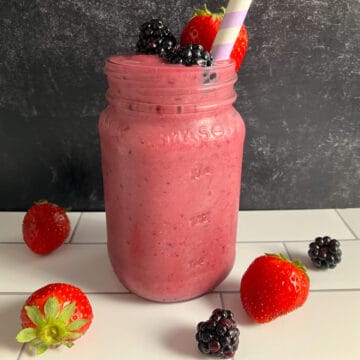 Blackberry Strawberry Banana Smoothie Recipe (without yogurt)
This blackberry strawberry banana smoothie recipe is a sweet treat that requires only 4 ingredients.
Ingredients
1

medium

frozen banana, broken into chunks

1

cup

frozen strawberries, halved or quartered

¼

cup

frozen blackberries

1½

cups

almond milk

(or your favorite milk)
Want to Help?
If you love this recipe, please come back and leave a rating. This helps readers and I'd love to hear from you. Thank you ❤️
Instructions
Halve the strawberries and cut the bananas into chunks (if necessary) for easier blending.

Place the blackberries, strawberries, banana, and almond milk in a food processor and blend until smooth. Pour the smoothie into a tall glass and serve immediately. Enjoy!
Notes
💭 Expert Tips from a Dietitian
This is a level 2 recipe (transition or weight maintenance).
For a more nutritious smoothie, consider adding some oats, almond butter, or plant-based protein powder to increase the protein content and keep you full longer. If you're using a Nutribullet or a high-speed blender like a Vitamix, blending fruits and other ingredients will be a breeze. Using non-dairy milk, such as unsweetened almond milk, makes for a smooth and creamy consistency that's perfect for a plant-based, gluten-free, and healthy breakfast or snack.
For a different nutritious twist on this strawberry blackberry banana smoothie recipe, consider including some of the following additional ingredients:
Nut butter

: Add a tablespoon of your favorite nut butter (peanut butter, cashew butters, etc.) for extra creaminess and a boost of healthy fats.

Spinach

: Toss in a small handful of fresh spinach or other leafy greens for added fiber and a dose of vitamins and minerals without altering the smoothie's fruity taste. (Note that this will give you a brown or green smoothie.)

Fresh fruit

: If you prefer, you can substitute fresh strawberries and blackberries for the frozen ones. Keep in mind that doing so may result in a slightly thinner smoothie, so add ice cubes as needed to achieve your preferred texture. You can use blueberries or raspberries in this recipe too.
The best part about smoothie recipes like this is that they're easily customizable to suit your personal tastes. Don't hesitate to experiment with different combinations of ingredients and flavors to create your perfect smoothie experience. Enjoy!
The Disclaimer…
All recipes on this website may or may not be appropriate for you, depending on your medical needs and personal preferences. Consult with a registered dietitian or your physician if you need help determining the dietary pattern that may be best for you.
The nutrition information is an estimate provided as a courtesy. It will differ depending on the specific brands and ingredients that you use. Calorie information on food labels may be wildly inaccurate, so please don't sweat the numbers too much.
For more information on how the three recipe levels may help with a weight management goal, refer to my
overnight oats no sugar
post. Let's get cooking!
Nutrition information is for one serving.
Nutrition
Calories:
218
kcal
Carbohydrates:
45.7
g
Protein:
3.9
g
Fat:
4.5
g
Saturated Fat:
0.1
g
Sodium:
259.5
mg
Potassium:
958.7
mg
Fiber:
9.7
g
Vitamin A:
21.4
% DV
Vitamin C:
132.5
% DV
Calcium:
71.6
% DV
Iron:
15.2
% DV