Have you ever wondered how to make raw vegan gazpacho? Gazpacho is a raw soup from Spanish cuisine that you make with blended vegetables. It's a naturally plant-based entrée and a great way to use your garden tomatoes! Aside from fresh tomatoes, we've got cucumbers, shallots, garlic, and a jalapeno for a touch of heat. With some cheese and whole grain crackers, dinner will be ready in less than 10 minutes!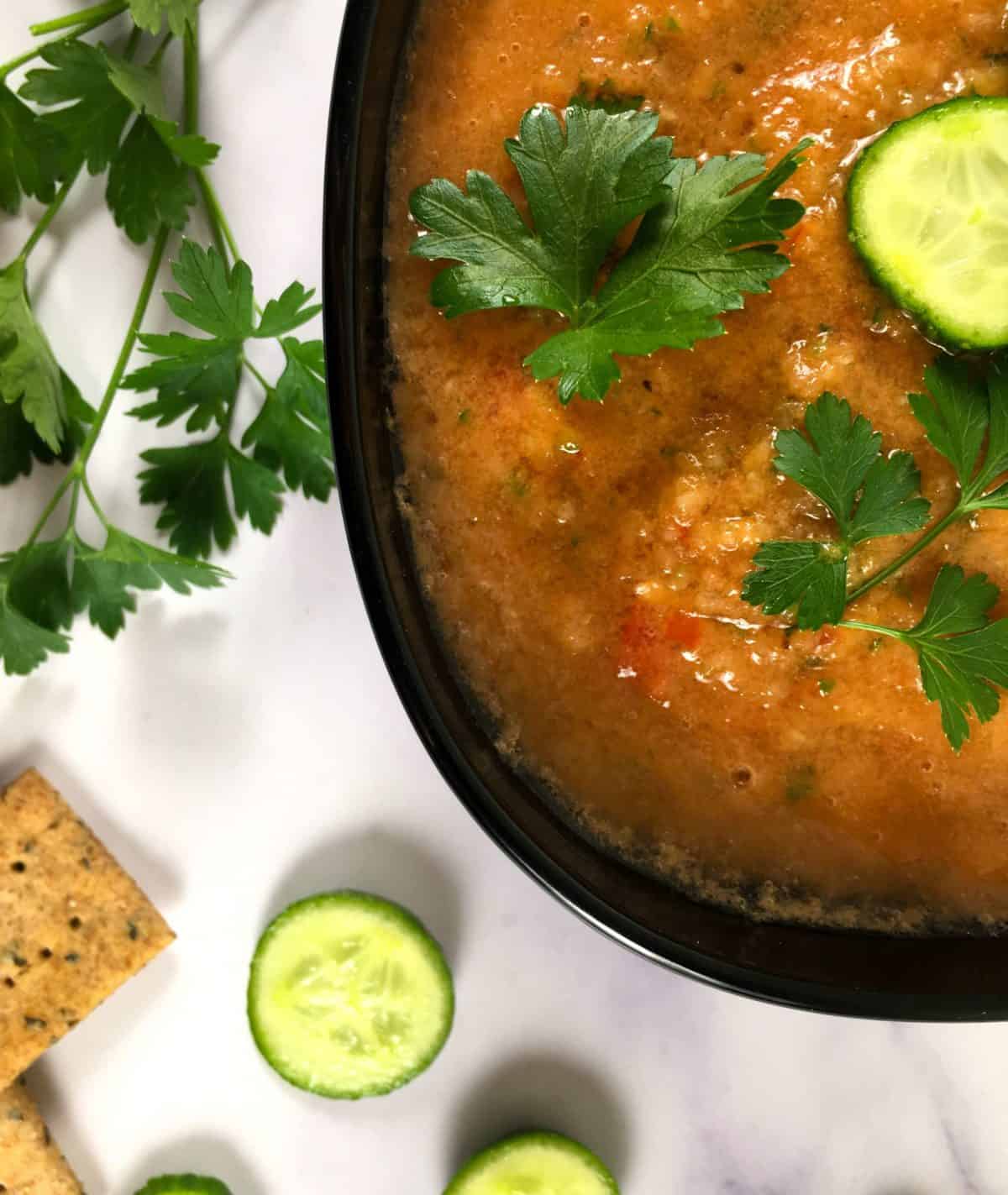 I'm on a gazpacho kick lately, and I'm not sad about it! On weekday evenings, when I may not feel like cooking, this chilled tomato soup is pretty much the perfect dinner. Aside from being super easy, it's delicious, low-calorie, and veggie-centered.
Additionally, it fits most of the special diets, including vegan, gluten-free, and low-carb. Adjust the sides that you serve with this raw soup, and you can feed (almost!) everyone.
One of the reasons that I'm so hooked on this dish is that my garden cucumbers are doing well. Despite not having a green thumb, I've been blessed with an abundance of cucumbers popping up in my garden!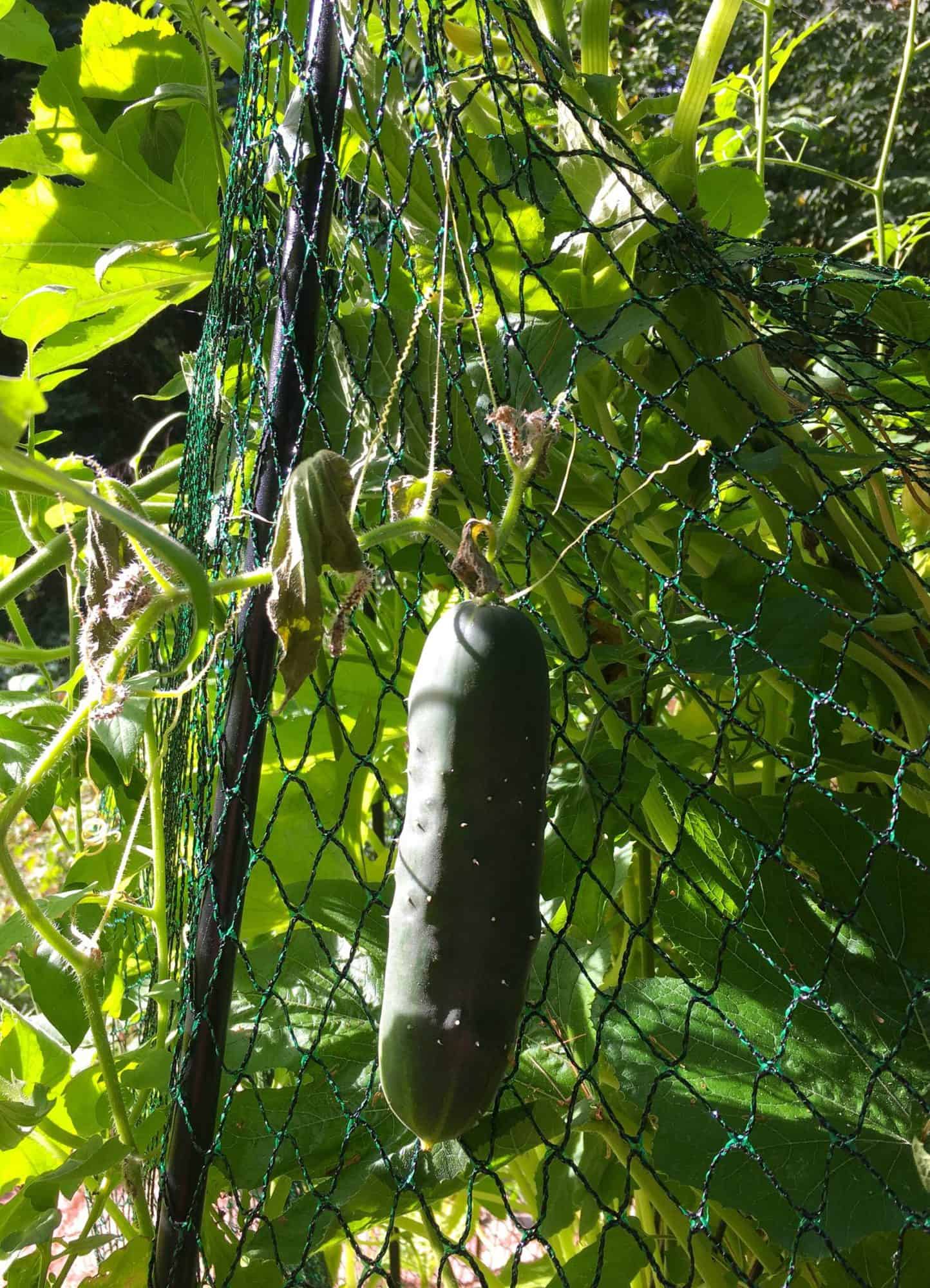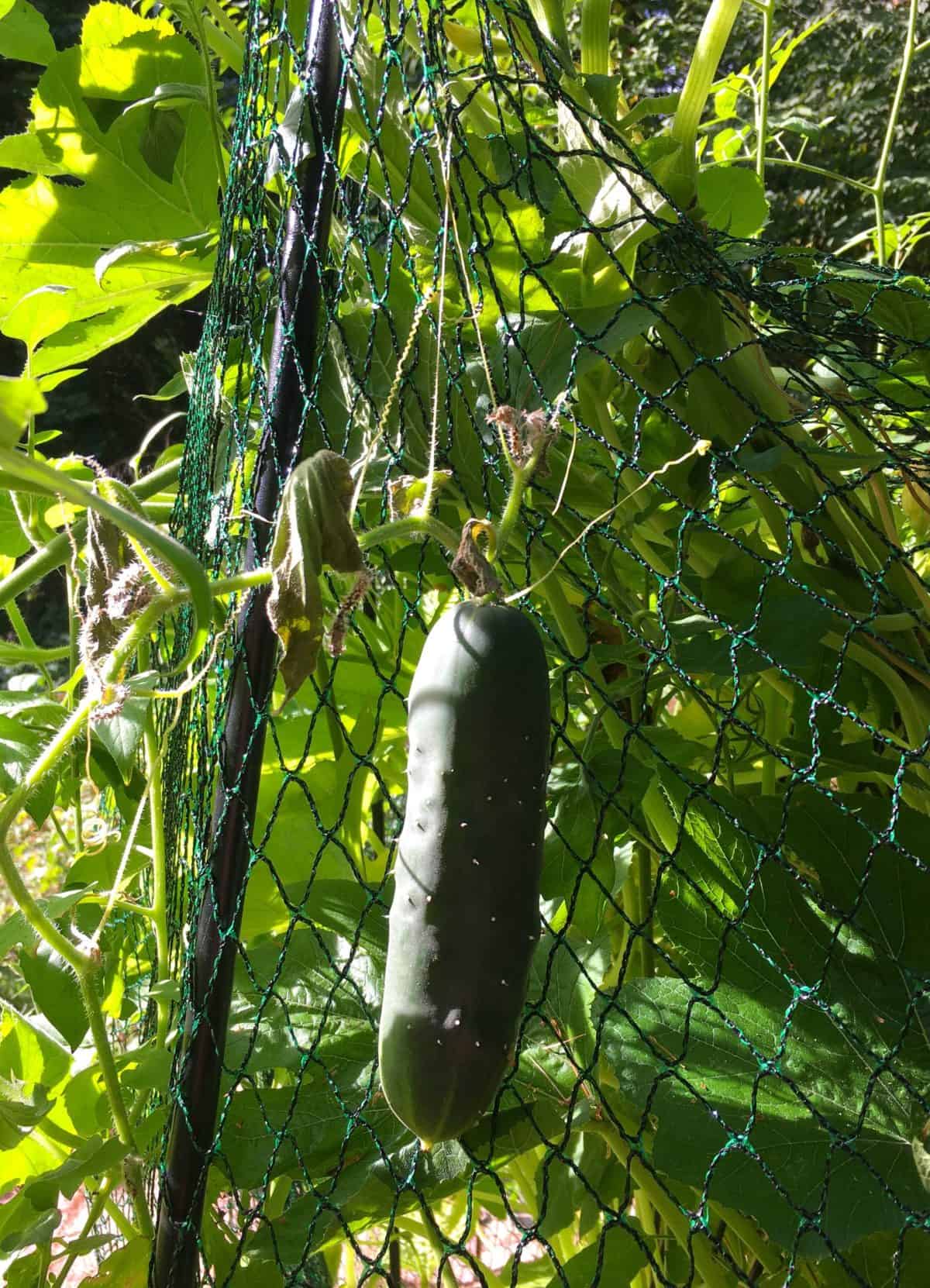 I'm going to have to plant cucumbers every year because they grow well, and the wildlife here leaves them untouched. I wish I could say the same of my tomatoes.
Rabbits like to bite my garden tomatoes in half and eat the juicy tomato middles. They leave the empty green tomato shells all over the place, littering the ground. I've managed to harvest some tomatoes, but my crop has not been as bountiful as it should be.
Anyhoo, if your cucumbers and/or tomatoes flourished this season, I highly recommend this vegan gazpacho. As an added benefit, you can tailor this traditional gazpacho based on what you have.
Jump to:
Raw Vegan Gazpacho
It's OK to tweak this recipe based on what you have in your garden or CSA box. Here's our ingredient lineup for the recipe below, but feel free to modify what's shown here: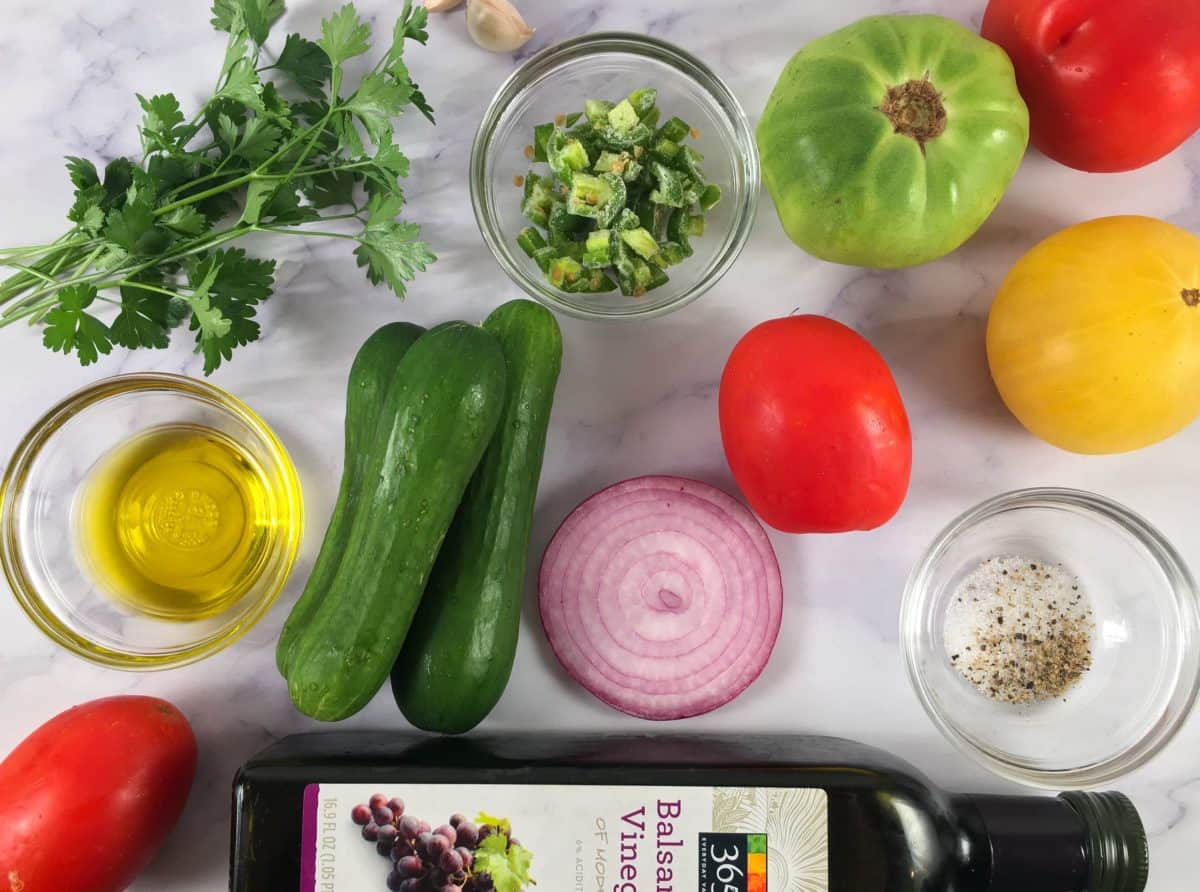 I've made tomato-free gazpacho as well as gazpachos that were heavy on the cucumbers. Sometimes I'll include other veggies, such as bell peppers.
I've even made sweeter twists the classic gazpacho recipe using a mix of cantaloupe and tomatoes. You'd be surprised by the fruits and veggies that work well together, so please don't be afraid to experiment! You may find a combination that is a big winner in your household.
Some vegan gazpacho recipes require the use of a food mill or ask you to peel the tomatoes. I've never found those extra (and time-consuming!) steps to be necessary, so I am skipping them here. To make this raw soup recipe, all you need is a food processor and a good knife.
Your gazpacho will have some extra texture from the tomato skins, but I find the textural difference pleasing. Additionally, using as many parts of your vegetables and fruits as you can helps to prevent food waste. These small ways to stretch the grocery budget can add up in the long run.
You can control the heat of this gazpacho by using or omitting the jalapeno seeds. If you'd prefer a really fiery dish, throw an extra jalapeno in there!
I've created a recipe video for you since I first posted this dish on the website. You can check it out with the recipe below. I think once you see how easy gazpacho soup is to put together, you'll want to make it all of the time too.
Serving Raw Gazpacho
In general, raw tomato soup does not contain enough calories, protein, or fat to serve as a full meal. I recommend adding these dietary components in as hearty side dishes.
What I do most often is serve gazpacho with a crackers and cheese platter to keep this a fast, no-cook dinner option. The cheese provides the fat and protein, while both cheese and crackers boost the energy in the dish.
An alternative to cheese for the protein would be cooked shrimp. Stores often sell peeled and pre-cooked shrimp in the freezer of their seafood department. Pick up a bag, let it thaw, and you have a ready-to-eat protein.
Here are a few more no-cook protein ideas that you could add on the side:
Hard-boiled eggs (you can find these pre-cooked in some stores)
Edamame
Rotisserie chicken pieces
Cottage cheese
Baked tofu
For the crackers, I regularly make whole grain sourdough crackers using my sourdough bread starter discard. If you aren't into slow foods like I am, feel free to use some whole grain crackers from the store.
Wasa whole grain crispbreads are super if you want a whole grain cracker option that is not ultra-processed. They're only 30 calories per giant cracker, and they provide a nice crunch. (They also work well with your favorite toast toppings, FYI.)
That's about all you need to know to put together this Mediterranean diet-friendly dinner. Now it's time to gather those fresh garden veggies. I hope you're hungry because this is going to be ready in a flash!

The disclaimer…
All recipes on this website may or may not be appropriate for you, depending on your medical needs and personal preferences. Consult with a registered dietitian or your physician if you need help determining the dietary pattern that may be best for you.
The nutrition information is an estimate provided as a courtesy. It will differ depending on the specific brands and ingredients that you use. Calorie information on food labels may be wildly inaccurate, so please don't sweat the numbers too much.
For more information on how the three recipe levels may help with a weight management goal, refer to this post. Let's get cooking!
📖 Recipe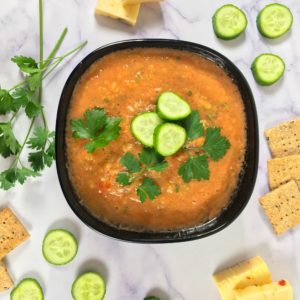 Raw Vegan Gazpacho (Raw Gazpacho Soup Recipe)
Have you ever wondered how to make raw vegan gazpacho? Get the details on making this no-cook and naturally plant-based raw soup!
Equipment
Ingredients
3

cups

coarsely chopped tomatoes

3

Persian cucumbers, chopped

½

large

shallot, chopped

(or 1 tablespoon red onion)

2

cloves

garlic, peeled

1

jalapeno, seeded, finely chopped

(leave seeds in for more heat)

1

tablespoon

balsamic vinegar

1

tablespoon

extra virgin olive oil
salt and pepper, to taste

2

tablespoons

fresh parsley, chopped
Want to Help?
If you love this recipe, please come back and leave a rating. This helps readers and I'd love to hear from you. Thank you ❤️
Instructions
Place all of the ingredients except the parsley into a food processor. A large-capacity food processor is required for this recipe.

Blend until nearly smooth. (This will only take a couple of minutes.) You may need to stop the processor and push the vegetables down with a spatula if they are adhering to the sides.

Divide the blended soup into two serving bowls. Garnish with the parsley.
Notes
This is a level 1 recipe (may help support fat loss). This gazpacho is a low-calorie, high-volume food that is rich in fluid and fiber. I'd consider it a great option if you have a weight loss goal. It's a novel way to help increase your veggie intake too.
As mentioned above, instead of using this as an appetizer, I typically bump this soup up to meal status with hearty sides. I usually serve this with a serving of whole grain crackers plus a source of protein. Cheese or frozen cooked shrimp (that has been thawed) are two easy protein options that are ready-to-serve.
Nutrition information is for one serving of the recipe.
Nutrition
Calories:
150
kcal
Carbohydrates:
21.3
g
Protein:
4
g
Fat:
7.8
g
Saturated Fat:
1.2
g
Potassium:
947.3
mg
Fiber:
7.1
g
Vitamin A:
56.2
% DV
Vitamin C:
94.1
% DV
Calcium:
12.6
% DV
Iron:
8.9
% DV
If you dropped in here looking for ways to use garden produce, don't miss my butcher block recipe! It's pretty much the easiest dinner idea ever, and it fits all special diets! Woohoo!
On the other hand, if refreshment is what you are after, consider topping off this raw tomato soup with a cool glass of lemonade. Like all of my recipes here, my keto lemonade has no added sugar. It's also veg-friendly, if that's what you are looking for.
Finally, if you're looking for more simple meal ideas, check out this article, Why Breakfast for Dinner is Always a Good Idea. Some of the easy breakfast recipes on our website would work well for dinner too!
Do you ever make raw soup recipes? What are some of your favorite add-ins for gazpacho? Let me know, and please leave a rating if you try this refreshing vegan gazpacho!