Costco pizza is an easy Costco food court menu item with a low cost and great taste. There are a number of Costco pizza options, and the large Costco pizza size makes it easy to feed a crowd. Get the scoop on Costco pizzas, including how to order, nutrition info, and more in this Costco pizza review. Make the most of your Costco membership and save money with the great Costco pizza prices!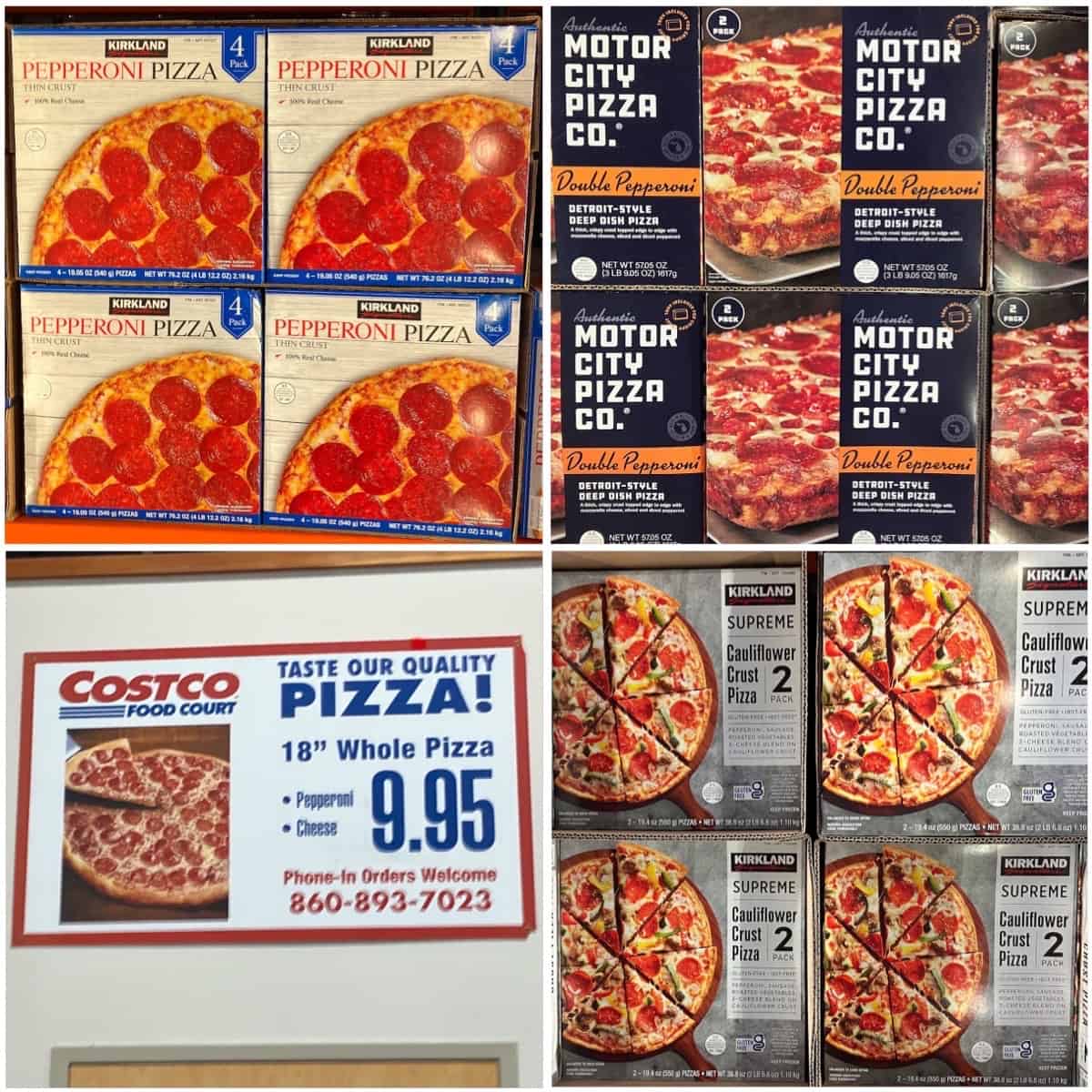 Jump to:
📋 ‍ Costco Pizza Price
How much is Costco pizza? Here are the cost of Costco pizzas (US food court menu prices):
Costco Food Court
Pizza
Costco Pizza Cost per
slice
Costco Whole Pizza
Price
Costco Cheese Pizza
$1.99
$9.95
Costco Pepperoni Pizza
$1.99
$9.95
Please note that this is the 2023 Costco pizza prices for food court. Prices are subject to change and may vary by Costco location. As you can see, there is no price difference between types of pizza.
⭐ Costco Pizza Order
Here are the step-by-step instructions for how to order Costco pizza:
How to Order Pizza from Costco
You have two options for Costco pizza ordering: in person at your local Costco food court, or order Costco pizza for pickup over the phone. Pick your method.
Locate the Costco food court menu to see the options for Costco orders. Alternatively, you can ask the associate at the store about the Costco pizza menu when you call.
Place your order by picking the Costco pizza size and type that you want. At my local Costco, the only Costco pizza options are cheese pizza or pepperoni pizza. You can order a single slice, or a Costco whole pizza.
Pay attention to how far in advance to order Costco pizza. Whole Costco pizzas take about 15-20 minutes, while Costco pizza slices may be available immediately (depending on the store and time of day). If the store is busy, your pizza could take 30-45 minutes.
Pick up your order. Hot tip! If you're placing your Costco menu order during a shopping trip, place your order before shopping and pick up the hot pizza after checking out. Another option is to check out, order the whole pizza, load your groceries in your car, then pick up the pizza. That way, there's no waiting for your hot pizza to be ready.
Enjoy! Costco pizza is one of my favorite Costco food court items. I'd take the pizza over Costco's hot dog or the Costco chicken bake any day.
I've heard that Costco won't make modifications or substitutions to their pizzas. Ask a food court associate if you want a customized pizza, as the rules may vary between locations.
Can you make a Costco pizza order online?
Though Costco online ordering is available for many items, you cannot place a Costco food court order online (source). You also cannot have Costco pizza delivered from the food court. (That said, it may be possible to order Costco frozen pizza for delivery through Instacart.)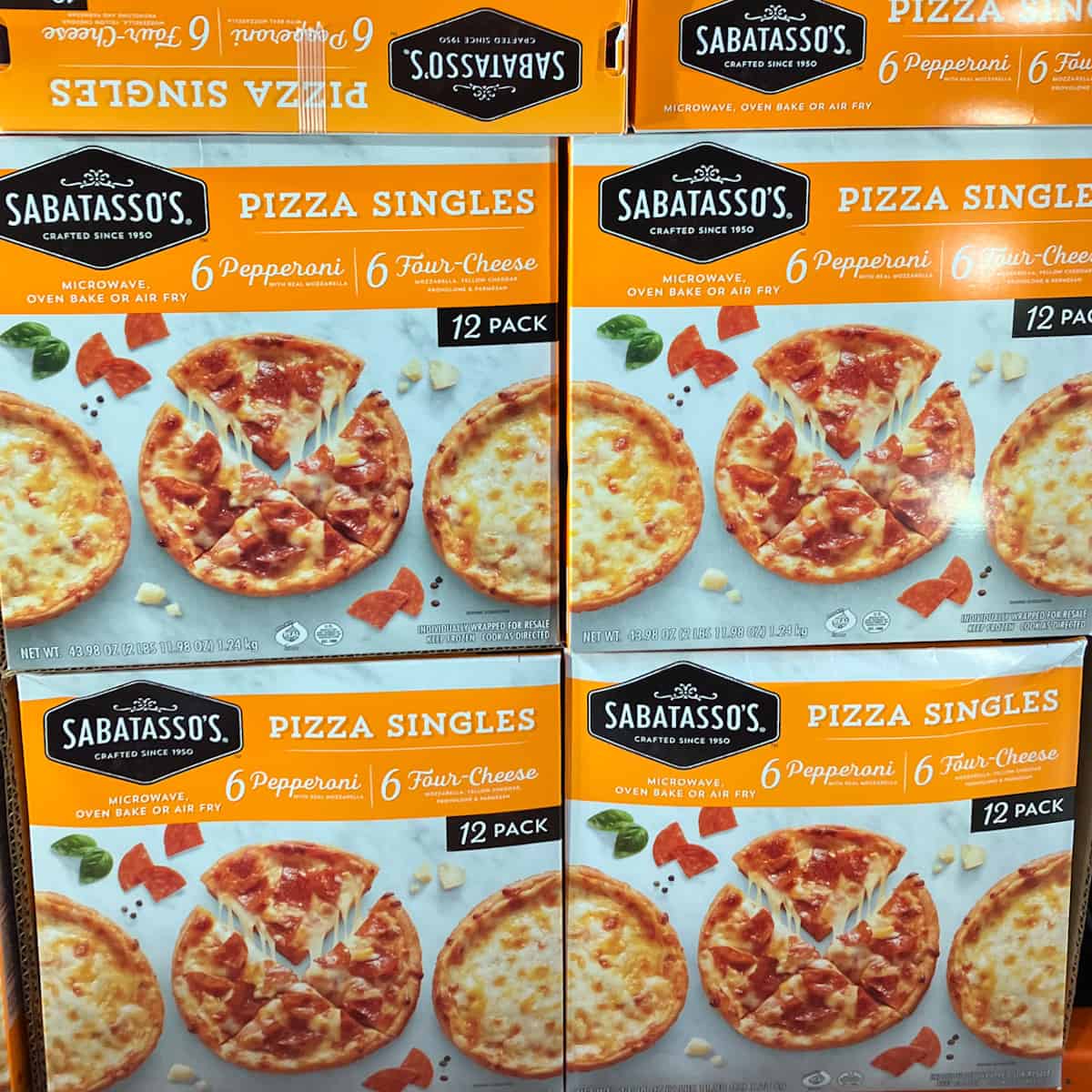 🍕 How many slices in a Costco pizza?
How many slices are in a 18 inch Costco pizza? The answer to how many slices in a Costco pizza depends on your order. Costco pizzas sold by the slice are cut into six slices, but when you buy a whole Costco pizza pie it's 12 slices.
When considering how much does Costco pizza cost, keep in mind that this is not a regular large pizza. You're getting an extra large pizza for a price similar to a large pizza at chain pizza restaurants like Pizza Hut. Love the low prices!
➕ Costco Pizza Size
How big is a Costco pizza? Whole Costco pizza pies from the food court measure 18 inches in diameter (45.7cm). That's a lot of pizza!
How many people will 1 Costco pizza feed?
How many people does a Costco pizza feed? One Costco pizza feeds approximately 6 people, since each slice of pizza is larger than average. If you're feeding a family of four (two adults, two kids), you may have leftovers, especially if there are sides.
The 3 8 pizza rule says you should estimate each guest eating 3 pieces of pizza, and a regular pizza has 8 slices. Costco food court pizzas don't align well with this rule since there are 12 larger-than-average slices. To be safe, I'd get one pizza per 6 adults, unless your guests have very large appetites.
How many Costco pizzas do I need for 20 people?
I would get 4 Costco pizzas for 20 adults. This will allow each guest to have at least 2 slices, if each pizza is cut into 12 slices.
How many Costco pizzas do I need for 25 people?
I would get 5 Costco pizzas for 25 adults. You may end up with some leftover pizza, but this allows at least 2 slices per guest.
How many Costco pizzas do I need for 30 people?
I would get 5-6 Costco pizzas for 30 adults. This allows at least 2 large slices per guest if each pizza is cut into 12 pieces. I've seen recommendations to get 10 Costco pizzas for 30 people, but that seems excessive (especially if you're serving other food too).
How many Costco pizzas do I need for 50 people?
How much pizza do I need for 50 adults? I would get 9-10 Costco pizzas for 50 adults. Remember that Costco pizzas are larger than average, so you may need more pizzas if you order somewhere else.
You know your guests best, so order more if you're serving adults with big appetites. On the other hand, you may need less pizza if you're ordering for a small child's party.
❓ Costco Pizza Calories
How many calories are in Costco pizzas? Here is the calorie information for the Costco food court pizza options:
Costco Pizza Types
Calories per Slice
Calories for Whole
Pizza
Cheese Pizza from
Costco food court
710
4260
Pepperoni Pizza from
Costco food court
650
3880
The Costco combo pizza was discontinued from the Costco food menu (AKA the Costco supreme pizza). The Kirkland Take and Bake pizza is no longer available as well.
🤔 Costco Pizza Nutrition
Here is the Costco cheese pizza nutrition information (for one slice from the food court):
Calories: 710
Total Carbohydrates: 78g
Fiber: 9g
Net Carbs: 69g
Total Fat: 27g
Saturated Fat: 14g
Protein: 41g
Sodium: 1780mg
Cholesterol: 75mg
Here is the Costco pepperoni pizza nutrition information (for one slice from the food court):
Calories: 650
Total Carbohydrates: 75g
Fiber: 7g
Net Carbs: 68g
Total Fat: 24g
Saturated Fat: 11g
Protein: 34g
Sodium: 1740mg
Cholesterol: 60mg
If you've ordered a whole pizza cut into 12 slices, cut the numbers above in half for info on one slice. Please note that this nutrition info is subject to change. Contact your local store's food court for nutrition facts that are current.
Costco pizza is not gluten-free, low carb, keto, low sodium, or dairy free.
🧀 What kind of pizzas does Costco have?
Aside from the Costco food court pizzas, you have lots of other Costco pizza choices. I walked around Costco, and found these other Costco pizza flavors available:
Costco Pizza Types
Costco Pizza Price
More Info
Kirkland Cheese Pizza
$11.89
4-pack of frozen Costco large pizza
with breadcrumb crust
Kirkland Pepperoni Pizza
$14.59
4-pack Kirkland frozen pizza with a
thin crust
Tattooed Chef Bee Sting Pizza
$9.97
2-pack of frozen wood-fired crust
pizza with plant-based pepperoni
Motor City Pizza Co. Double
Pepperoni Pizza
$9.99 sale (regularly $12.99)
2-pack of frozen Detroit-style deep
dish pizza
Sabatasso's Pizza Singles
$10.69
12-pack frozen pizzas with 6
pepperoni, 6 four-cheese
Kirkland Signature Supreme
Cauliflower Crust Pizza
$11.99
2-pack frozen Costco cauliflower
pizza with pepperoni, sausage,
roasted vegetables, and 3-cheese
blend
Milton's Cauliflower Pizza
$13.89
2-pack frozen roasted vegetable
cauliflower pizzas
Bagel Bites Frozen Pizza Snacks
$10.79
72 frozen mini bagel mozzarella
cheese pizzas
Tuscan Kitchen Supreme Pizza
$14.69
2-pack stone-fired refrigerator
pizzas with black olives, green
peppers, onion, cheese, pepperoni,
and Italian sausage
As you can see, you get lots more options for Costco pizza toppings if you visit the frozen and refrigerated sections. (Interestingly, there was no pineapple pizza to be found among the many kinds of pizza to tempt your taste buds.)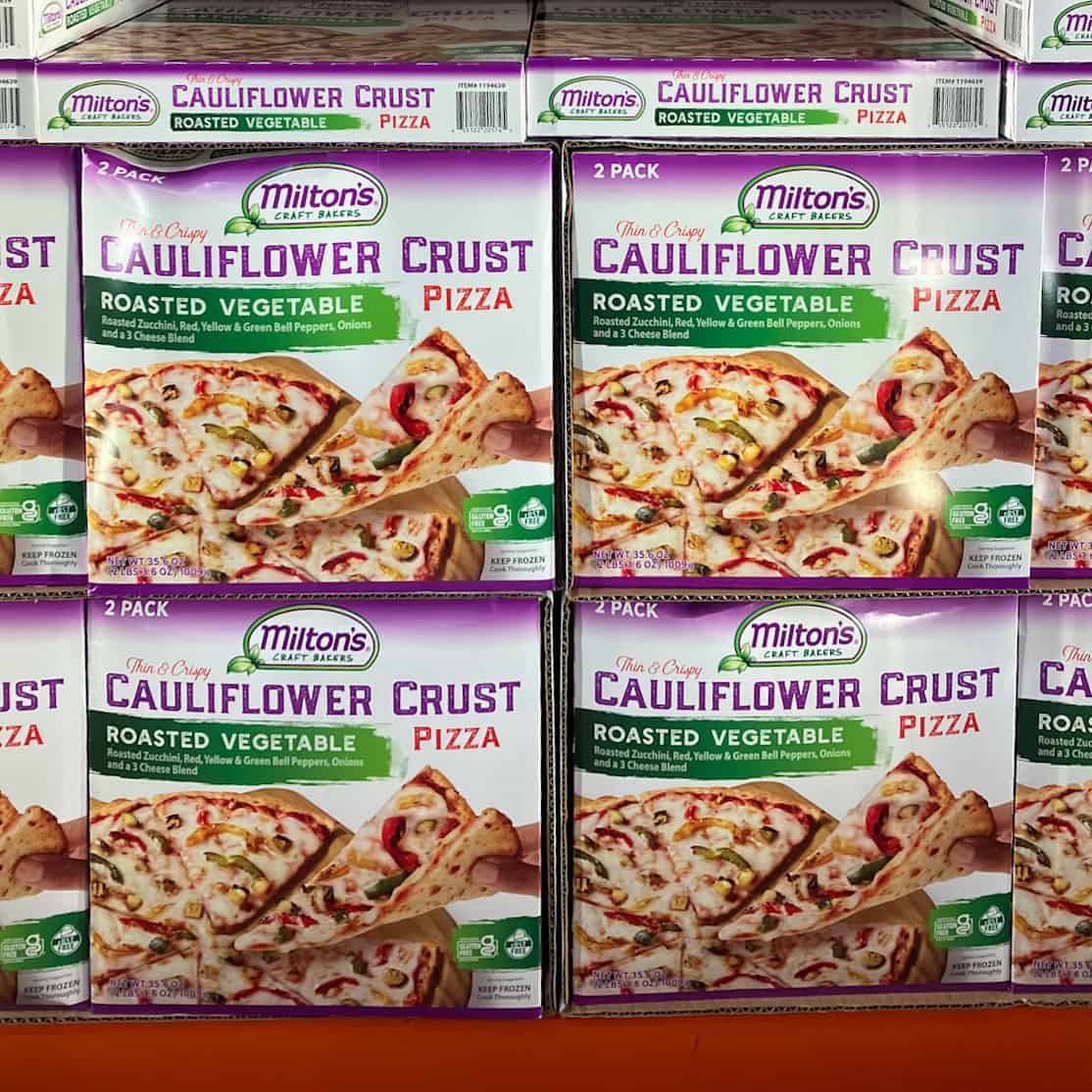 🥶 Costco Frozen Pizza Cook Time
If you purchased Costco pizza frozen, the Costco pizza baking directions should be on the packaging. For those with a lost or damaged package, here are the Costco frozen pizza directions for the Kirkland pizza:
Costco pizza oven temperature: Preheat the oven to 425F (218C).
Costco pizza cooking instructions: Remove all pizza packaging and place the frozen pizza directly on the oven rack in the middle of the oven. Bake for 12-15 minutes, or until the cheese is melted and you have a crispy crust that's golden brown.
Cooking tip: Ovens vary, so keep an eye on the appearance of the pizza to help determine when it is done.
Serve: Allow the pizza to cool for several minutes before cutting into individual slices and serving. These pizzas go great with lettuce-based salads, such as a Caesar salad.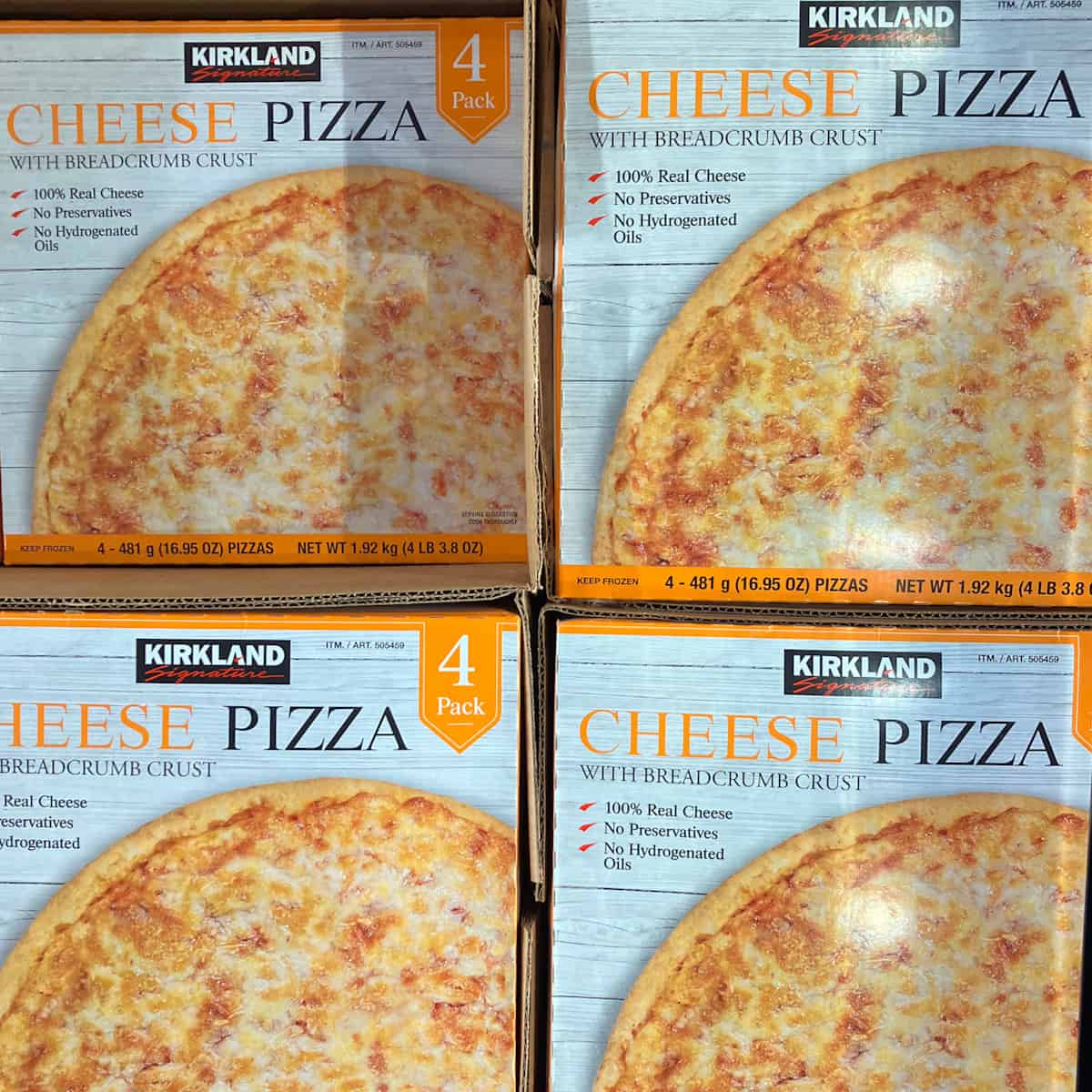 FAQs
Why are Costco pizzas so good?
Costco pizza is delicious because they are generous with the pizza toppings and the crust is perfectly bready. Business Insider gives one more reason Costco pizza is tasty- they use a pizza robot to evenly distribute the sauce and other toppings between the slices.
What are the Costco pizza hours?
The Costco food courts in my area are generally open from 10AM-8:30PM on weekdays, and 9:30AM or 10AM-6PM on weekends. You can order Costco pizza when the food court is open, up until about 30 minutes before they close. Hours may vary by location.
Does Costco pizza have eggs?
Pizza dough is not usually made with eggs. That said, recipes change all the time so the best way to get the current ingredients of Costco pizza is to ask a food court employee. This is especially important if you are trying to avoid eggs because you have an egg allergy.
Does Costco pizza have protein?
Yes, Costco cheese pizza from the food court has 41 grams of protein per slice. Costco pepperoni pizza from the food court has 34 grams protein per slice.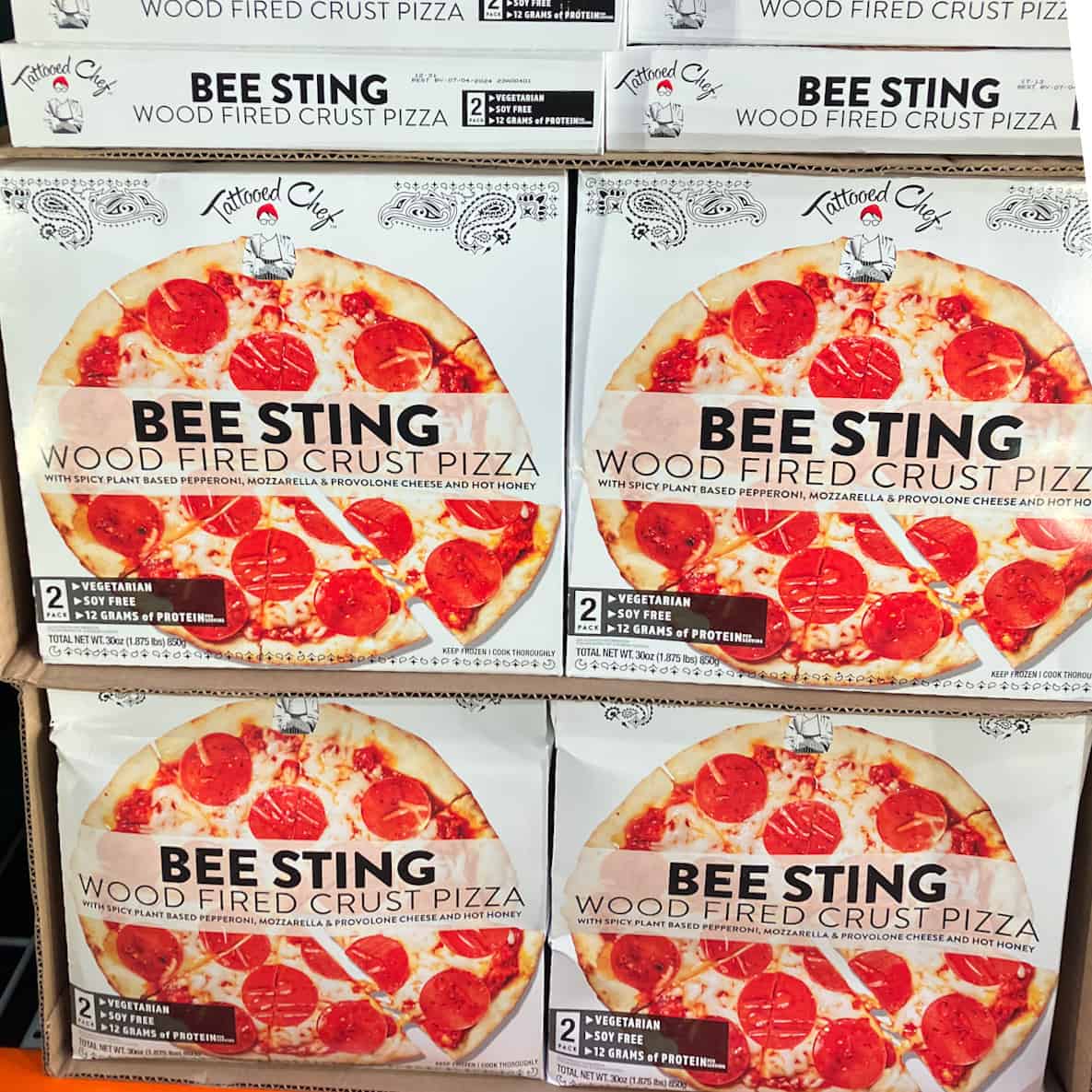 👩🏻‍🍳 More Costco Reviews
Make the most of your membership to the Costco warehouse clubs! Don't miss out on Costco Cakes and these other Costco food reviews and get the scoop before making a bulk purchase:
Also, check out these tips on how to Reheat Pizza Slices in Air Fryer for your Costco pizza leftovers!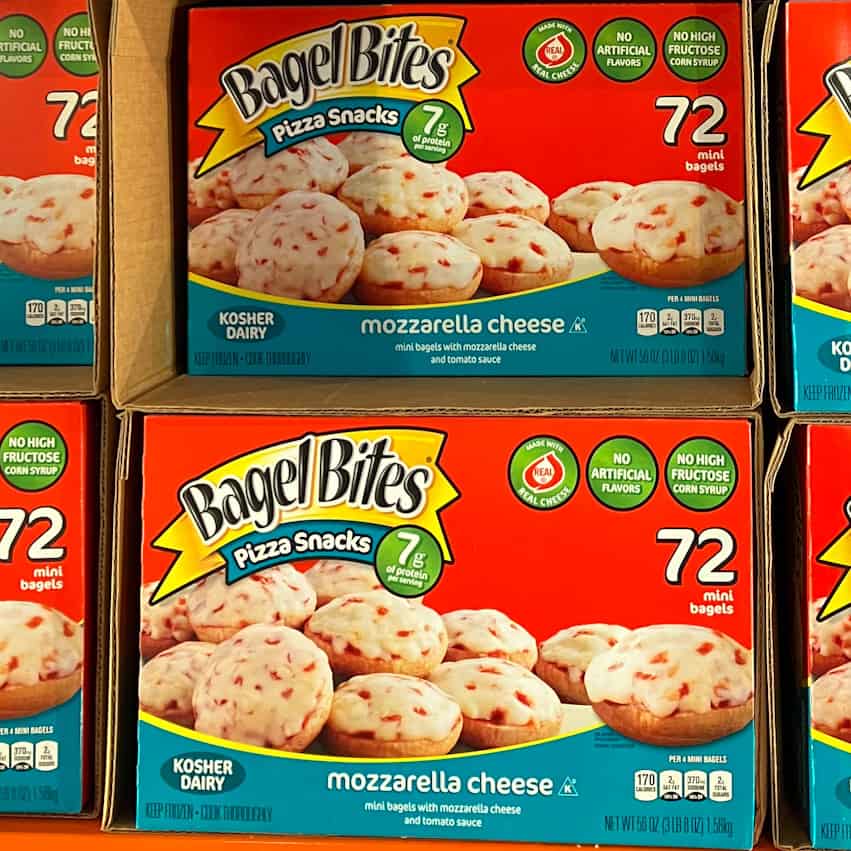 Join our community! Subscribe and be kept up-to-date on all of the latest and greatest recipes! You can also follow me on Pinterest, Twitter, Instagram, and YouTube!
🎥 Costco Pizza Video