Costco cakes from the bakery come in a variety of sizes and prices. You can order Costco birthday cakes that are round, or get half Costco sheet cakes that feed up to 48! Costco custom cakes come in chocolate or vanilla, with cake designs for birthdays, graduation, baby shower, wedding, and more. Make the most of your Costco membership, and learn how to place a Costco cake order and get Costco birthday cakes prices here!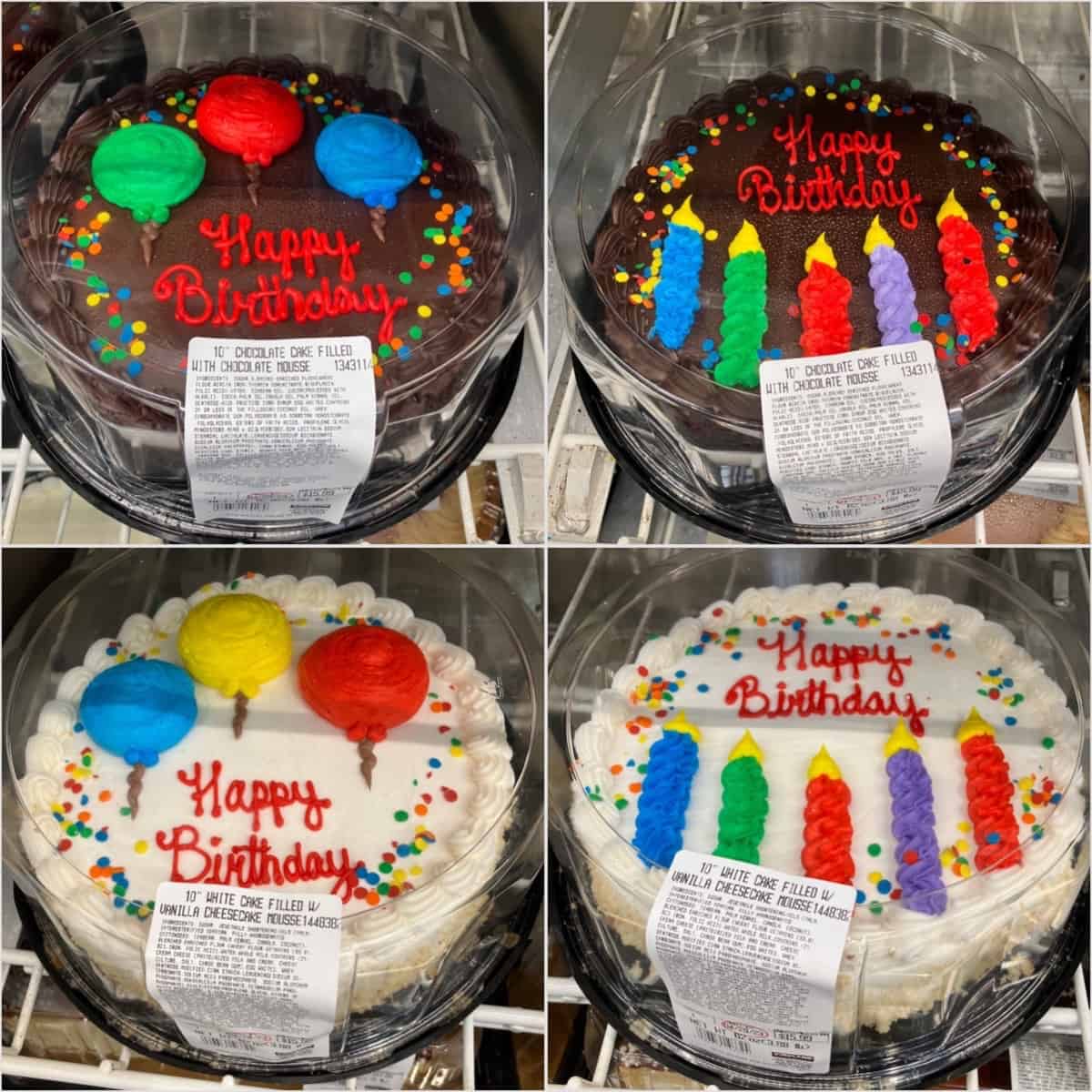 Jump to:
🎂 Costco Cakes
You can find the Costco cake options for Costco bakery cakes on the Costco cake order form in the Costco bakery. The Costco cake catalog looks like this: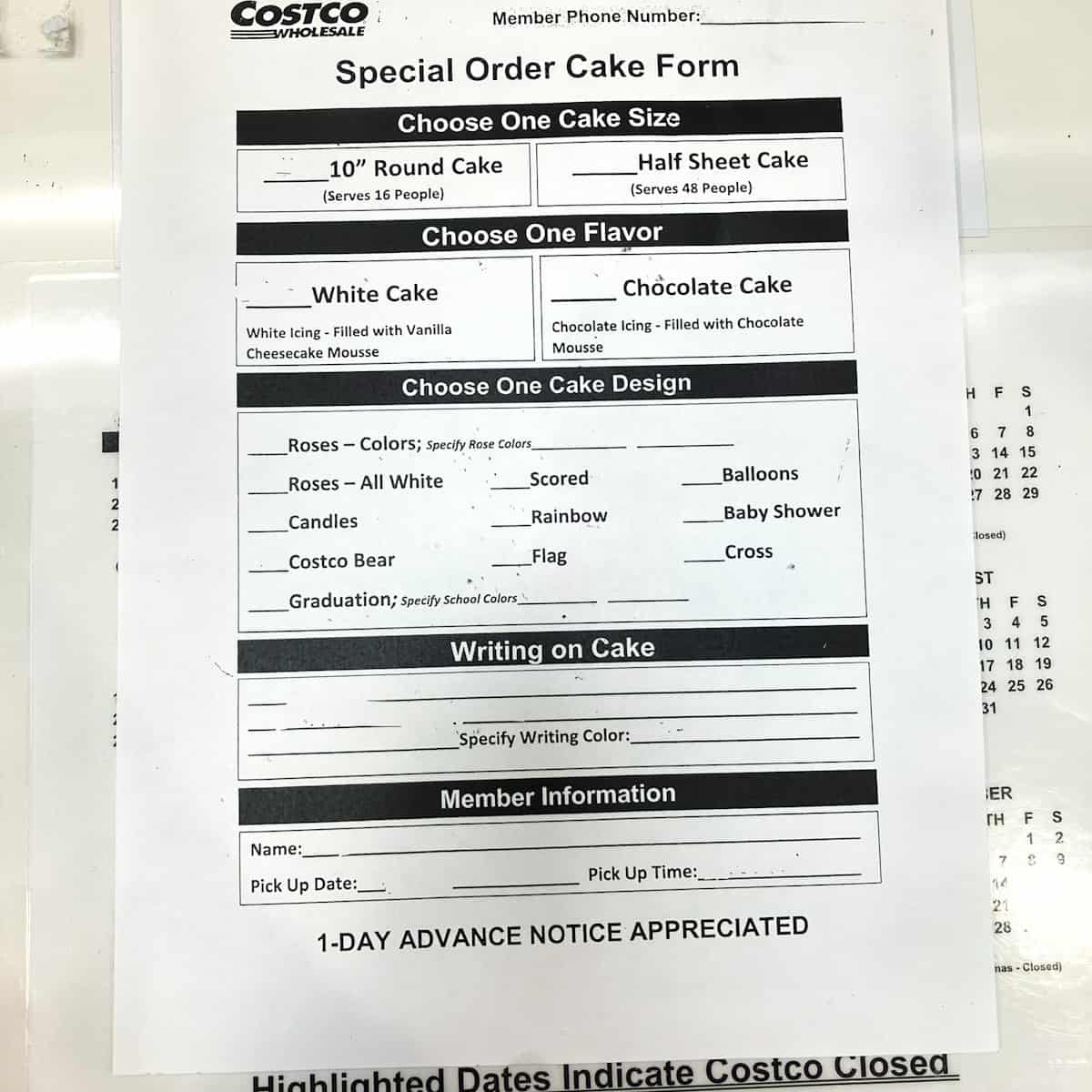 You can see what the Costco bakery birthday cakes designs look like on the board above the order forms. You'll also find a slot to deposit the order form for cakes in this cake kiosk.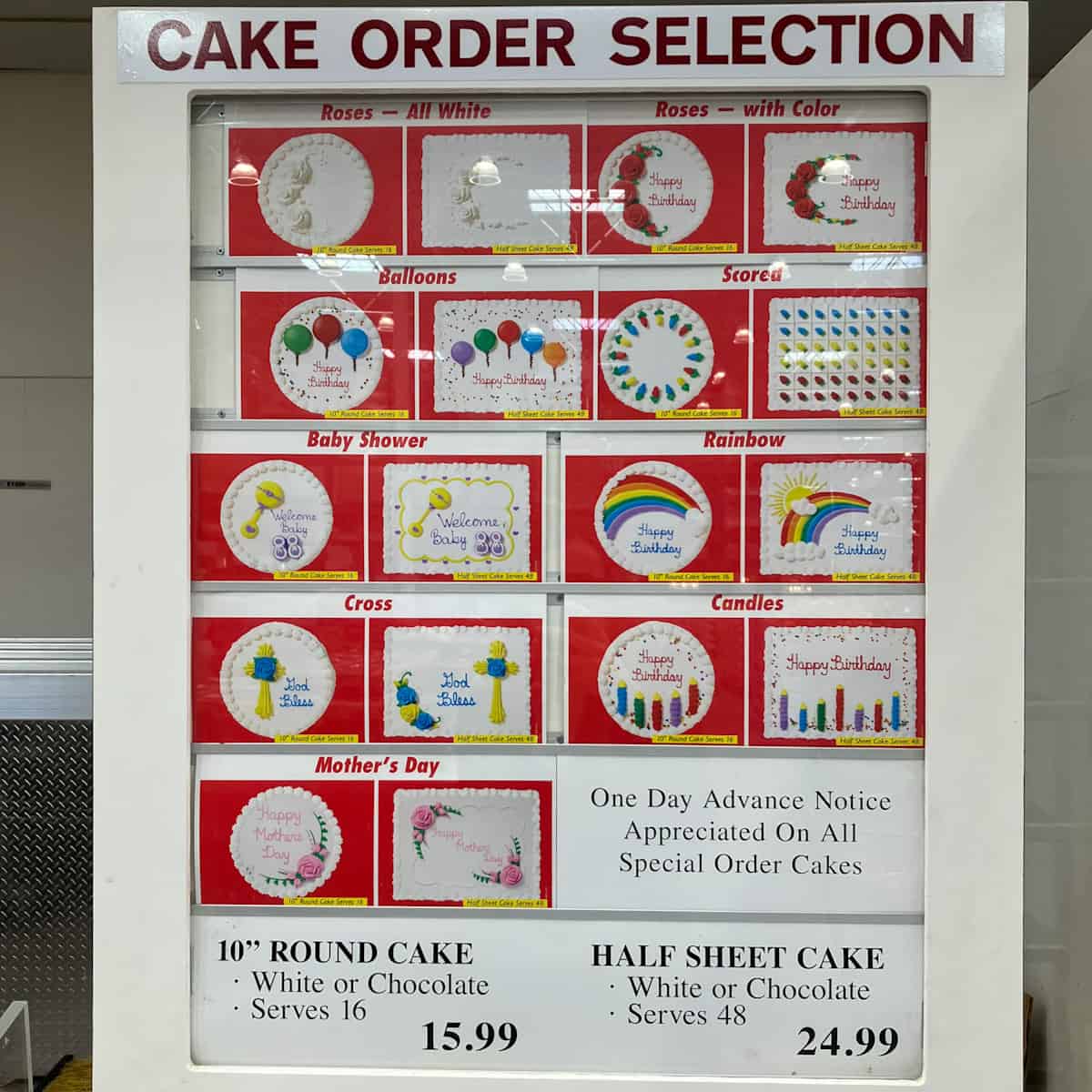 Here are the Costco cakes options:
Costco Birthday Cakes
10-inch round cake: serves up to 16 people
Costco Sheet Cake
Half sheet cake: serves up to 48 people
Costco Cake Flavors
Costco white cake: Cake is topped with vanilla buttercream icing and filled with vanilla cheesecake mousse.
Costco chocolate cake: Cake is topped with chocolate buttercream icing and has a chocolate mousse filling.
Designs for Costco Cake
Costco usually has several round cakes premade in the bakery, so you can see the Costco birthday cake designs. The Costco sheet cake isn't made ahead, so you have to look at the photos in the bakery to see how the designs look.
Here are the Costco cake designs available:
Roses (customize colors of the flowers)
Roses (all white)
Scored cake (round cakes scored into 16 slices, or half sheets scored into 48 pieces of cake)
Balloons
Candles
Rainbow cake
Baby shower
Costco bear (a cute celebration cake for kids)
Flag
Cross
Graduation (can customize with school colors)
You may also find cakes at Costco bakery for specific holidays, such as Mother's Day. If Costco doesn't have the design you want, you can purchase a plain cake and decorate it yourself. This is a great way to get an inexpensive Costco wedding cake, or a specific design (like a Roblox birthday cake) that Costco currently doesn't offer.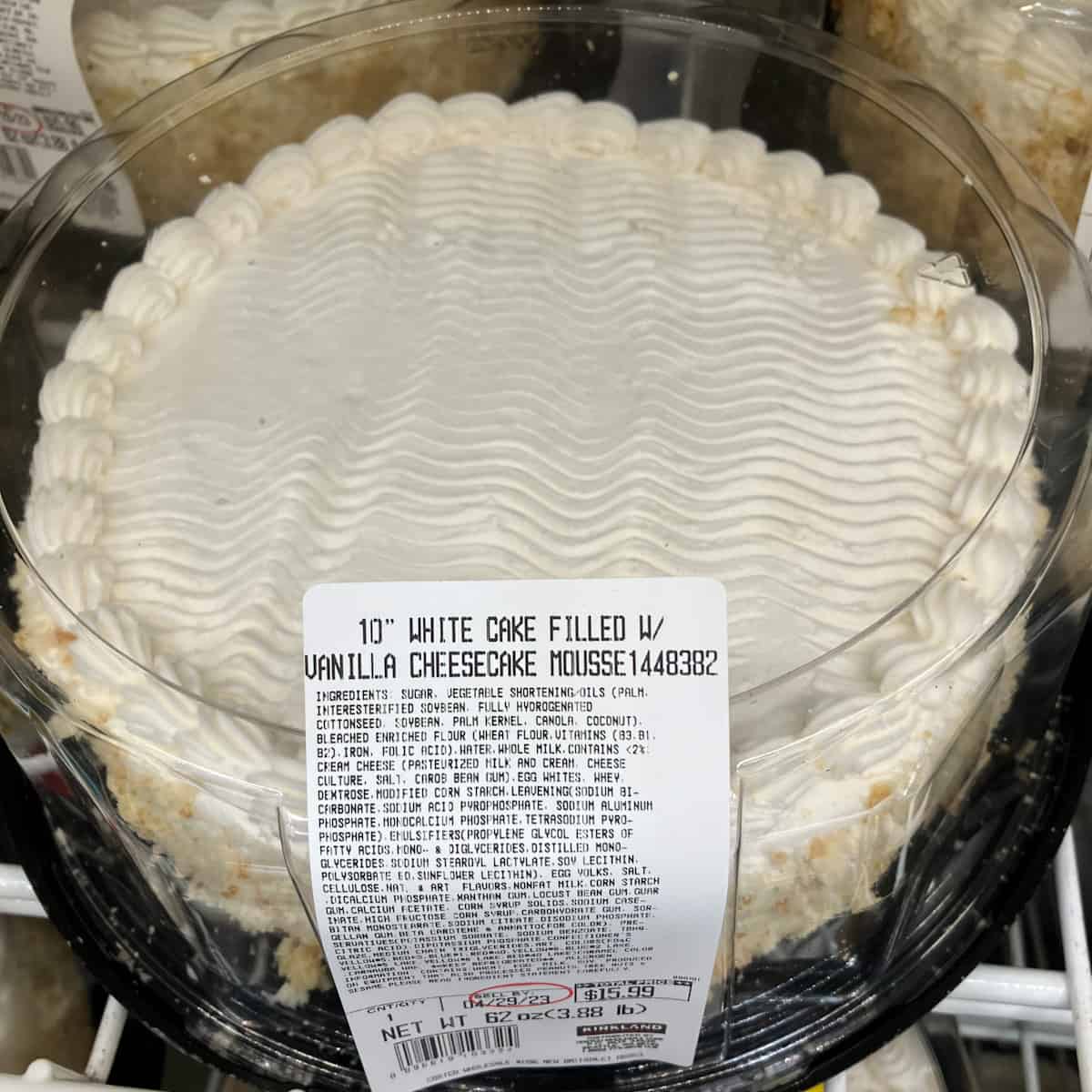 Costco Personalized Cakes
After you choose your cakes from Costco, you can have Costco personalize it with the message of your choice. You can also choose the color of icing Costco uses to write on the cake.
➕ Costco Cake Prices
How much are cakes at Costco? Here are the current round and sheet cake prices at Costco. These prices are correct at the time of writing for the Costco near me, and may vary by location.
Costco sheet cake price: $24.99 (Costco half sheet cake price)
10" round cake price: $15.99
The Costco cake cost doesn't change based on the flavor or design you choose. (Decorated cakes at Costco cost the same as plain cakes of the same size.)
It appears that Costco temporarily discontinued sheet cakes during the pandemic, but you can now order half sheet cakes.
🍰 Will Costco customize a cake?
Yes, Costco custom cakes are available. You can choose the cake size, flavor, a limited variety of designs, and personalized message in your Costco cake order. You can also find premade birthday cakes at Costco in the bakery section.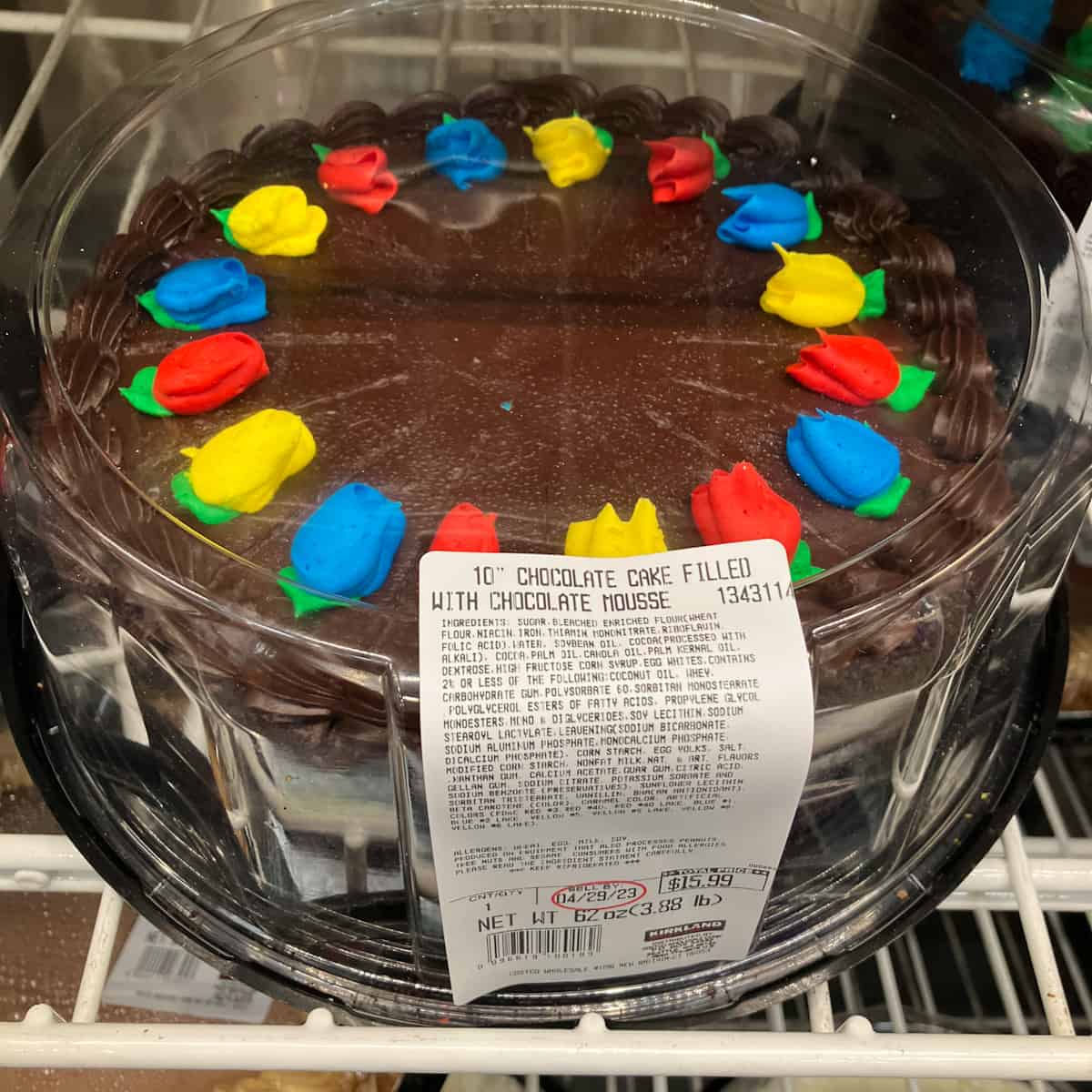 ⏰ How far in advance do you need to order Costco cakes?
The Costco birthday cake order form says a 1-day advance notice is appreciated. The Costco website says you should order your cake at least 2 days in advance. Costco's cake-ordering process is so easy, you can have your cake ordered in less than 5 minutes.
Can you order Costco cakes online?
No, according to Costco, they do not offer online cake ordering options. You need to go to your local Costco warehouse and fill out an order form for the cake. Some Costco stores may also accept phone or fax orders; check with your local Costco for details.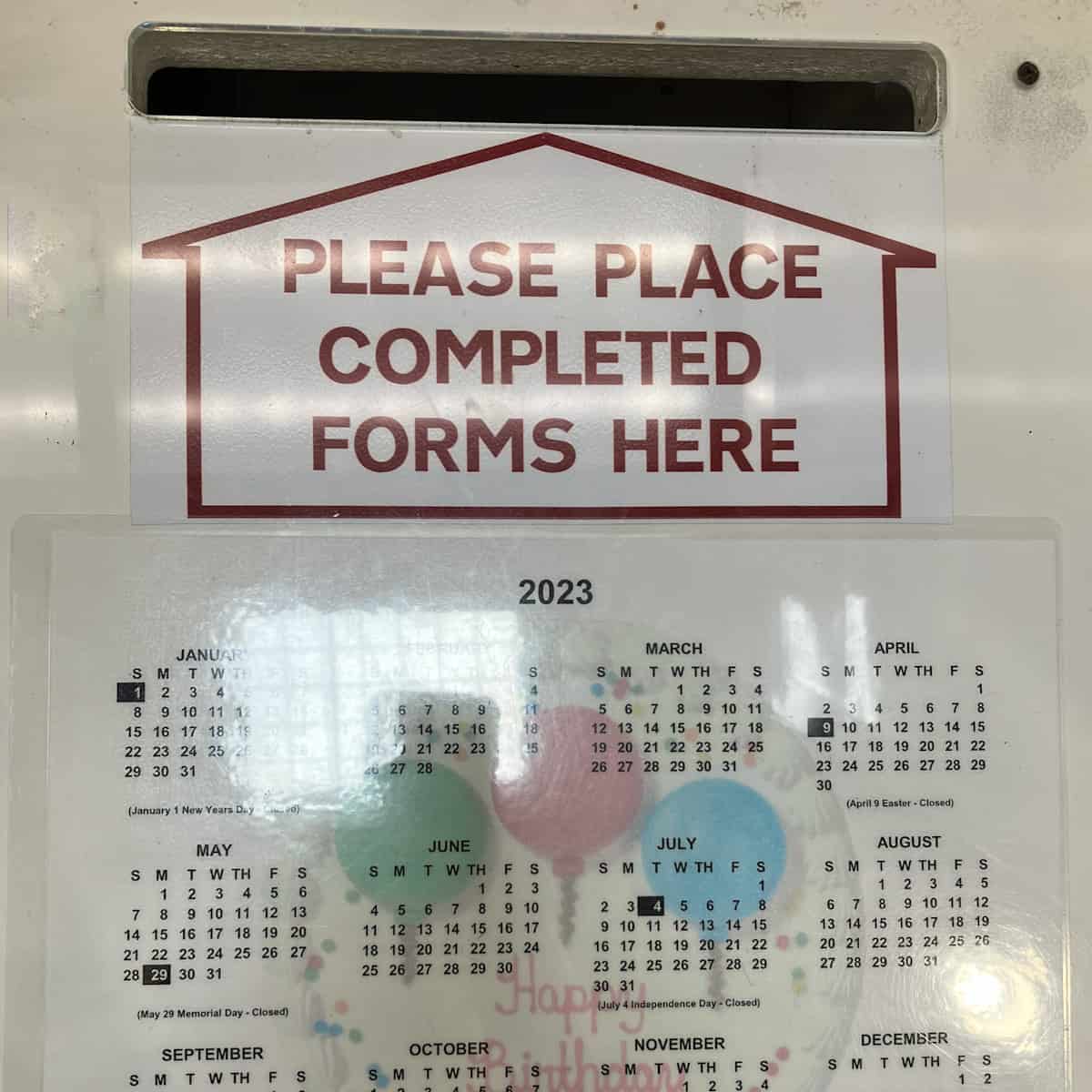 Though the Costco website doesn't carry cakes from the Costco bakery, they do sell cakes from David's Cookies. These cakes may not be available in stores.
❓ How many people does a full sheet of cake from Costco feed?
A full sheet cake from Costco can feed up to 96 people. That said, the only Costco bakery sheet cakes available at my Costco at the time of writing are the half sheet cakes. Costco half sheet cakes can feed up to 48 people.
The round birthday cake from Costco is best for smaller birthday parties. It can serve up to 16 people.
How many pieces of cake are in a full size sheet cake?
Full sheet cake: 48-96 pieces
Half sheet cake: 24-48 pieces
10-inch round cake: 8-16 slices of cake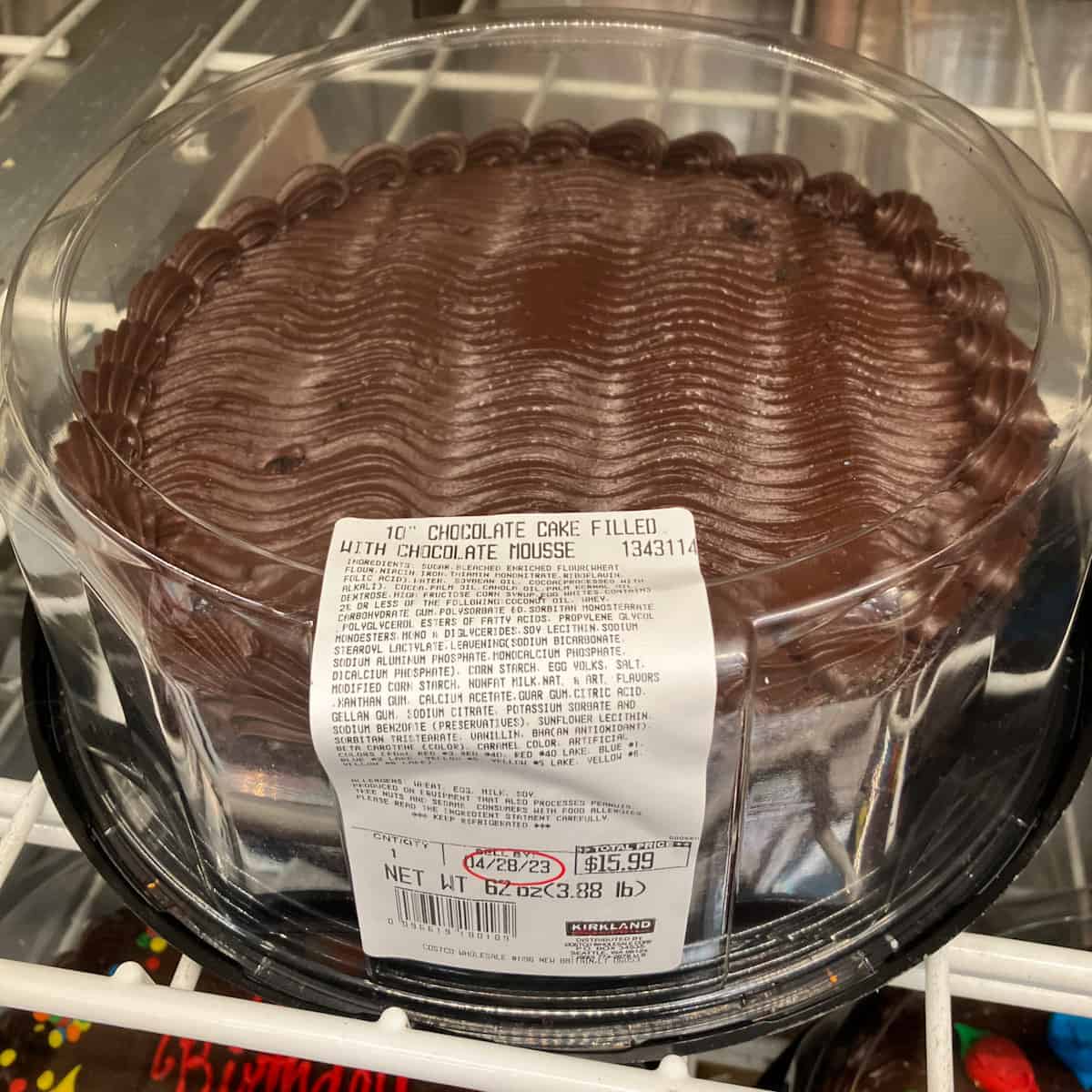 🤔 Can I order a cake from Costco if I'm not a member?
You may be able to order a Costco cake by phone without a membership. However, you do need to be a Costco member to pick it up and pay for it.
FAQs
Do Costco cakes need to be refrigerated?
Yes, Costco cakes should be kept in the refrigerator. Costco keeps cakes refrigerated in the store, and the cakes say "keep refrigerated" on the label.
How long do Costco cakes last?
Most Costco cakes from the bakery will last 3-4 days in the refrigerator. If the cake you purchased has fresh fruit or fresh whipped cream, it may only last 1-2 days.
Do Costco cakes freeze well?
Yes, Costco cakes generally freeze well. They are often sold in large sizes, so freezing leftovers can help preserve their freshness and taste for later consumption.
Do Costco cakes taste good?
The taste of Costco cakes is subjective and can vary depending on personal preference. However, many customers find them to be delicious, with a wide variety of flavors and high-quality ingredients.
Do Costco cakes have filling?
Yes, most Costco cakes have fillings. They often come with layers of delicious fillings, such as fruit, mousse, or cream, which add flavor and texture to the cakes. The birthday cakes are filled with vanilla mousse or chocolate mousse (to match the flavor of the cake).
What is the Costco cupcakes price?
The current price of cupcakes at Costco can vary depending on location and specific package size. Typically, they range from around $7.99-9.99 for a half dozen cupcakes.
Can you get Costco picture cake?
Does Costco put photos on cakes? No, Costco doesn't offer photo cakes to my best knowledge. Call your local Costco if you have a special order not offered on the cake form to see if they can work with you.
Costco cakes vs Sam's Club cakes- what's the difference?
The main differences between Costco cakes and Sam's Club cakes are in their pricing, flavors, and designs. Costco tends to offer larger sizes at competitive prices, while Sam's Club may have a wider variety of flavors and designs. However, these differences can vary based on individual locations and product availability.
What are some other Costco cakes available?
New Costco bakery items appear all the time! Here is a US price list for some other Costco bakery cakes:
Costco tuxedo cake: $16.99 (AKA the tuxedo chocolate mousse cake)
Costco cheesecake: $16.99
Peanut butter chocolate cream pie: $19.99 (not technically cake)
Caramel tres leches cake: $17.99
Costco mini carrot cakes: $9.99 (pack of 6 Costco bakery cupcakes)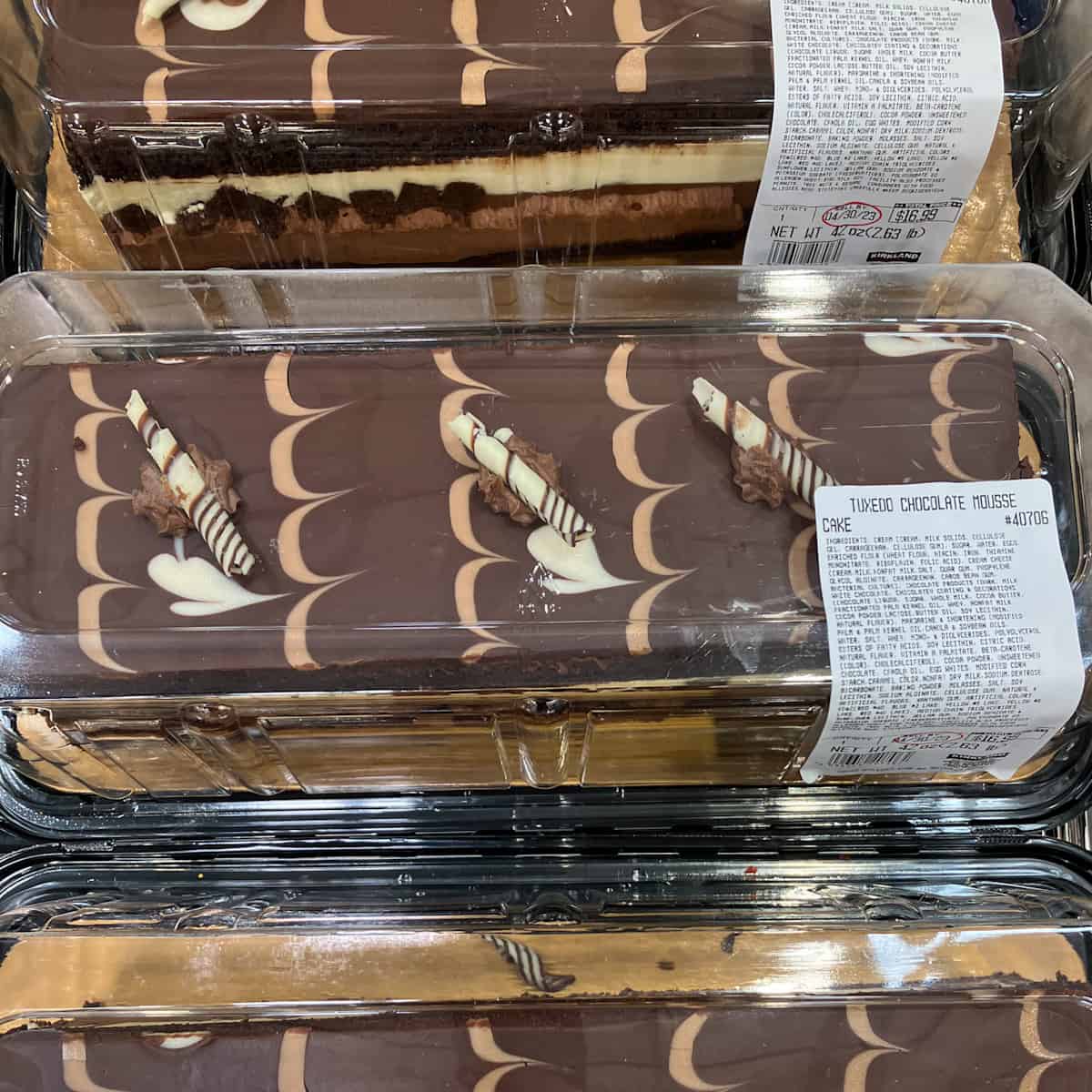 Costco also offers seasonal cakes to satisfy your sweet tooth, such as a strawberries and cream cake. It's perfect for summertime celebrations!
Note that different countries have different Costco cake options. For example, you may find a Kirkland Signature black forest cake in Australia.
🗒️ Costco Cakes Nutrition
Here is the Costco cake nutrition information (per 3.2 oz serving for sheet cakes and per 1/16 cake for round cakes):
Vanilla
Sheet Cake
Chocolate
Sheet Cake
Vanilla
Round Cake
Chocolate
Round Cake
Calories
340
330
430
390
Total Carbs
45g
42g
58g
57g
Fiber
0g
1g
0g
2g
Net Carbs
45g
41g
58g
55g
Total Fat
17g
17g
22g
18g
Saturated Fat
8g
7g
9g
7g
Protein
3g
3g
3g
4g
Sodium
310mg
270mg
370mg
360mg
Cholesterol
10mg
5mg
10mg
10mg
Added Sugar
33g
30g
43g
44g
Please note that this nutrition info is subject to change. Check out the nutrition info sheets in the Costco prepared foods section for nutrition facts that are current.
Are Costco cakes nut free?
Both vanilla and chocolate Costco cakes are produced on equipment that also processes peanuts and tree nuts. If you have a severe food allergy, Costco cakes may not be a safe choice.
Are Costco cakes dairy free?
Costco cakes are not dairy free, they do contain milk. They also are not soy free.
Are Costco cakes gluten free?
Costco cakes are not gluten free; they are made with white flour (bleached enriched flour made of wheat).
Are Costco cakes vegan?
Costco cakes are not vegan, they contain both eggs and dairy.
👩🏻‍🍳 More Costco Reviews
Hey, Costco fans! Don't miss these other Costco food reviews, and make the most of your Costco warehouse membership:
Join our community! Subscribe and be kept up-to-date on all of the latest and greatest recipes! You can also follow me on Pinterest, Twitter, Instagram, and YouTube!
🎥 Costco Cakes Video