If you're traveling for the holidays, make this ground turkey jerky recipe for the trip! The turkey, sage, and pecans used here celebrate the delicious flavors of the season. Unlike most granola bars, these portable meat-based bars have no added sugar. If you like EPIC bars, this easy copycat recipe is going to be right up your alley. You don't even need a food dehydrator to make these!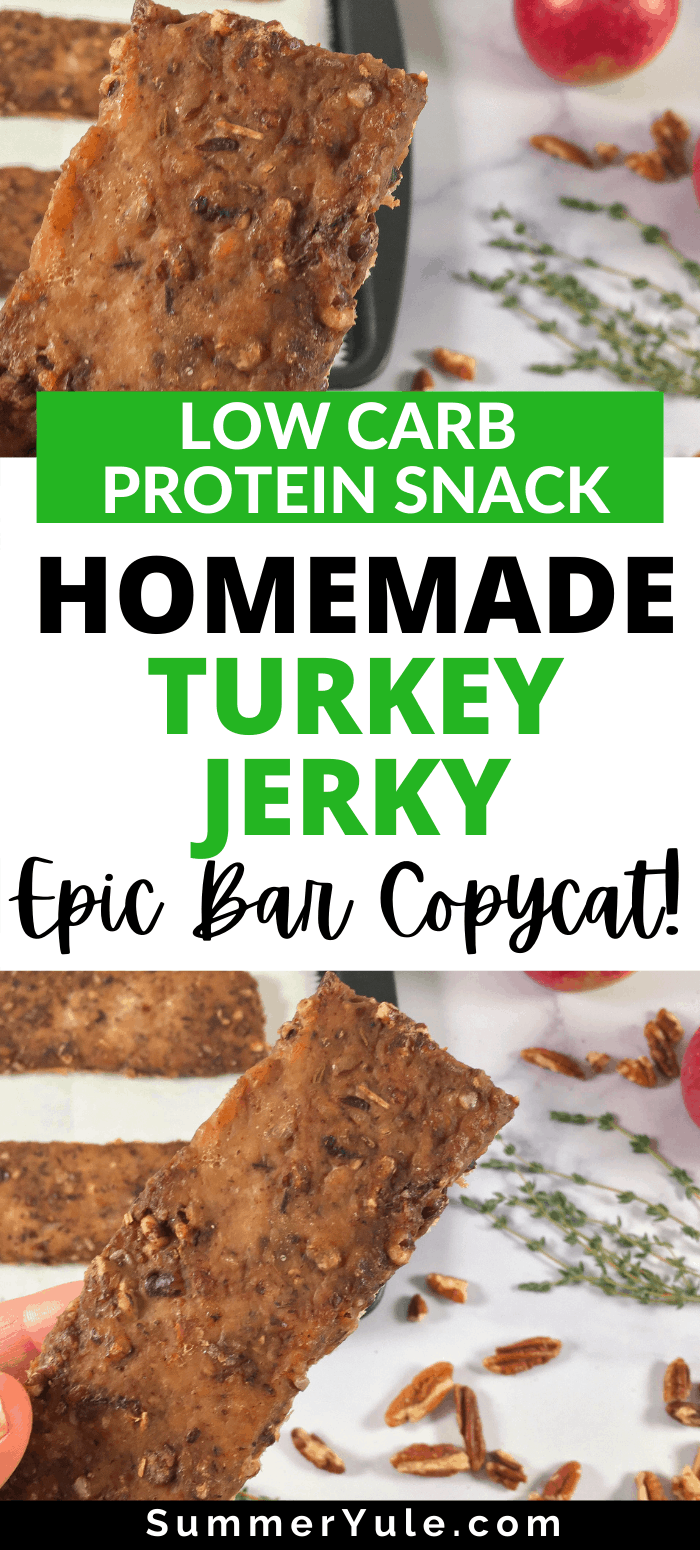 Fans of the beef jerky EPIC bar copycat recipe will likely love this ground turkey jerky recipe as well. I decided to go with poultry this time, spun in some seasonal flavors, and voila! The result is a hearty turkey bar with apple, sage, thyme, and pecans.
Many of us travel over the holiday, which can turn a couple of holiday meals into a week of holiday meals. Having some nutrient-dense portable snacks on hand can make it easier to eat healthier while on the go.
A lot of travel snack foods (granola bars, cookies, crackers, etc.) are high in added sugars and/or refined grains. Making an effort to include more protein, veggies, and fruits while you travel may help increase your diet quality. Chips don't count!
This ground turkey jerky recipe is easy to prepare. After cooking, package the bars in individual snack baggies. They will be ready to go when you are.
A few weeks ago, my family traveled out of state to an amusement park, and I took these along. I speak from experience when I say they make an excellent road trip snack!
(I must have been having a turkey kind of day since I ordered a turkey leg inside of the park. Try the turkey leg if you want to skip the refined grain buns, fries, etc. without making a special order.)
Food Safety Tips for Making this Ground Turkey Jerky Recipe
If you read my beef jerky article, you know that ground poultry must be heated to a higher temperature than ground beef. All poultry, including turkey, should be cooked to a minimum internal temperature of 165 °F. Many food dehydrators cannot reach temperatures that high.
My oven has a minimum temperature of 170 °F, which is the temperature we will be using in this recipe. If you want to use a food dehydrator for meat-based jerky, cook the meat to a proper internal temperature first. The meat should only be put in the dehydrator after it reaches the recommended minimum internal temperature.
As part of the Water Quality & Health Council's Plate It Safe campaign, I'm going to include additional food safety tips in the recipe below. Join me in helping to prevent foodborne illness this holiday season. #IPlateItSafe, do you?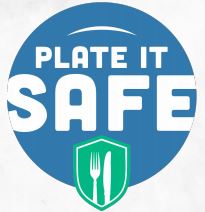 Other Protein-Packed Recipes
And now for the disclaimer…
All recipes on this website may or may not be appropriate for you, depending on your medical needs and personal preferences. Consult with a registered dietitian or your physician if you need help determining the dietary pattern that may be best for you.
The calorie information is an estimate provided as a courtesy. It will differ depending on the specific brands and ingredients that you use. Calorie information on food labels may be wildly inaccurate, so please don't sweat the numbers too much.
For more information on how the three recipe levels may help with a weight management goal, refer to this post. Let's get cooking!
📖 Recipe
Like this recipe?
Leave a rating by clicking the ⭐ below!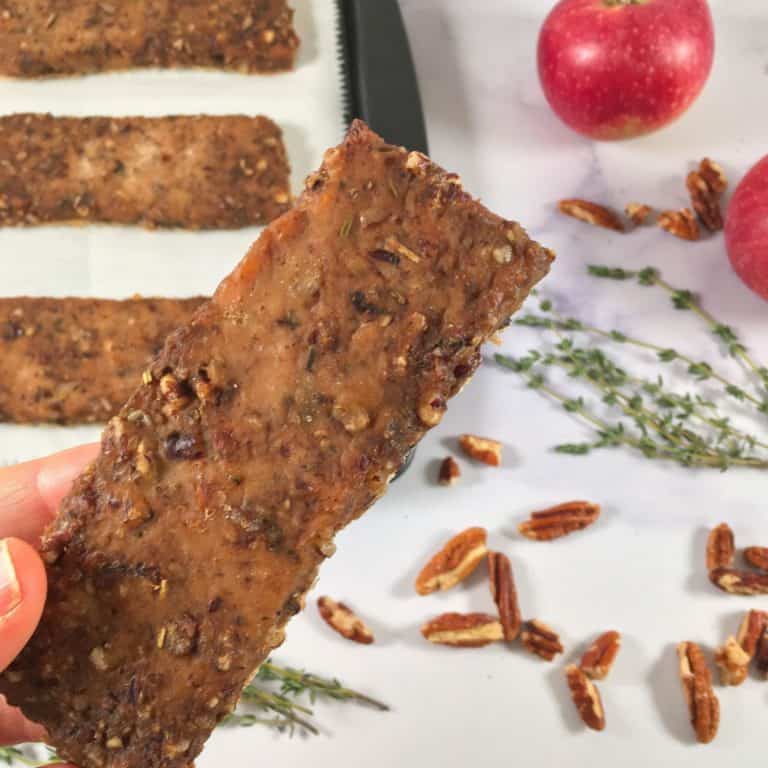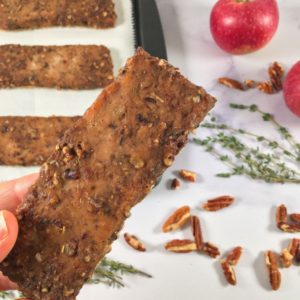 Ground turkey jerky recipe – no dehydrator needed!
If you like EPIC bars, this easy copycat recipe for turkey jerky is going to be right up your alley. You don't even need a food dehydrator to make these!




Ingredients
1

lb.

ground turkey, 99% fat-free

(454 grams)

2

tablespoons

low-sodium soy sauce

1

cup

pecans, chopped

1

teaspoon

dried thyme

1

teaspoon

dried sage

¼

teaspoon

black pepper

¼

cup

unsweetened applesauce
Instructions
Preheat the oven to 170°F (77°C). Wash your hands with warm, soapy water for at least 20 seconds. Wash and sanitize any surfaces that will come in contact with food.

Line a rimmed baking sheet with parchment paper.

Blend the soy sauce, pecans, thyme, sage, black pepper, and applesauce in a food processor. Put the mixture in a large mixing bowl, and mix in the turkey with your clean hands.

Place the mixture between two sheets of parchment paper. Using a rolling pin, roll the mixture out into a 10-inch (25.4 cm) square.

Cut the square into 10 bars and arrange the bars in a single (non-touching) layer on the lined baking sheet.

After you are done touching the raw turkey, rewash your hands.

Bake the bars for 5 hours, then flip them and bake for an additional hour. If you've used a dark-colored baking tray, your overall cooking time may be shortened by 15 minutes.

While they bake, wash and sanitize all surfaces that came in contact with raw turkey.

Let the bars cool before placing them in individual snack bags and storing them in the fridge at 40°F (4.4°C) or below. Enjoy!
Notes
This is a level 3 recipe (weight maintenance and active lifestyles). Though the calories here are at level two, I bumped it to level 3 because drying food increases energy density. In other words, when you remove water from food, you get a smaller volume of food for the same number of calories. The reverse is also true; decrease energy density by adding water to your foods (think foods like soup).
If high-protein foods (even at lower volumes) are satiating for you, this snack may help support your weight loss. Though a one-size-fits-all rule regarding foods would be convenient, we all experience food in different ways.
The general rule for leftovers is that they can be refrigerated for 3-4 days safely. As mentioned in the beef jerky recipe, the USDA states that home-dried jerky keeps for 1-2 months, We typically eat these bars within a week; I'm unsure how they would fare after a whole month.
Nutrition
Are you traveling this holiday? Do you pack snacks or pick up all of your food on the go? Please leave a rating if you add this ground turkey jerky recipe; I'd appreciate it!