Have you heard of the fat flush soup diet? Basically, those on this diet consume two servings of a filling broth-based soup each day, along with breakfast and snacks. This high-protein, one-pot meal is packed with fiber and low-carb veggies. At only 430 calories per HUGE bowl, this soup is an excellent choice if you are looking for weight loss.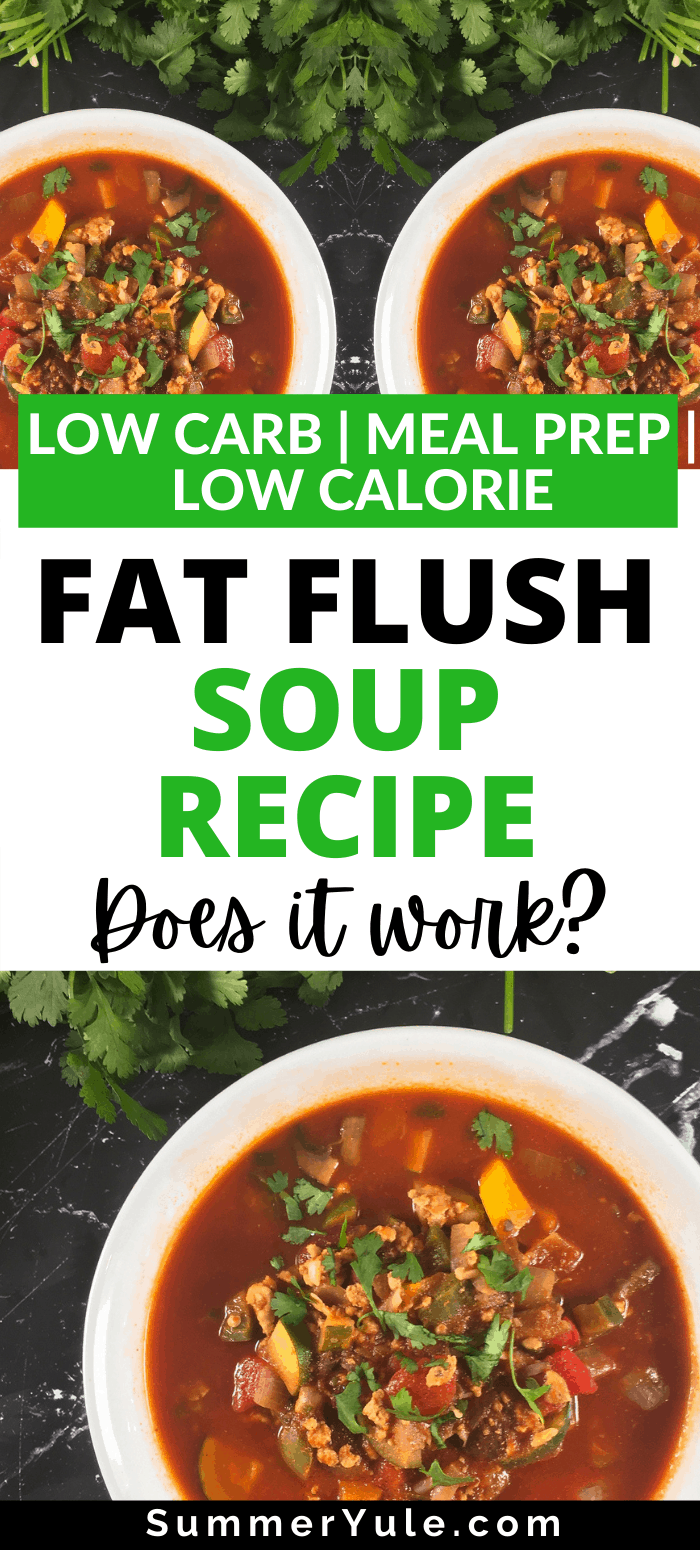 Ah, the New Year. Those of us in the health and fitness space seem to become particularly popular come January. It is when many folks resolve to adopt a healthier lifestyle and try to lose some weight.
As we all know, consistently adhering to lifestyle changes can be difficult. I understand how quick-fix solutions can be extremely appealing.
I think that is what initially drew me to the original fat flush soup recipe when I was on my weight loss journey. A delicious soup that you eat a few times a day, and it flushes the fat out of your body?
Yes, please! Sign me up for some of that.
Of course, even in my pre-dietitian days, I knew that the silly name of this soup held little meaning. I was aware that if I did not maintain a calorie deficit, I was not going to lose body fat. This holds true regardless of whether my diet contained this special soup or not.
There is no need to eat this soup daily (or twice a day, as recommended) to meet a weight loss goal. That said, this soup is packed with elements that will leave you feeling full on fewer calories.
Additionally, it is delicious. What do you have to lose by giving it a shot?
How my version of fat flush soup differs from the original
The original fat flush soup recipe is filled with all of the components that are needed to create a high-volume, low-calorie satiating meal. For one, you're getting a ton of protein from lean meat and beans. My version of the recipe packs in a hearty 42.5 grams of protein per serving.
Secondly, the soup provides a veritable cornucopia of high-fiber, low-carb, low-calorie veggies.
Finally, this broth-based soup is fluid-filled. (Technically, we are creating the broth with vegetable juices, but you still get the hydrating benefits.)
In sum, you're getting plenty of protein, fiber, and water, the trifecta for meals that support weight loss goals.
My version of this recipe includes even more zucchini, bell peppers, and mushrooms than the original. You are getting 13 grams of fiber and over 2000 mg of potassium per serving with my recipe.
That is quite a lot. The current AI for potassium for adult females is 2600 mg/d, and for adult males it is 3400 mg/d. In other words, a single serving of this soup will get you most of the potassium that you need in a day.
Your body uses potassium for nearly everything that it does. This includes critical heart and kidney functions, as well as nerve transmission and muscle contractions. It is important not to skimp on this essential mineral.
The other way that I changed up the original recipe is that I kicked up the heat. Aside from throwing in a couple of jalapenos, I also used V8 Spicy Hot Vegetable Juice rather than original V8. If you like some spice, these changes make the soup taste better, and may provide a small metabolic boost.
Metabolic boost, you say?
Please don't get too excited about this. Though some studies show hot chilies giving a boost to metabolic rates, the change is temporary and extremely small. By small, I mean you could negate the benefit with some after-dinner mints.
Also, the Spicy Hot V8 doesn't actually contain whole hot peppers at all. The spiciness is coming entirely from unidentified natural flavorings.
In other words, only the added jalapenos can be counted on as a source of capsaicin. (Capsaicin is the compound that is linked to the metabolic boost.)
There's a much more significant benefit to having this soup on hand, if you ask me. Making a pot or two of this weekly means that you'll have a healthy meal handy whenever you need it.
I had a family emergency during a few of the months that I was trying to lose weight. A family member was hospitalized for several weeks for a serious medical issue. We visited him daily after work, making the two-hour roundtrip, sometimes in very harsh winter conditions.
I was tired and extremely stressed about the situation. I could have easily picked up a fast food dinner each evening on the way to the hospital. Setting my weight loss goals aside was one choice I could have made, at least temporarily.
Instead, I made a couple of pots of this soup every week. We had it for dinner each evening, warm out of thermoses, on our way to the hospital. Having that health-promoting and comforting meal each evening was an important act of self-care during a challenging time in my life.
We all face difficulties where life stops going according to plan. It is important that we continue caring for ourselves, even if with something as simple as a homemade bowl of soup.
And now for the disclaimer…
All recipes on this website may or may not be appropriate for you, depending on your medical needs and personal preferences. Consult with a registered dietitian or your physician if you need help determining the dietary pattern that may be best for you.
The calorie information is an estimate provided as a courtesy. It will differ depending on the specific brands and ingredients that you use. Calorie information on food labels may be wildly inaccurate, so please don't sweat the numbers too much.
For more information on how the three recipe levels may help with a weight management goal, refer to my overnight oats with yogurt post. Let's get cooking!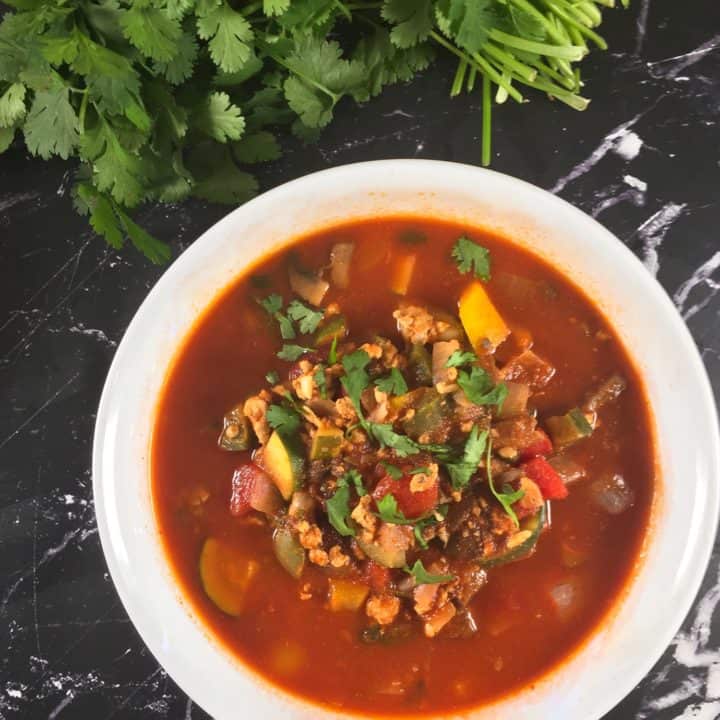 Fat Flush Soup Recipe
Have you heard of fat flush soup? At only 430 calories per HUGE bowl, my version of this soup is an excellent choice if you are looking for weight loss.
Ingredients
1

tablespoon

olive oil

1

lb.

ground turkey, lean

1

green bell pepper, chopped

1

yellow bell pepper, chopped

1

large

onion, chopped

1

lb.

zucchini, chopped

10

ounces

baby portabella mushrooms, chopped

3

cloves

garlic, finely chopped

48

ounces

V8 Spicy Hot vegetable juice

15

ounces

canned kidney beans, drained

14.5

ounces

diced tomatoes (canned)

(no salt added variety)

1

lime, juiced

1

tablespoon

cumin

1

teaspoon

coriander

¼

cup

fresh parsley, finely chopped

¼

cup

cilantro, finely chopped

2

medium

jalapenos, chopped

3

scallions, sliced

(optional, for garnish)
Instructions
Heat the olive oil in a Dutch oven or another large pot over medium heat. Add the turkey, yellow pepper, green pepper, onion, zucchini, mushrooms, and garlic. Cook until the turkey is browned, stirring frequently. It will take approximately 20 minutes.

Add the rest of the ingredients to the pot, aside from the scallions. Heat to a simmer, stirring occasionally. It will take about 15 minutes.

Ladle the soup into bowls (or meal prep containers) and garnish with scallions. Wasn't that easy?
Notes
This is a level 1 recipe (may help support fat loss). If weight loss is one of your goals this New Year, you need this soup in your life. The combination of protein, fiber, and water here is tops for those looking for a satiating meal for few calories.
I'm placing this one in the dinner category, but it works wonderfully as a lunch prep as well. Heat it in the morning, pop it in a thermos, and you'll have a hot meal waiting for you at lunch. This is a great solution for those who don't have a way to heat food at their workplace.
Nutrition
What are some ways that you take care of yourself when life is at its most challenging? If you give my version of fat flush soup a go, I would love to hear about it. I hope that you find it as delicious and comforting as I do!