Is kiwi citrus fruit? No, kiwi fruit is not citrus. So, what kind of fruit is kiwi? Kiwifruit (AKA Chinese gooseberry) is berry fruit that is non-citrus. Get a list of citrus fruits, including lemon, orange, and lime, and a list of non citrus fruits like strawberry, mango, and papaya. Also, learn about the acidity of kiwi and whether kiwi is good for acid reflux.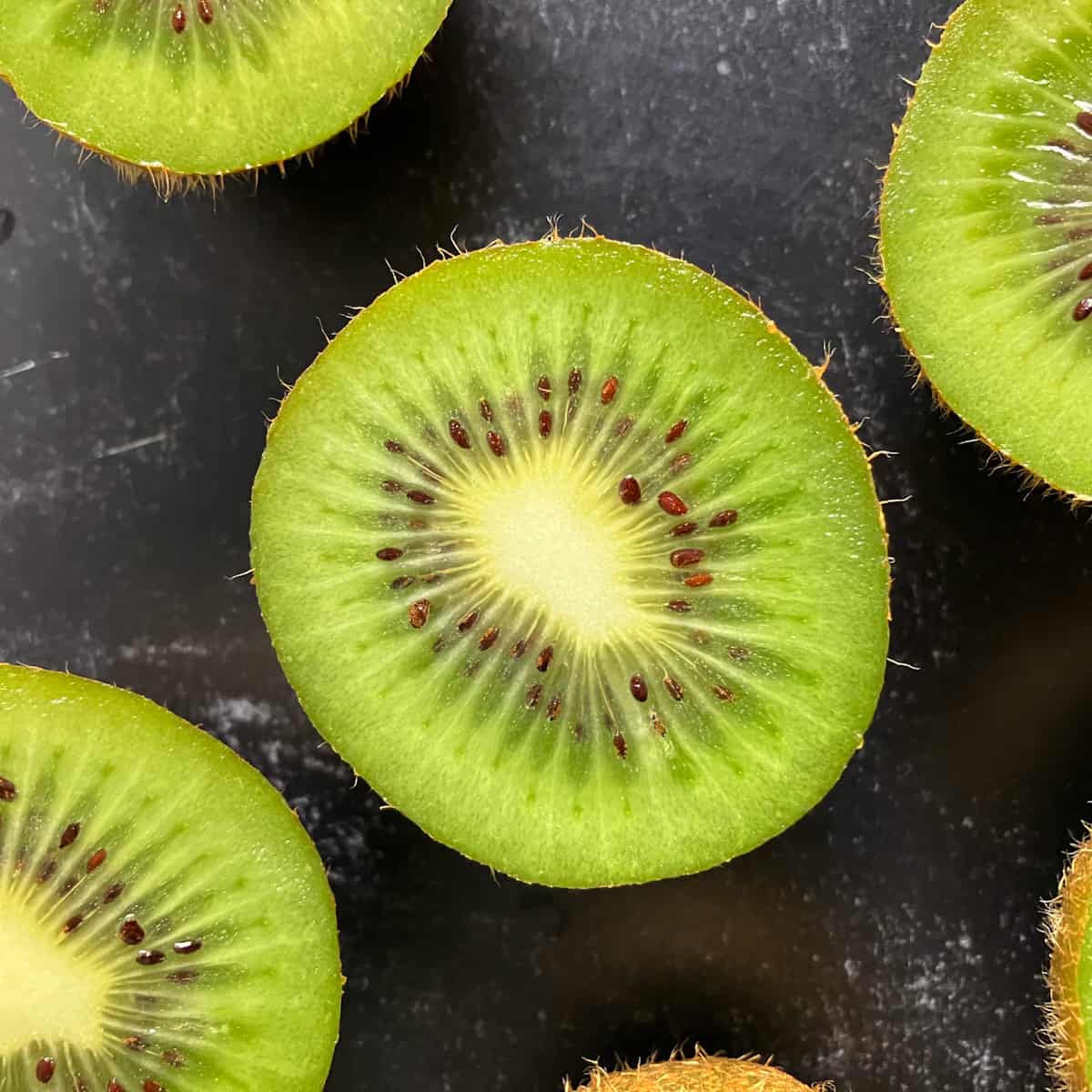 Jump to:
🥝 Is Kiwi a Citrus Fruit?
Are kiwis citrus? The answer to is a kiwi a citrus fruit is NO. Kiwi fruits are exotic fruits that are not classified as citrus, even though they have a high vitamin C content and a slightly tangy taste. They are considered true berries, since they stem from one flower with one ovary (source).
While kiwi fruits are nutrient-dense and rich in vitamin C and antioxidants to support the immune system, they differ from citrus fruits in various ways. To start, kiwi and citrus fruits belong to different botanical families. Citrus fruits like oranges, lemons, and limes are members of the Rutaceae family, specifically the Citrus genus (source), while kiwi fruits are part of the family Actinidiaceae (source).
Further, kiwi fruits grow on a woody vine rather than shrubs, where citrus fruits typically grow (source). They also lack the acidity commonly associated with citrus fruits.
Another difference is that kiwis have a thin, edible skin (though many choose not to eat it). Citrus fruits have a leathery rind that ideally needs to be prepared in some way (e.g., candied) before eating.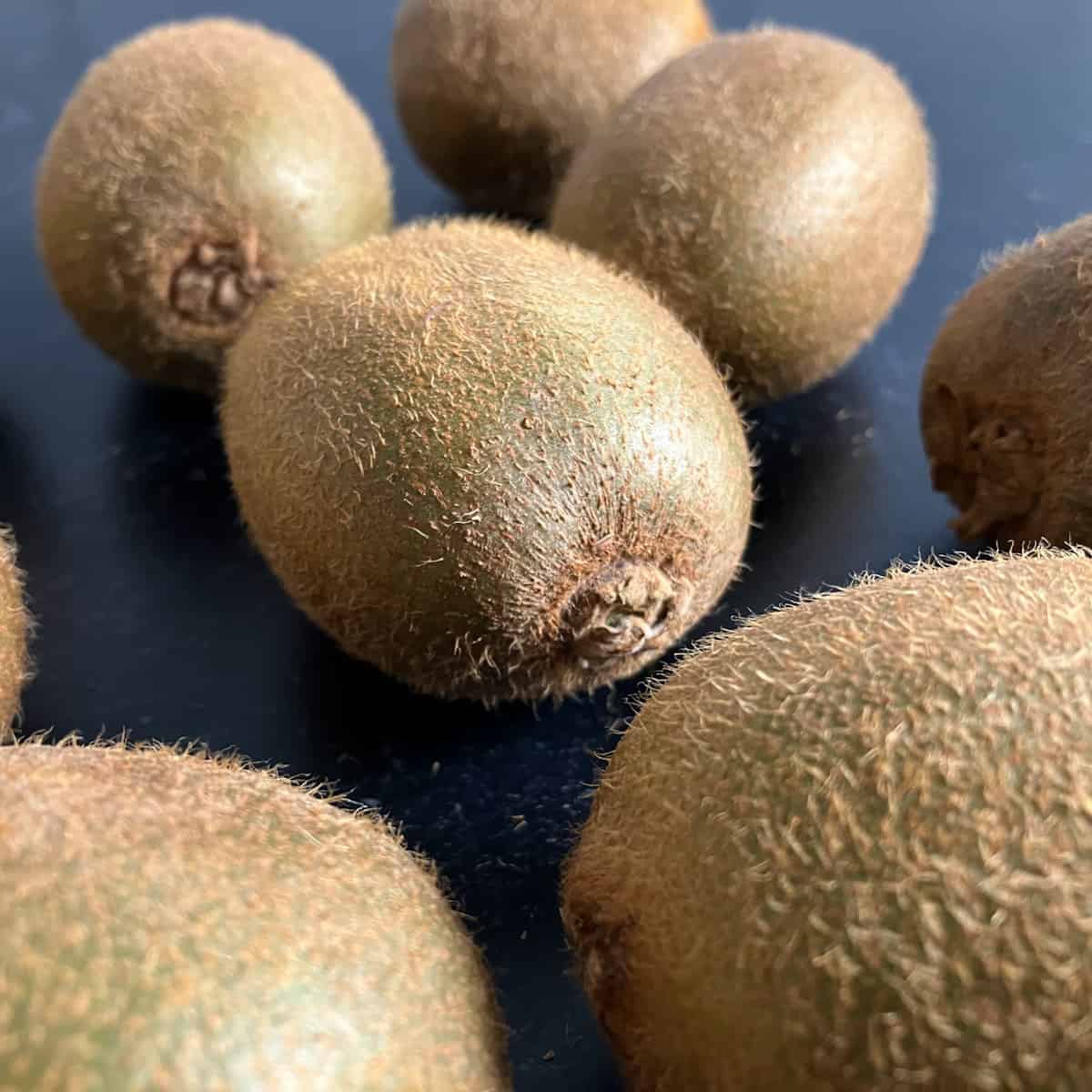 Is Gold Kiwi a Citrus Fruit?
Is golden kiwi a citrus fruit? Nope! None of the varieties of kiwi are citrus fruits. The gold kiwi, a sweeter and less acidic variety, is no exception.
➕ Is Kiwi a Tropical Fruit?
While kiwi may share some characteristics of tropical fruits, it's not considered one, mainly due to its geographic origin and classification within the plant world. The kiwi plant is native to mainland China and Taiwan, although it's now commercially grown in various parts of the world, such as New Zealand and California.
Although kiwi thrives in warm climates, it's not exclusively grown in tropical regions. New Zealand and California, for instance, have more of a subtropical or temperate climate. Tropical fruits are generally grown in tropical regions, areas characterized by a warm, humid climate.
🔥 Is Kiwi Good for Acid Reflux?
It depends! If you find that kiwi doesn't aggravate your acid reflux symptoms, it can be a nutritious and delicious addition to your diet. Every individual's tolerance to acidic foods varies, and what might be well-tolerated by some might not work for others. When it comes to managing acid reflux, you should pay attention to your body and its responses to different fruits and foods.
For those with gastroesophageal reflux disease (GERD), it's especially crucial to identify the foods that trigger your symptoms and develop a diet that promotes digestive health. The Academy of Nutrition and Dietetics recognizes that the fruits and vegetables that cause symptoms in GERD vary from person to person. Since each person's experience with GERD is different, it's always best to consult your healthcare provider for personalized advice.
Is kiwi acidic?
Kiwi is a fruit that has an acidic nature due to its low pH level of 3.1-3.9. The acidity levels in kiwis may not be the same for all types; for instance, green kiwi often has higher acidity than gold kiwi. Kiwi is rich in citric acid, malic acid, and quinic acid, which collectively contribute to its acidic pH (source).
Is kiwi More acidic than oranges?
In comparison to oranges, kiwis have a similar acidity, measured by pH. Oranges are well-known for their high levels of citric acid, which can sometimes trigger acid reflux symptoms in some people.
🍋 List of Citrus Fruits
Which fruits are citrus? Here is a citrus fruit list:
Oranges
Lemons
Limes
Grapefruits
Mandarin orange
Tangerines
Pomelos
Buddha's hand
Kumquats
Clementine
Blood Orange
Is lemon a citrus fruit?
Yes, lemon is citrus.
🍓 List of Non-Citrus Fruits
Here is a non-citrus fruit list (non-exhaustive):
Apples
Pears
Bananas
Grapes
Berries (raspberries, strawberries, blueberries, blackberries)
Cherries
Kiwifruits
Mangoes
Papaya
Pineapples
Apricots
Plums
Peaches
Nectarine
Watermelon
Pomegranate
Tomatoes
Avocado
Are berries citrus fruits?
The fruits that we commonly call berries are not citrus fruits. This includes the strawberry, raspberry, blueberry, and blackberry.
Is mango a citrus fruit?
Like citrus fruits, mangoes are rich in vitamin C, but they are not a citrus fruit.
Is papaya a citrus fruit?
The papaya is another valuable addition to the list of non-citrus fruits. It is well-known for its high vitamin C content as well as the antioxidant properties it possesses.
FAQs
What are the main characteristics of citrus fruits?
Citrus fruits belong to the Rutaceae family, Citrus genus. They are characterized by their high vitamin C content, strong tangy flavors, and acidity levels. Common examples include oranges, lemons, limes, and grapefruits.
How does kiwi compare to common citrus fruits?
Although kiwi has a high vitamin C content, like citrus fruits, it is not classified as a citrus fruit. Kiwi is a fuzzy, brown-skinned fruit with a bright green, sweet, and slightly tart flesh. It has a lower acidity level than many citrus fruits and is technically considered a berry.
What are the benefits of kiwi compared to citrus fruits?
Kiwi offers numerous health benefits, including high amounts of vitamin C and antioxidants. While the vitamin C content in kiwis is comparable to that of citrus fruits, kiwi also contains other nutrients, such as vitamin K, vitamin E, potassium, and fiber, which contribute to overall health and wellness.
Are kiwis and citrus fruits similar in acidity levels?
Despite sharing some similarities in taste, kiwis contain less citric acid than oranges, lemons, and other citrus fruits. Kiwis have higher pH levels than some citrus fruits (e.g., lemons), and a similar pH to others (like oranges).
What fruits are in the kiwi family?
Kiwi belongs to the Actinidia genus, with over 50 different species, including green kiwi (Actinidia deliciosa) and gold kiwi (Actinidia chinensis). These fruits share similar characteristics, such as fuzzy brown skin, colorful flesh, and small black seeds. They differ mainly in their taste and color.
What other fruits are often confused for citrus fruits?
Fruits mistaken for citrus fruits include pineapple, mango, and papaya. While these fruits share some properties with citrus fruits, such as their tropical origin, high vitamin content, or tangy flavor, they don't belong to the citrus genus.
👨‍🍳 Recipes Using Kiwi
Here are some kiwi recipes to try:
Hot tip! Kiwi contains an enzyme called actinidin that works as a natural meat tenderizer. It can break down meat protein when used in marinades, making your dishes tender but not mushy. Kiwi is also delicious made into a fruit jam.
Join our community! Subscribe for all of the latest and greatest recipes, and follow me on Pinterest, Twitter, Instagram, and YouTube!
📖 Recipe
Like this recipe?
Leave a rating by clicking the ⭐ below!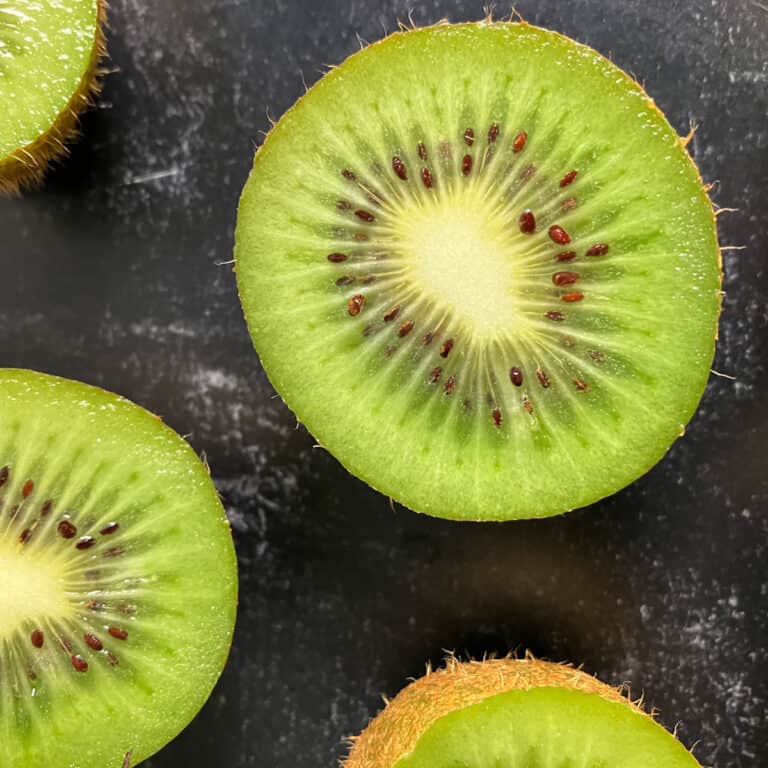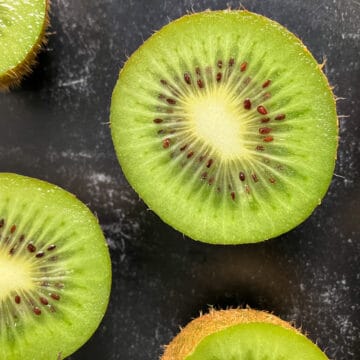 Is Kiwi a Citrus Fruit?
Is kiwi citrus fruit? No, kiwi fruit is not citrus. Learn more about kiwi here!
Ingredients
1

medium

green kiwi

OR

1

medium

gold kiwi
Want to Help?
If you love this recipe, please come back and leave a rating. This helps readers and I'd love to hear from you. Thank you ❤️
Instructions
Rinse the kiwifruit and pat dry. Cut the stem end and blossom end of the kiwi off with a sharp knife.

Peel the fuzzy brown skin of the kiwi off with a peeler. (Alternatively, you can also eat it!)

Slice or dice the flesh of the kiwi with a knife, and enjoy.
Notes
The Disclaimer…
Information on this website may or may not be appropriate for you, depending on your medical needs and personal preferences. Consult with a registered dietitian or your physician if you need help determining the dietary pattern that may be best for you.
The nutrition information is an estimate provided as a courtesy. It will differ depending on the specific brands and ingredients that you use. Calorie information on food labels may be wildly inaccurate, so please don't sweat the numbers too much.
Nutrition information is for one green kiwi.
Nutrition
Calories:
42
kcal
Carbohydrates:
10
g
Protein:
1
g
Sodium:
2
mg
Potassium:
215
mg
Fiber:
2
g
Vitamin A:
0.2
% DV
Vitamin C:
106.6
% DV
Calcium:
2.3
% DV
Iron:
1.2
% DV