What is Yakult? Yakult probiotic drink is a sweetened Japanese fermented dairy product that contains the beneficial bacteria Lacticaseibacillus casei Shirota (previously called Lactobacillus casei Shirota). Learn more about Yakult drink, including Yakult price, Yakult ingredients, calories, nutrition info, health benefits, and more. Is the tasty citrus flavored Japanese probiotic drink, Yakult milk, good for you? Get this information, and find out what does Yakult do, right here!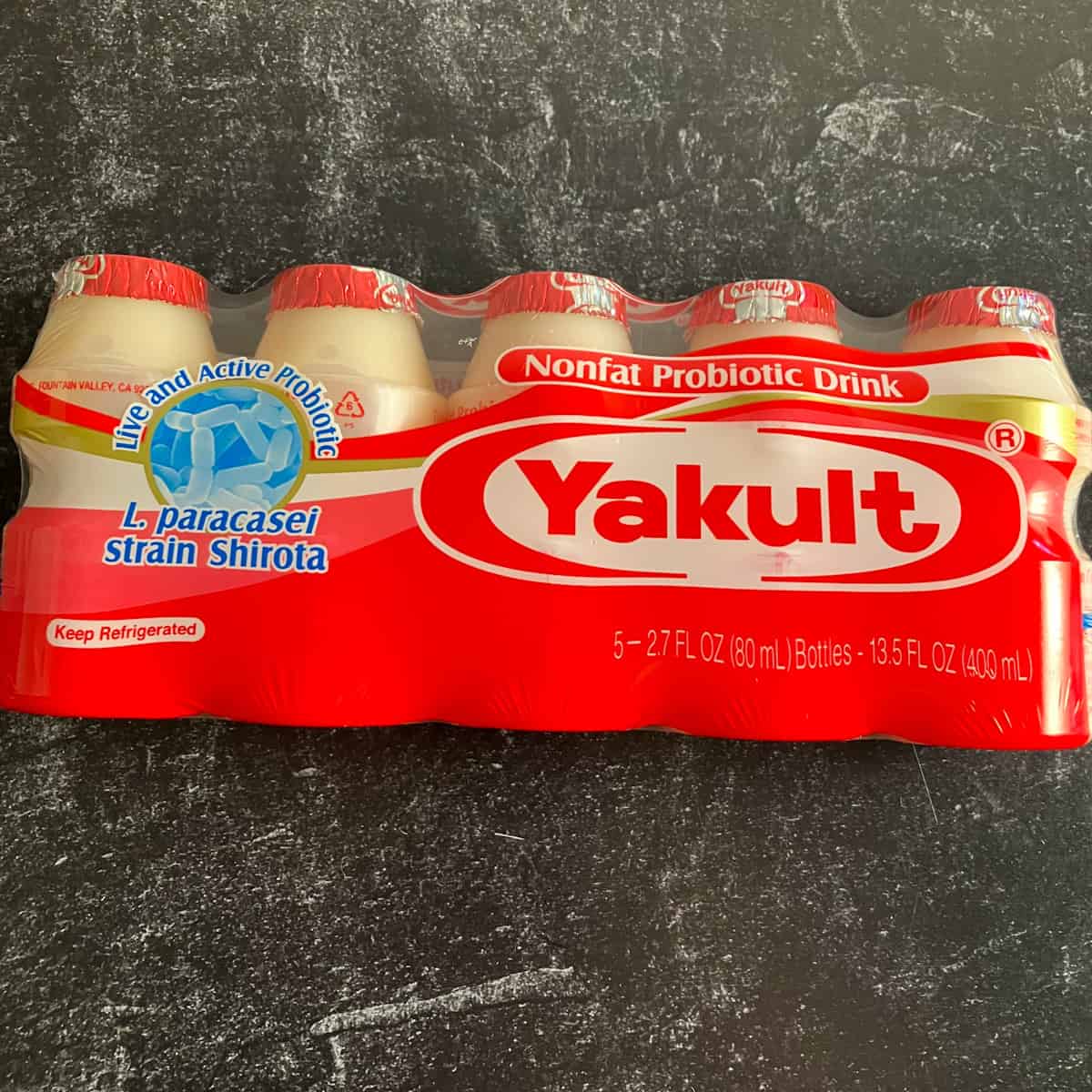 The history of Yakult beverage can be traced back to 1935. It was once only manufactured by the Yakult Honsha company in Tokyo, Japan. Today, you can find it in over 40 countries and regions across the world, including Yakult Korean and a Yakult USA brand. (source).
Probiotic Yakult yogurt gets its name from the Esperanto word for yogurt, "jahurto" (source). However, as you'll discover today, this lactobacillus drink has some differences from regular yogurt. Like yogurt though, Yakult is packed with good bacteria and is a tasty treat the whole family may love.
Jump to:
Yakult Benefits from a Dietitian
Is Yakult healthy? What exactly does Yakult do? The main health benefits of Yakult drink are that it provides beneficial probiotics, similar to yogurt.
Looking at this from the big picture, it is believed that having more diversity in good gut bacteria is good for you. Benefits of a healthy, diversified gut microbiome may include positive immune system responses, including a decrease in molecular signs of inflammation (source).
Two ways to help increase the variety of healthy bacteria in your gut are to eat more prebiotics (fiber) and probiotics. If you're wondering what Yakult is good for, it helps increase your intake of one particular strain of probiotic. The Yakult probiotic drink benefits relate to helping to support a healthy gut.
Instead of asking "is Yakult good for you" and becoming a cherry-picking PubMed warrior, potentially restricting other healthy probiotic-rich foods for Yakult, I suggest taking a more relaxed approach. Consider drinking Yakult occasionally and enjoy the probiotic benefits of Yakult milk in an overall varied diet that includes other fermented foods as well. Yakult is only good for diet and the microbiome when part of a diversified eating plan that includes other food groups.
Something to keep in mind though, is that the different strains of probiotics may have different impacts on the body (NCCIH). The strain of Lactobacillus in your regular brand of yogurt may not have the same benefits of Yakult probiotics. The NCCIH states that while probiotics show promise for various GI conditions, "in most instances, we still don't know which probiotics are helpful and which are not."
What if you'd like to know is Yakult good for health because you're trying to treat a specific medical condition? In that case, it's best to speak with a physician or dietitian familiar with your medical history.
Is Yakult better than yogurt?
When trying to decide which of two foods is "better," we need to take into account what the individual's needs and preferences are. In general, I would consider low sugar Greek yogurt healthier than Yakult, because it gives you less sugar and more protein by calorie.
That said, Yakult may be a better choice than yogurt if you're trying to gain weight. The small bottles are easy to drink quickly, and the high sugar content makes Yakult fairly calorie dense. (On the other hand, you could also argue the answer to "Is Yakult good for weight loss?" is yes, since the small bottles provide perfect portion control.)
Yakult Ingredients
What is Yakult made of? Here is a list of the ingredients in Yakult:
Water
Sugar
Nonfat Milk
Glucose
Natural Flavors
L. paracasei strain Shirota
Yakult is gluten free, fat free, and cholesterol free. The bacteria in Yakult are a live and active probiotic culture, similar to yogurt. Yakult and Yakult Light must be kept refrigerated to help prevent the growth of bad bacteria.
There is also a Yakult light product, with less calories and sugar than regular Yakult. Here are the Yakult light ingredients:
Water
Nonfat Milk
Corn Dextrin
Sugar
Glucose
Pectin
Natural Flavors
Reb A (Stevia Extract)
L. paracasei strain Shirota
Yakult light is also gluten free, fat free, and cholesterol free. The probiotics Yakult light uses are the same strain as the one in regular Yakult. The main difference between Yakult and Yakult light is that Yakult light uses Stevia in place of some sugar.
Is Yakult dairy free?
Is Yakult vegan? No, neither Yakult nor Yakult light are dairy free and vegan. Both products are made with cultured skim milk, and there is no dairy free Yakult.
Yakult Calories
What are the benefits of Yakult probiotic drink? Here is the nutrition information for one 80 mL Yakult bottle:
Calories: 50
Total Fat: 0g
Saturated Fat: 0g
Cholesterol: 0mg
Sodium: 15mg
Total Carbohydrate: 12g
Fiber: 0g
Total Sugar: 10g
Added Sugar: 9g
Net Carbs: 12g
Protein: 1g
Vitamin D: 0% DV
Iron: 0% DV
Calcium: 4% DV
Potassium: 50mg
Yakult is not a significant source of Vitamin A or Vitamin C.
Here is the nutritional information for one 80mL bottle of Yakult light:
Calories: 25
Total Fat: 0g
Saturated Fat: 0g
Cholesterol: 0mg
Sodium: 15mg
Total Carbohydrate: 6g
Fiber: 2g
Total Sugar: 3g
Added Sugar: 1g
Net Carbs: 4g
Protein: 1g
Vitamin D: 0% DV
Iron: 0% DV
Calcium: 4% DV
Potassium: 50mg
Yakult Light is also not a significant source of Vitamin A or Vitamin C.
How much sugar in Yakult?
There are 10 grams of total sugar and 9 grams of added sugar in regular Yakult. There are 3 grams of total sugar and 1 gram of added sugar in light Yakult. Yakult Light is a better option for those using keto and low carb diets to manage diabetes.
Yakult Taste
The mild citrusy flavor of Yakult is somewhat similar to a tangy orange creamsicle. The relatively high amount of sugar in the tiny bottle makes the probiotics in Yakult taste like a treat.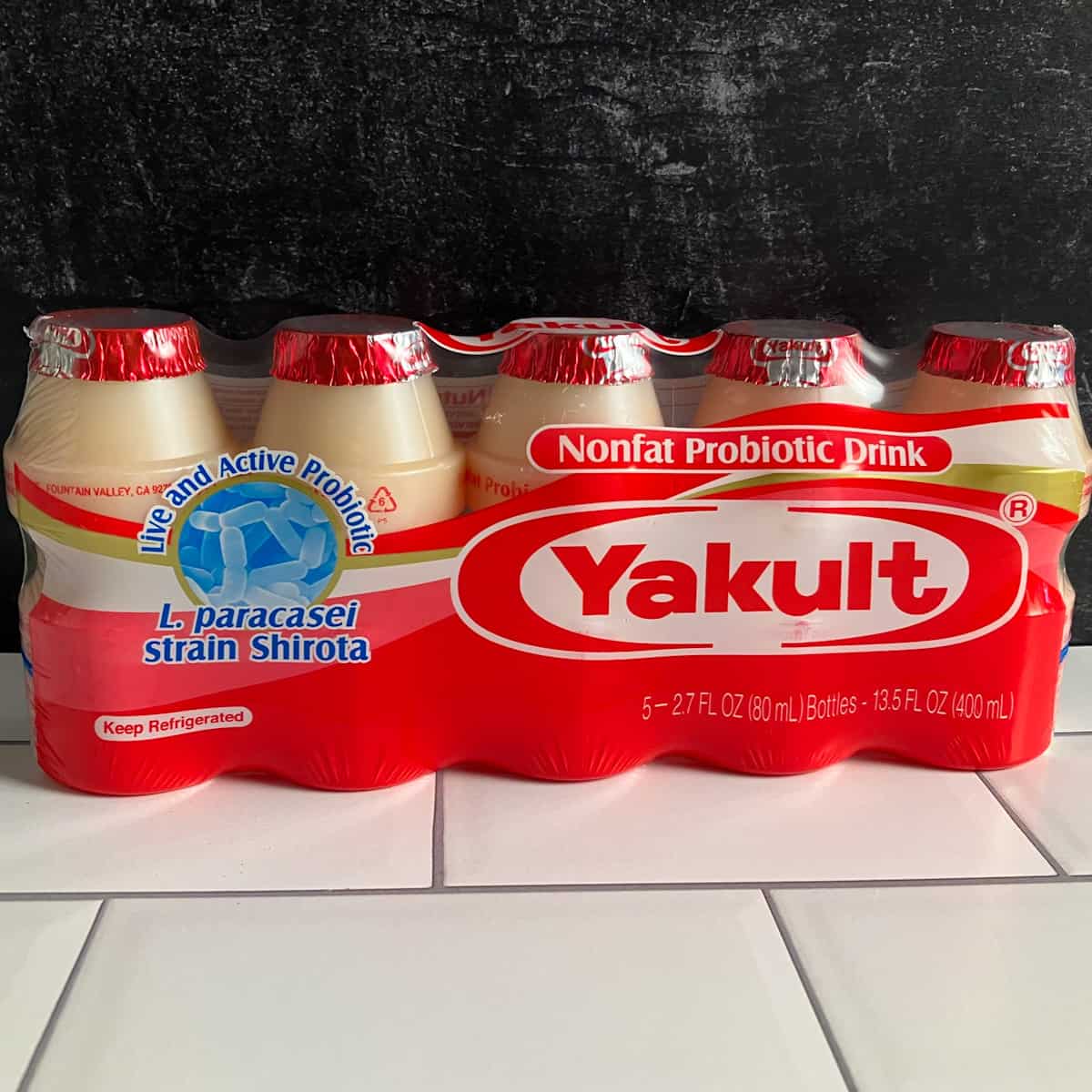 Where to Find Yakult Near Me
I was not able to find Yakult at Costco or at Amazon online. Luckily, many regular grocery stores in the US sell Yakult in the yogurt section. You can also buy Yakult at Walmart (buy Yakult online here) or Target.
Yakult Price
In the US, probiotic Yakult drink is sold in a single row pack of five bottles that are each 80 mL (2.7 fl oz). The Yakult cost is $2.98 per pack at Walmart or $3.19-3.49 at my local grocery stores. Prices are correct at the time of writing, are subject to change, and may vary by location.
Big Yakult
In some regions of the world, you may find a 100 mL (3.4 fl oz) Yakult big bottle. Yakult may also be sold in smaller 65 mL (2.2 fl oz) bottles. Instead of the five packs, I've also heard of Yakult being sold in packs of 10 bottles.
Is Yakult good for IBS?
The use of probiotics, particularly Bifidobacterium, may provide some benefit in relieving IBS symptoms (source). Also, here's a small study linking use of Yakult to reduction of SIBO. Talk with your doctor before making diet changes based on something you find online, especially when you're managing a health condition.
FAQs
How many Yakults can I drink in a day?
How many Yakult per day? Yakult recommends 1-2 bottles of Yakult per day (source). I think this is a fine limit, as you shouldn't drink so much Yakult it starts displacing other healthy foods.
Is it OK to drink Yakult everyday?
Yakult is a fermented food like yogurt, not a probiotic supplement. In most cases, it should be fine to enjoy Yakult as part of the daily diet, the same as with yogurt.
When should Yakult be consumed?
When to drink Yakult? As with most other foods, there is no best time of day to drink Yakult. It makes a delicious snack whenever you wish.
Should Yakult be taken on an empty stomach?
You can safely enjoy Yakult with meals, after eating, or on an empty stomach. It's the same as other foods.
Is it OK to drink 5 bottles of Yakult a day?
If you're wondering how to drink Yakult, I don't recommend drinking the whole pack at once. Yakult side effects may include gas or bloating while your body adjusts to the probiotics (source).
How long does Yakult take to work?
What are the signs that probiotics are working? You probably won't notice any major changes after trying Yakult, the same as when you eat yogurt. (Remain cautious- the internet is full of misinformation on how does Yakult work and its benefits.)
Who should not take probiotics?
Immunocompromised persons may get sick from probiotics (source), though the risk is potentially larger with supplements and home ferments than store bought foods. Ask a doctor or dietitian familiar with your medical history if you have specific questions about your diet.
Can I drink Yakult when pregnant?
Probiotic foods, such as Yakult, are generally considered safe during pregnancy (source).
How to make a Yakult drink recipe?
How is Yakult made? You can culture the bacteria in Yakult similar to how you'd make cultured yogurt. Here are directions to make Yakult at home.
Other Probiotic Recipes
Here are some other ways to get more probiotics in your diet:
📖 Recipe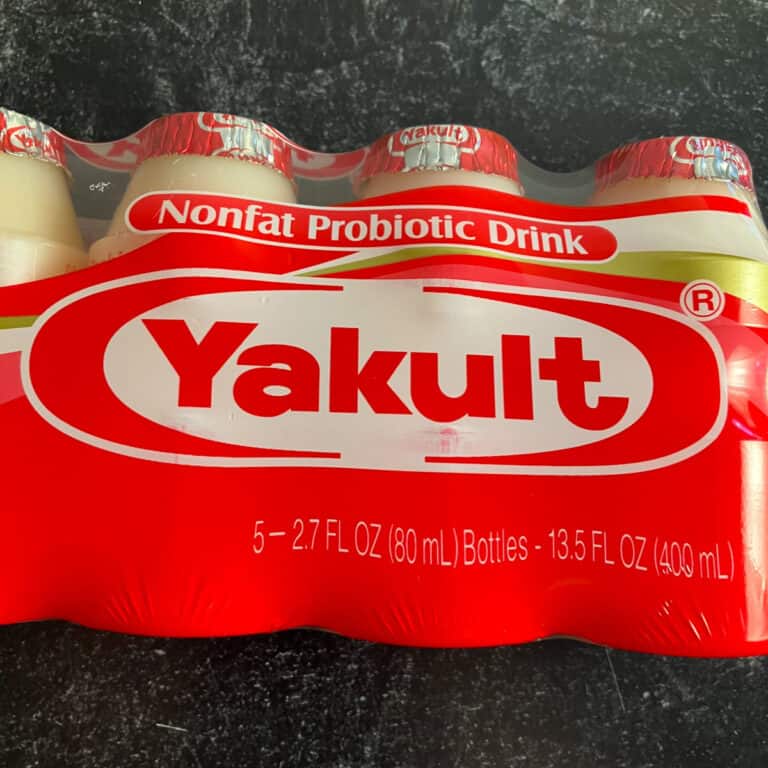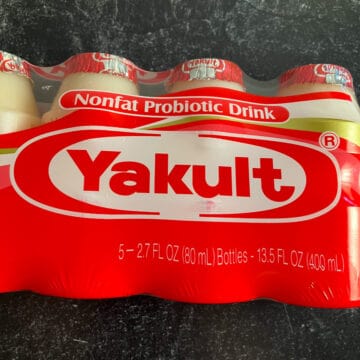 Yakult Benefits (Probiotic Drink Price, Ingredients, more!)
What is Yakult? Yakult probiotic drink is a sweetened Japanese fermented dairy product that contains beneficial Lactobacillus bacteria.
Ingredients
1

bottle

Yakult

(80 mL)

1

probiotic drink lover
Don't be a stranger! 😊
If you love this recipe, please come back and leave a rating. This helps readers and I'd love to hear from you. Thank you ❤️
Instructions
Yakult is a ready-to-drink probiotic beverage. Simply give chilled Yakult a shake, peel off the foil top, and drink up. Enjoy!

Important! Both unopened and opened bottles of Yakult should be left at room temperature for no more than 1-2 hours. Keep Yakult in the refrigerator for storage.
Notes
Nutrition information is for one bottle of Yakult probiotic beverage (80mL).
nutrition info disclaimer

All recipes on this website may or may not be appropriate for you, depending on your medical needs and personal preferences. Consult with a registered dietitian or your physician if you need help determining the dietary pattern that may be best for you.

The nutrition information is an estimate provided as a courtesy. It will differ depending on the specific brands and ingredients that you use. Calorie information on food labels may be inaccurate, so please don't sweat the numbers too much.
Nutrition
Calories:
50
kcal
Carbohydrates:
12
g
Protein:
1
g
Sodium:
15
mg
Potassium:
50
mg
Added Sugar:
9
g
Calcium:
4
% DV
Join our community! Subscribe for all of the latest and greatest recipes, and follow me on Facebook, Pinterest, Instagram, and YouTube!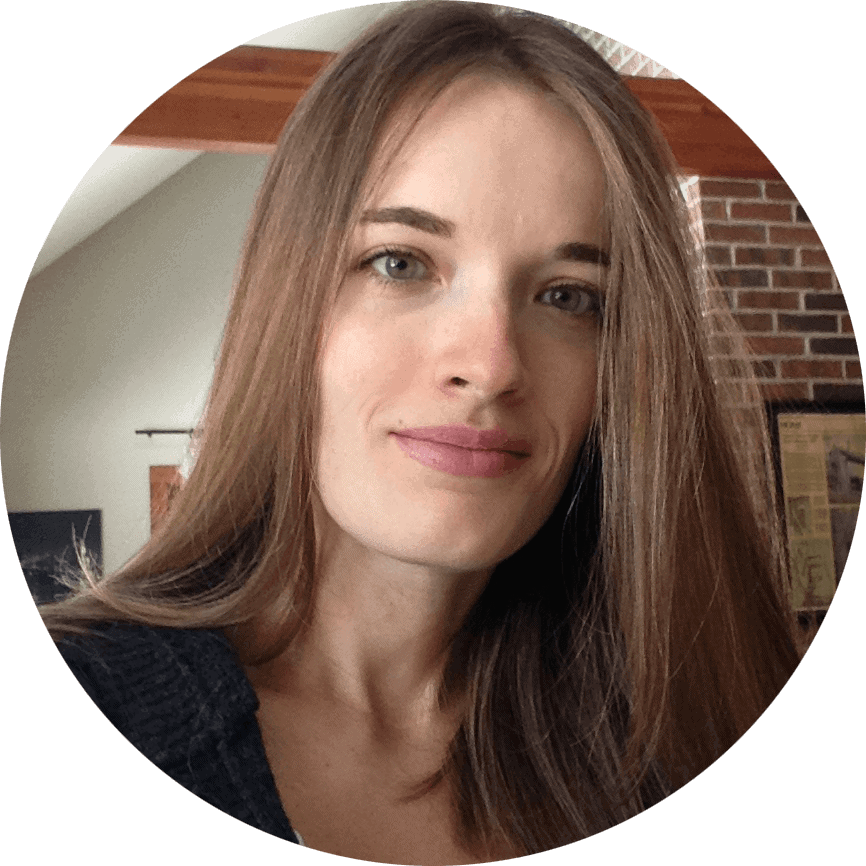 Hello! I'm Summer, a registered dietitian and home chef who loves to cook, eat, and create high quality content for you! Every recipe on this site has been tested by me to help ensure your success in the kitchen. All eaters are welcome here 🙂