Here are the best Tovolo popsicle molds recipes! Tovolo has some of the best silicone popsicle molds so you can make fun popsicles with healthy, delicious ingredients. I love to use their Zombie popsicle mold for Halloween, but they also have star molds, rocket molds, and much more. You'll love these Tovolo popsicle recipes made with fruit, yogurt, and other natural ingredients.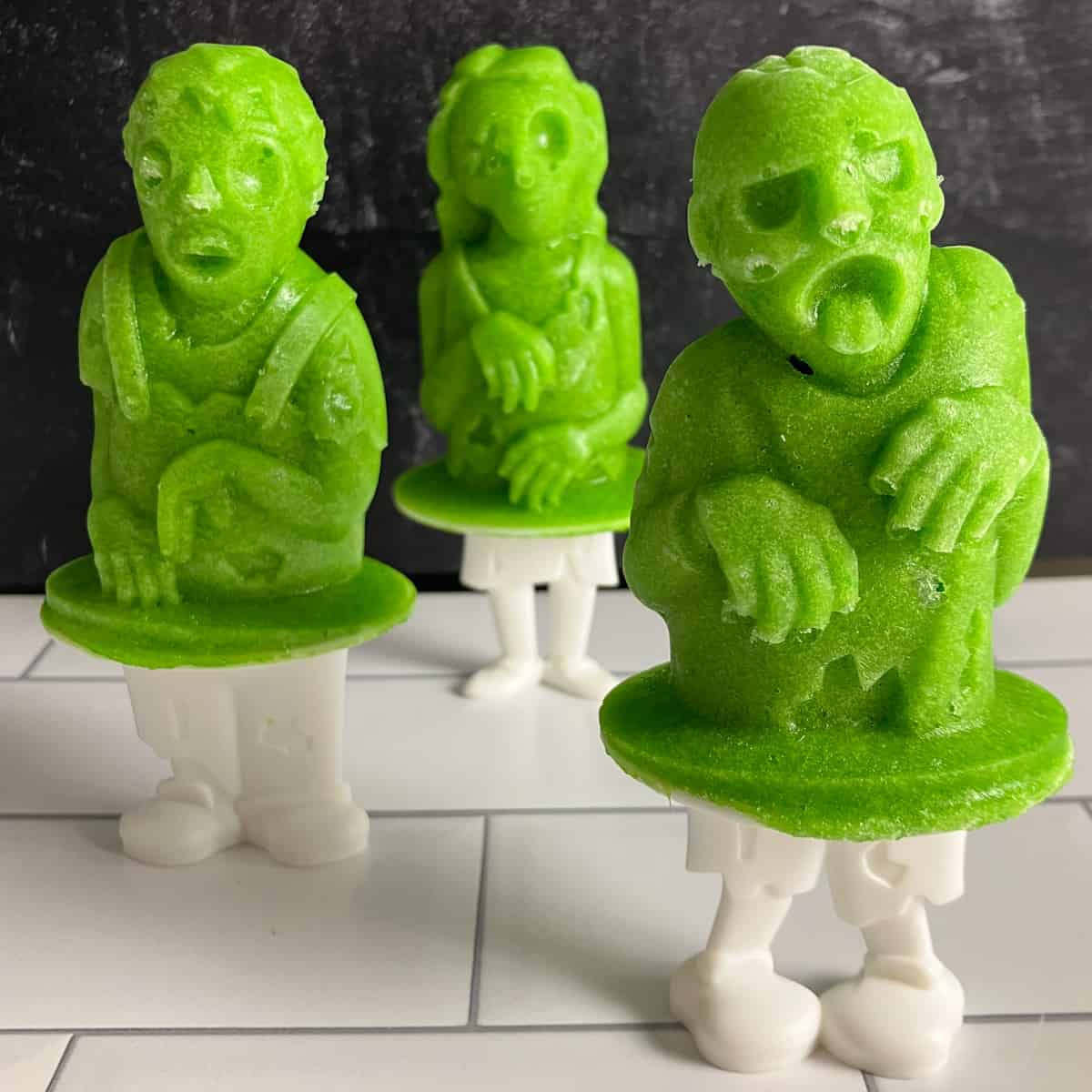 Jump to:
⭐ Tovolo Popsicle Molds Recipes
Why use a regular popsicle tray when you can have zombies?!? The zombie pop molds makes this one, IMVHO. You can use any of your favorite popsicle mold recipes in a Tovolo ice pop tray, so get creative!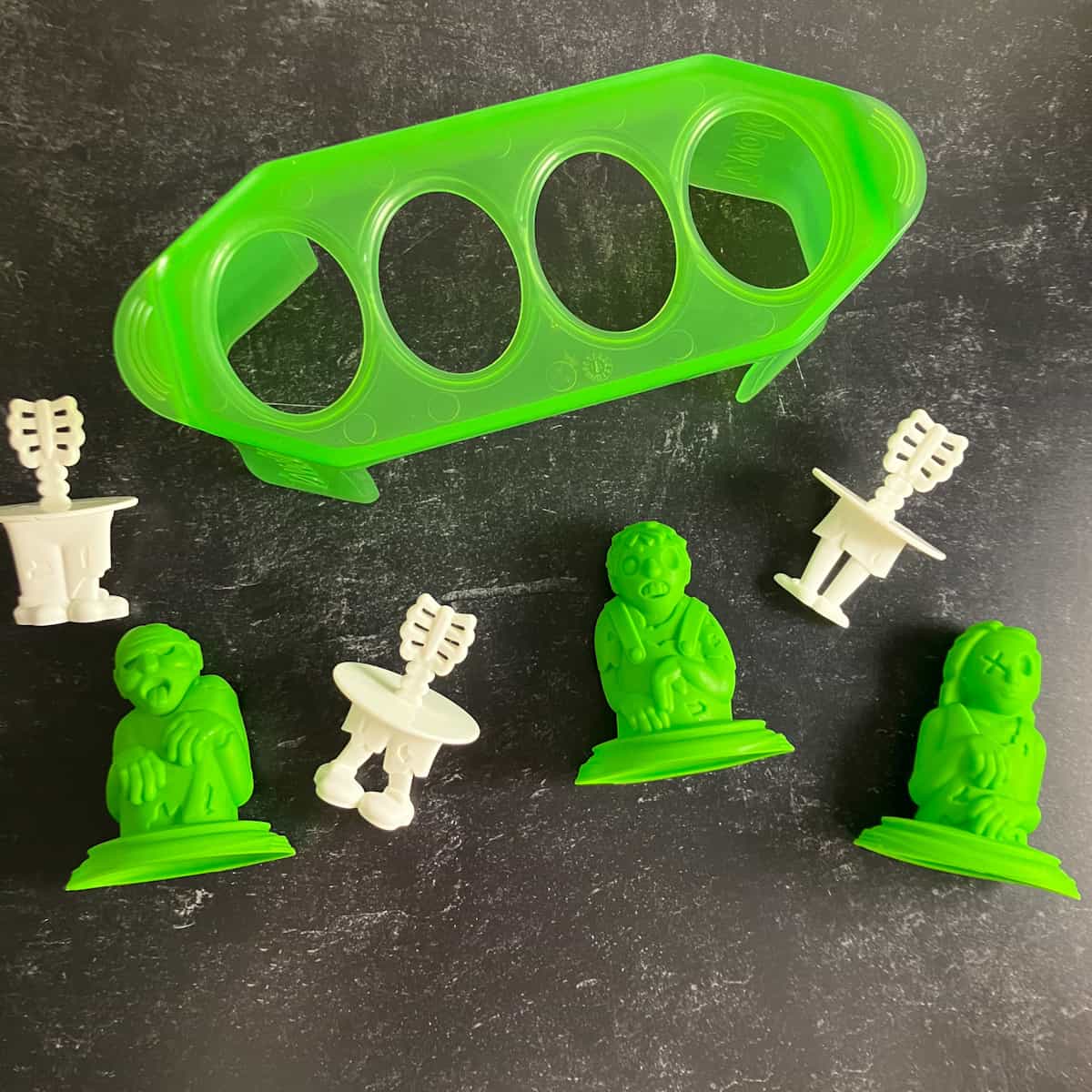 Tovolo classic pop molds are made of hard BPA-free plastic, and they also carry silicone pop molds for easier popsicle release. Here are the basic step-by-step instructions for how to make homemade popsicles, and then we'll get to the recipes:
Tovolo pop molds have a hard plastic base that holds soft silicone inserts (or hard plastic inserts). Place the inserts into the insert holder, and fill them. You can use blended fruit puree, fruit juice, yogurt, or flavored sugar syrup. Here I'm using blended pineapple with a little green food coloring to make green zombies. (Use matcha powder or blended kiwi for a natural food coloring alternative.)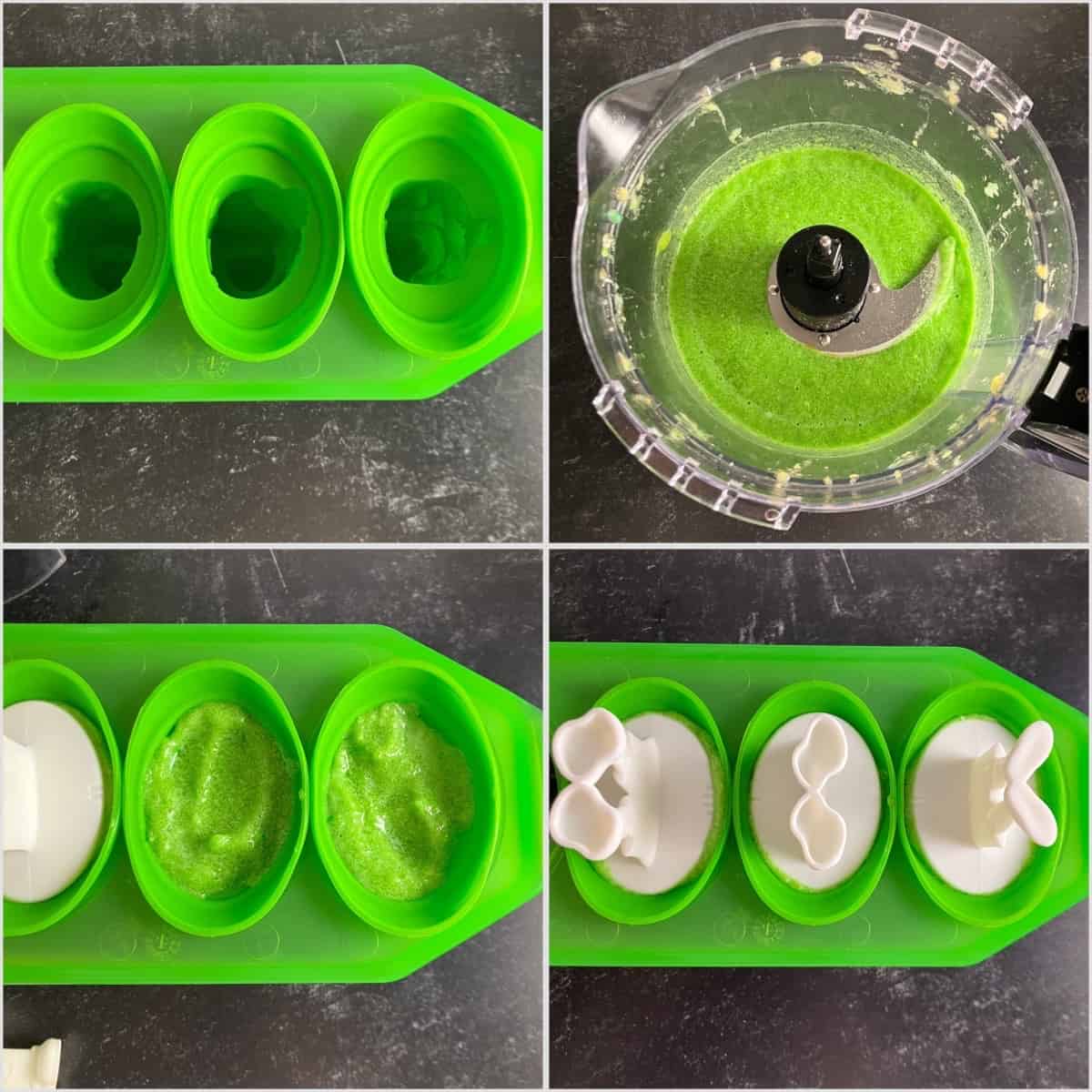 Add the popsicle stick handles to the filled popsicle molds. For the zombie pops, the popsicle sticks are the zombie's spinal column, rib cage, and legs! Oh, the creativity that went into these. Hahaha
Freeze the pops overnight (or for at least 6-12 hours). Then unmold the pops and enjoy!
With the zombie pop mold, you hold the zombie by its legs and feet, and eat the head and torso. This one could be fun for parties!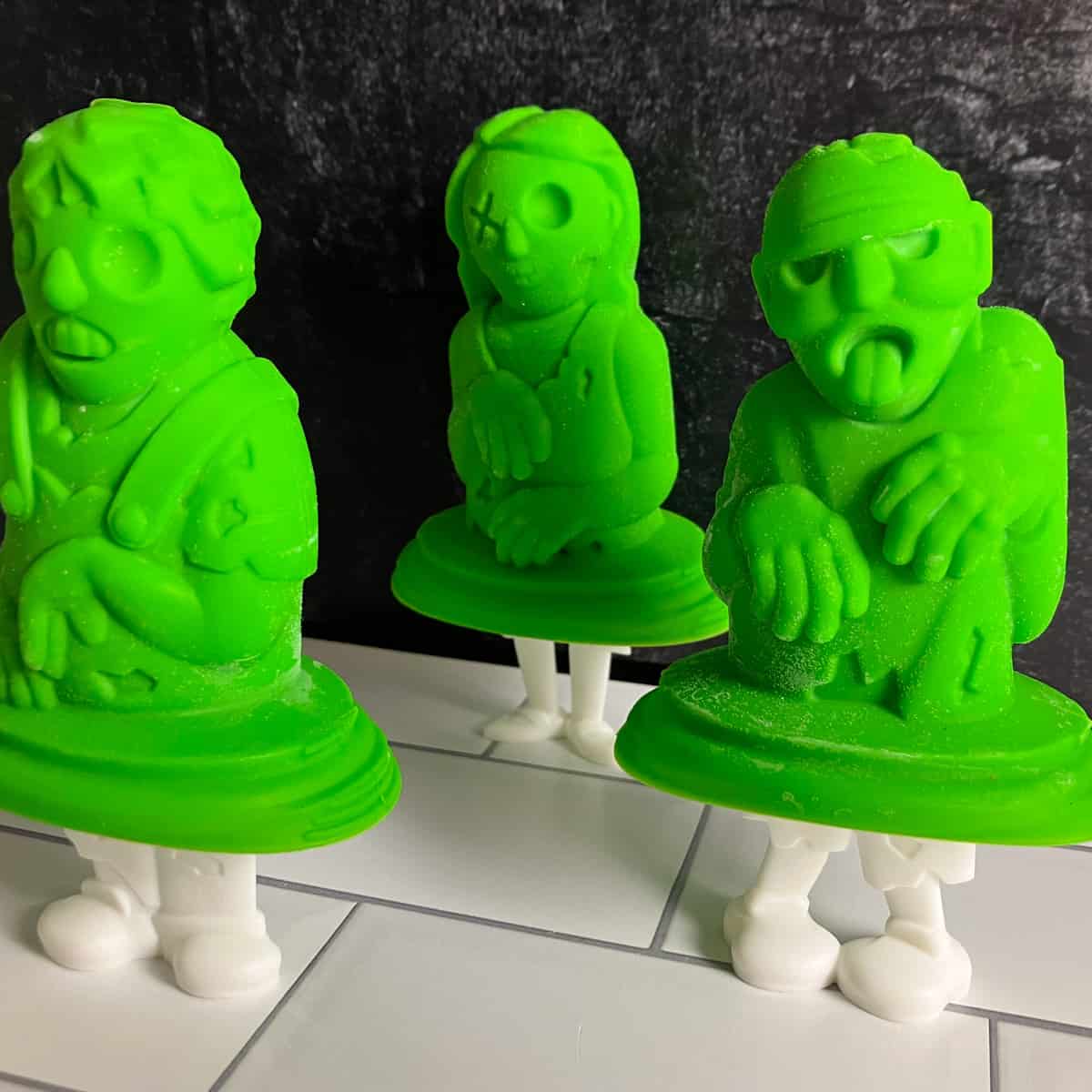 How to Remove Popsicle from Mold
Silicone popsicle molds release very easily from the ice pops- just peel them back. If you're using hard plastic molds (including ice cube tray popsicles), you may need to run them under hot water for a short time to release them.
📖 Recipe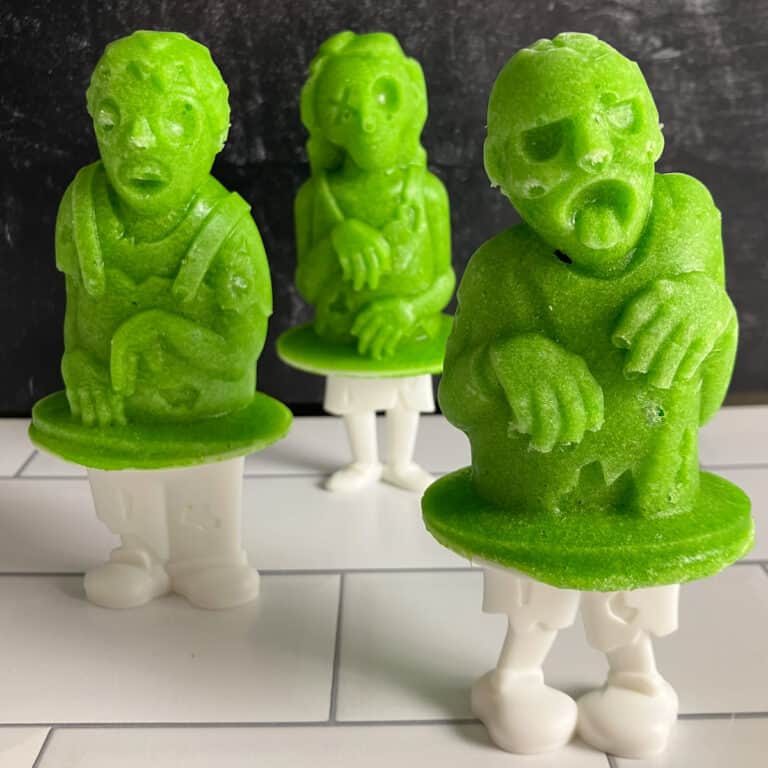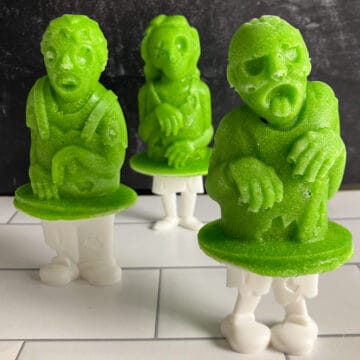 Tovolo Popsicle Molds Recipes (Zombie Popsicle and more!)
Here are the best Tovolo popsicle molds recipes! Tovolo has some of the best silicone popsicle molds so you can make fun popsicles with healthy, delicious ingredients.
Ingredients
3

cups

fresh chopped pineapple

4-6

drops

neon green food coloring

(use matcha powder or blended kiwi fruit for a natural green alternative)
Don't be a stranger! 😊
If you love this recipe, please come back and leave a rating. This helps readers and I'd love to hear from you. Thank you ❤️
Instructions
Peel, core, and chop the fresh pineapple into ½-1 inch pieces (1.27-2.54 cm). Blend fruit and food coloring in a food processor until smooth. If ingredients are sticking to the sides of the food processor, stop it, scrape down the sides of the processor with a spatula, then continue blending.

Spoon the mixture into popsicle molds, add the popsicle stick handles, and freeze until solid (6-12 hours).

Unmold the pops (silicone popsicle molds peel back easily) and enjoy!
Notes
💭
Expert Tips from a Dietitian
This is a level 1 recipe (may help support fat loss).
The exact calorie count per Tovolo ice pop depends on which pop mold you use. That said, the fiber and water content in this recipe makes a low-calorie frozen treat regardless. Additionally, it's more difficult to consume frozen fruit quickly compared to fresh fruit, making it easier to be more mindful about intake.
Anecdotally, some kids appear to like fruit more when blended into an ice pop. I know of kids who are far more likely to grab one of these than a fresh piece of fruit, though they're almost nutritionally equivalent. (Your mileage may vary, of course.)
Fruit provides antioxidants (such as vitamin C), phytonutrients, and fiber that help to keep your body healthy. With simple ingredients that are naturally gluten free, vegetarian, and vegan, this tasty dessert is an easy way to increase your fruit intake with no sugar added. The whole family will enjoy it!
Nutrition information is for one serving (one popsicle).
nutrition info disclaimer

All recipes on this website may or may not be appropriate for you, depending on your medical needs and personal preferences. Consult with a registered dietitian or your physician if you need help determining the dietary pattern that may be best for you.

The nutrition information is an estimate provided as a courtesy. It will differ depending on the specific brands and ingredients that you use. Calorie information on food labels may be inaccurate, so please don't sweat the numbers too much.
Nutrition
Calories:
41
kcal
Carbohydrates:
10.8
g
Sodium:
1
mg
Potassium:
90
mg
Fiber:
1.2
g
Vitamin C:
65.7
% DV
Calcium:
1
% DV
Iron:
1
% DV
➕ Tovolo Popsicle Recipes
Here are some more homemade popsicle recipes for your Tovolo ice pop mold:
For recipes with yogurt or milk, substitute your favorite plant-based milk alternative to make it vegan. I recommend protein and calcium-fortified plant milks to keep the nutrient profile similar.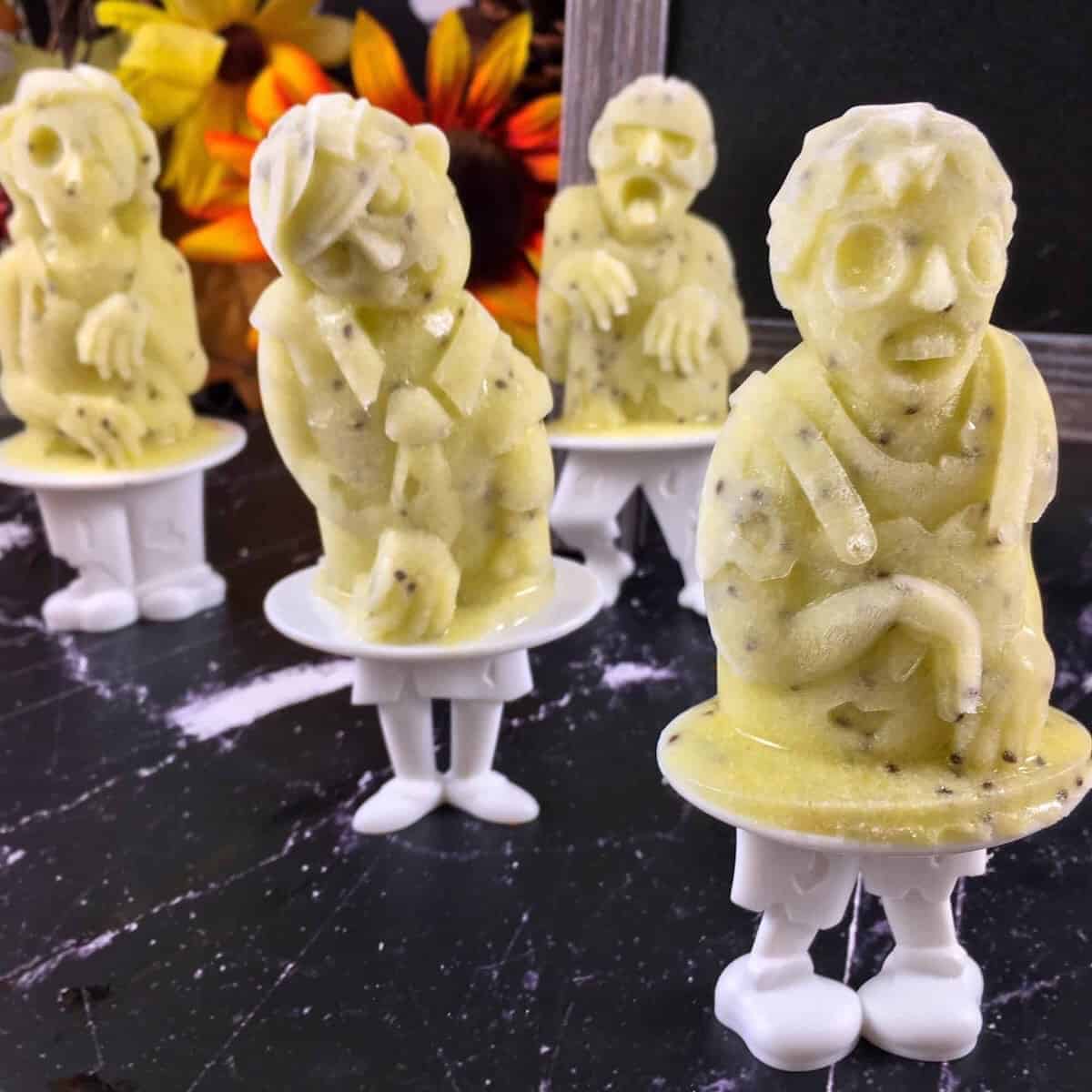 You can also use your favorite smoothie recipes to make popsicles. I recommend trying this sugar free lassi or this chocolate strawberry banana smoothie.
🧟 Tovolo Zombie Popsicle Mold
You can see what the zombie ice pop molds look like in the photos and recipe video. If zombies aren't your thing, Tovolo also offers the following dishwasher-safe silicone popsicle molds:
I want all the fun shapes! Haha
The Tovolo stackable popsicle molds lay flat to take up less space in the freezer and prevent spills. The shapes include classic, star, pineapple, truck, unicorn, and watermelon. These are also silicone molds for easy release. Find them here.
One more option is the classic hard plastic pop molds from Tovolo. Admittedly, these aren't my favorite because the popsicles are much harder to release from the molds. That said, they're relatively inexpensive, include a drip guard, and offer some different shape options:
FAQs
Where to get popsicle molds?
I picked up my molds at Cost Plus World Market, but they are also available at Amazon and Kohls. If you want to save money, you may get a better price on the molds after Halloween. I noticed the zombie molds often go up in price in October and then drop down again.
How do you keep popsicles from sticking to mold?
To prevent popsicles from sticking to molds, try spraying the molds with a thin layer of cooking oil or non-stick spray before pouring the mixture. Alternatively, let the popsicles sit at room temperature for a minute after removing them from the freezer; this often helps loosen them from the mold.
How do you make creamy popsicles (not icy)?
To make creamy popsicles, use a base of yogurt, coconut milk, or condensed milk. These ingredients add creaminess and prevent iciness. You can also blend fruits finely or use fruit purees for a creamier texture than fruit juice pops. Adding a bit of cornstarch or gelatin can enhance creaminess by inhibiting ice crystals from forming.
Should you spray popsicle molds?
You can spray hard plastic popsicle molds lightly with non-stick spray. This helps in easy removal of popsicles and ensures they come out smoothly without breaking or losing their shape. You do not need to do this with silicone popsicle molds.
Can you put ice cream in popsicle molds?
While you can technically put ice cream in popsicle molds, traditional ice cream might not freeze solid. However, you can create popsicles using softened ice cream mixed with other ingredients like crushed cookies or blended fruits to enhance flavors and improve freezing consistency.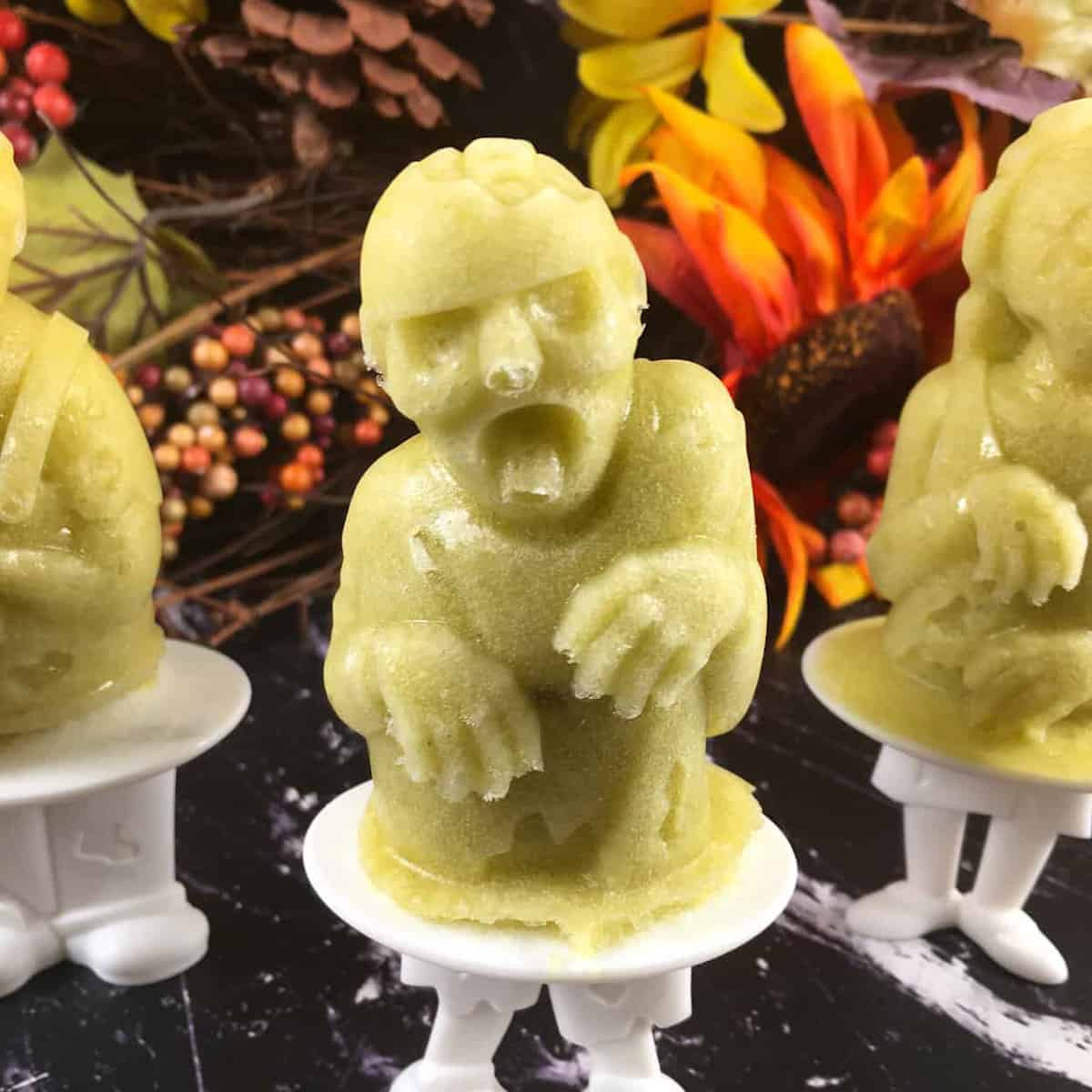 👩🏻‍🍳 More Fruit Recipes
Join our community! Subscribe for all of the latest and greatest recipes, and follow me on Facebook, Pinterest, Instagram, and YouTube!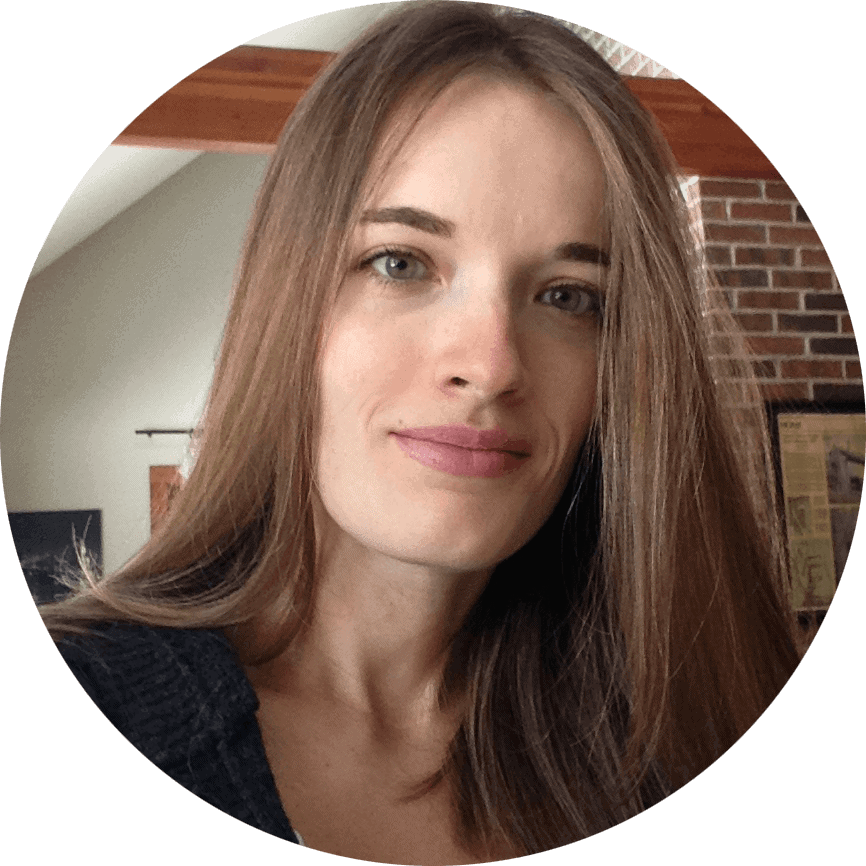 Hello! I'm Summer, a registered dietitian and home chef who loves to cook, eat, and create high quality content for you! Every recipe on this site has been tested by me to help ensure your success in the kitchen. All eaters are welcome here 🙂