Chorizo is a well-seasoned pork sausage that may be purchased cured or fresh. Today we're going to cover how to make fresh Mexican-style chorizo, using dried chile peppers and vinegar. My version of this tasty sausage uses half pork and half chicken to help lighten things up a bit. It can be tough to find fresh chorizo in the supermarket, so why not try making your own?
Oh, chorizo. You might be one of my top picks for meat when I want to create a dish full of flavor. Unfortunately, where I live in the northeastern United States, fresh chorizo can be tough to find in regular supermarkets.
Most of my local grocery stores do carry Spanish chorizo (or its cousin, Portuguese chourico). These are cured pork sausages that are flavored with smoked paprika for a vibrant red color. As delicious as these are, sometimes I have a recipe where only fresh chorizo will do.
That is where Mexican chorizo comes in. Mexican-style chorizo is a fresh sausage that may be made from other meats (or soy) in addition to or in place of fatty pork. This type of sausage is typically flavored with chili peppers (or chili powder) and vinegar.
As mentioned, it can be tough to find good Mexican chorizo here outside of the specialty stores. Since I recently acquired a meat grinder, I decided to give making Mexican-style chorizo a try. The results were fabulous, and I'm so excited to share the recipe with you today!
I've got zucchini growing in my raised beds, and the plants seem to be doing extremely well. You can bet I'll be making my keto zucchini boats with chorizo when it is harvest time. It's one of my favorite ways to use fresh chorizo!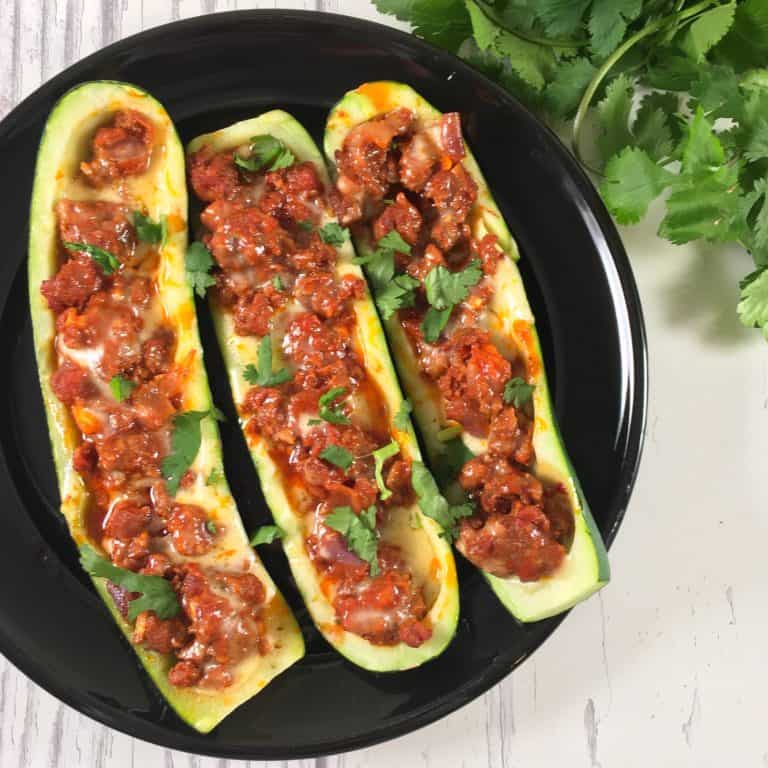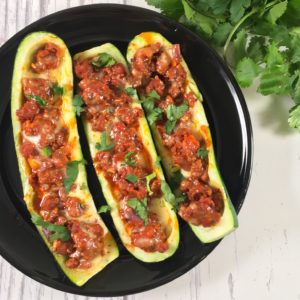 Which chile peppers should you use for fresh chorizo?
You could take a little shortcut and use chili powder in place of the dried chiles in this recipe. That said, this is a slow food recipe, and I recommend going the extra mile by using the dried chiles. Your chorizo will be more flavorful, and you can more easily control the heat this way.
The chile peppers that are best to use will depend on the heat and flavor you are looking for. I chose to use mostly guajillo chiles because they have mild-medium heat and great flavor. According to Wikipedia, the guajillo chile is the second most commonly used dried chile in Mexican cuisine.
(Can you guess what the most common dried chile pepper is?)
Through the years, I've come across recipes for Mexican chorizo using:
Aleppo peppers
Ancho peppers
New Mexican chile peppers (i.e., hatch peppers)
Guajillo peppers
Chiles de Arbol (be conservative with adding these- they are hot!)
There is no one right answer as to the best dried pepper to use. Feel free to use what you have on hand and what fits your tastes.
I went with 2 ancho, 8 guajillos, and 2 japones peppers (for a little extra heat). You'll want to use somewhere in the range of 12-16 dried chiles for this recipe. Between the dried peppers and the smoked paprika, your chorizo will have that lovely characteristic red color.
I picked up the dried guajillo peppers on Amazon. It's also nice to use Mexican oregano rather than regular oregano here, though it is not necessary.
How should you store fresh chorizo?
This recipe makes about 4 lbs and 6 oz of chorizo. Unless you are feeding a crowd, you are going to want to store some of this chorizo in the freezer.
I chose to use my FoodSaver vacuum sealer for packaging the sausage into 1-pound portions. You could also use casings and make chorizo links before sealing.
That said, fresh chorizo is almost always removed from the casings and crumbled during cooking. It seems like a lot of extra work to fill casings that will eventually end up in the trash.
But back to storing your chorizo. I'm going to give you some tips on using the FoodSaver in the next section because its use is not entirely intuitive.
If you don't have a vacuum sealer, a low-tech option is to double bag your chorizo in freezer zip-close bags. You can use a straw to suck out as much of the air as possible before closing the bags. It is not as good as a vacuum-sealed bag, but it does a decent job of preventing freezer burn.
Honestly, I used the double bag method for decades before investing in a vacuum sealer. There's no need to fill your kitchen with every gadget out there if you don't have the money or space. There are often other ways to get similar results.
Tips for using a FoodSaver vacuum sealer and getting a good seal
So, if you do have a FoodSaver vacuum sealer, there are a few things you should know. First, when you are filling the FoodSaver bags, be careful to keep the edges of the bags clean. Even small amounts of oil or food on the edge of a bag will prevent proper sealing.
Second, after filling the bags, freeze them unsealed for 1-2 hours. This will help prevent oil and water in the food from traveling to the edge of the bag while the air is being sucked out. Again, you want to keep the edges of the bag clean for a good seal.
Third, make sure the "easy lock" latch is turned all the way to "operate" before you begin the vacuum sealing process. It may take a little more force than you expected to turn the latch to the correct position. If it is not in place, the machine may seal your bags without removing all of the air.
Finally, after you start the machine, you will see a green light, then red and green, and then all the lights will go off. Don't remove your food bag until all of the lights have turned off. This is the signal that both vacuuming and sealing are complete.
There's a little video below that you can check out if you'd rather have a visual of the vacuum sealing process. Once you get the hang of it, it's quite easy!
And now for the disclaimer…
All recipes on this website may or may not be appropriate for you, depending on your medical needs and personal preferences. Consult with a registered dietitian or your physician if you need help determining the dietary pattern that may be best for you.
The calorie information is an estimate provided as a courtesy. It will differ depending on the specific brands and ingredients that you use. Calorie information on food labels may be wildly inaccurate, so please don't sweat the numbers too much.
For more information on how the three recipe levels may help with a weight management goal, refer to this post. Let's get cooking!
Like this recipe?
Leave a rating by clicking the ⭐ below!
Chorizo Recipe (Fresh, Homemade Mexican Chorizo Sausage!)
Learn how to make fresh Mexican-style chorizo using dried chile peppers and vinegar. My version of this tasty sausage uses half pork and half chicken to lighten things up!
Ingredients
2

lbs

chicken thighs

(907 grams; boneless and skinless)

2

lbs

pork butt or pork shoulder

(907 grams)

2

teaspoons

salt

2

dried ancho chiles

*see recipe notes

6

tablespoons

white vinegar

7

cloves

garlic, minced

1

tablespoon

dried oregano

(use Mexican oregano, if possible)

1

tablespoon

dried cumin

1

tablespoon

smoked paprika
Instructions
Be sure to read the post before you begin this recipe. It contains more details on the equipment that you need for this slow food project.

Cut the stems off of your dried chiles. Heat them in a cast iron skillet for a couple of minutes to help bring out their flavor. Be careful not to burn them!

Soak the chiles in hot water for 30 minutes. After they have soaked, split them open and discard most of the seeds.

Place your soaked chiles, the garlic, 3 tablespoons of the chile soaking water, and the vinegar in a food processor. Blend this mixture into a chunky paste. You may need to stop the food processor a few times and scrape the sides down with a spatula if the mixture is sticking.

Keep your ingredients at 38-40°F/3.3-4.4°C (almost frozen) for easier cutting and grinding. Cut the chicken and pork into 1-inch (2.54 cm) cubes (or smaller).

In a large bowl, place the chicken, pork, chili pepper paste, salt, oregano, cumin, and smoked paprika. Stir to combine. Refrigerate this mixture while you set up your meat grinder.

Using a meat grinder, coarsely grind the mixture. Send the mixture through the grinder slowly, so that you do not create a jam.

Refrigerate this ground mixture overnight to give the flavors time to develop.

At this point, you can either double-wrap 1-lb. (454 gram) portions of the chorizo and freeze or use a vacuum sealer. If you are double-wrapping and freezing, you can skip the next section.
To vacuum seal your chorizo:
Place 1-lb (454 gram) portions of your chorizo into bags made for your vacuum sealer. Be careful to keep the opening of the bag clean and dry (free of food and oil).

Freeze your filled bags for 1-2 hours. This step will help prevent moisture from impeding the seal during the vacuum sealing process.

Seal your bags according to the directions on your vacuum sealer. I use a FoodSaver. To properly seal the bags, you should see a green light, both red and green lights, and then the lights will shut off. Watch the video below if you'd like to see the process!

After the bags are vacuum sealed, they can be stored in the freezer until they are ready to use. Enjoy some delicious fresh chorizo whenever you want it!
Notes
This is a level 2 recipe (transition or weight maintenance). This recipe makes approximately 4 pounds, 6.5 ounces (2 kg) of chorizo. That means you get about 17 4-ounce (113 gram) servings. Chorizo isn't a lean protein option. However, using chicken in place of some of the fatty pork shoulder here makes this a lighter chorizo than most.
Since chorizo tends to be high in calories, I like to balance out the meal by serving it with a lot of non-starchy veggies. My keto zucchini boats with chorizo recipe is an excellent way to make a higher volume meal with chorizo. It's delicious and under 600 calories per (generous!) serving.
*The combination of dried chiles used here made for a pretty mild (and kid-friendly!) chorizo. Don't be afraid to use hotter peppers and more of them if you want to kick up the heat!
Nutrition
If you enjoyed making chorizo, don't miss my Homemade Sausage with Chicken, Feta, and Sun-Dried Tomatoes recipe. Before long, you'll be a sausage-making pro with a freezer full of your delicious culinary creations!
Have you ever tried making chorizo? If so, what are your favorite types of dried peppers to use? Tell me about it in the comments below!