Happy National Nutrition Month! Try this strawberry cucumber smoothie for a refreshing and antioxidant-packed pick-me-up. Frozen berries are an inexpensive way to enjoy these fruits when they aren't in season. They combine well with the crisp cucumbers, sweet bananas, and creamy yogurt for a hydrating snack you'll love. This smoothie is an easy way to meet most of the RDA for vitamin C!
I've talked a lot about how I limited drinking my calories during weight loss and on into weight maintenance. And yet here I am offering up a smoothie recipe. What gives?
When I want a sweet drink, instead of drinking juice, I blend whole fruits and veggies into a smoothie. This strawberry cucumber smoothie also has plain yogurt for some additional protein without added sugars.
The frozen fruits and yogurt make this smoothie thick, similar in consistency to thick yogurt. It's drinkable through a wide-gauge straw like you find with bubble tea. You could also just use a spoon to eat it for a more environmentally-friendly option.
If you have leftovers of this smoothie, pour it into popsicle molds and freeze it. Like the mango watermelon pineapple pops, this freezes well into an easy, low-calorie treat.
I don't usually peel fruits and veggies unless they require it. However, you may notice that I've peeled the cucumber here. This is mainly for aesthetic appeal; you are welcome to skip this step if you don't mind green flecks in your smoothie.
It does not have to take a lot of time to eat a healthy diet.
I started offering more slow food DIY recipes on this site because I like to take on those projects. The resulting foods tend to be amazingly delicious and may be things that cannot be found in typical supermarkets. However, there is no need to take on time-consuming projects like making your own sourdough starter to be healthy.
It is possible to put together a nutritious diet with little time investment. This strawberry cucumber smoothie recipe is a quick way to get some fruit and yogurt into your morning.
To save even more time on preparation and clean up, you could just eat the fruit and yogurt separately. No recipe is needed for that, and really, a lot of my meals and snacks are that simple.
I've been thinking about this recently after giving my thoughts on celebrity-endorsed hair vitamins in a The Everygirl article. Unless you are severely nutrient deficient, there is generally no need to take special supplements for more beautiful hair. These supplements tend to be more expensive than just spending the money on food and may contain additives you don't want.
This doesn't mean that I think there is never a place for supplements. Supplements definitely have a place for people who cannot meet their nutrient needs with food. There are many reasons that this may occur.
Those with disordered eating patterns can prevent deficiencies by using supplements and fortified foods while they work on increasing dietary variety.
Some people have medical conditions or take medications that may necessitate the use of supplementation to prevent deficiencies.
Those of us who live up north where we receive little sun in the winter may benefit from a vitamin D supplement.
However, for the most part, eating a balanced diet of whole foods is going to be the way to go.
Most of us don't need to complicate things by adding in supplements when we could keep it simple with food. I hate to see people wasting their money on unnecessary supplements because they think eating a balanced diet is too complicated.
Items like the frozen fruit used in this strawberry cucumber smoothie can help you save time in the kitchen. Other items like washed and cut veggies, canned fish, and canned beans are also helpful staples when you are busy. It's not possible for most of us to make everything entirely from scratch, and that is OK!
In consideration of these issues, I've been thinking of creating a "30 Minutes or Less" category in the coming months. All recipes in this category would align with the rest of the dishes on this site. That means they'd have no added sugars, no refined grains, and contain minimal ultra-processed food.
However, the recipes in this category would be quick and simple, perfect for busy weeknights. I think it's important to show that it's not too difficult to get healthy food on the table fast. You can save big bucks on supplements when you keep things simple with a variety of whole foods.
A meal that took 2-3 hours to prepare isn't necessarily any better health-wise than a faster meal. As much as I love slow foods, I appreciate having quick meal ideas in my toolbox as well. Stay tuned!
And now for the disclaimer…
All recipes on this website may or may not be appropriate for you, depending on your medical needs and personal preferences. Consult with a registered dietitian or your physician if you need help determining the dietary pattern that may be best for you.
The calorie information is an estimate provided as a courtesy. It will differ depending on the specific brands and ingredients that you use. Calorie information on food labels may be wildly inaccurate, so please don't sweat the numbers too much.
For more information on how the three recipe levels may help with a weight management goal, refer to this post. Let's get cooking!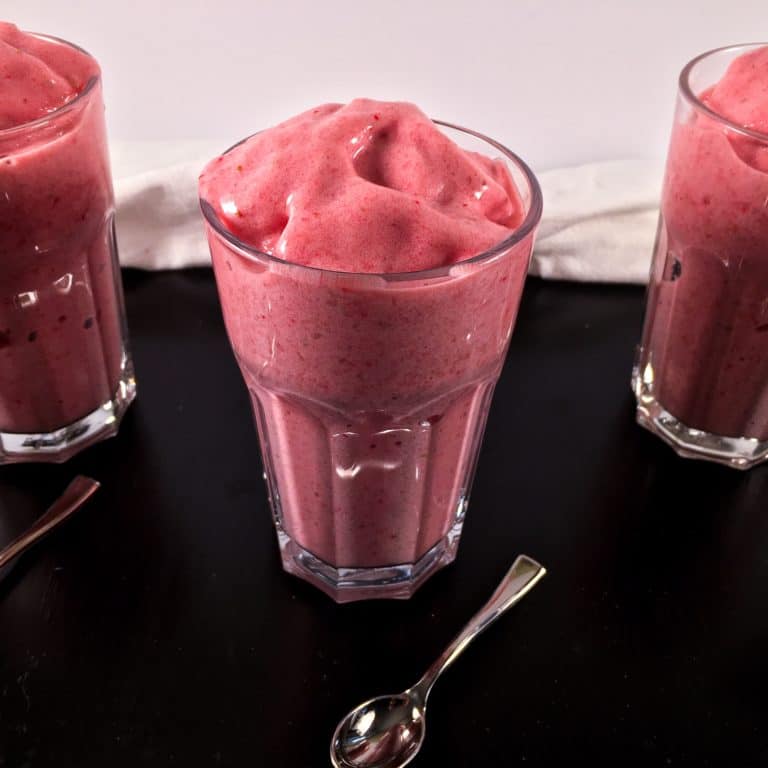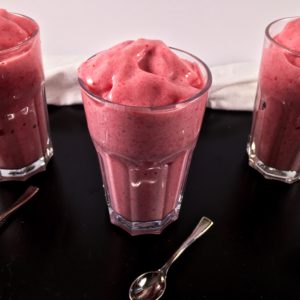 Strawberry Cucumber Smoothie – No Added Sugar!
Happy National Nutrition Month! Try this strawberry cucumber smoothie for a refreshing and antioxidant-packed pick-me-up.
Equipment
Ingredients
1½

cups

frozen strawberries

1½

frozen bananas, broken into chunks

1

medium

cucumber, peeled and chopped

(about 1½ c)

1

cup

yogurt, plain, non-fat

(regular, not Greek varieties)

¼

cup

frozen raspberries
Instructions
Place all ingredients into a blender or food processor and blend until completely smooth. It's really that simple!
Save this Recipe
Saved!
Notes
This is a level 2 recipe (transition or weight maintenance). To give this smoothie an energy boost, use whole milk yogurt. On the other hand, freezing this recipe in ice pop molds is a great way to reduce the portion size. Making pops may also be helpful if you're trying not to drink your calories as part of your weight loss strategy.
Nutrition
What are some of your favorite additions to smoothies? Would you be interested in more "30 minutes or less" recipes on this website? Please share your thoughts in the comments below!