Learn how to cook spam! This crispy pan fried spam recipe is the best way to cook spam. Cooking spam is easy, fast, and delicious. Use cooked spam for spam fries, a fried spam sandwich, spam fried rice, spam musubi, spam and eggs, and much more. Crispy spam is a nostalgic breakfast food for many, and remains popular in Filipino and Hawaiian cooking.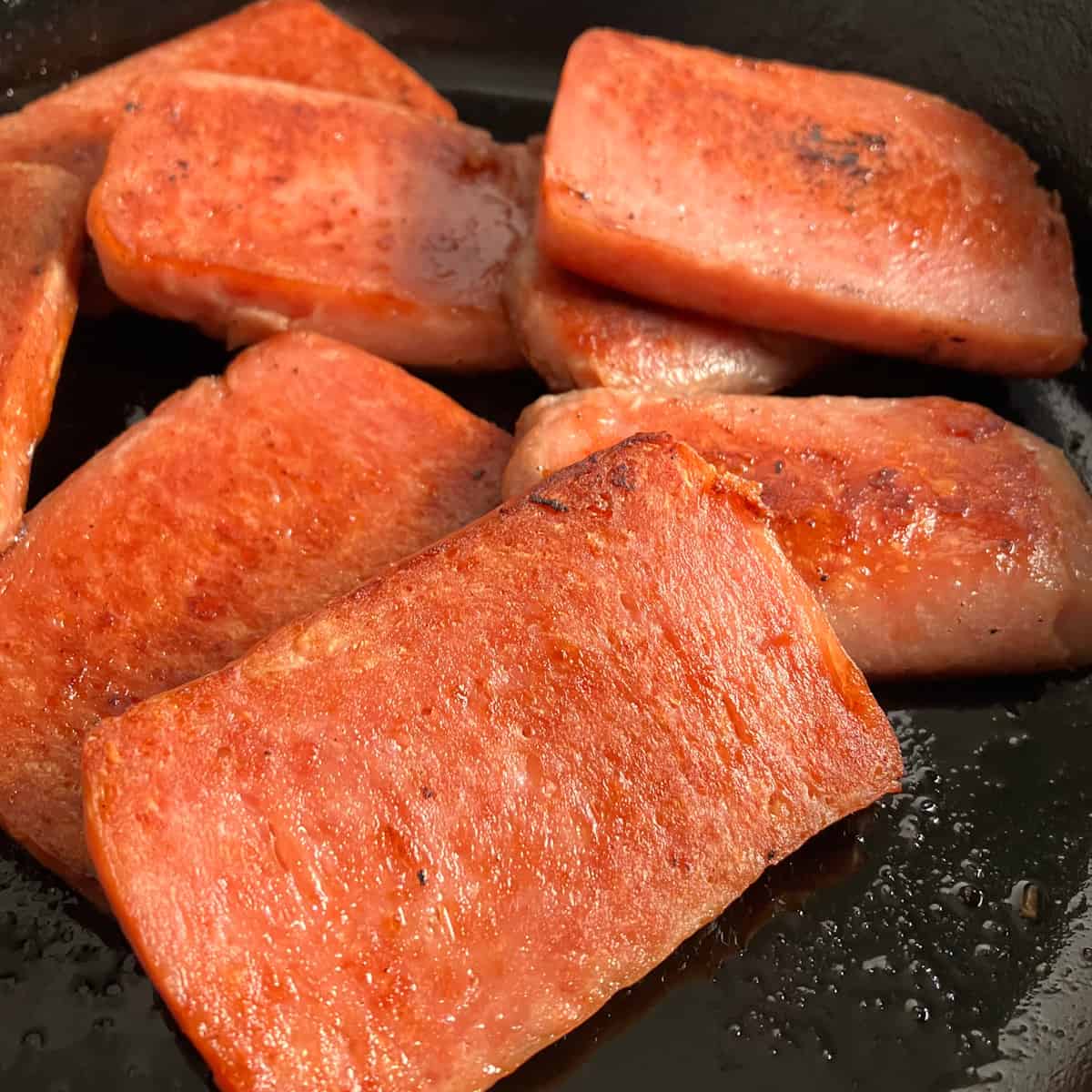 Jump to:
➕ What is Spam?
SPAM is a non-perishable preseasoned pork product sold in a can and produced by Hormel Foods (source). It was introduced to the public in 1937, becoming popular during the Great Depression and post-WWII era.
Some of the biggest benefits of Spam are its long shelf life and low cost. This made it an easy way to get meat to military members and places (such as Hawaii) where limited fresh local meat is available.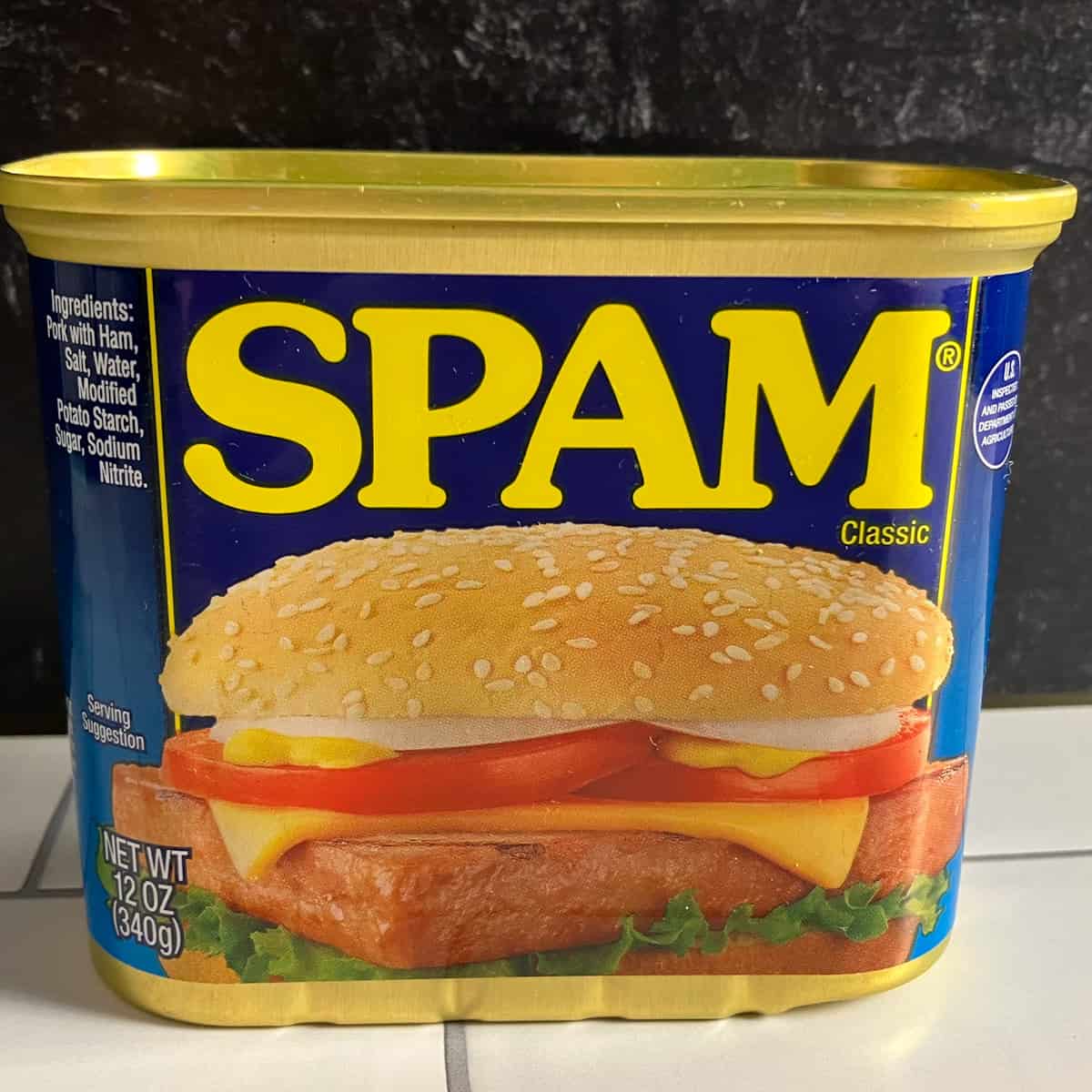 What does Spam stand for?
According to an article on the Hormel Foods website, the real meaning of SPAM is known only to a small number of former executives at their company. What we do know is that the name was created by Ken Daigneau, the brother of a past Hormel VP. It's speculated that the name "SPAM" stands for "SPiced HAm."
On my can of Spam, it says SPAM means "Sizzle Pork And Mmm." Hahaha
Can Spam be eaten uncooked?
Can Spam be eaten raw? SPAM is a canned and already cooked product, so you can eat it straight from the can. However, with its mushy texture and the infamous gelatinous goo, you're probably going to want to crisp it up first.
Since Spam is precooked and technically ready to eat, you may want to add it to your list of best canned foods for emergencies.
Why do Hawaiians like Spam so much?
SPAM is part of the food culture in Hawaii, and Hawaiians have the highest per capita consumption of Spam (source). Spam was introduced to Hawaii first, when it was served as luncheon meat to GIs during World War II (source). This inexpensive meat with a unique taste quickly became popularized in local food cuisine, later spreading to other states.
IMHO, Spam remains popular in Hawaii because it's so easy to ship to the islands compared to fresh or frozen meat. People like it because it's tasty, it's inexpensive, and you can store it for a long time. Yes, it's not the most healthy meat around, but there's still a lot to love about Spam.
🔥 Fried Spam
Here are the step-by-step instructions for how to cook spam on stove:
Remove the Spam from its 12 oz (340 gram) can, and cut it into 8 slices. (If you want Spam fries instead, cut each of the Spam slices in half lengthwise.)
Preheat a well-seasoned cast iron pan on the stovetop over medium heat. (If you skip this step, add another 1-2 minutes to the cooking time.)
How long do you cook spam on each side? Place the spam slices in a single layer in the frying pan, and cook for 3-5 minutes on each side. I usually do five minutes, flip the Spam slices, and then cook 3-5 more minutes. Add time if you like them more crisp. The slices in the middle of the pan cook fastest, and may need to be flipped early and moved to the edges of the pan.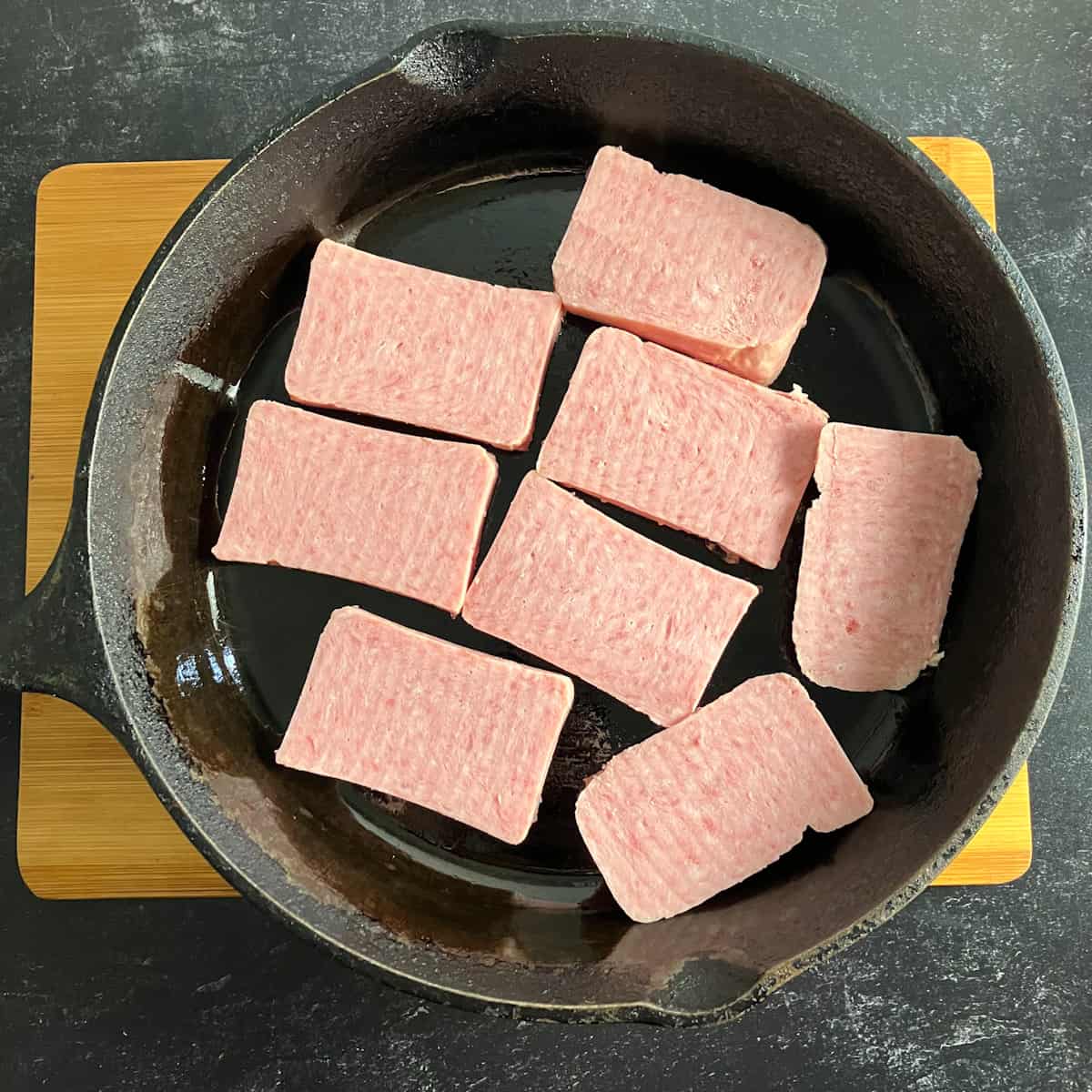 Can you fry Spam without oil? Spam is very high fat, so you can cook it without oil if the skillet is seasoned well. Move the Spam pieces around in the pan if they start to stick, or add a little oil as needed.
After cooking, serve the Spam with your favorite dipping sauce. Enjoy!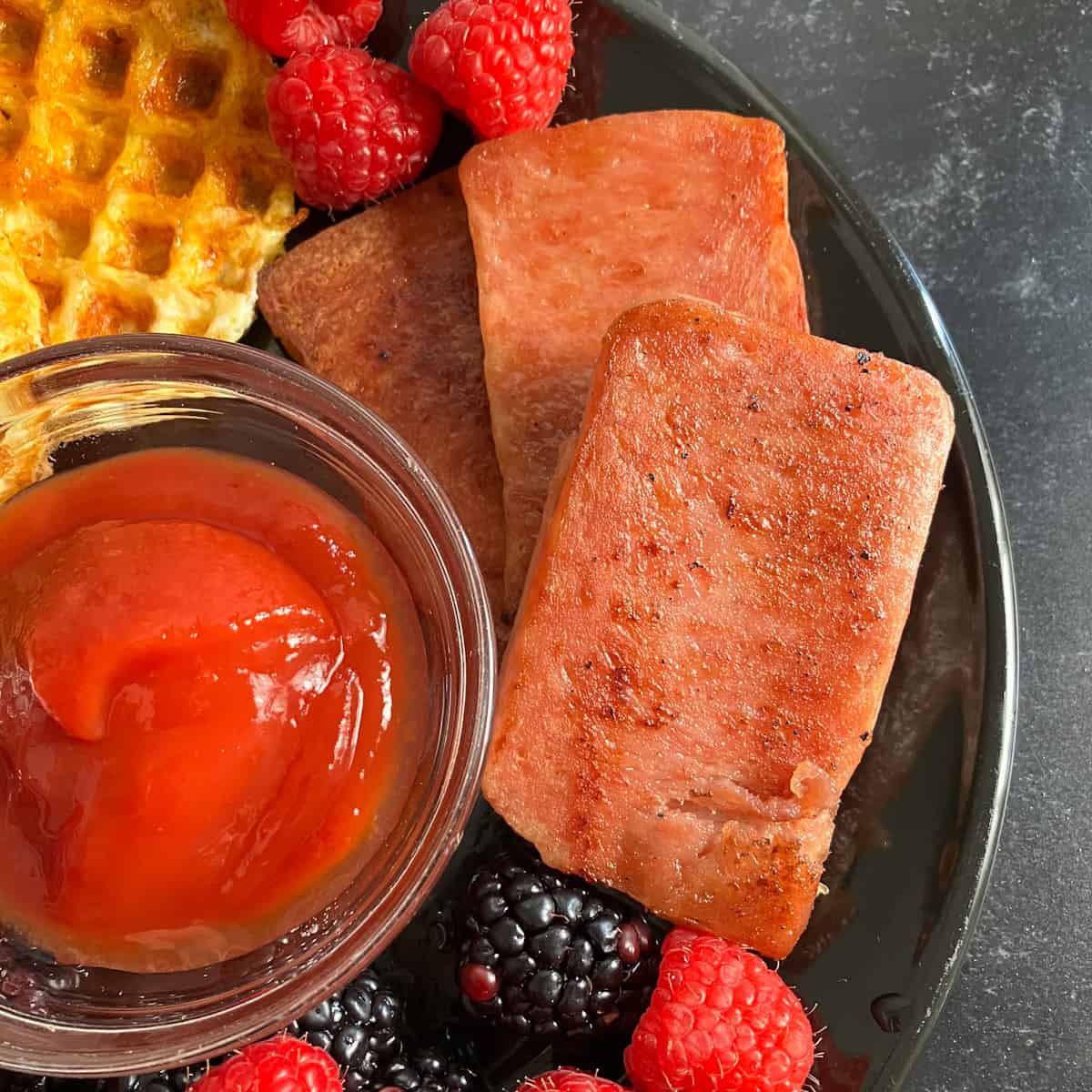 As you can see, the directions for how to cook spam are just as easy as cooking bacon. Spam is a fun twist on regular old bacon or sausage with breakfast.
What is the best way to fry spam?
IMHO, the best way to make fried spam slices is to use a well-seasoned skillet with no oil. It's easiest, it's cheapest, and cleanup is a breeze. Another great alternative is to make air fryer spam (details in the FAQs).
Do you rinse Spam before cooking?
You do not need to rinse or soak Spam before cooking. However, if you want to know how to make spam with less sodium, rinsing or soaking in water can be a good option.
Just make sure to pat the spam dry and remove as much water as possible before cooking. Otherwise, your spam may not turn out crispy. Another option is to use Spam Lite, which has 25% less sodium than classic Spam.
What does fried spam taste like?
Is fried spam good? Does fried Spam taste like bacon? Fried spam is meatier and heartier than bacon, and maybe closer in taste to thick slices of fried Canadian bacon. My family all thinks Spam tastes good, but of course that's subjective.
If you want Spam that tastes more like bacon, you can get canned Spam with bacon. This product is a mixture of Spam and real bacon, plus added bacon fat and preservatives.
Can you fry spam with oil?
Yes, you can make fried spam with oil, but there's no need if you use a well-seasoned cast iron skillet. Spam is high in fat and starts releasing oil quickly after being put on the heat. An exception is if you use Spam Lite; it's 50% lower in fat than classic spam and may benefit from oil.
Can you fry spam with butter?
Do you use butter to cook spam? Butter browns and burns easily when pan frying foods, but provides a great flavor. If you want fried spam with butter, I recommend using ghee (clarified butter) since it has a higher smoke point.
How to oven bake Spam?
Preheat oven to 425 degrees Fahrenheit (218C). Slice Spam and place on a baking sheet. Bake for 10 minutes, or until crisped to your liking.
How to Store Spam Leftovers
Open cans of spam and fried spam must be refrigerated or kept in the freezer. You can store leftover spam in the refrigerator for up to 3-4 days. Spam can also be stored in freezer bags with the air pressed out, and frozen for longer periods.
️🍚 What goes with fried spam?
How is Spam supposed to be eaten? Fried spam and eggs are a classic choice for breakfast. I like to serve spam with chaffles (cheese and egg waffles), ketchup for dipping, and fresh berries on the side.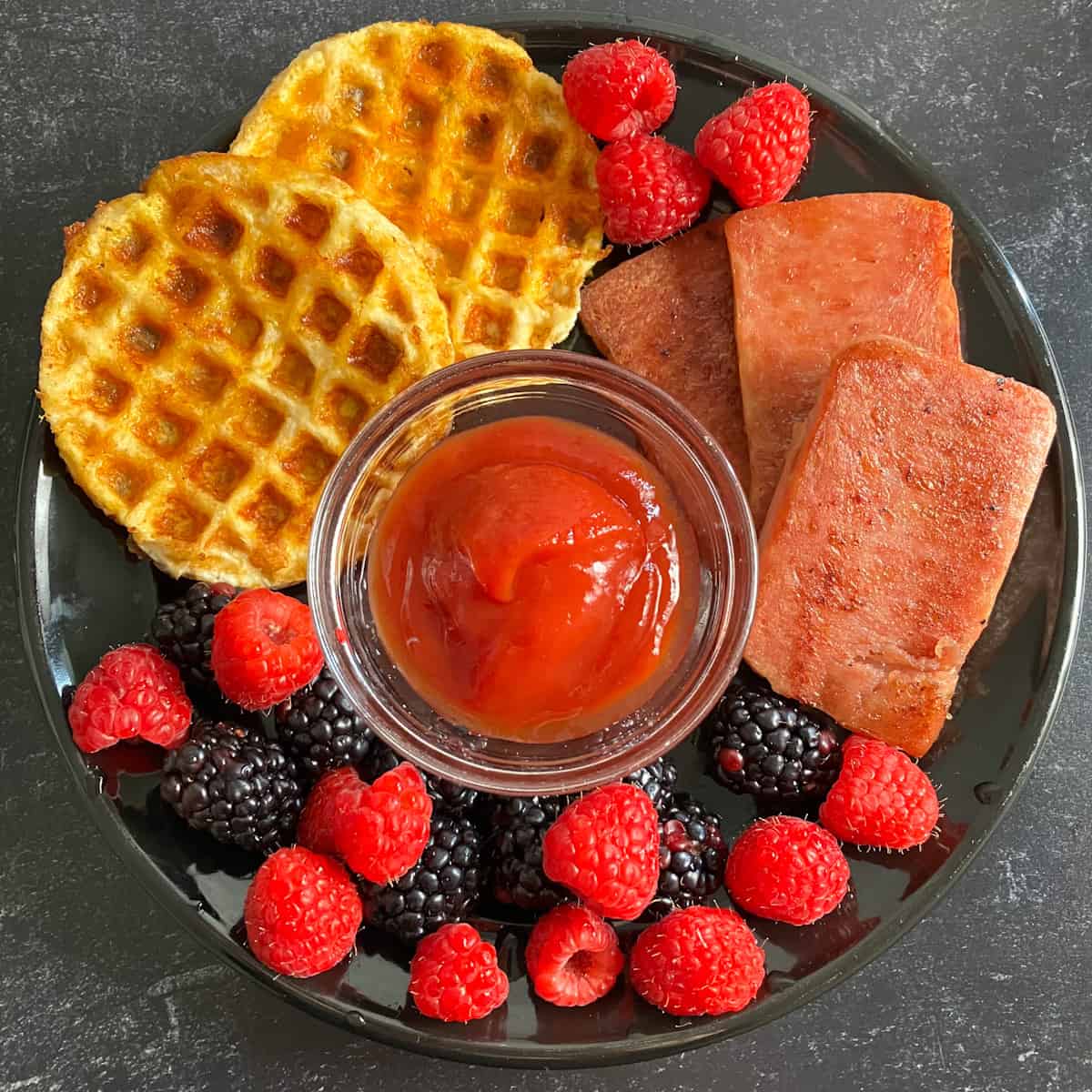 Here are some other side dishes for spam:
Or consider substituting the bacon for Spam in an air fryer breakfast sandwich. You can also stir cubed Spam into your favorite mac and cheese, stir fry, or make Spam fried rice.
🧂 How to Season Fried Spam
What should I season Spam with? Spam comes preseasoned and is very salty, so you don't really need to add anything else like soy sauce. That said, one of the easiest ways to make substitutions to this recipe is to use one of the many Spam flavor variations available.
Here are the types of Spam you can get:
Another idea is to make fried spam with brown sugar. If you take care not to burn it, you could make a delish caramelized Spam.
️🌡️ Is Spam already cooked?
Yes! The canning process fully cooks the Spam, so it is technically ready to eat. However, the gelled texture of Spam straight from the can really necessitates cooking before eating, IMVHO. Spam is best crispy on the outside, with a tender inside.
🍖 What is Spam made of?
The classic Spam ingredients have been the same since the creation of this product. Here are the six ingredients in Spam:
Pork with ham
Salt
Water
Modified potato starch
Sugar
Sodium Nitrite
SPAM is a highly processed food (AKA ultra-processed) containing preservatives and added sugar. Spam is high in saturated fat and sodium, but it is low carb and keto friendly.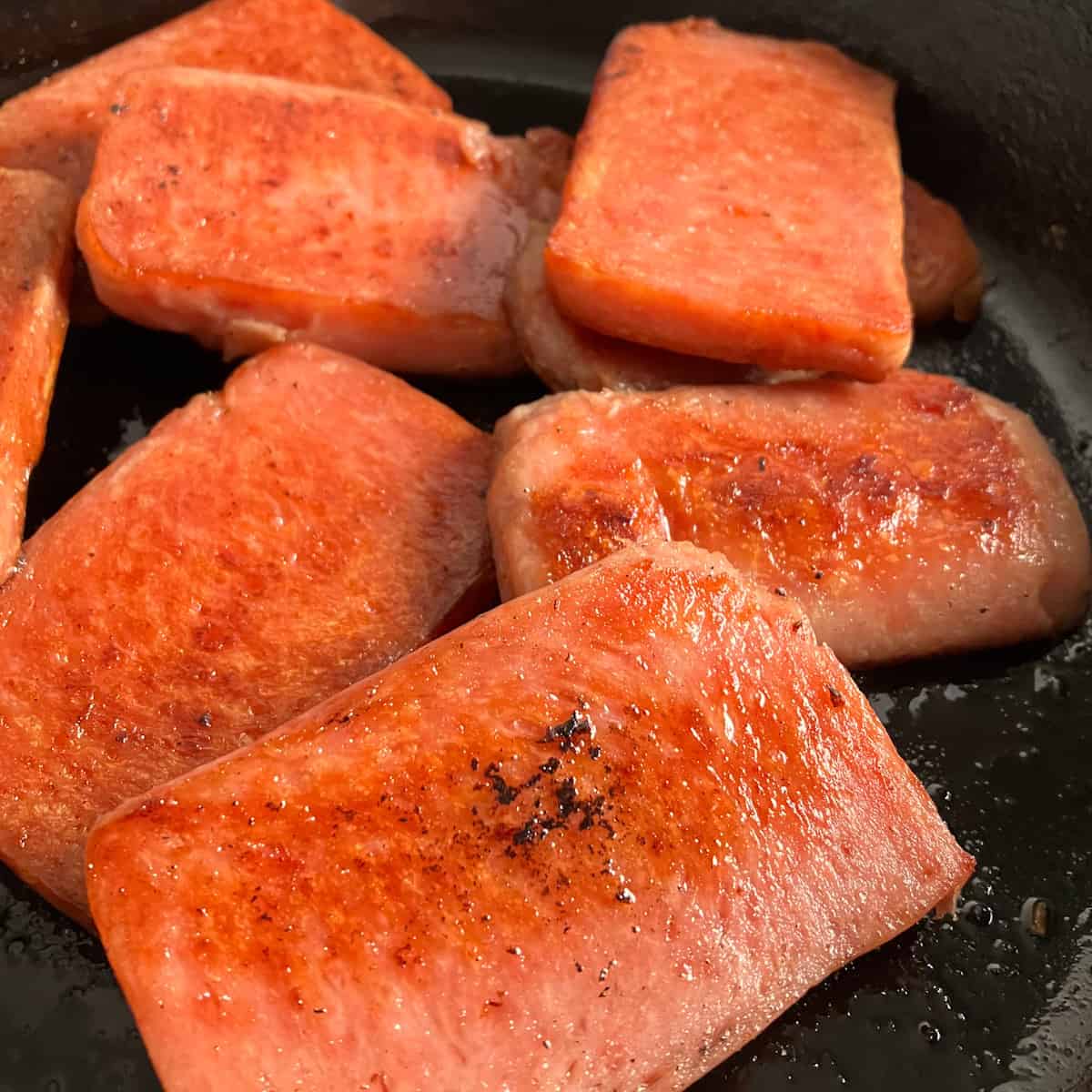 📋 Why is Spam so fattening?
SPAM is fattening because it's high in fat, the macronutrient that packs in the most calories in by volume. One serving of SPAM (2oz or 56g) has 180 calories, 1 gram carbohydrates, 7 grams protein, and 16 grams fat. This means about 80% of calories in SPAM are from fat, 16% of the calories are from protein, and about 2% are from carbs.
(Figures are rounded on the label; this is why the percentages don't add to 100.)
FAQs
Can you air fry spam?
Yes! To make spam in air fryer, cut spam into slices and air fry at 350F (177C) for 10-15 minutes, depending on how crispy you like spam. Use the top rack position if you have an air fryer oven, and flip the spam halfway through cooking time.
How to fry spam in the microwave?
Unfortunately, you can't fry Spam and other foods in the microwave and make them crispy. Microwaves are better at steaming and reheating foods. To reheat Spam, microwave the slices for 1-2 minutes on high.
Is spam gluten free?
My can of classic Spam says it is gluten free. For the most accurate information, check the label of the product you purchased. The formulas for highly processed foods can change from time to time.
How to deep fry spam?
To make deep fried spam, heat the oil to 350F (177C). Fry spam for 2-3 minutes, until it's golden brown on both sides.
Is Spam worse than hot dogs?
"Hot dogs" encompasses a wide range of products including 100% beef hot dogs, and hot dogs that are low in sodium. Depending on the product chosen, you can find hot dogs that are a healthier choice than Spam.
Is Spam worse for you than ham?
Believe it or not, ham roast tends to be lower in saturated fat and calories than Spam. For general health information purposes, I would consider ham to be healthier than SPAM.
What is the slimy stuff in Spam?
Cans of SPAM contain a jelly-like substance that's simply a naturally occurring gelatin that forms around the meat. Gelled Spam is safe to eat, though the texture is like aspic, and may not be enjoyable.
👨‍🍳 Spam Recipes
Here are some other easy recipes for spam to try:
Do chefs use spam? Yes, some do, so don't assume it's too "low brow" for your kitchen (check this out)! Spam has been making a comeback, while remaining an important part of the food culture in some regions of the world.
📖 Recipe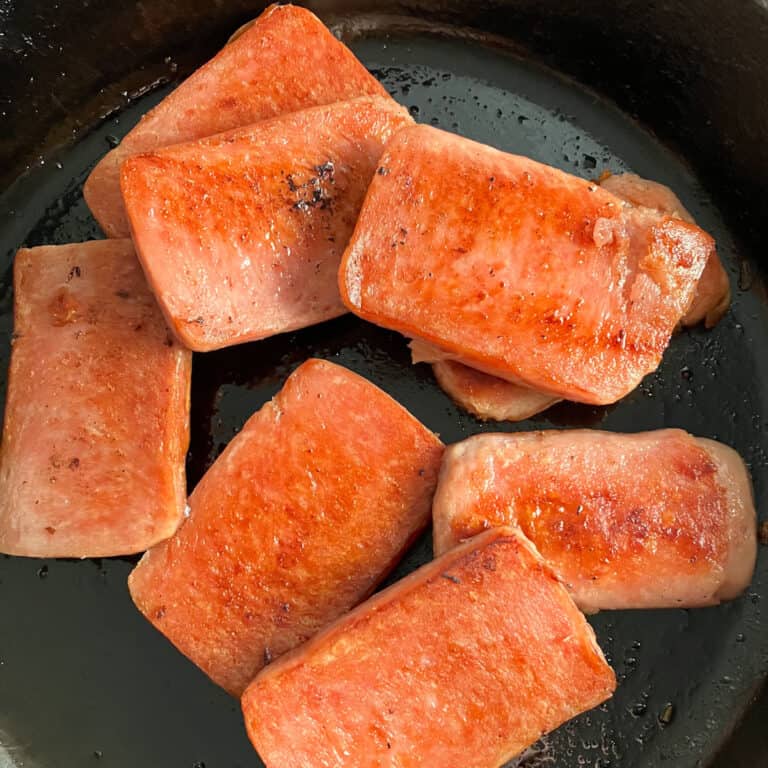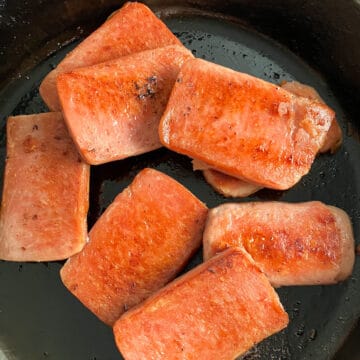 Fried Spam (Easy How to Cook Spam Recipe)
Learn how to cook fried spam! This crispy pan fried spam recipe is the best way to cook spam. Cooking spam is easy, fast, and delicious.
Ingredients
1

can

Spam

(12 ounces or 340 grams)

Dipping sauce

(optional)
Don't be a stranger! 😊
If you love this recipe, please come back and leave a rating. This helps readers and I'd love to hear from you. Thank you ❤️
Instructions
Remove the Spam from the can, and cut into 8 slices.

Preheat a well-seasoned cast iron pan on the stovetop over medium heat. (No oil is needed if it's seasoned well.)

Place the spam slices in a single layer in the frying pan, and cook for 3-5 minutes on each side. Add time if you like them more crisp. The slices in the middle of the pan cook fastest, and may need to be flipped early and moved to the edges of the pan.

After cooking, serve the Spam with your favorite dipping sauce. Enjoy!
Notes
💭 Expert Tips from a Dietitian
This is a level 3 recipe (weight maintenance and active lifestyles).
Is fried spam healthy? Is Spam a healthy meat? Likely no surprises here, but Spam is not the most nutritious choice.
The main issues with Spam are that it's very high in sodium and saturated fat. If you are aiming for a low sodium or heart healthy diet, Spam is not a great choice for you.
That said, all foods can fit as long as you don't have a medical nutrition therapy that you must strictly follow. Yes, that can mean it's possible to enjoy a little Spam from time to time in an overall healthy diet. (It's also fine to skip the SPAM if you prefer other dietary indulgences instead.)
Something I noticed when researching this article is that SPAM now sells single serve packs. You can purchase them on Amazon
here
. This is great for singles, couples, and small families that won't finish a whole can of SPAM in a few days.
Nutrition information is for one serving, which is 2 ounces according to the can. IMHO, 3 ounces (¼ of the can) is a more realistic serving. If you have ¼ of the can (2 slices), simply multiply the nutrition info by 1.5.
nutrition info disclaimer

All recipes on this website may or may not be appropriate for you, depending on your medical needs and personal preferences. Consult with a registered dietitian or your physician if you need help determining the dietary pattern that may be best for you.

The nutrition information is an estimate provided as a courtesy. It will differ depending on the specific brands and ingredients that you use. Calorie information on food labels may be inaccurate, so please don't sweat the numbers too much.
Nutrition
Calories:
180
kcal
Carbohydrates:
1
g
Protein:
7
g
Fat:
16
g
Saturated Fat:
6
g
Sodium:
770
mg
Added Sugar:
1
g
Iron:
2
% DV
Join our community! Subscribe for all of the latest and greatest recipes, and follow me on Facebook, Pinterest, Instagram, and YouTube!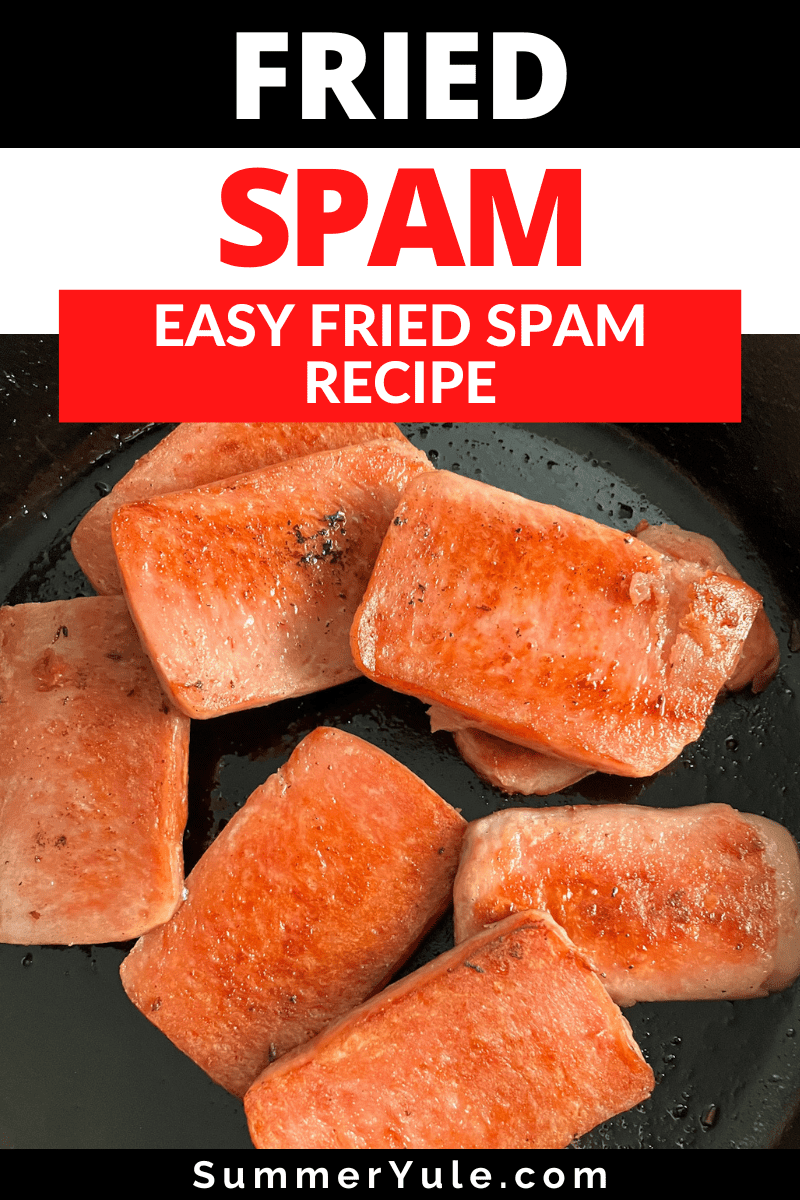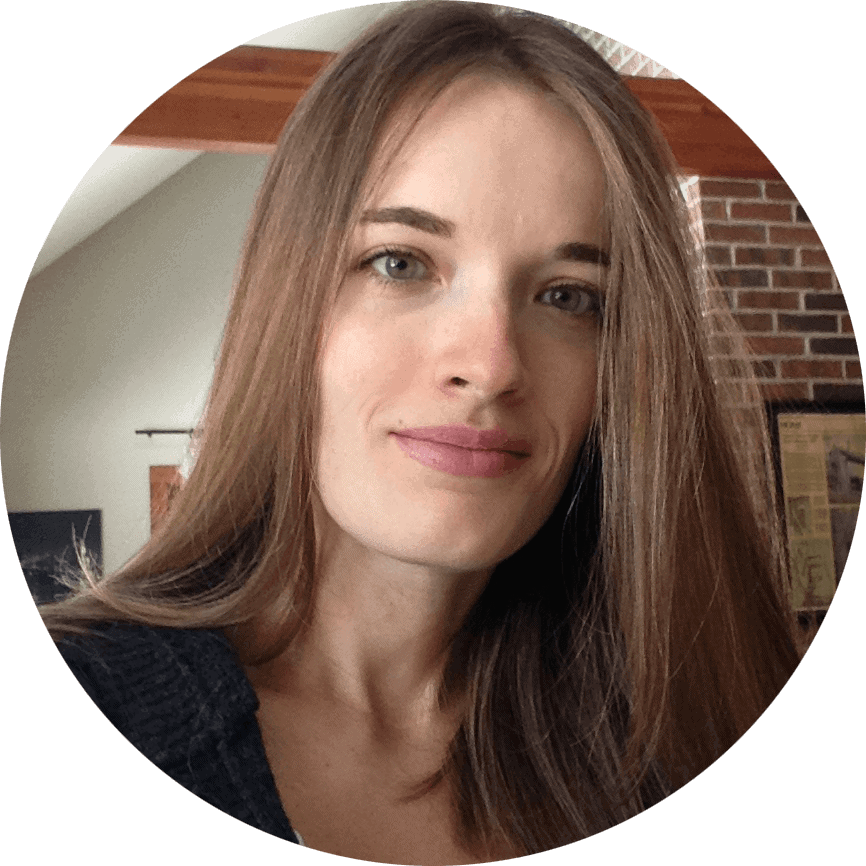 Hello! I'm Summer, a registered dietitian and home chef who loves to cook, eat, and create high quality content for you! Every recipe on this site has been tested by me to help ensure your success in the kitchen. All eaters are welcome here 🙂