This accompaniment salad recipe is an easy side dish for chicken and a variety of entrees. Learn about accompaniment salad characteristics, get accompaniment salad examples, and more. You'll love how easy it is to get more vegetables on your plate with this simple side dish salad recipe. You can make different easy side salads for every night of the week with all of the ideas here!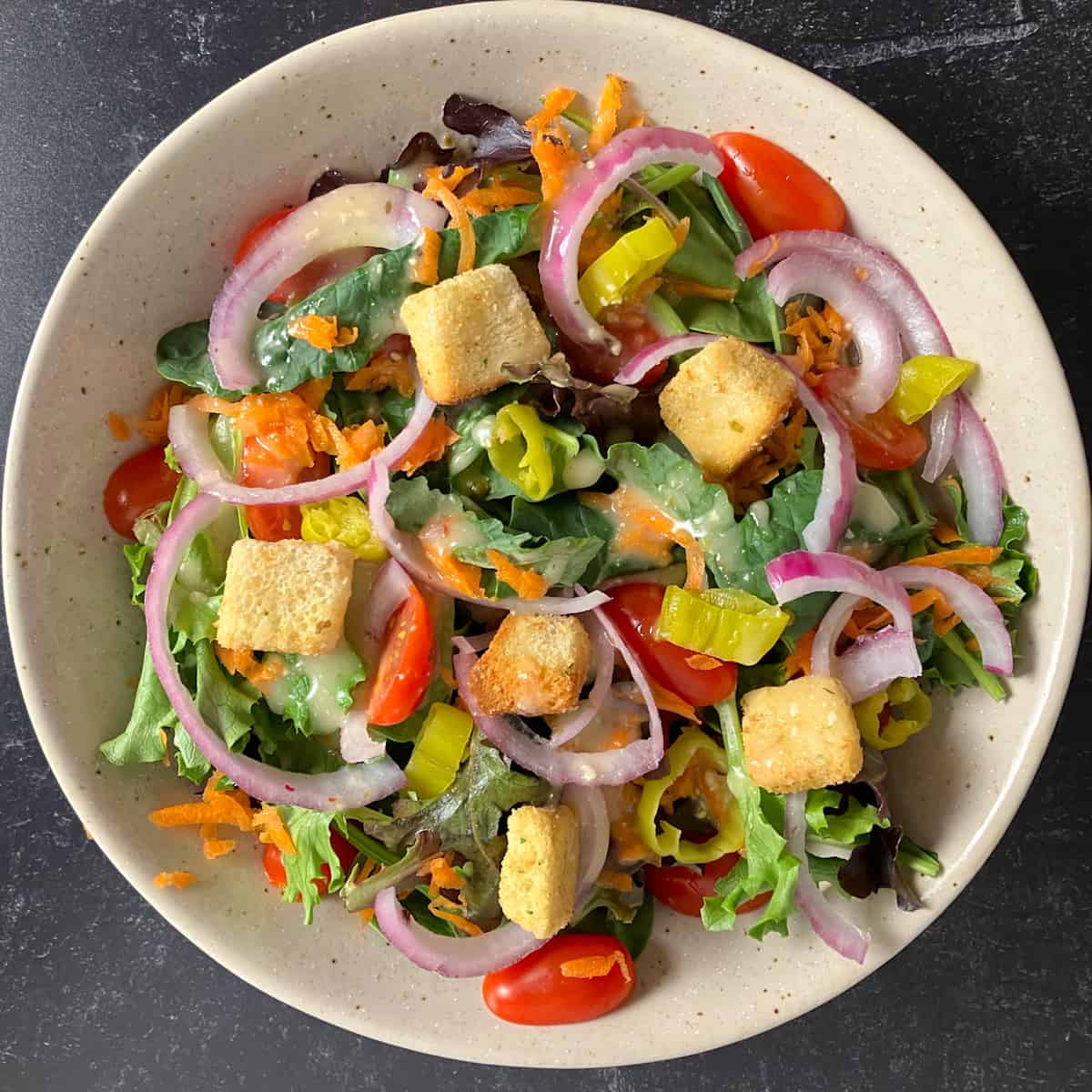 Jump to:
🥗 What is an accompaniment salad?
Accompaniment salad definition: An accompaniment salad (AKA side salad) is a type of salad that is served alongside the main course of a meal. It provides a contrast in texture and color to the other dishes and complements the flavors of the main dish. These salads typically include a variety of greens, vegetables, and sometimes fruits, which provide a pleasing appearance and a refreshing taste.
Accompaniment Salad Characteristics
What are the characteristics of accompaniment salad? The primary purpose of an accompaniment salad is to enhance the dining experience by offering a contrast to the main dish. This can be achieved through the inclusion of diverse textures, such as crunchy vegetables, tender greens, and sweet fruits. The use of different colors, like vibrant greens, bright reds, or deep purples, can also create visual interest, ultimately contributing to a more enjoyable meal.
When selecting ingredients for an accompaniment salad, it is essential to consider the dish's role in the meal. Since it is not the primary focus, the salad should be relatively simple, emphasizing freshness and quality. The choice of greens is crucial, as they form the salad's base and contribute to its overall texture. Popular greens for accompaniment salads include:
Romaine lettuce
Spinach
Arugula
Mixed greens
There are also accompaniment salads recipes without greens, such as corn salad or seafood salad. In fact, accompaniment salads may feature a variety of additional components, such as raw or cooked vegetables, fruits, nuts, seeds, or grains. Some popular examples of additional accompaniment salad ingredients are:
Cherry tomatoes
Cucumber slices
Carrot ribbons
Chopped avocado
Red onion rings
Bell pepper strips
Fennel shavings
Cranberries
Walnuts
You can easily make these salads to fit the dietary needs of the diner. For example, salad side dishes can be made vegetarian, low carb, macrobiotic, or gluten free.
What is a starter salad and what is an accompaniment salad?
A starter salad (AKA appetizer salad) is typically served before the main course to stimulate the appetite. It often features lighter ingredients and subtle flavors, like mixed greens, cucumber, and a light vinaigrette. An accompaniment salad, on the other hand, is a side dish served alongside the main course. It is meant to complement and enhance the flavors of the main dish.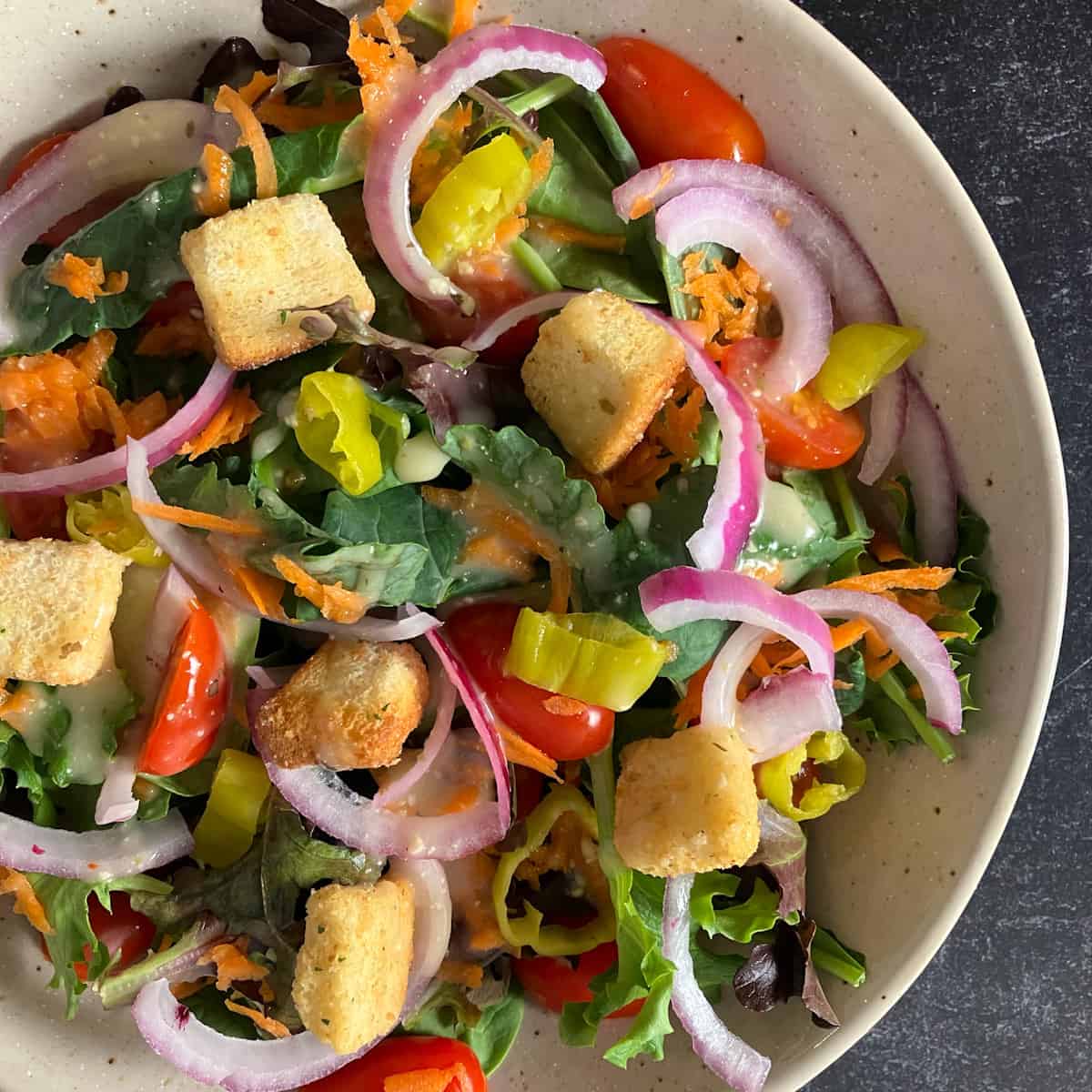 ➕ Accompaniment Salad Examples
A variety of accompaniment salads exist, ranging from simple vegetable-based ones to more complex ingredient combinations. These side salad recipes complement main course dishes, adding balance and variety to the overall meal. Here are some popular examples of accompaniment salad recipes:
Green Salad: This classic accompaniment typically includes a mixture of mixed greens like lettuce, spinach, and arugula. It might also feature radicchio, endive, and romaine lettuce. Common toppings include tomatoes, cucumbers, onions, and a simple vinaigrette. (Try: Vegan Spinach Salad)
Pasta Salad: A versatile choice, pasta salads suit many meal types. Cooked and cooled pasta, such as rotini, macaroni, or penne, serves as the base, combined with a range of vegetables, cheeses, or proteins. A light dressing, like Italian or a light mayonnaise-based one, coats the ingredients. (Try: Salad Supreme Pasta Salad)
Fruit Salad: Perfect for accompanying a brunch or summer meal, fruit salads bring together seasonal fruits like strawberries, blackberries, pineapple, kiwi, and watermelon. A light dressing or a squeeze of lemon juice enhances the natural sweetness.
Potato Salad: A picnic staple, potato salad features boiled and cooled potatoes mixed with a range of vegetables such as celery, onions, or peppers. Bind the ingredients with mayonnaise, mustard, or sour cream and season with herbs like dill or chives.
Greek Salad: This Mediterranean favorite showcases fresh vegetables like tomatoes, cucumbers, bell peppers, and red onion, with the added richness of Kalamata olives and feta cheese. A tangy vinaigrette dressing made with olive oil, red wine vinegar, and oregano brings the flavors together. (Try: Keto Greek Salad)
Caesar Salad: A popular accompaniment choice, Caesar salad features crisp romaine lettuce, croutons, and Parmesan cheese. Its distinctive Caesar dressing often includes anchovies, garlic, and lemon juice, providing a delicious contrast to the other ingredients.
🥬 Accompaniment Salad Recipe
Wondering how to make accompaniment salad? Here's a recipe for easy accompaniment salad with ingredients and procedure:
4 cups salad greens (I used spring mix)
1 cup chopped tomatoes
¼ cup red onion, thinly sliced
¼ cup shredded carrots
5 pepperoncini, sliced
½ cup croutons
½ cup Italian dressing (or your favorite homemade or bottled salad dressing)
Get a printable recipe card at the end of the post!
This vegetable-packed recipe serves 4. Here are the step-by-step instructions:
Wash the salad greens using a salad spinner and chop them (if they are not prewashed). Chop the tomato, shred the carrot, and thinly slice the red onion and pepperoncini.
Toss the lettuce, tomatoes, onion, carrot, and pepperoncini in a large serving bowl. Add the croutons and dressing right before serving.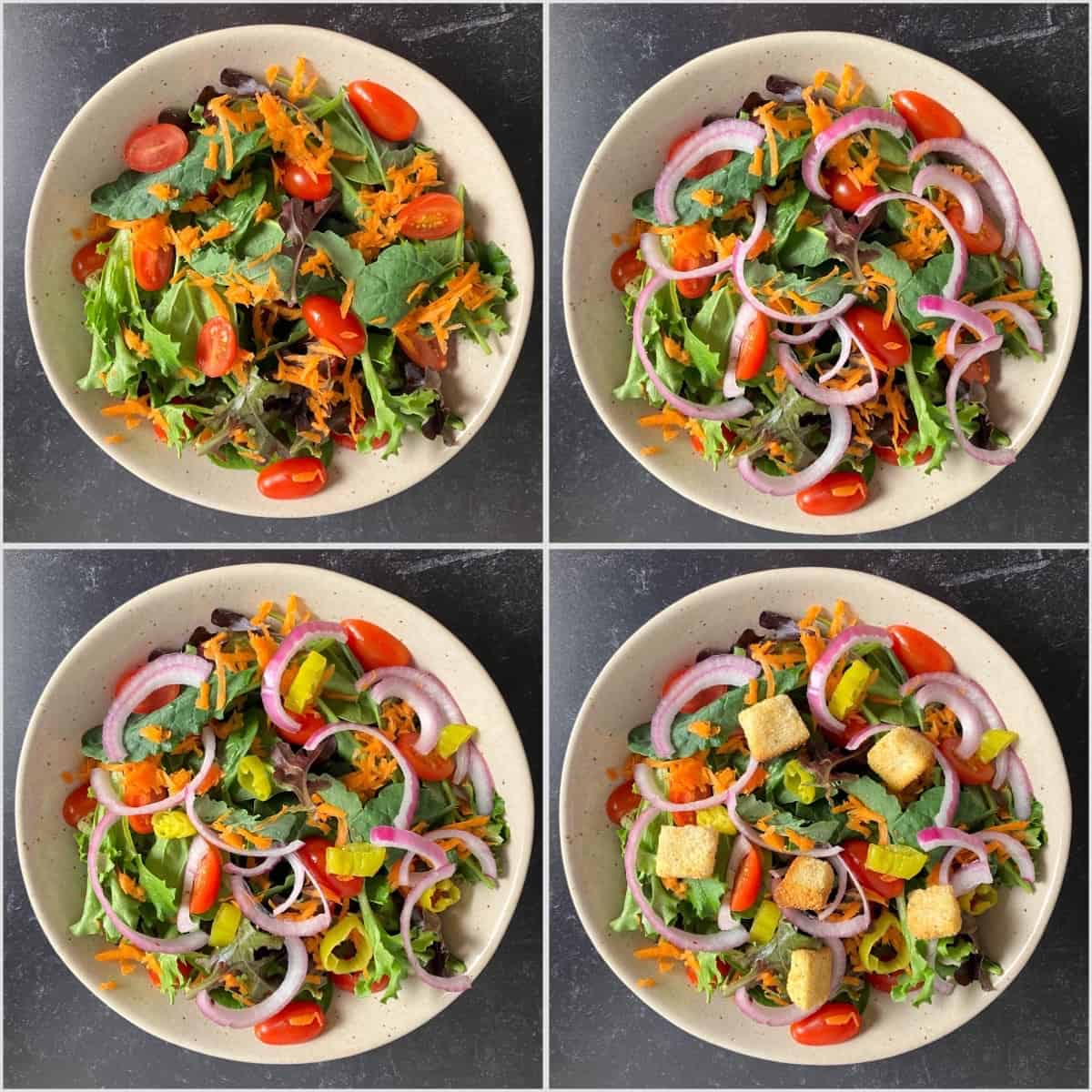 🍗 Accompaniments of Salad
What to serve with accompaniment salads? Protein-rich dishes are a popular accompaniment of salad. Choices such as grilled chicken, baked salmon, or seared steak not only add substantial nutrition to your meal, but they complement the flavors and textures of the salad. For example, try these:
In addition to chicken and salmon, shrimp is another excellent protein option to serve with your salad. Meat-based dishes, like beef or lamb, are also great accompaniments for salads. Here are some recipes:
Aside from protein-rich options, you can consider dishes that act as a starch component to round out your meal. For instance, a side of quinoa, pasta, or brown rice can complement your salad and provide an additional layer of texture and flavor. Here are some to try:
FAQs
What are the 5 accompaniments of salads and dressings?
Five accompaniments of a dressed salad include fruits and vegetables, cheese, meats or plant-based protein, nuts and seeds, and starches (starchy veggies or grains). However, you'll get different answers to this question depending on who you ask.
Which dressings work best with accompaniment salads?
The best dressing for accompaniment salad considers the flavors of the main course and complements it. Oil and vinegar or light vinaigrettes, such as balsamic or red wine, pair well with a variety of dishes. Creamy dressings like ranch and Caesar work with heavier main courses, while Asian-inspired dressing or citrus-based vinaigrettes complement dishes with unique spices or bold flavors.
Is accompaniment salad and side dish salad the same?
Yes, accompaniment salad and side dish salad essentially refer to the same concept. Both are served alongside the main course and are meant to enhance and complement the main dish rather than act as a separate course on their own.
Is Caesar salad an accompaniment salad?
Yes, Caesar salad can be served as an accompaniment salad, as its flavors often pair well with a variety of main courses, such as grilled chicken or fish. Made with romaine lettuce, croutons, Parmesan cheese, and Caesar dressing, it adds a creamy, garlicky, and slightly tangy note to the meal, complementing and balancing the flavors.
Is potato salad an accompaniment salad?
Yes, potato salad is a type of accompaniment salad, as it is typically served as a side dish alongside main courses, particularly at barbecues and picnics. It's a more substantial salad that often includes potatoes, mayonnaise or mustard, onions, celery, and various herbs and seasonings.
👩🏻‍🍳 More Salad Recipes
Here are a few more recipes for salad you may enjoy (these are main dish salads):
Join our community! Subscribe and be kept up-to-date on the latest and greatest recipes. You can also follow me on Pinterest, Twitter, Instagram, and YouTube!
📖 Recipe
Like this recipe?
Leave a rating by clicking the ⭐ below!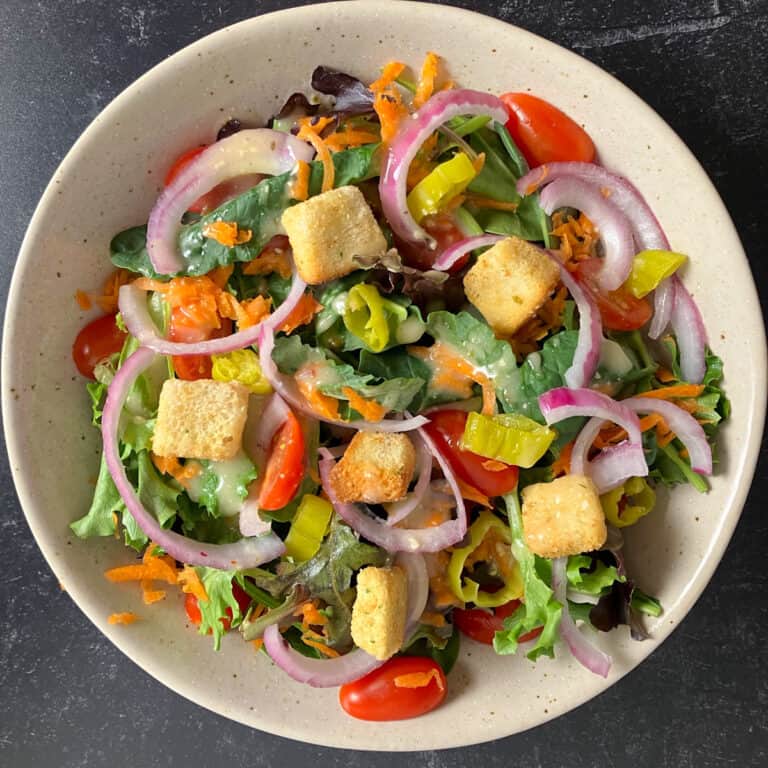 Accompaniment Salad Recipe (Side Salad Characteristics)
This accompaniment salad recipe is an easy side dish for chicken and a variety of entrees.
Equipment
Ingredients
4

cups

salad greens

(spring mix or your favorite lettuce)

1

cup

tomatoes, chopped

¼

cup

red onion, thinly sliced

¼

cup

shredded carrots

5

pepperoncini, sliced

½

cup

croutons

½

cup

Italian salad dressing

(or your favorite homemade or bottled salad dressing)
Want to Help?
If you love this recipe, please come back and leave a rating. This helps readers and I'd love to hear from you. Thank you ❤️
Instructions
Wash the salad greens using a salad spinner and chop them (if they are not prewashed). Chop the tomato, shed the carrot, and thinly slice the red onion and pepperoncini.

Toss the lettuce, tomatoes, onion, carrot, and pepperoncini in a large serving bowl. Add the croutons and dressing right before serving.
Notes
💭 Expert Tips from a Dietitian
This is a level 1 recipe (may help support fat loss).
Wondering how to make salads healthier?
To create healthier main course salads, focus on lean proteins and a variety of colorful vegetables. This will provide you with the elements of satiety (protein, fiber, water) plus a variety of essential vitamins and minerals. (You can also serve an accompaniment salad and add protein as the main dish.)
Begin by choosing a diverse mixture of leafy greens, such as romaine lettuce, spinach, kale, or arugula. Don't be afraid to experiment with different combinations to find the perfect balance of textures and flavors. Different veggies offer different phytonutrient profiles, so choose several of your favorites.
Adding lean proteins such as grilled chicken, turkey, or hard-boiled egg or egg white will not only make your salad more filling but also provide needed nutrients. Similarly, consider adding plant-based protein sources, like tofu, chickpeas, peas, or tempeh, which will cater to vegan or plant-based eaters. Incorporating nuts and seeds, like almonds or chia seeds, can add healthy fats, protein, and a satisfying crunch.
Lastly, if weight loss is your goal, be mindful of selecting dressings and toppings for your salad, as these can pack on the calories fast. Opt for vinegar-based dressings, and limit creamy or sugary store-bought options. Stick with nutrient-dense toppings like fresh vegetables, fruits, and nuts, rather than ultra-processed meats or fried items.
By paying attention to the ingredients and making smart choices, you can create a delicious, satisfying, and healthy salad that meets various dietary preferences and needs. Balance, variety, and quality ingredients will help you create something delicious.
The Disclaimer…
All recipes on this website may or may not be appropriate for you, depending on your medical needs and personal preferences. Consult with a registered dietitian or your physician if you need help determining the dietary pattern that may be best for you.
The nutrition information is an estimate provided as a courtesy. It will differ depending on the specific brands and ingredients that you use. Calorie information on food labels may be wildly inaccurate, so please don't sweat the numbers too much.
For more information on how the three recipe levels may help with a weight management goal, refer to my
overnight oats no sugar
post. Let's get cooking!
Nutrition information is for one serving and depends on the type of croutons and salad dressing you use.
Nutrition
Calories:
139
kcal
Carbohydrates:
14.9
g
Protein:
2.3
g
Fat:
8
g
Saturated Fat:
1
g
Sodium:
651.7
mg
Fiber:
1.9
g
Vitamin A:
139.1
% DV
Vitamin C:
44.3
% DV
Calcium:
4.3
% DV
Iron:
13.1
% DV