If you have an air fryer with a spit, you can make your own air fryer rotisserie chicken at home. Impress your family with a dish of succulent chicken that has basted itself in its own juices. The skin will cook to crispy perfection while the meat underneath remains incredibly moist. I'm going to walk you through this process, helping you to succeed in air frying a whole chicken!
Here is my recipe for air frying a whole rotisserie chicken, as promised in my Air Fryer Calamari post. If you own a large air fryer with a spit, you *need* to try this.
As mentioned previously, I use a 10-Quart Kalorik Digital Air Fryer Oven. It is an inexpensive off-brand with a large capacity and lots of features (such as the spit). The downside is that the manual and cooking guide that comes with the fryer lacks specific instructions for many dishes.
The spit that comes with the fryer has three pieces. There are prongs for each end to hold the food in place, plus the bar the food rotates on. It looks like this: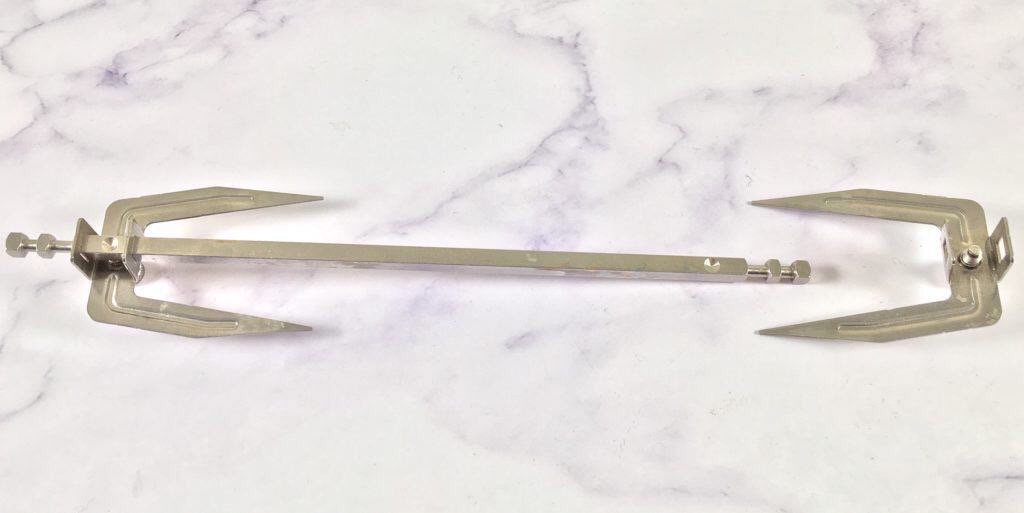 The manual implied that I should attach one end of the spit to the fryer and then thread the chicken on the spit. This method was extremely cumbersome, and I do not recommend it!
Instead, I suggest that you first attach one of the prongs onto the bar (as shown). Second, thread the chicken on the bar. Make sure the chicken is securely attached to the prongs on the bar.
Next, attach the second prong piece to the empty end of the bar. Again, ensure the prongs are securely skewering the chicken. Finally, attach the spit with chicken to your air fryer.
Don't forget to hit the fryer's "rotate" button!
Why bother air frying a whole chicken at all?
The reactions of my family to this particular recipe were a bit humorous. My husband, straightforward person that he is, pointed out that rotisserie chicken can be had for $5 at Costco. This is both less expensive than purchasing a whole raw chicken and also a lot less fuss.
On the other hand, my son seemed a bit more impressed. When he came into the kitchen and saw the chicken rotating on the spit, he remarked I was getting fancy. If your fryer has a window, you too can enjoy watching your air fryer rotisserie chicken cook.
Here are some benefits of air frying your own chicken:
You can cook and season the chicken to your liking. We have purchased some rotisserie chickens in the past that were undercooked, unfortunately.
You can use whatever sort of chicken fits your preferences (from a local farm, organic, etc.).
Since the chicken bastes itself in its juices, the results will be moister than most oven-roasted chickens. This includes the chicken in my chicken and gravy over rice recipe, though that chicken is amazingly delicious as well.
You can save the bones and use them in a bone broth recipe. This is a benefit of using whole chickens, including store-bought rotisserie chickens, versus chicken breasts or thighs.
It looks freaking impressive. If you are having guests over, wow them by having a chicken going on the spit. As my son said, it's pretty fancy.
Just make sure that you truss your chicken with twine prior to air frying. I failed to do this, and as you can see in the video below, I nearly lost a leg as a result! The leg managed to hang on for the last few minutes of cooking, but why risk the broken leg?
Additional air fryer rotisserie chicken tips
One important tip, unless you have a huge air fryer, is to use the smallest whole fryer chicken that you can find. You don't want the chicken to come in contact with the heating element while it rotates. On the other hand, it is nice to get a chicken large enough to self-baste in the drip pan.
The smallest fryer chicken I could find in my supermarket was between 4.5-5 pounds, and it fit perfectly. If you cannot find a chicken that is small enough, you can break the back of your chicken so it fits. This seems like too much work to me, so I suggest seeking out a small chicken.
I bet Cornish hens would work here as an alternative. However, they probably won't be able to reach the drip pan for self-basting. They will also likely require a shorter cooking time, so I would keep a close eye on them.
I kept this meal simple, pairing the chicken with some cooked-from-frozen vegetables. Figuring out how the spit functions on your fryer can take some time. Why not make things easier on yourself if you are trying this cooking technique for the first time?
Similarly, though I like to flavor oven-roasted chicken with items like herbs and lemon, I decided to skip those things here. For one, I'm not sure if those items would remain in the chicken's cavity while turning on the spit. Second, the self-basting makes this chicken incredibly flavorful, making additional seasoning completely unnecessary. Enjoy it!
And now for the disclaimer…
All recipes on this website may or may not be appropriate for you, depending on your medical needs and personal preferences. Consult with a registered dietitian or your physician if you need help determining the dietary pattern that may be best for you.
The calorie information is an estimate provided as a courtesy. It will differ depending on the specific brands and ingredients that you use. Calorie information on food labels may be wildly inaccurate, so please don't sweat the numbers too much.
For more information on how the three recipe levels may help with a weight management goal, refer to my overnight oats with yogurt post. Let's get cooking!
Air Fryer Rotisserie Chicken
If you have an air fryer with a spit, you can make your own air fryer rotisserie chicken at home. The skin will cook to crispy perfection while the meat underneath remains incredibly moist.
Equipment
Ingredients
1

whole

fryer chicken

(4.5-5 pounds)

1

tablespoon

avocado oil
salt and pepper, to taste

4

cups

roasted corn, frozen

(I used Trader Joe's brand)

12

ounces

asparagus, frozen

(I used Trader Joe's frozen grilled asparagus)

2

tablespoons

butter
Instructions
Remove the giblets from your chicken and reserve to use in another recipe. Rub the outside of the chicken with the avocado oil and sprinkle the chicken with salt and pepper.

Thread the chicken on the air fryer spit. Truss your chicken with baking twine so that you do not break a leg. (Watch the video!) Attach the spit to your air fryer. Make sure the drip tray is in place in your air fryer oven.

The chicken should not make contact with the heating element while it turns. If it does, you may have to break the back of your chicken to help it to fit.

Cook at 350°F for one hour. Don't forget to press the "Rotate" button (i.e., the button that makes the spit turn) on your fryer!

When it is done cooking, remove the chicken from the fryer and let it rest for 10 minutes while you prepare the vegetables.

Steam or microwave the frozen asparagus and the corn.
To serve:
Plate ¼ of the corn and put ½ T of butter on top. Slice 4 ounces of the chicken and add it to your plate. Put ¼ of the asparagus on the side. Get ready for some deliciousness!
Video
Notes
This is a level 1 recipe (may help support fat loss). The calorie count on this recipe is for a meal that contains the following:
4 ounces of cooked chicken breast (including meat and skin)
1 c of roasted corn
½ T of butter
¼ of the asparagus (3 ounces)
Leftover chicken (minus the skin) freezes well and can be incorporated into a variety of dishes. One of my favorite ways to use cooked chicken is in meal prep recipes. Remove the meat from the carcass, freeze it, and you'll have a protein source ready when you want it.
Feel free to change up the veggies that you use in this meal if you don't like asparagus and corn. I typically aim to get (at minimum) one green veggie and one veggie of another color into my evening meal.
Nutrition
If you have an air fryer with a spit, what sort of foods you are cooking on it? As always, if you enjoy this recipe, don't forget to leave a rating and share the love on your social media! Thanks for dropping by!