What is cod en papillote? "En papillote" means we are cooking something with moist heat in the oven by wrapping it in parchment paper packets or foil. This cooking method is the secret of cooking fish so it is moist, tender, and tasty instead of dry. Trust me, you need this delicious recipe for cod in parchment with vegetables and a lemon-butter sauce in your life!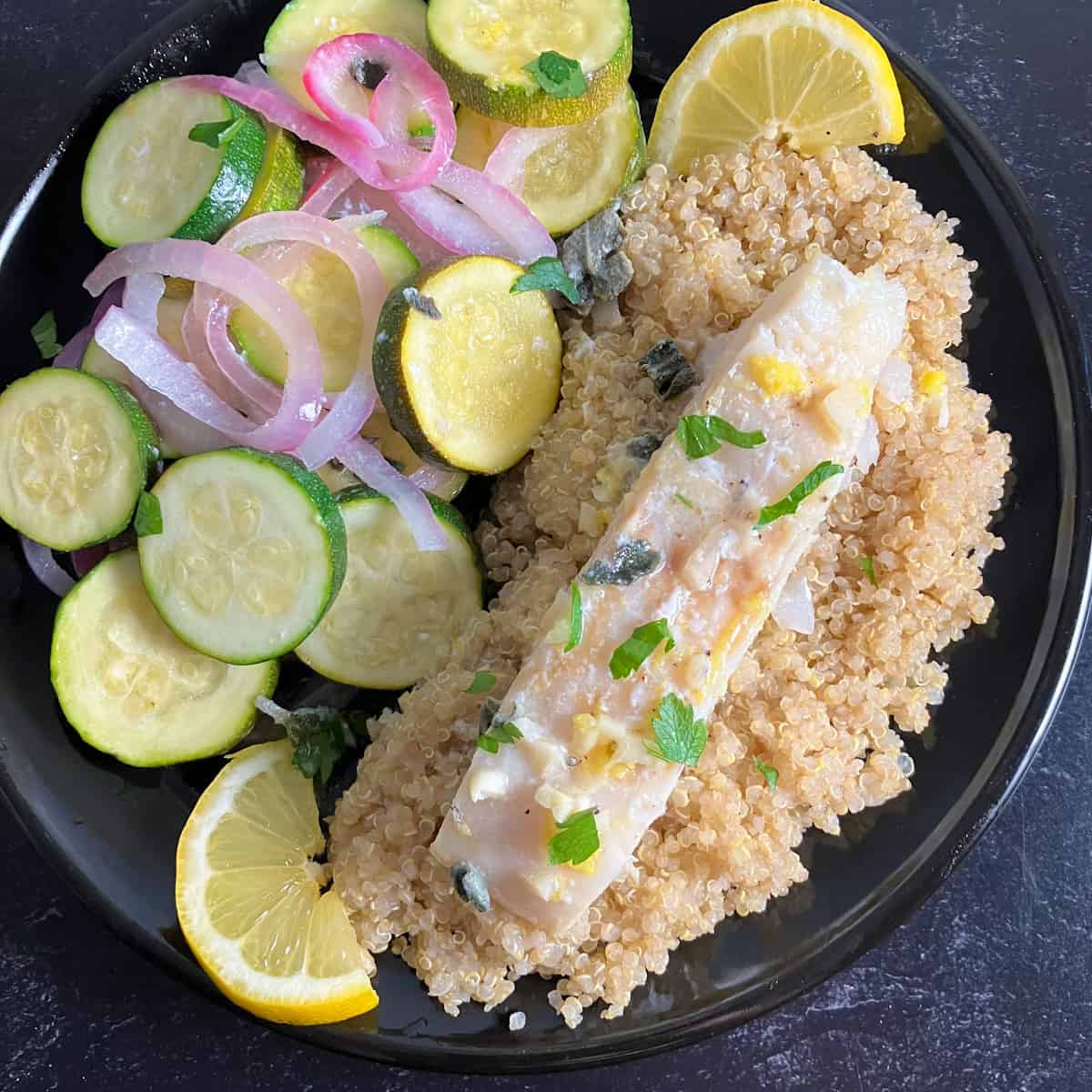 There's more than one way to steam a fish! A few weeks ago, I shared a fun recipe tutorial on Steamed Fish in Banana Leaf. I get that banana leaves can be a tough ingredient for some of us to obtain, so here's another option with some Mediterranean flair.
Today we're going to tackle how to steam cod in parchment paper packets, AKA cod en papillote. This cooking method uses items that you are likely to find in most major United States grocery stores: parchment paper and/or foil.
Unlike steaming in banana leaves, parchment paper does not impart any sort of flavor to the fish. All of the flavorings come from the ingredients that you add to your packets. Feel free to use much stronger seasonings here than you would with banana leaf packets.
In this baked cod en papillote with vegetables, I'm using a rich lemon-butter sauce flavored with garlic, red onion, and fresh sage. The butter melts in the packet while the cod steams, keeping everything moist while it mingles with the lemon juice.
This one is truly a delight for the senses, and so easy to make. But you don't have to take my word for it; try it yourself!
Jump to:
⭐ Cod en Papillote Benefits
What is the advantage of cooking en papillote? Here's why you should make this easy recipe:
Mild fish option for the picky eaters: Cod is one of the mildest-tasting fish around! If you have household members who dislike the strong taste of seafood, try whitefishes such as cod.
A light dish without deprivation: This seafood entrée is under 300 calories and low carb keto. However, the rich lemon butter sauce will keep you from feeling deprived.
Easy weeknight meal: Looking for a convenient and healthy meal? All you have to do here is layer your ingredients in the cooking packet and pop it in the oven. The cod and veggies cook while the buttery sauce comes together on its own.
Fits your taste preferences: You can easily modify these seafood packets to meet your dietary needs. Learn more about substituting with different types of fish and vegetables in the FAQ section below.
Gluten Free: Cod en papillote is naturally gluten-free, perfect for those with celiac disease and non-celiac gluten sensitivity (NCGS).
Delicious: Baked cod in parchment paper is one of the best ways to cook cod I've tried. It's simple with easy clean up, and oh-so tasty. I know you're going to love cod papillote!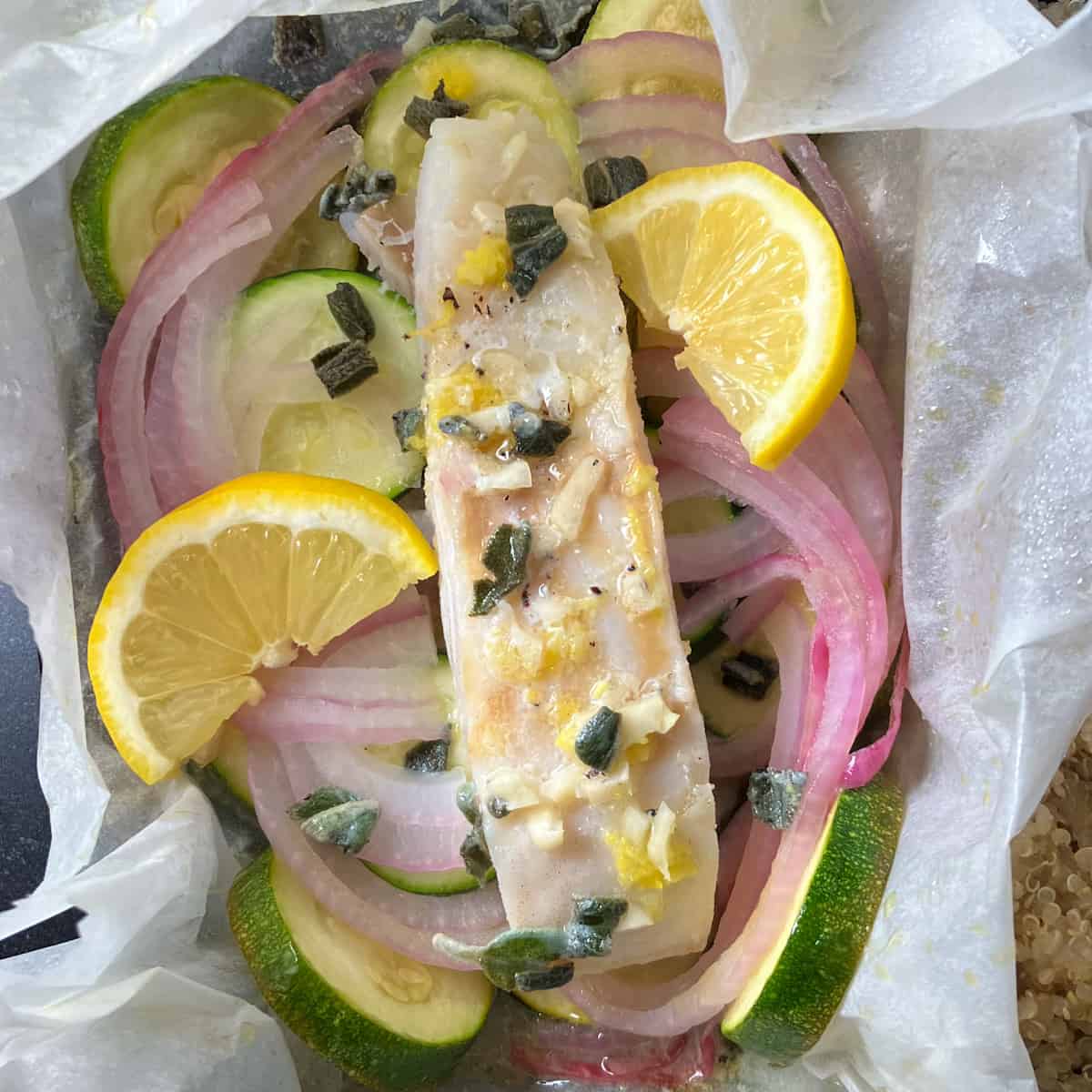 🥘 Cod en Papillote Ingredients
Here is what to gather when you want to make this dish:
Boneless cod fillets (about ¾-inch thick or 1.9 cm)
Cooking oil spray
Sliced zucchini
Freshly squeezed lemon juice
Lemon zest
Crushed garlic cloves
Salt and pepper (optional, to taste)
Thinly sliced red onion (or shallot)
Fresh sage leaves (parsley, thyme, chives, dill, rosemary, marjoram, or other fresh herbs may also be used)
Butter (or olive oil)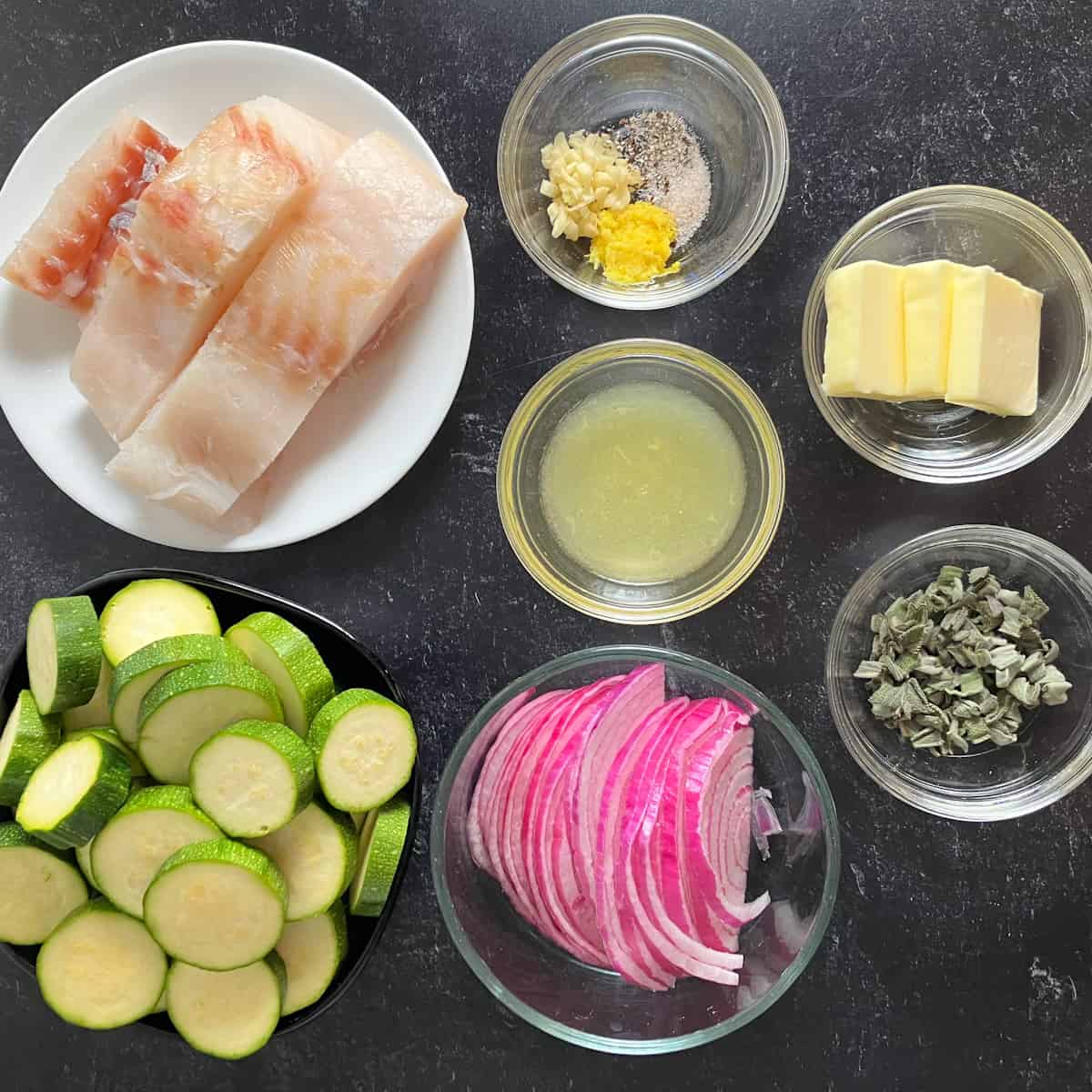 Specific quantities of ingredients are in the recipe card at the bottom of the post!
You'll also want to have any ingredients you need for the side dishes for this meal. I highly recommend serving the fish over a cooked whole grain (or some riced cauliflower for the low carbers). A bed of fluffy rice or quinoa is the perfect vehicle to collect any lemon-butter sauce that runs off the fish.
I also like to have additional fresh lemons, limes, or oranges to slice and serve with the fish. To serve, you can scoop the fish out of the packets and serve as-is…
Alternatively, you can separate the cod from the zucchini and onions and serve the veggie mixture on the side. When I serve it this way, I like to arrange fresh citrus slices on top of the fish…
It tastes the same either way, so it's really just a matter of which presentation pleases your eyes more.
(P.S. If you've been noticing that grape tomatoes make an appearance in A LOT of my food photos, that's because I grow them! They are Napa Grape Tomatoes, for those who are curious. Strangely, my plants are around 8 feet tall, far taller than the 40" discussed in the Amazon listing. Haha)
🔪 How to Make Cod en Papillote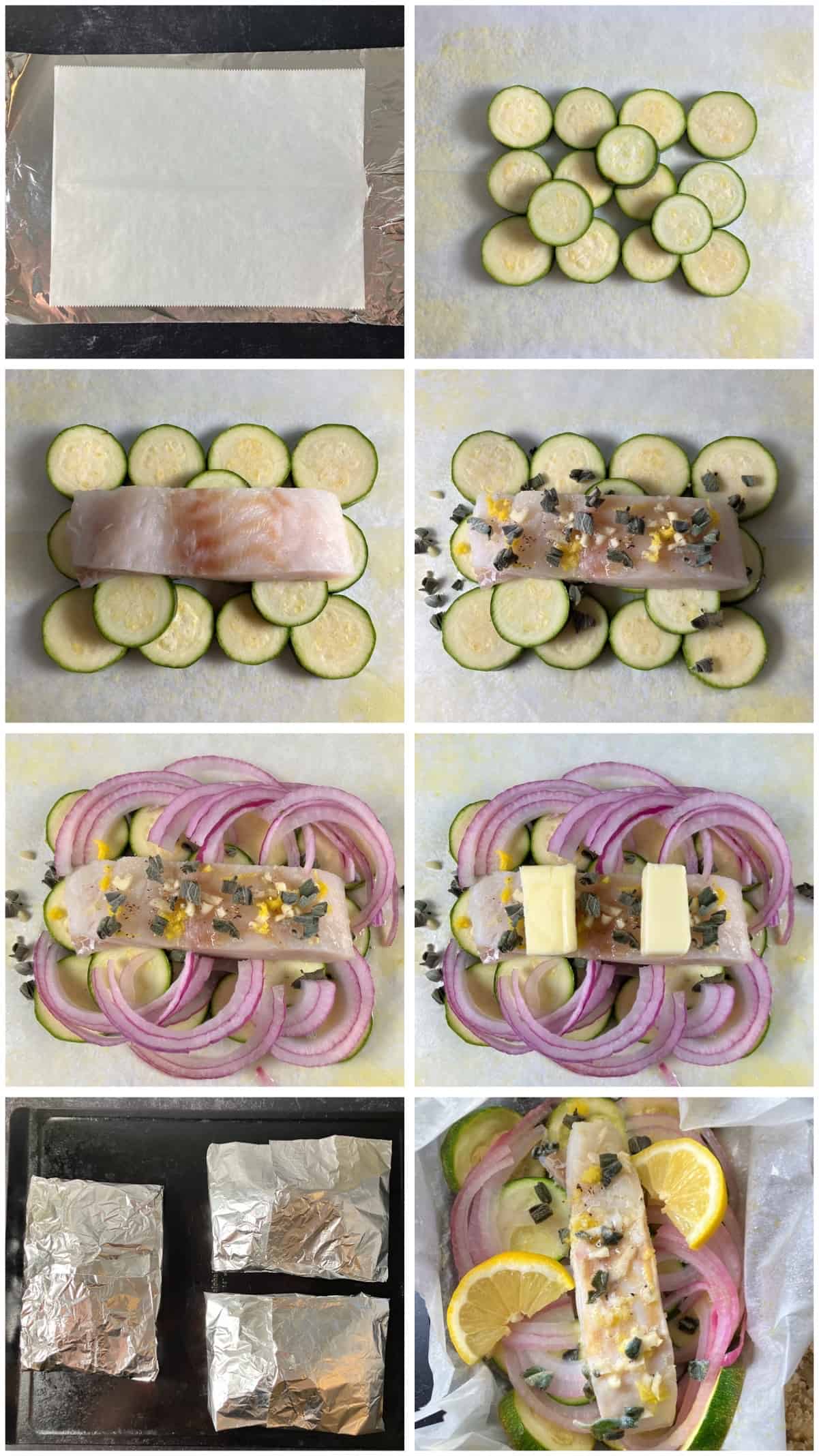 Cooking en papillote is not difficult! Be sure to watch the recipe video below for more visuals on how to wrap fish en papillote. Here's how to cook en papillote step by step:
For each cod packet, you will need to layer a sheet of parchment paper on top of a sheet of foil. Each sheet of parchment or foil is about 14-18" long, but I never bother to measure.
Keep in mind that it is better to use too much parchment and foil rather than too little. You want to ensure that you have enough parchment and foil to fully envelop the food.
Packets that are not fully closed will not effectively steam the food. Plus, your sauce may leak out and make a mess in the oven. With all the cooking I do, preventing oven cleanup (when possible) is always a priority!
Mist the parchment paper with the cooking spray. Then put the zucchini slices on top. I usually make a rectangle of 3x4 slices in each packet and add any additional slices on top.
Put the cod on top of the zucchini. Then drizzle on the lemon juice, and sprinkle the lemon zest, garlic, salt, and pepper. Next up comes the freshly chopped sage leaves and the very thin slices of red onion.
Finally, add a pat or two of butter on top of each packet. I use two ½-tablespoon slices of butter per packet.
To fold the packet, first fully encapsulate the food in the parchment by folding the top and bottom and then the sides. Then do the same with the foil. The foil will hold the parchment in place.
Place your fish packets in a single layer on a baking sheet. Now you are ready to steam codfish!
⏲️ What temperature to cook fish en papillote?
I cook fish en papillote in an oven preheated to 400 degrees Fahrenheit for 18-20 minutes. (The baking sheet with the packets gets placed one third of the way down in the oven.) This gives the fish enough time to get tender and flaky without drying out.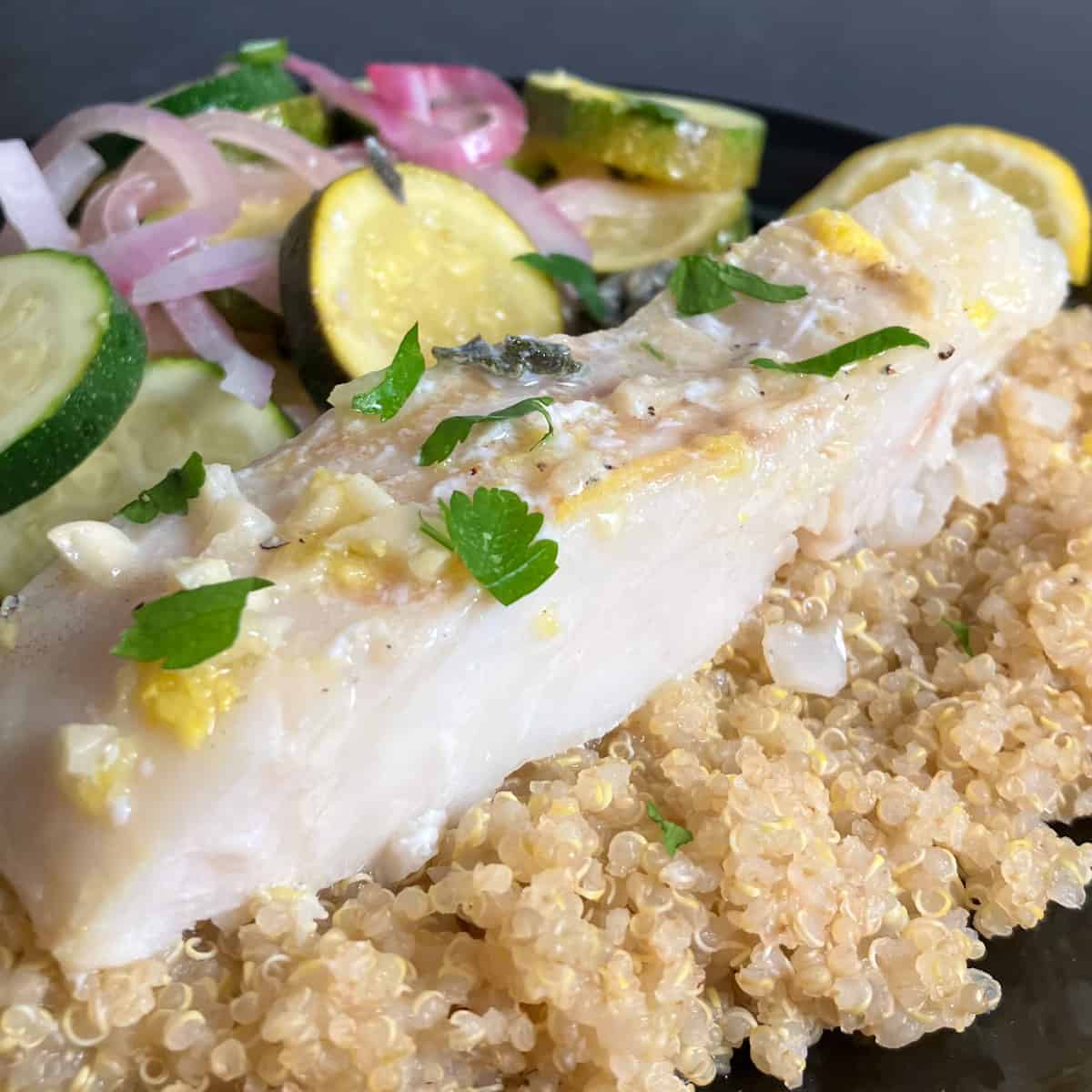 At what temp is cod fully cooked?
Cod is done cooking when it reaches a minimum safe internal temp of 145F (63C). Use a meat thermometer to check the doneness of the fish.
If you are using fish fillets that have a different thickness than the ones I use, your cooking time may vary. Using different veggies than I did may also alter how long to cook fish en papillote.
🥗 What to serve with cod in parchment?
As discussed, I almost always serve fish cooked in parchment with a whole grain and some non-starchy veggies. Whole grain wild rice and tomato-cucumber salads go well with cod. You're already getting zucchini and red onions in the packets, but I like adding even more veggies to the meal.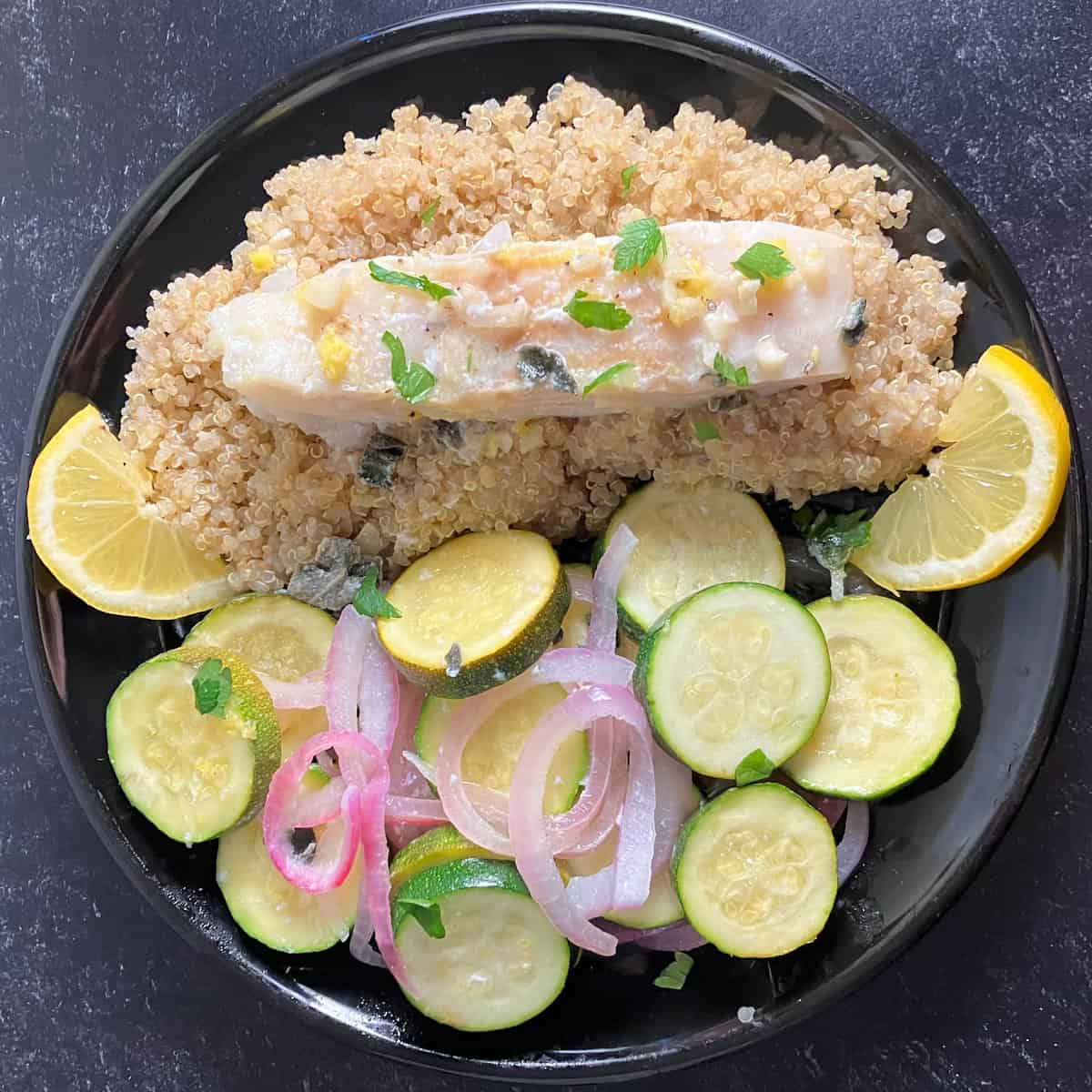 Here are some additional ideas for what to have with fish en papillote:
Hope that answers the question of what vegetables go with cod. If you really want to go the extra mile, you could try making your own butter to use inside the parchment paper packets. My Homemade Amish Butter Recipe will help you out with that.
📋Calories, Net Carbs, Protein
One serving of cod en papillote with veggies has 246 calories, 6.7 grams net carbs, and 20.4 grams protein. This is for one serving of the recipe (cod in parchment with veggies) without additional sides.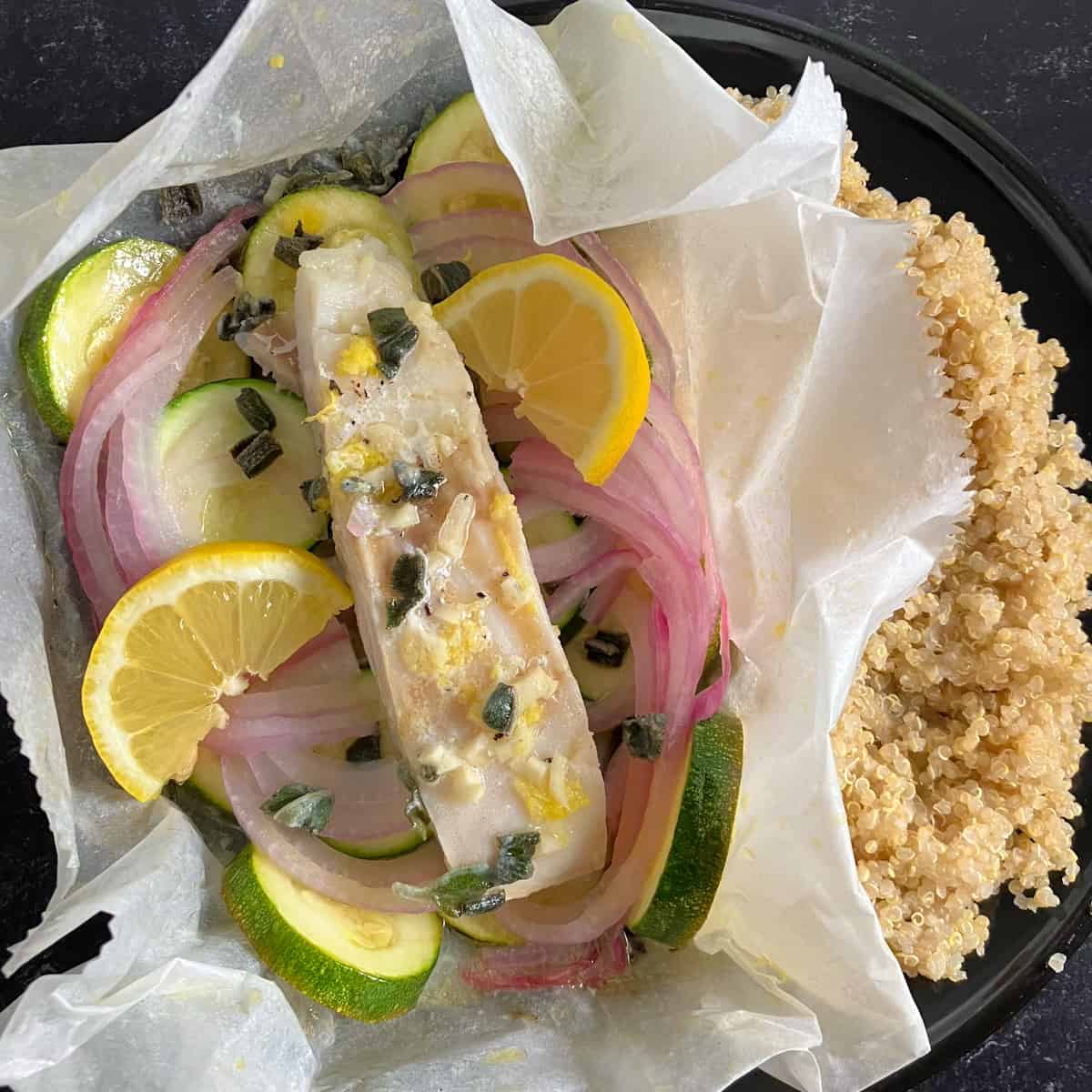 Frequently Asked Questions
Is parchment paper the same as wax paper?
No! Parchment paper and wax paper are not the same things. Wax paper is not resistant to heat the way that parchment paper is. Wax paper will melt under high heat in the oven, contaminating your food and potentially causing an oven fire.
Needless to say, only parchment paper should be used in this recipe.
I remember the first time my son made High Calorie Chickpeas on his own. He did not know at that time that waxed paper and parchment paper are not the same things.
Luckily, he happened to grab the right baking paper for that recipe. Otherwise, we would have had to throw the batch of chickpeas out!
Is it better to use aluminum foil or parchment paper?
Aluminum foil and parchment paper each have different culinary applications where they shine best. Many people associate cooking "en papillote" with parchment paper rather than foil. However, I like the benefits of making packets with both parchment and foil.
My preference is for parchment to touch my food rather than foil, so I use parchment as my inner layer. Meanwhile, the foil helps to hold the folded parchment in place. The foil also serves as an additional layer of protection that keeps the lemon-butter sauce inside the packets.
Can I cook other fish en papillote?
Absolutely! I have tried cooking various fish in parchment paper, and it turns out great every time. I highly recommend trying salmon en papillote too (simply substitute the cod in this recipe for salmon fillets).
The one thing to be aware of is that thicker or thinner fish fillets will impact the cooking time. This recipe is perfect for fish fillets that are about ¾-inch (1.9 cm) thick.
Can I cook other vegetables en papillote?
If you don't like zucchini, you are welcome to use other veggies instead. However, you want to make sure to use vegetables that cook as quickly as the fish. Other summer squashes, thinly sliced bell peppers, leek, asparagus, green beans, pesto, and halved grape tomatoes should work well.
If you want to try items like potatoes, fennel, or carrots that take longer to cook, make sure to slice them very thinly. Extending the cooking time of the parchment packet for the veggies puts your cod at risk of drying out. Some other foods, like herbs and kalamata olives, can also be used in the fish packets.
Can you make whole fish in parchment paper?
Yes, you can cook a whole fish en papillote as well! Here is a recipe for whole red snapper in parchment paper that you can try.
What about cooking frozen fish in parchment paper?
Frozen fish en papillote can turn out too watery, since the extra moisture gets trapped in the parchment packets. For best results, I recommend thawing frozen fish before making this recipe.
How to make fish en papillote air fryer recipe?
You can cook air fryer fish en papillote in an air fryer preheated to 400F (200C) for 10-13 minutes. These directions are best for air fryer ovens, and fish packets should be cooked individually. Keep in mind that cooking times may vary depending on your air fryer. Use a meat thermometer to ensure the fish reaches 145F (63C).
👨🏾‍🍳‍ More White Fish Recipes
Are you a fan of white fish recipes? I bet you'll also love this seafood goodness:
📖 Recipe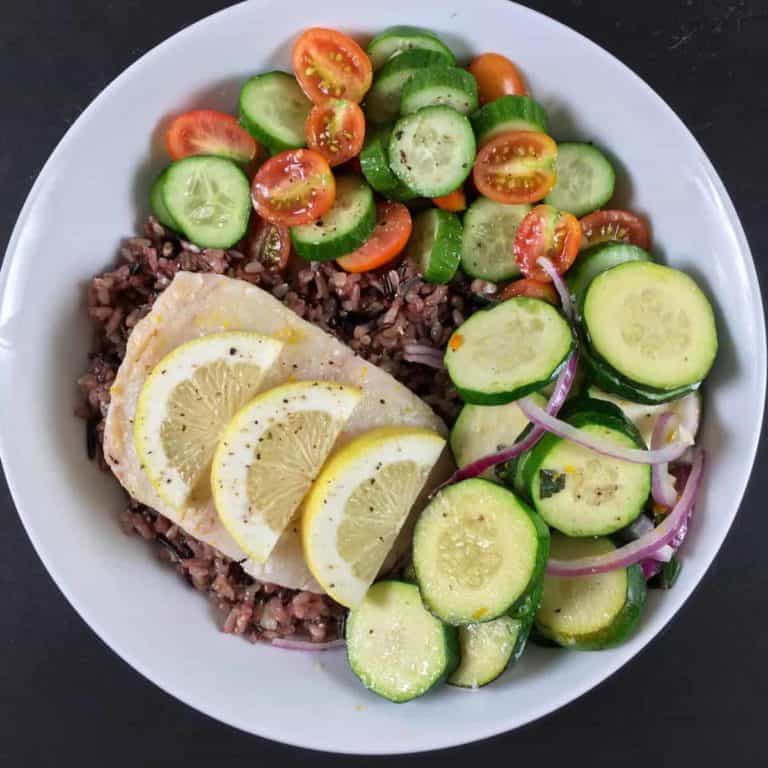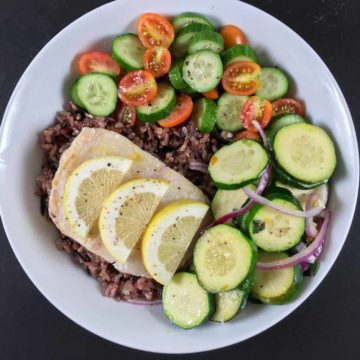 Cod En Papillote Recipe (Cod Cooked in Parchment with Vegetables)
What is cod en papillote? This cooking method is the secret of cooking fish so it is moist, tender, and tasty instead of dry. Try it out!
Ingredients
1

lb.

boneless cod fillets, ¾-inch (1.9 cm) thick

(454 grams; 3 fillets)

cooking oil spray of choice

1

lb.

zucchini, cut into ½-inch (1.27 cm) thick slices

(454 grams)

2

tablespoons

lemon juice, fresh squeezed

1

teaspoon

lemon zest

2

cloves

garlic, minced
salt and pepper, to taste

½

small

red onion, very thinly sliced

6

leaves

fresh sage, finely chopped

3

tablespoons

butter, cut into 6 pieces
Don't be a stranger! 😊
If you love this recipe, please come back and leave a rating. This helps readers and I'd love to hear from you. Thank you ❤️
Instructions
Preheat the oven to 400°F (200°C).

Lay out 3 pieces of foil, approximately 14-18 inches (35.6-45.7 cm) in length. Top each piece of foil with a piece of parchment paper, also 14-18 inches (35.6-45.7 cm) in length.

Mist each piece of parchment with the cooking oil spray.

Place the zucchini slices in a 3-slice by 4-slice rectangle in the middle of each sheet of parchment paper. Put any additional zucchini slices that are left on top of the rectangles. (If you use extremely large or small zucchini, the number of slices used per cod packet will vary.)

Put a cod fillet on top of each zucchini rectangle.

Pour ⅓ of the lemon juice on top of each piece of cod. Sprinkle the lemon juice, lemon zest, garlic, salt, pepper, sage, and thinly sliced onions on top (in that order).

Put 2 pats of butter on top of the food in each packet (i.e., each packet gets one tablespoon of butter total).

Fold the parchment snugly around the food in each packet. You want the food to be completely covered in parchment. I folded the top and bottom of each packet and then the sides. Secure the parchment by folding the foil over the parchment in a similar way. First fold in the top and bottom of the foil, and then the sides. Use the photos and recipe video below as a guide in folding your parchment packets.

After each packet of food has been completely encased in the parchment and then the foil, you are ready to get steaming. Place the packets in a single layer on a large baking sheet.

Put the baking sheet with the packets on a rack one third down from the top of your preheated oven. Steam for 18-20 minutes at 400°F (200°C).

After the allotted cooking time, unwrap your packets. The fish should be tender and flaky. Check with a meat thermometer to ensure the fish reached a safe temp of 145°F (63°C). Add additional cooking time if needed.

To serve, plate the contents of the fish packets with any additional side dishes that you have prepared. I like to serve the fish and lemon-butter sauce in the packet on top of a cooked whole grain. Sometimes I serve the red onions on top of the fish, and sometimes I mix them with the cooked zucchini on the side.
Notes
💭 Expert Tips from a Dietitian
This is a level 1 recipe (may help support fat loss).
White fishes, such as cod, are a great source of lean protein. Cod provides a lot of protein for very few calories, which may help to keep you full, making it easier to support a weight loss goal.
Additionally, this cod en papillote recipe includes lots of zucchini. Non-starchy vegetables, like zucchini, provide a lot of volume for few calories.
Non-starchy veggies allow me to eat large amounts of food while staying in the calorie balance needed to maintain a healthy weight. I recommend trying to get some non-starchy veggies into most of your meals if you want to lose weight.
The recipe as written provides under 300 calories per serving, which is usually not enough for a meal. Adding ¼-cup of dry (½-¾ cup cooked) whole grains will add 150-200 calories to the meal. I always include more non-starchy veggies or some fruit too.
Nutrition information is for one serving of the recipe.
nutrition info disclaimer

All recipes on this website may or may not be appropriate for you, depending on your medical needs and personal preferences. Consult with a registered dietitian or your physician if you need help determining the dietary pattern that may be best for you.

The nutrition information is an estimate provided as a courtesy. It will differ depending on the specific brands and ingredients that you use. Calorie information on food labels may be inaccurate, so please don't sweat the numbers too much.
Nutrition
Calories:
246
kcal
Carbohydrates:
8.4
g
Protein:
20.4
g
Fat:
15.1
g
Saturated Fat:
7
g
Potassium:
483.2
mg
Fiber:
1.7
g
Vitamin A:
14.6
% DV
Vitamin C:
57.1
% DV
Calcium:
9.3
% DV
Iron:
8.5
% DV
Join our community! Subscribe for all of the latest and greatest recipes, and follow me on Facebook, Pinterest, Instagram, and YouTube!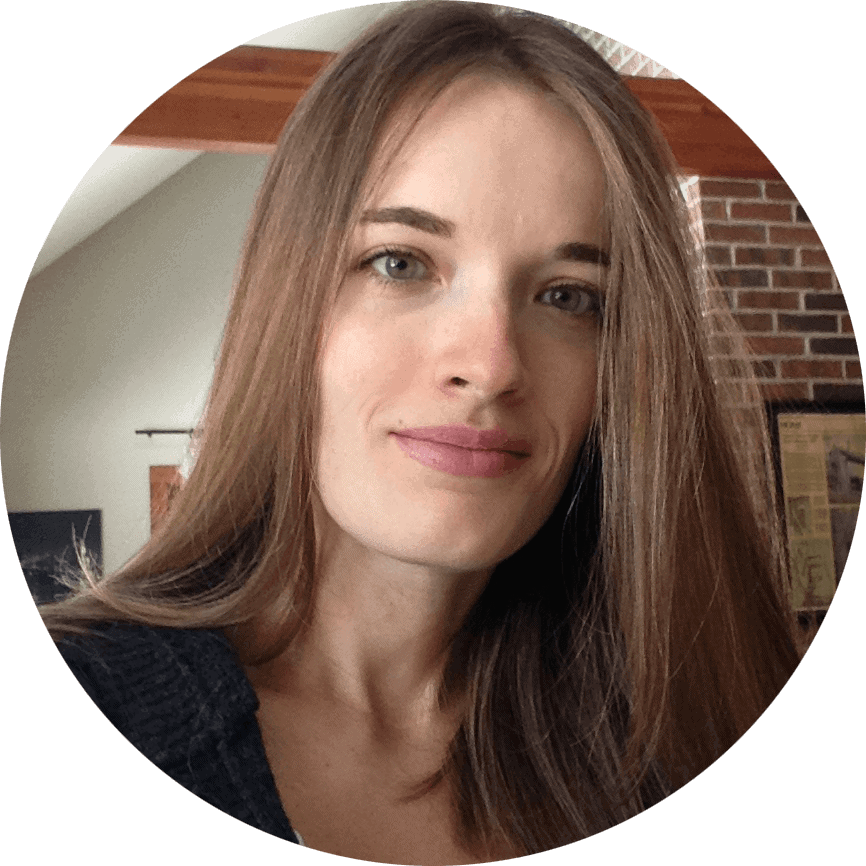 Hello! I'm Summer, a registered dietitian and home chef who loves to cook, eat, and create high quality content for you! Every recipe on this site has been tested by me to help ensure your success in the kitchen. All eaters are welcome here 🙂