Costco brisket from the meat section comes in a variety of sizes, grades of brisket, and prices. You can buy full packer Costco beef brisket, flat cut brisket, and even (at some locations) precooked and smoked brisket burnt ends. The whole USDA prime brisket Costco price is a deal at $3.59 per pound, but sometimes only the choice grade brisket is available.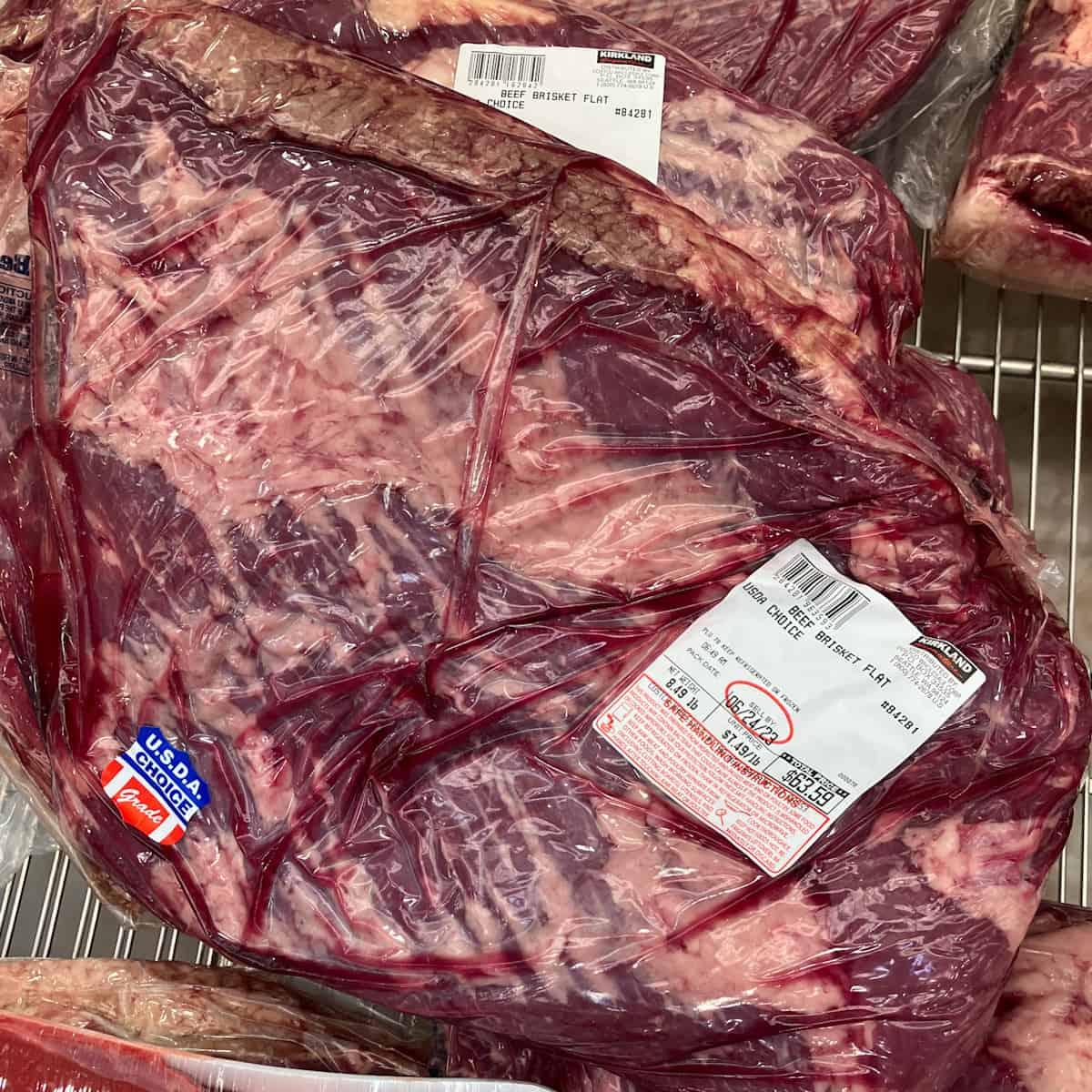 Jump to:
🥩 Costco Brisket Options
Costco meats are some of the best deals at Costco, and the beef brisket price per pound often beats other stores. Here are the four types of Costco brisket you may find in 2023:
Costco Full Packer Brisket
The full packer brisket (or Costco whole brisket) contains the point and flat sections of the beef. This cut tends to be the best deal per pound because you are doing the work at home instead of the Costco butcher. The whole brisket is a lot of meat- typically 15-18 lbs, so you need to have lots of freezer space for this one.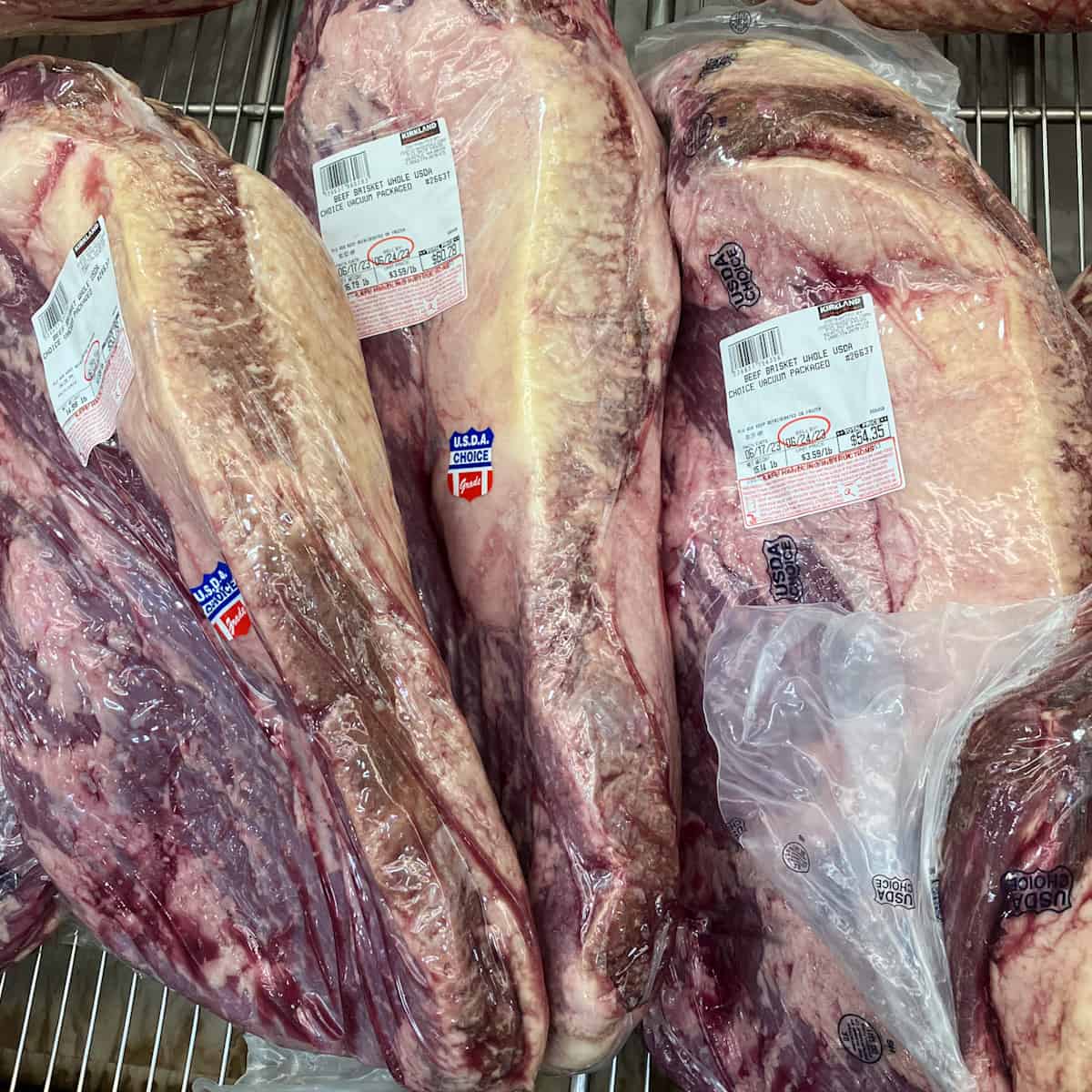 I purchased a 15 lb brisket and yielded a 4 lb flat brisket, 4 lb point cut (which I used for ground beef), and the rest was fat. The fat cap and the rest of the fat were used to make tallow, a great fat for cooking. The whole brisket cost less overall than the much smaller flat brisket, for the same grade of meat (choice).
To make the deal even sweeter, sometimes you can get a whole Costco USDA prime brisket for the same price as choice. If you're looking for the best beef brisket price at Costco and don't mind being your own butcher, the full packer is the way to go. You can find it in the fresh meat section.
Costco Flat Brisket
The flat brisket is what you'll often find in grocery stores. It's commonly used for smoking brisket, barbecue, and making corned beef. This brisket is less work than the whole packer, because you don't need to trim off the point cut before you start your recipe.
The brisket prices at Costco are over twice as much per pound compared to the whole brisket, and the cuts are smaller. The typical flat brisket at Costco weighs 6-12 lbs. Like the whole packet brisket, these are vacuum sealed, and you may want to trim more fat from it at home.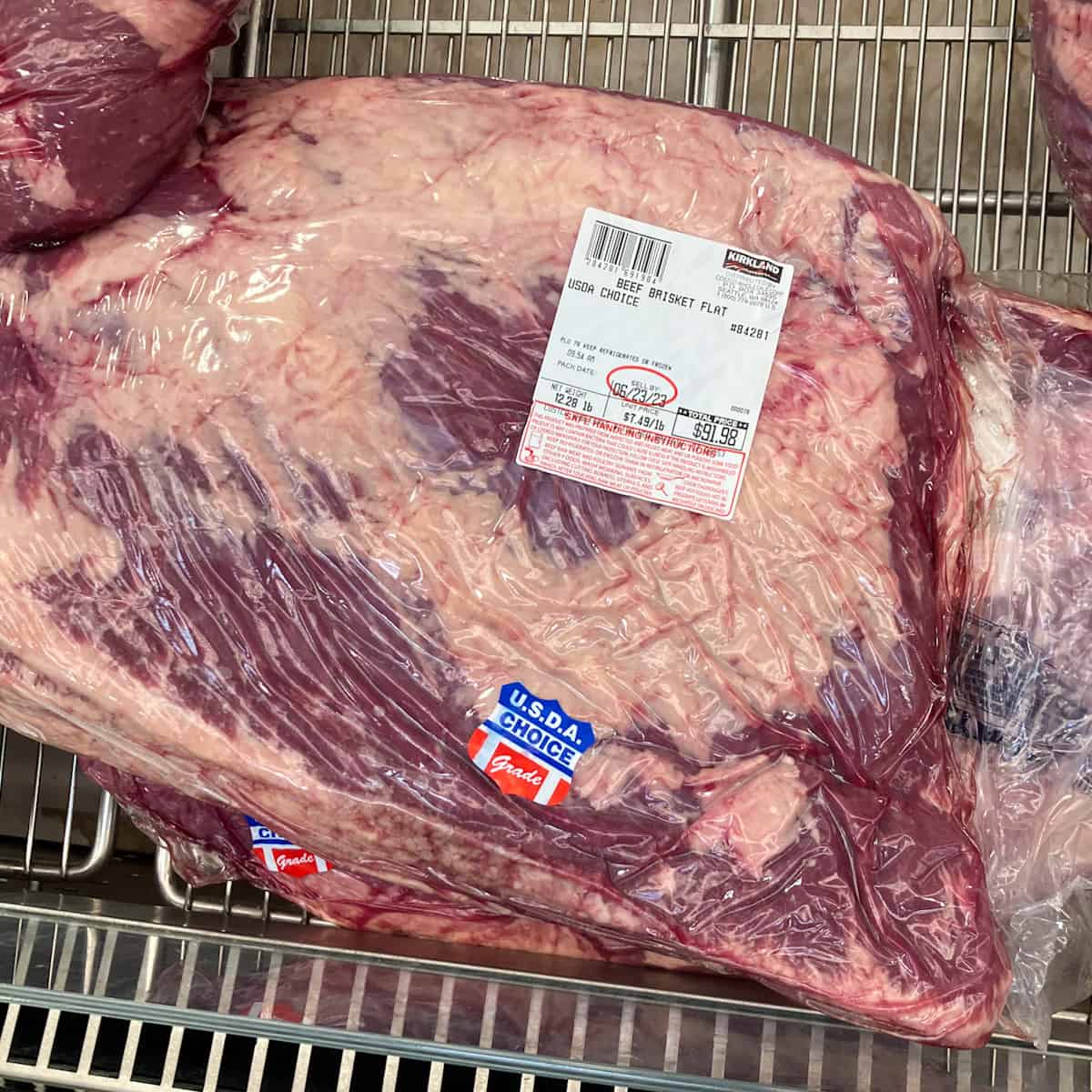 Unlike the whole briskets, it appears Costco only sells choice grade flat briskets. You can find the flat brisket next to the whole briskets with the fresh (refrigerated) meats at Costco.
Costco Brisket Burnt Ends
Sometimes Costco also carries Wolf Family Smokehouse Brisket Burnt ends with the refrigerated packaged foods. This is a fully cooked, smoked, and seasoned beef brisket product with a BBQ sauce pouch. It's extremely fast and convenient, because all you need to do is heat and eat.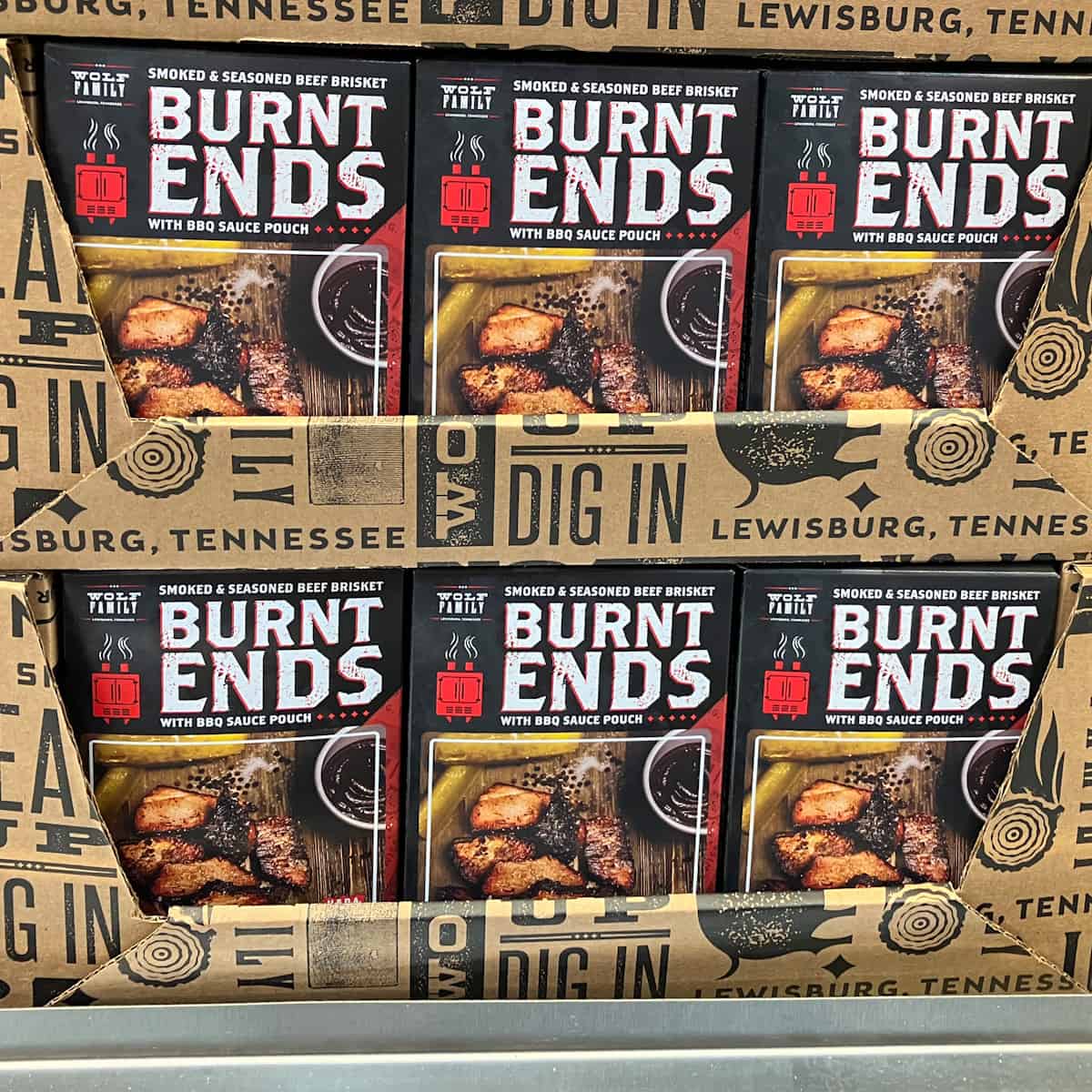 Unfortunately, this convenience comes at a high price. This is the most expensive way to eat Costco brisket per pound, and the packages are relatively small (1-2 lbs). In addition, we found this product to be hit or miss, with some packages containing a lot more gristly bits than others.
Corned Beef Brisket
In March, you may also find corned beef brisket at Costco. Since most people in the US only eat corned beef on St Patrick's day, this is a seasonal item.
➕ Is Costco brisket prime or choice?
Costco offers different grades of whole brisket (prime or choice), depending on the store location and when you visit. At the time of writing, my Costco was selling choice beef brisket only, but prime beef brisket is available on the Costco business website. Costco flat brisket is only available in choice grade.
USDA prime brisket is the highest quality beef, and is a higher grade than choice beef (select grade is below that). Prime brisket comes from young cows with meat that has a high degree of fat marbling. This means your brisket will be extra tender and delicious (though the choice grade also makes very tasty brisket).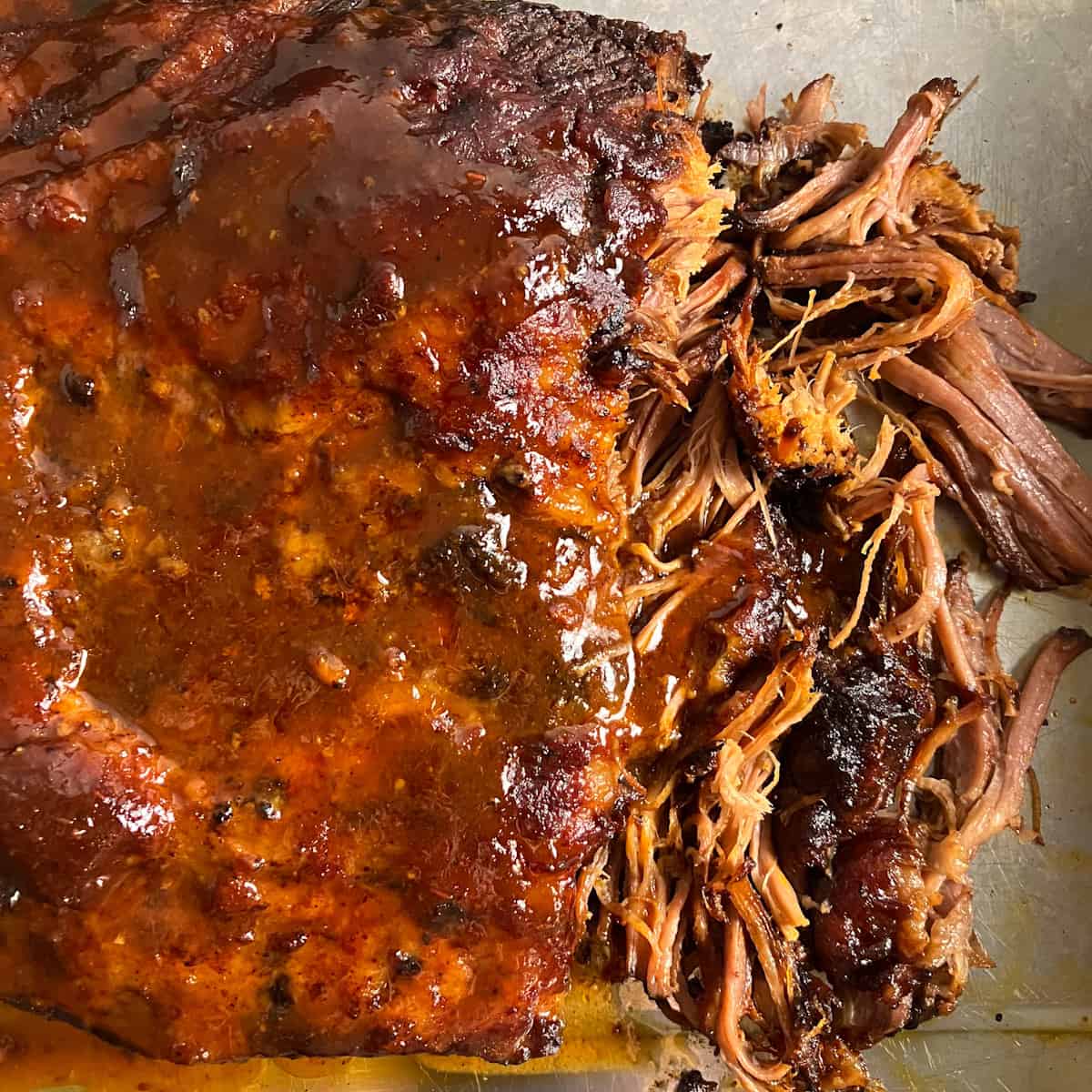 How much brisket for 10 adults?
Buy about 10 lbs of uncooked brisket for 10 adults. This will yield about 5-7 pounds of cooked brisket, so each person gets a generous half-pound portion.
🤔 Price of Brisket at Costco
Here is a table of brisket prices at Costco in 2023. These prices are correct at the time of writing, may vary by location, and are subject to change.
| Type of Brisket | Costco price per pound | Average weight | Average package price |
| --- | --- | --- | --- |
| Full packer brisket (choice) | $3.59 | 15 lbs | $53.85 |
| Full packer brisket (prime) | $3.59 | 15 lbs | $53.85 |
| Flat brisket (choice) | $7.49 | 8 lbs | $59.92 |
| Brisket burnt ends | $12.99 | 1.5 lbs | $19.49 |
How much is a 10 lb brisket?
A 10 lb flat brisket costs $74.90 at Costco. 10 lbs of a whole Costco brisket costs $35.49 (though the piece you buy will likely be larger and need more trimming).
Why was the prime brisket cheaper than the choice at Costco?
The Costco prime brisket price may be cheaper than choice because they are different cuts. The prime brisket is only offered as a whole brisket, which requires less labor from the butcher. The choice brisket is also offered as a flat cut, so its brisket price at Costco is more due to the labor involved.
🔥 Costco Brisket Recipe
Wondering what to make with Costco brisket? Here are the ingredients you need to make a simple recipe with Costco brisket:
3-4 lb brisket (flat cut)
2½ tablespoons dry rub barbecue seasoning
2½ cups BBQ sauce
1 tablespoon olive oil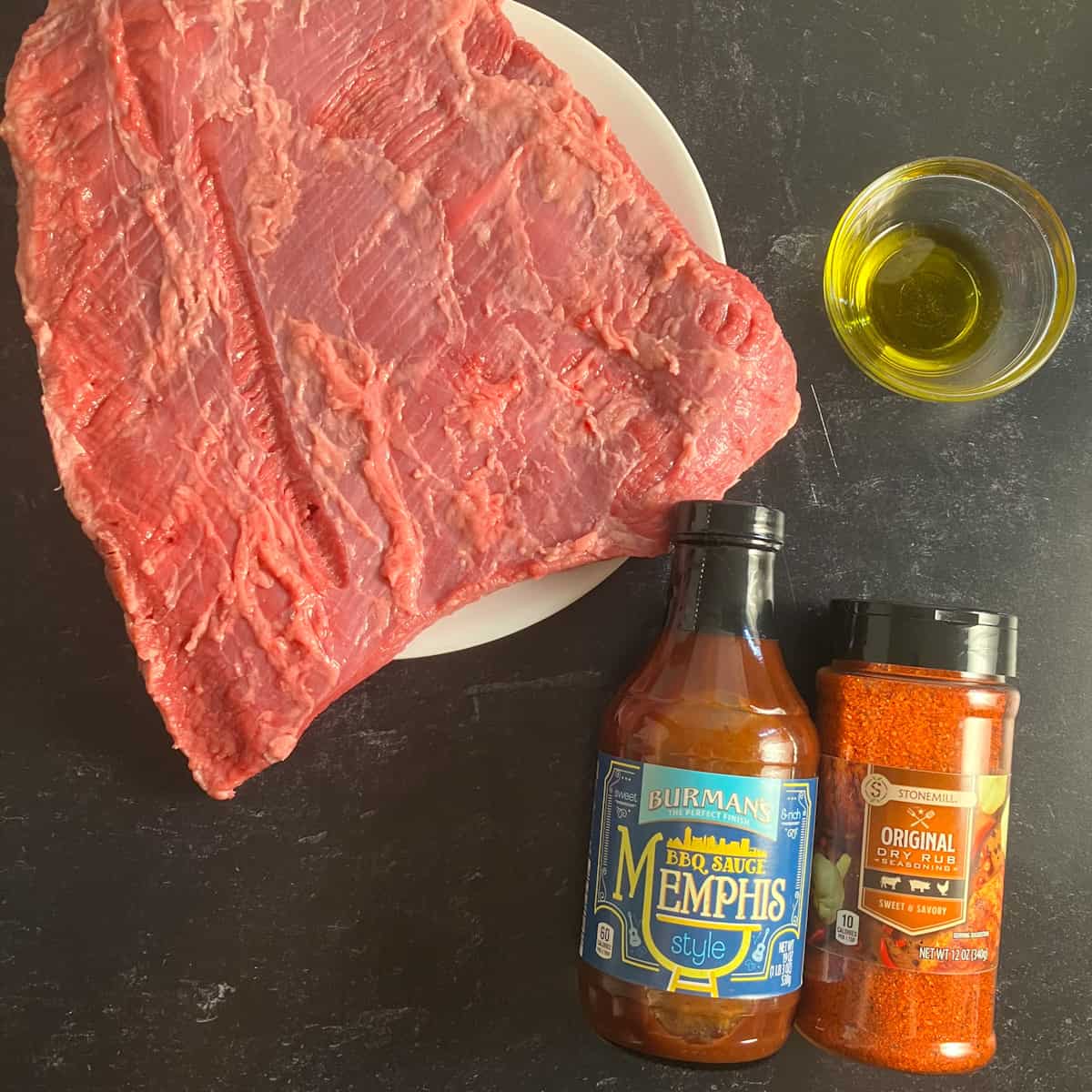 As mentioned above, I purchased a whole brisket and broke it down using this helpful video. We're just using the flat cut brisket here.
The point cut was ground into the most delicious ground beef using my meat grinder, vacuum sealed, and frozen for later use. I render beef fat into tallow using a process that's identical to my how to make lard directions.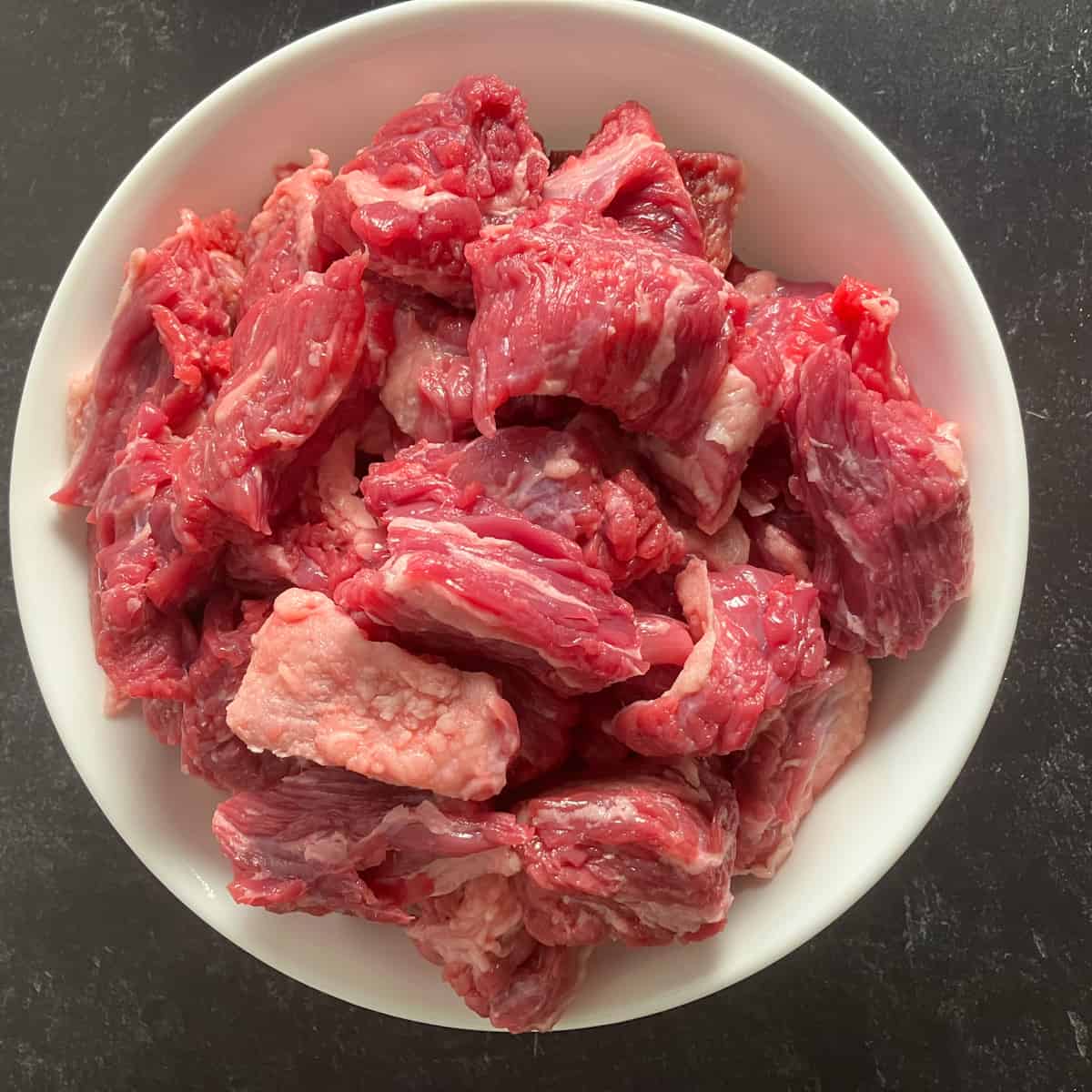 I spent less than I would have on the flat brisket alone. Plus, I essentially got 4 lbs of free ground beef plus high-quality cooking fat for free. This is a super way to save money on beef at Costco!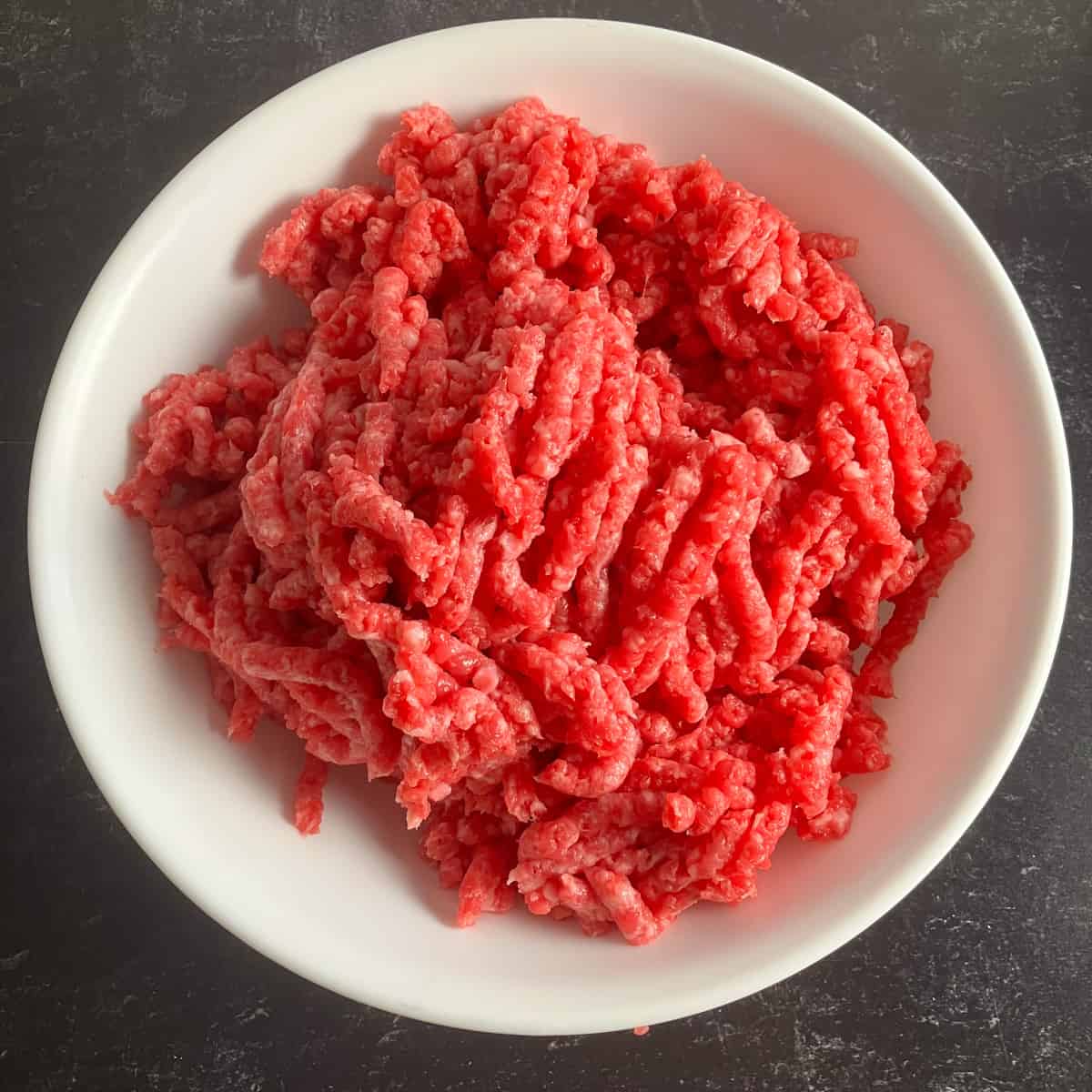 How to Cook Costco Brisket
Here are the step-by-step instructions for what to do with Costco brisket:
Sprinkle the brisket on all sides with the dry rub. Place it in a large Crockpot, cover it with the barbecue sauce, and cook for 8 hours on low.
Next, lift the brisket out of the slow cooker, and place it in a metal roasting pan. Drizzle with the oil and roast in an oven preheated to 400F (200C) for 15 minutes.
Shred the meat with two forks and serve. You can add back sauce from the crockpot if desired.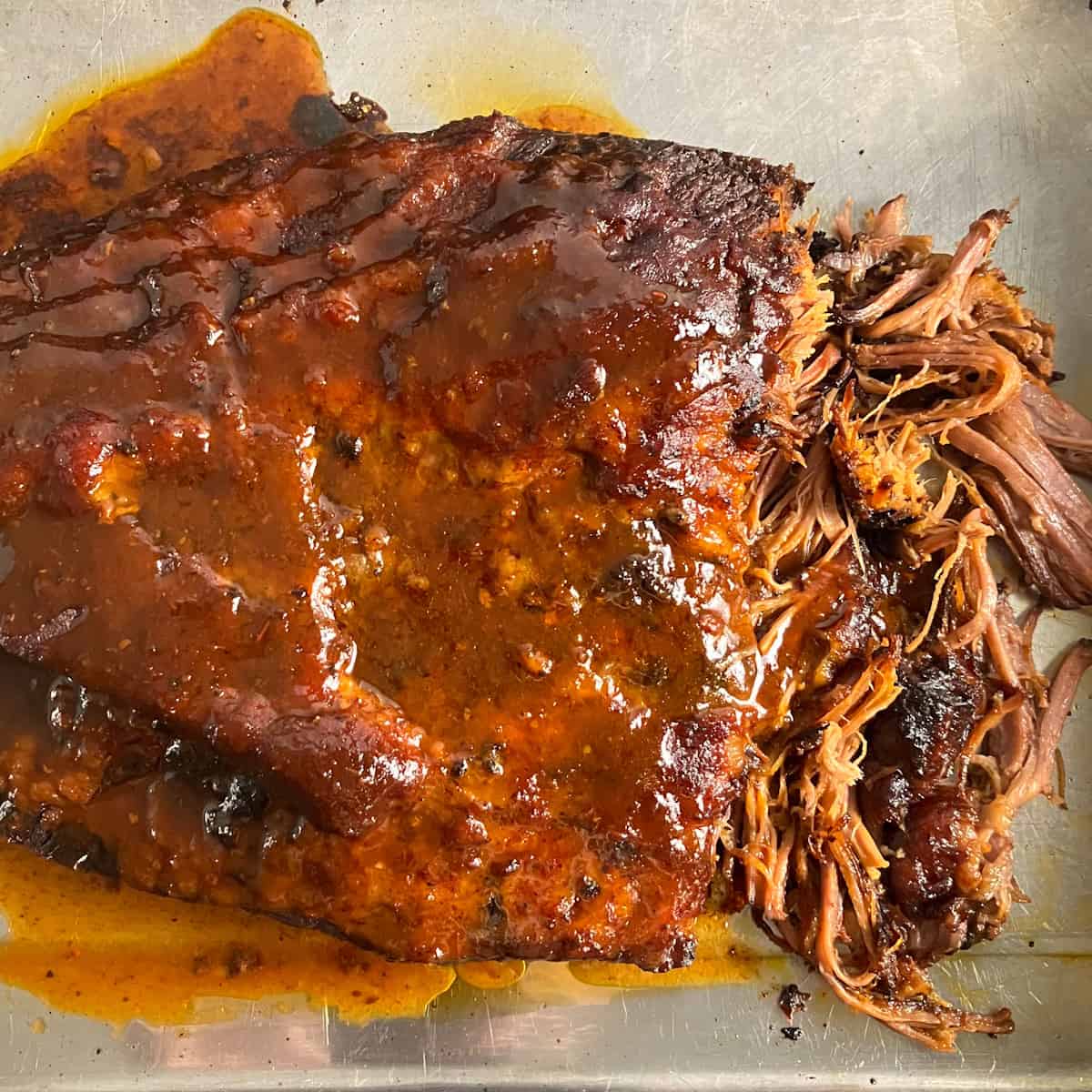 I used this recipe to make a Costco brisket sandwich, putting the shredded beef on a slider bun with coleslaw. Yum!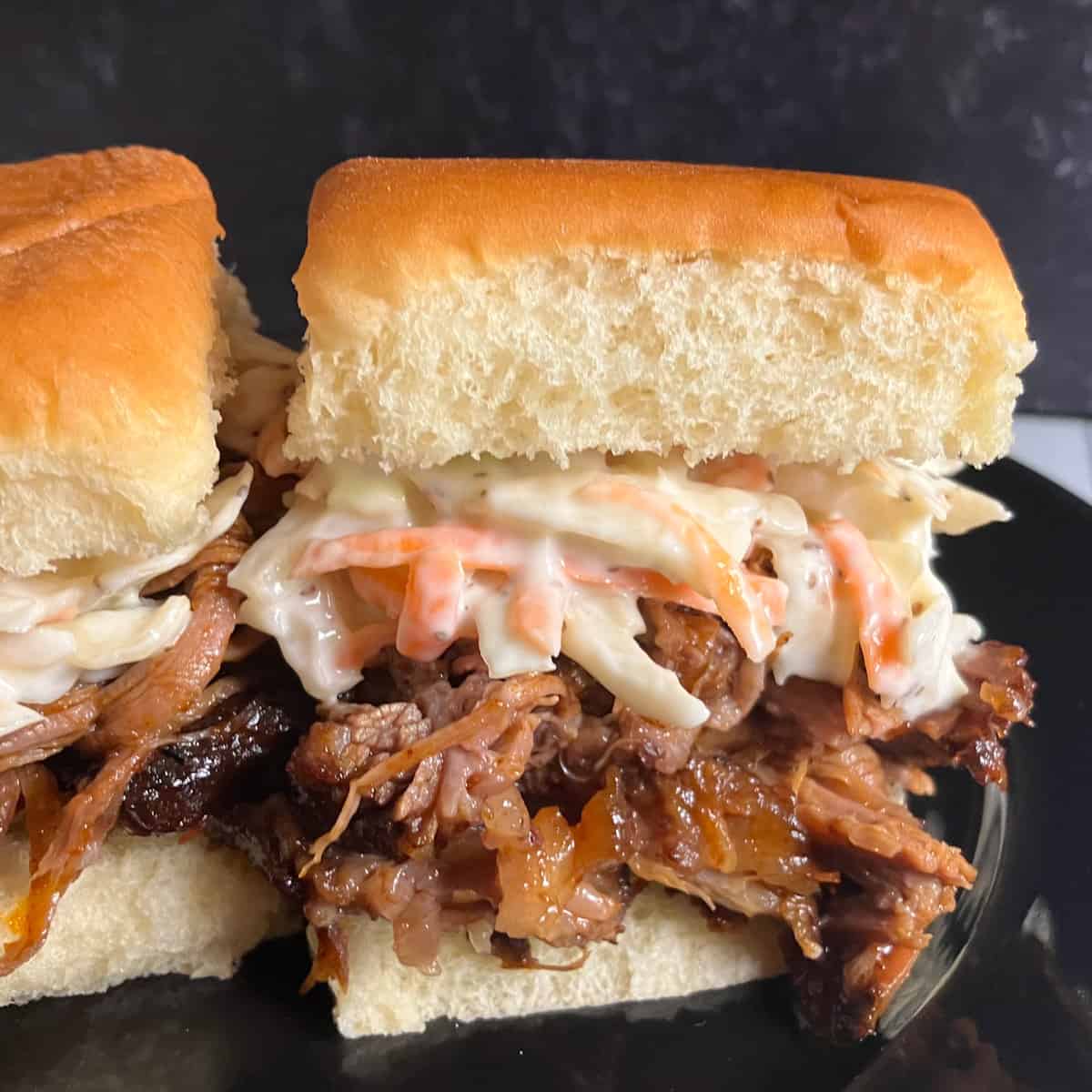 FAQs
Does Costco sell good brisket?
Costco typically offers good quality brisket, and you may even find Wagyu brisket online. Their meat is known for being reliable and well-priced, and it's one of the reasons I love my Costco membership.
Are Costco briskets trimmed?
Costco briskets are usually trimmed to some extent, but you'll likely need to trim more fat from the cut. In general, the meat sold in foam-backed, plastic-wrapped packaging spent more time with the Costco butcher than meat that's vacuum sealed.
Can you freeze Costco brisket?
Yes, you can freeze Costco brisket. Just make sure to wrap it tightly in a plastic wrap or vacuum seal it to prevent freezer burn.
What is the average size brisket at Costco?
The average size of a brisket at Costco can vary, but it's often around 10-15 pounds, suitable for larger gatherings or for leftovers.
👩🏻‍🍳 More Costco Reviews
Hey, Costco fans! If you enjoyed this Costco brisket review, make the most of your Costco warehouse membership and check these out next:
Join our community! Subscribe and be kept up-to-date on all of the latest and greatest recipes! You can also follow me on Pinterest, Twitter, Instagram, and YouTube!
🎥 Costco Brisket Video