Is Eat Clean to Go worth it? Eat Clean to Go is a weekly meal plan delivery service for healthy fresh (not frozen) meals. Eat Clean is worth it for those looking for single-serving microwave ready meals that are low calorie with simple ingredients. I tried the Eat Clean to Go menu, which has options for traditional, vegan, vegetarian, paleo, low carb, and keto diets.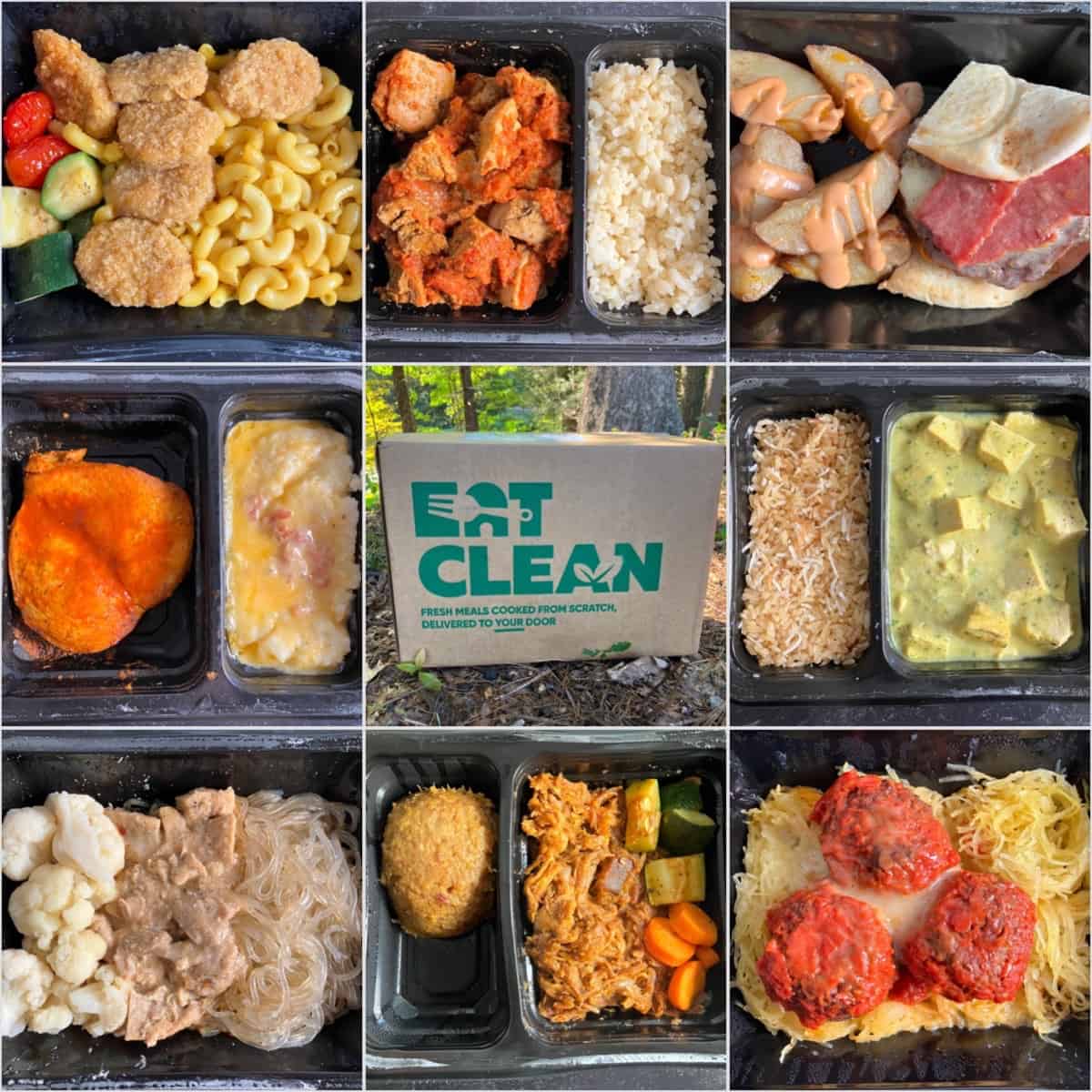 Jump to:
⭐ Eat Clean to Go
Here is a quick summary of the Eat Clean to Go meal delivery program:
💰 Cost
$9.60-$12.58 per meal (plus shipping and tax)
🥘 Diets on Menu
Traditional, Plant Based, Paleo, Keto
📦 Eat Clean to Go Recipes
6-12 unique meals offered per week
⏳ Eat Clean Meal Prep
No meal prep, no cooking
🚀 Easy to Place Order
Yes
❌ Easy to Cancel
Yes, cancel anytime
💁 Customer Service
Mixed reviews on accessibility
Try Eat Clean Delivery!
➕ Eat Clean to Go Reviews
Eat Clean to Go, in the opinion of this dietitian, is perfect for those that like Lean Cuisine meals but want to limit ultra-processed foods. The main positive is that this program makes eating clean on the go easier with a wide variety of meals (including some harder to find ingredients like sweet potato noodles). Having prepared meals delivered to your doorstep can make healthy eating much easier.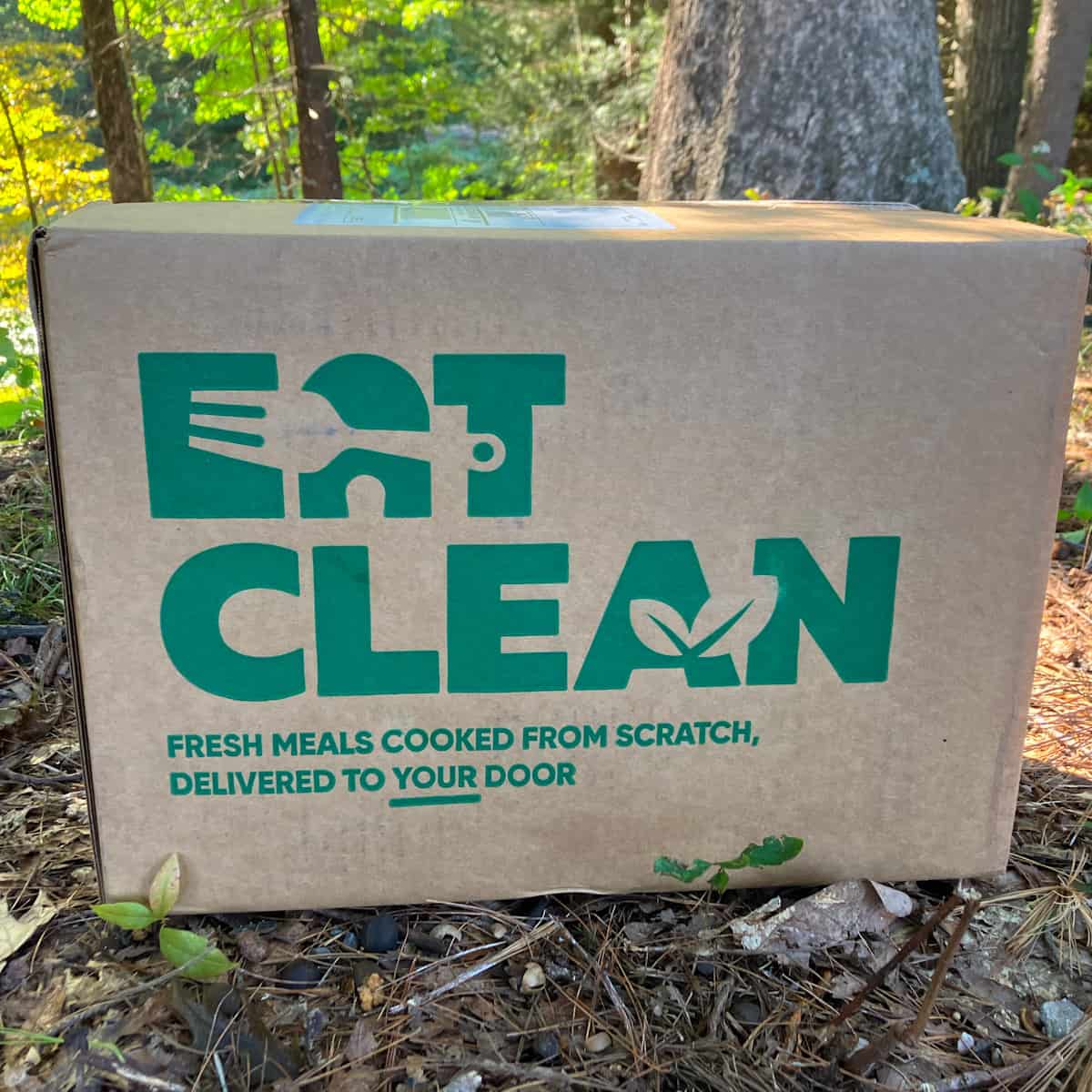 The main drawback is the meals are fairly small (like Lean Cuisines), and the higher quality ingredients add to the cost. I'd consider these clean eating delivery meals best for quick calorie-conscious work lunches, and not family dinners. You can easily make them high volume by adding a side salad or other non-starchy vegetables.
Eat Clean ready meals get 3.6 / 5.0 stars on Trustpilot (167 reviews). The Eat Clean to Go reviews on Reddit are unfortunately also mixed. While some have complaints about the customer service and flimsy plastic packaging, others have only positive things to say about the meals.
Eat Clean sent me a box of 8 meals from their traditional meal plan, so I could try them for myself and share my experience with you. The box I received had an insulated container filled with the food, plus an ice pack on top to keep the food cold. So far so good!
🥗 Eat Clean to Go Menu
You can view the Eat Clean menu before signing up on the Eat Clean website. Simply click "on the menu" at the top right corner of the screen. The menu for the week is available at Saturday 12:01am EST, and closes the following Friday at 11:59pm EST.
"Eating clean" isn't a standardized diet in the world of nutrition and dietetics, so it means different things to different people. Eat Clean recognizes this, and offers four different eating clean menu options to choose from:
Traditional Diet: The traditional diet offers balanced meals with a bit of everything. You get high-quality proteins, complex carbs, veggies, and more. If you're trying to eat closer to the MyPlate, this plan is a great choice, and it's the one I tried.
Plant Based Diet: The plant-based diet is perfect for those who don't eat animal products (including fish). They offer an assortment of colorful vegan meals every week that will save you a ton of time in the kitchen.
Paleo: The Paleo diet plan focuses on animal-based protein, fruits, and vegetables and no grains or dairy. This is probably the diet the general population most commonly equates with "clean eating."
Keto: The keto diet is a very low carb diet with moderate protein and often high fat. Eat Clean claims their keto menu is completely gluten and grain free.
With the above delicious, flexible options, you're likely to find the one person meals that are best for you. That said, Eat Clean does not recommend using their program if you have severe food allergies or food-related medical conditions (source). The ingredients lists for each meal on their website are disappointingly vague.
Eat Clean Meals
Eat Clean meals come in flat plastic trays with a plastic overwrap and paper sleeve. On the side of each meal is a label with the item, a truncated ingredients list, nutrition information, use by date, and reheating instructions. If you order a large number of meals, I recommend sorting them by use by date in the fridge.
To heat the meals, simply remove the paper sleeve, vent the plastic overwrap, and microwave 2-3 minutes on high. Then let the meal rest for about 2 minutes and serve. So easy!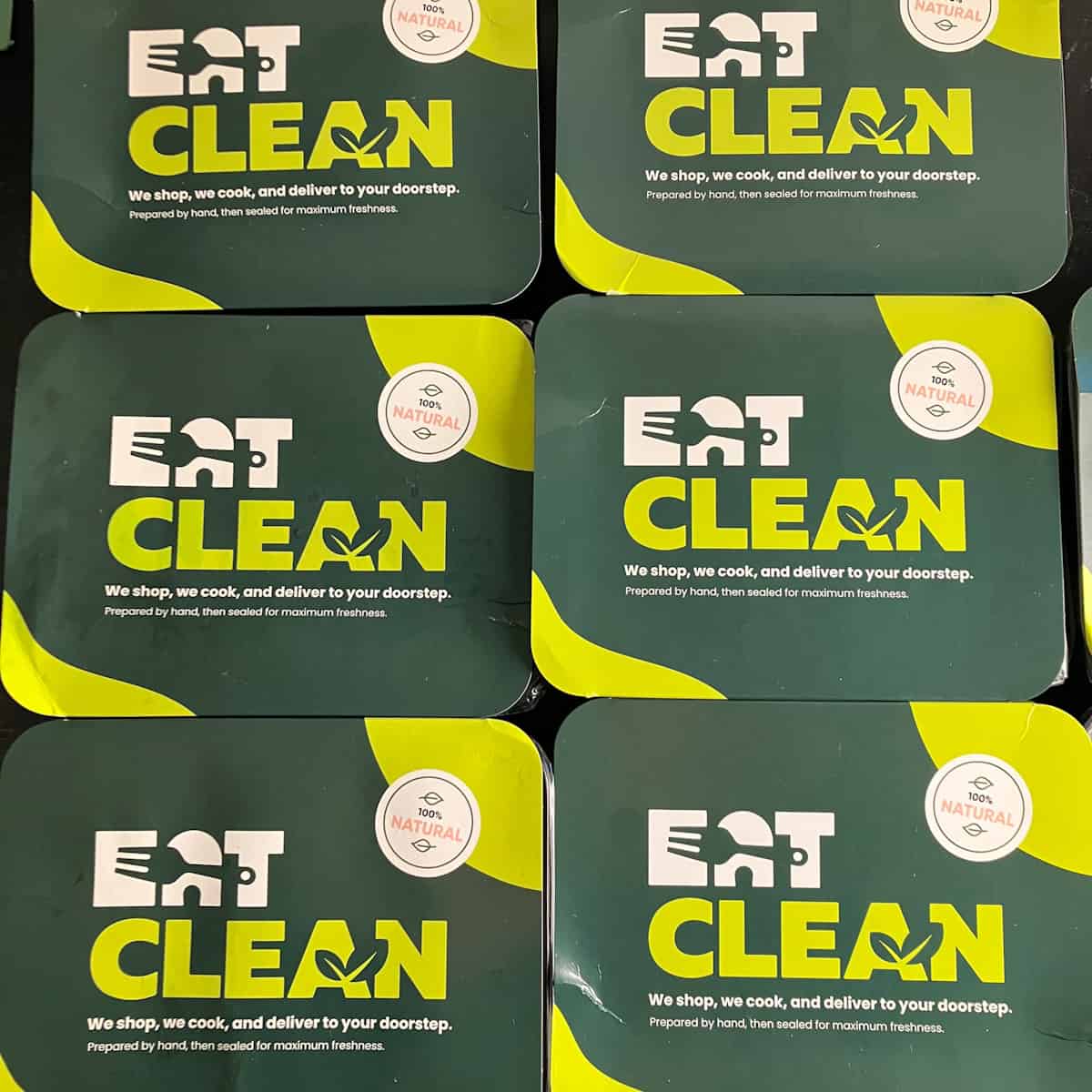 I did find the Eat Clean trays a bit flimsy, so if they aren't holding up in your microwave, reheat in a microwave-safe bowl or plate instead. You can also reheat ready meals in an air fryer, stovetop, or oven. Make sure to remove all product packaging before air frying or heating on the stove or in the oven.
Perspectives
Here are the meals I tried and my experiences with each:
Coconut tofu with coconut brown rice: This meal was so fragrant and flavorful, and likely my favorite of them all. The tofu was in a wonderful creamy sauce, and I'd highly recommend it to vegans and omnivores alike.
Chick'n nuggets with mac n cheese and zucchini: This kid-friendly meal is a classic win with picky eaters. Despite being a vegan meal, I enjoyed this (a surprise, since I don't usually like meat alternatives). The major drawback is that the chicken nuggets weren't very crispy since they were microwaved.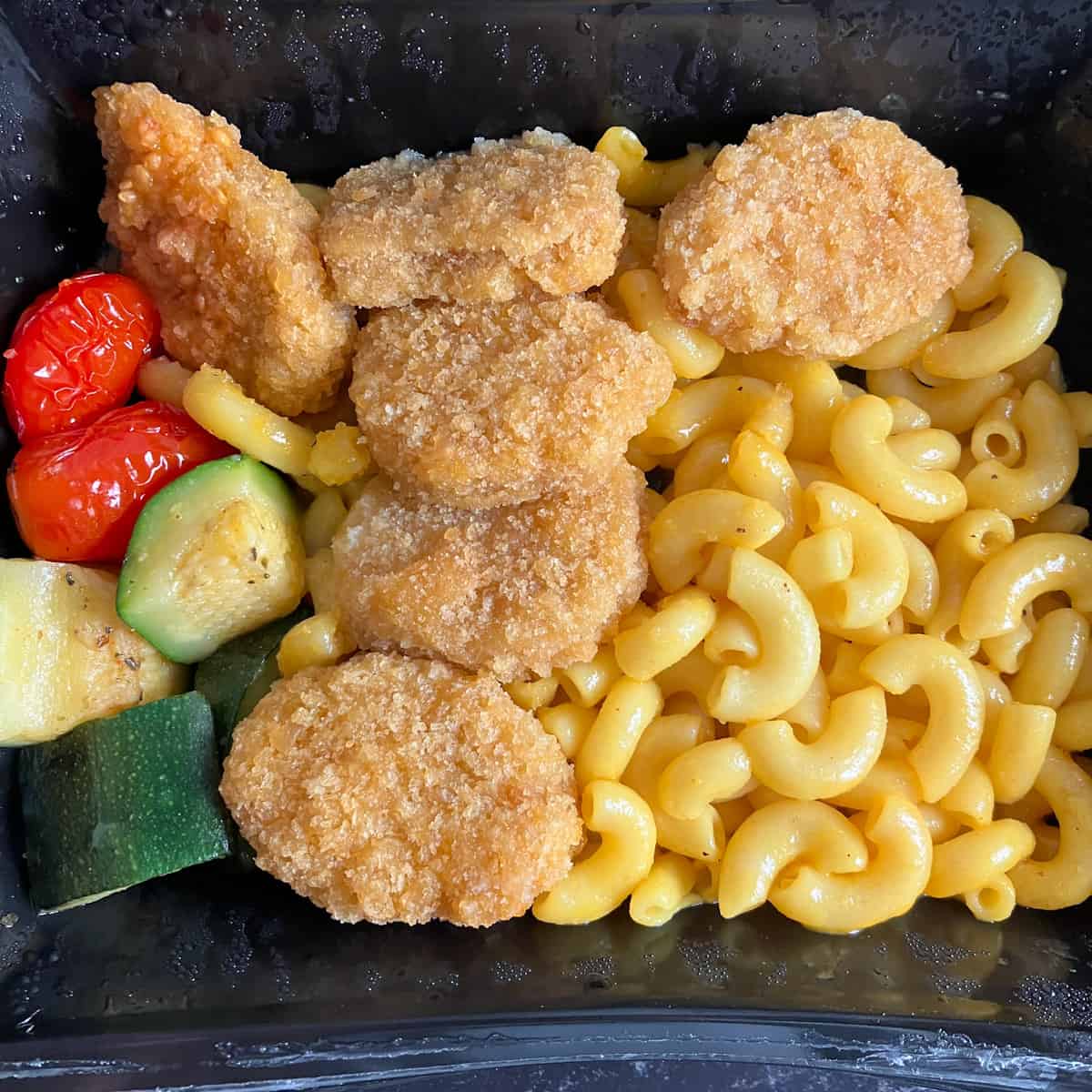 My Experience with Eat Clean Meals
Grass fed beef burger with organic cheese and red potato: You needed to use some common sense with this one and take the sauce container out before microwaving. Unfortunately, the sauce container had split and leaked in the microwave tray, so I needed to move the burger to a microwave-safe plate. The bun became a bit soggy from the sauce, but the meal was tasty nonetheless.
BBQ pulled pork with sweet plantain mash: This was an amazingly tasty Paleo meal that was nicely seasoned. I found it comparable in quality to a homecooked meal. I did notice the ingredients label was wrong, and said it contained spaghetti squash instead of plantains.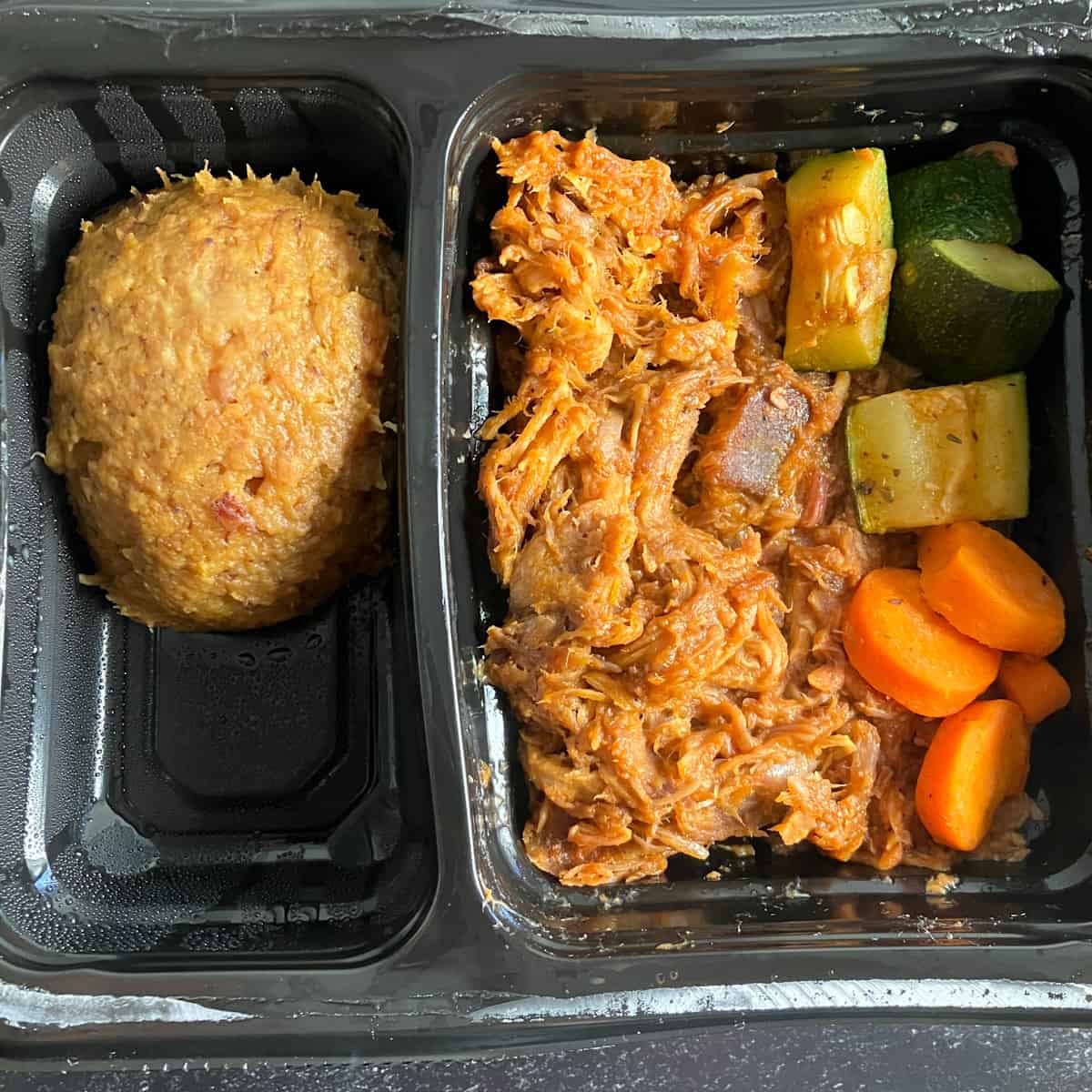 Buffalo chicken breast with loaded Yukon mash: The loaded potatoes here had a generous amount of cheese and great bacon flavor. This made for a happy lunch 😊
Kung Pao chicken bowls with sweet potato noodles: Sweet potato noodles (AKA glass noodles) are hard to find here, so this meal felt special. This meal was light and under 300 calories, so I needed to add some more food to feel satisfied.
Parmesan beef meatballs with spaghetti squash: I found this keto meal satisfying and was pleased with the generous portion of meat. The protein plus non-starchy veggie combo is always a win for me when I want a filling meal. I think the low carbers will really like this one.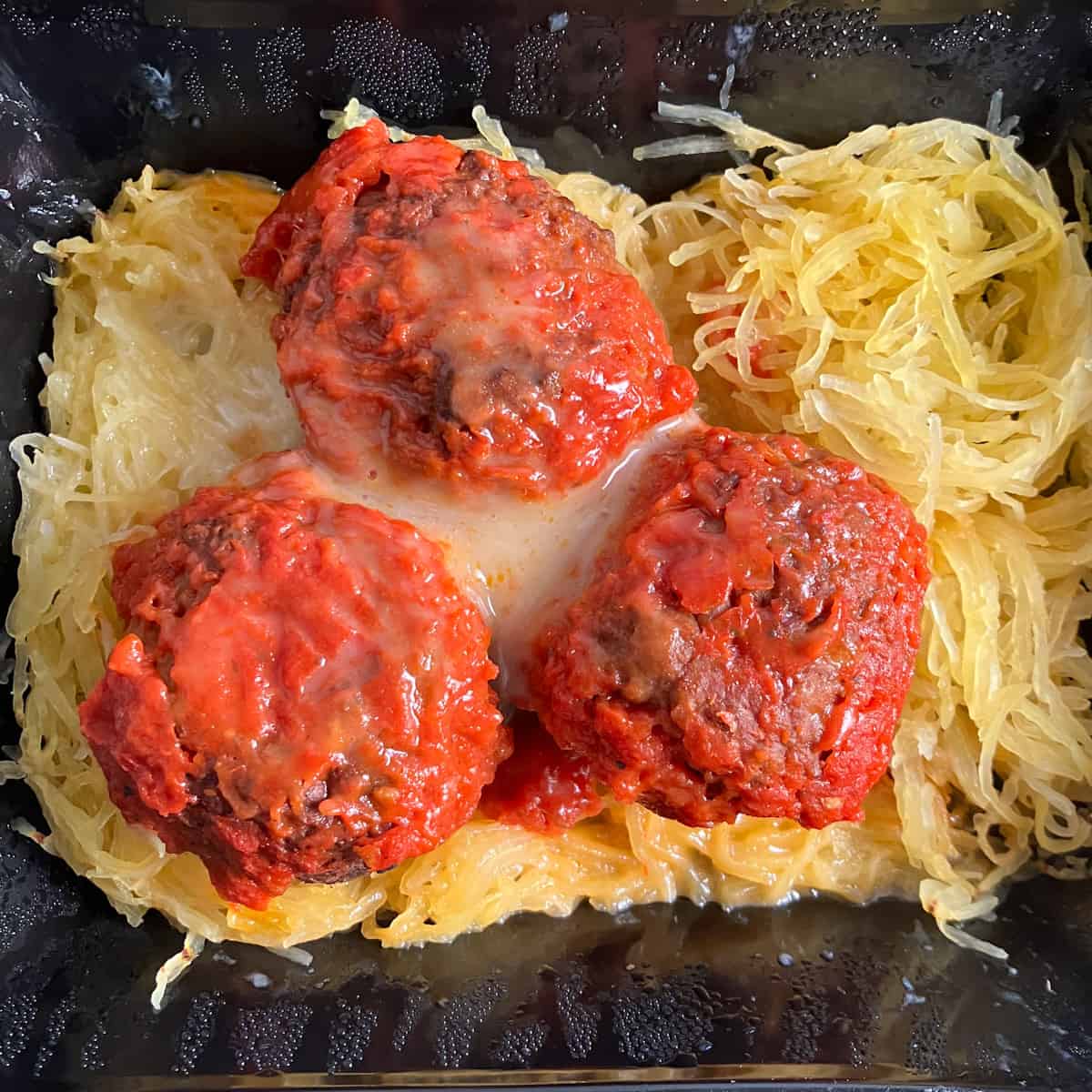 Keto chicken tikka masala bowl with creamy cauliflower rice: Like some of their other curry meals, this came in a divided tray that you could mix after reheating. I found the Eat Clean to Go keto meals to be the most filling overall, and I think carb lovers will like them too, FYI.
🍔 Eat Clean to Go Meal Plan
With the Eat Clean Meal Plan, you can get 6,10,12, or 14 chef prepared meals delivered to you every week. Eat Clean delivers to the 48 contiguous states in the US (not Alaska or Hawaii), and you can skip a delivery or cancel at any time.
📞 Eat Clean to Go Customer Service
You can contact Eat Clean to Go at their customer service phone number: (954) 836-7552
💵 Eat Clean to Go Cost
Eat Clean meals cost from $9.60-$12.58 per meal (plus shipping and tax), depending on the plan you choose. Here is the current price list (these are the regular prices without a discount code, prices subject to change):
| Meals per Week | Price per Meal* |
| --- | --- |
| 6 | $12.58 |
| 10 | $10.90 |
| 12 | $10.33 |
| 14 | $9.60 |
*Tax and shipping are added when you check out
In short, I wish I found these meals back when I was on my weight loss journey that led to permanent weight loss. I used low calorie microwave meals for lunches, but they were never fresh like these and there were limited options available. I think that having lunches like BBQ pork and plantains delivered would have made losing weight more enjoyable.
Yes, Eat Clean to Go is more expensive than microwave meals from the store, so they are not a great option for those on a tight budget. However, if you eat out a lot for lunch, these high-quality meals may actually save you money. Between the unique meal options and high-quality ingredients, I do think they are worth the cost.
FAQs
Do you freeze Eat Clean meals?
Store Eat Clean to Go meals in the refrigerator, not the freezer. The meals will take longer to cook, and some meals will develop an undesirable texture if frozen. Only order the number of Eat Clean meals you'll use in a week.
How much sodium is in Eat Clean meals?
According to Eat Clean (source), their meals typically have 300-500mg sodium. This is considerably lower than most frozen microwave meals from the grocery store.
How do I cancel my Eat Clean subscription?
To cancel Eat Clean, email them at [email protected] or call their customer service number at 954-836-7552 (source). If your order is not cancelled by Tuesday at 6pm EST for the following week, you will be charged. Eat Clean states that all charges are non-refundable, but they will credit meals in certain cases where a customer is dissatisfied.
How do beginners eat clean to lose weight?
Eat clean by focusing on whole, unprocessed foods like fruits, vegetables, lean proteins, and whole grains. Limit added sugars, refined carbs, and ultra-processed foods. Control portion sizes, stay hydrated, and include regular physical activity. Consult a dietitian if you need personalized guidance and help with maintaining a healthy lifestyle. Remember, consistency is key for sustainable weight loss.
👨‍🍳 More Healthy Meal Delivery Services
Here are a few more meal delivery boxes you may want to check out:
🎥 Eat Clean Meals Video
Join our community! Subscribe for all of the latest and greatest recipes, and follow me on Facebook, Pinterest, Instagram, and YouTube!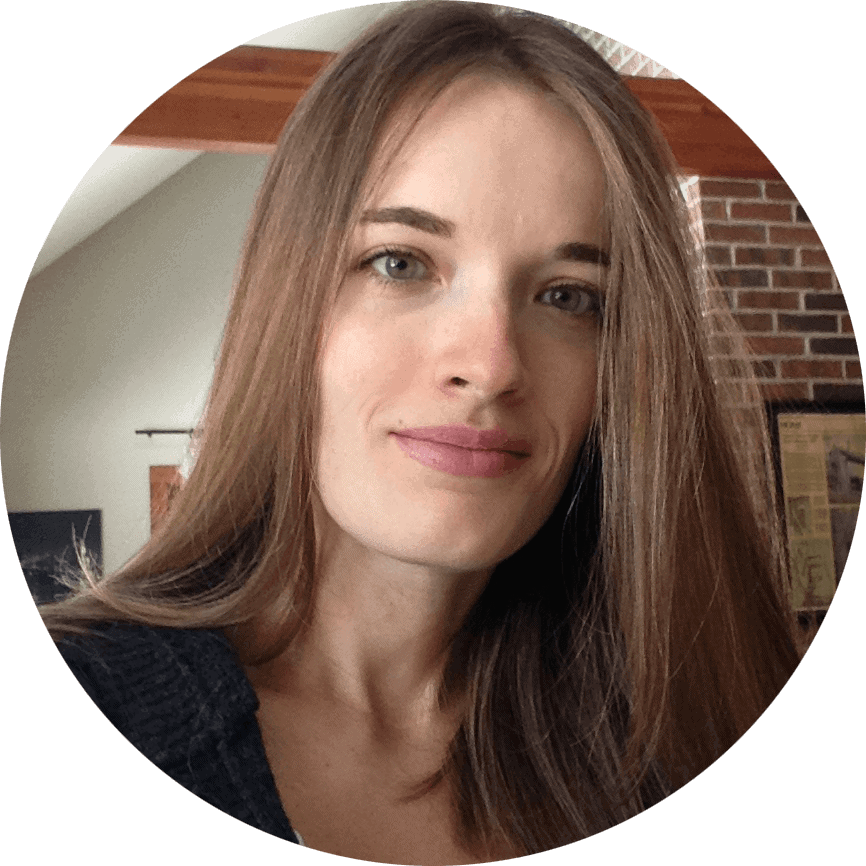 Hello! I'm Summer, a registered dietitian and home chef who loves to cook, eat, and create high quality content for you! Every recipe on this site has been tested by me to help ensure your success in the kitchen. All eaters are welcome here 🙂