Is Good Chop worth it? Find out in this Good Chop meat delivery service review for 2023! Good Chops high quality meat and seafood meat subscription is a convenient option for healthy eaters. Get the scoop on Good Chop vs Butcher Box, find out what you get in a Good Chop box, get a promo code, and more! I'll also do a grocery comparison, so you can see if Good Chop will really save you money.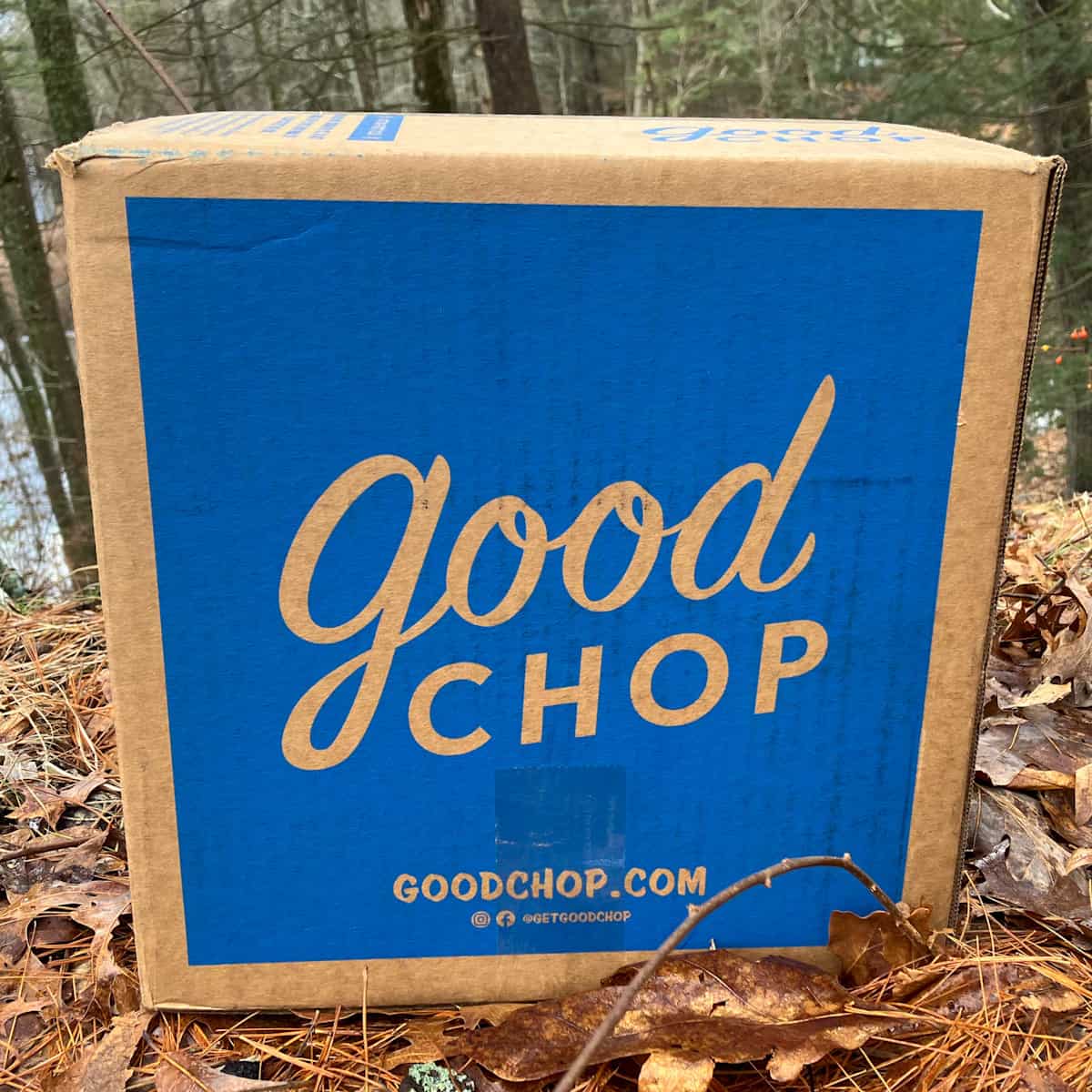 Ever wonder how the Good Chop meat subscription box compares to Butcher Box? I ordered a Good Chop box with my own money so we can find out! (I love doing meat delivery reviews, and I don't have loyalty to any one company, so why not?)
Food boxes make a great gift, and they're fun to give yourself too. It's like receiving a present in the mail and can save you extra trips to the store. If you've never tried a meat box, I hope this info here helps you find one you love.
Jump to:
Good Chop Deals
Good Chop runs member deals and first-time order specials regularly. For instance, they had a Good Chop free turkey deal running last Thanksgiving. You can get the most current Good Chop offer by clicking here, no Good Chop coupon code needed!
Good Chop offered $100 off throughout my first three boxes when I placed my order, with $50 off my first box. Good Chop promos change frequently. The best way to find out what you'll get is to check my special link for readers.
Good Chop Reviews
What a Good Chop box? Good Chop is a monthly meat subscription service where you can order customized meat boxes online. According to their website, their high-quality meat, poultry and seafood is:
100% American high quality meat (all US based)
No antibiotics or added hormones
Sustainably sourced
Responsibly raised
The selection and quality are similar to what you'd get at a local farmer's market or Whole Foods. However, there are some additional Good Chop benefits to consider:
Saves time (no need to drive to the store)
Saves money (possibly) if you regularly buy grass fed meat
Makes shopping for healthy keto, Paleo, and Whole30 options easy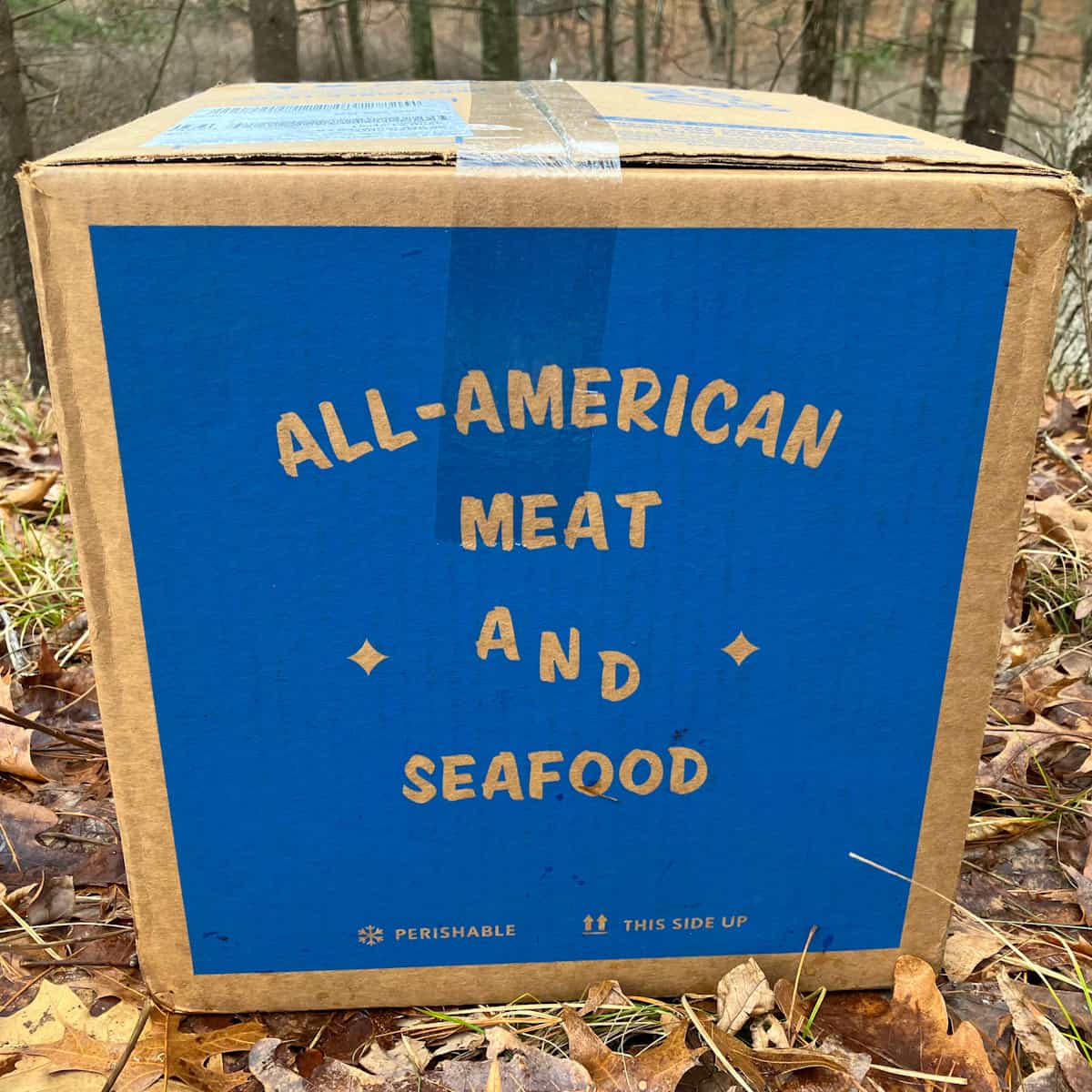 Good Chop vs Butcher Box
Here are some advantages of Good Chop vs Butcher Box:
Good Chop meats are all sourced in the United States. Butcher Box beef is from Australia.
You can customize every box you order from Good Chop. Only some Butcher Box boxes can be customized.
Your Good Chop order may cost less than your Butcher Box order, especially accounting for any promotional deals. (I spent about $50 more at Butcher Box for about the same amount of meat.)
All Good Chop boxes can contain seafood for no extra cost. Curated boxes at Butcher Box do not contain seafood, unless you pay extra to add some.
Some Good Chop meat is USDA graded for marbling, while Butcher Box meat is not.
Now that we've covered Good Chop pros, let's cover Good Chop cons:
Good Chop offers a limited amount of 100% grass finished beef. Much of the Good Chop beef is grain finished. This, IMVHO, is the main advantage of Butcher Box vs Good Chop.
Unlike Butcher Box, Good Chop doesn't offer curated boxes. If you like this time-saving feature, Butcher Box may be a better option for you.
Unlike ButcherBox, Good Chop doesn't appear to offer gift boxes for one-time orders. If you order Good Chop as a gift, it looks like you will need to cancel the subscription.
Good Chop meat box subscriptions only have free shipping with certain promos.
Each of the subscription boxes offers some cuts of meat the other program doesn't. Currently, Good Chop meat delivery doesn't include flat iron steak like Butcher Box. Neither of the meat delivery services offer American Wagyu beef.
I'm a seafood lover who loves saving on groceries, and I don't strictly eat grass-fed, grass-finished meat. Based on the above advantages and disadvantages, Good Chop wins for me.
Good Chop Plans
Here are the details of the Good Chop subscription plans:
Good Chop boxes are offered in two sizes, medium and large. Here's what you get with the medium Good Chop box (good for small families or individuals):
Up to 36 portions of meat, poultry, and/or seafood
$4.14 per meal
Choose from 6 different cuts on the Good Chop menu
Store up to 1 year in the freezer
The Good Chop large box is best for medium to large families who have a lot of freezer storage space. Here's what you get with the large Good Chop box:
Up to 72 portions of meat, poultry, or seafood
$3.74 per meal
Choose from 12 different cuts on the Good Chop menu
Store up to 1 year in the freezer
Your monthly subscription starts after ordering your first box. Meat boxes will be delivered to you every 4 weeks unless you change or cancel the order by the cutoff date. However, you can cancel your subscription easily, as I'll cover below.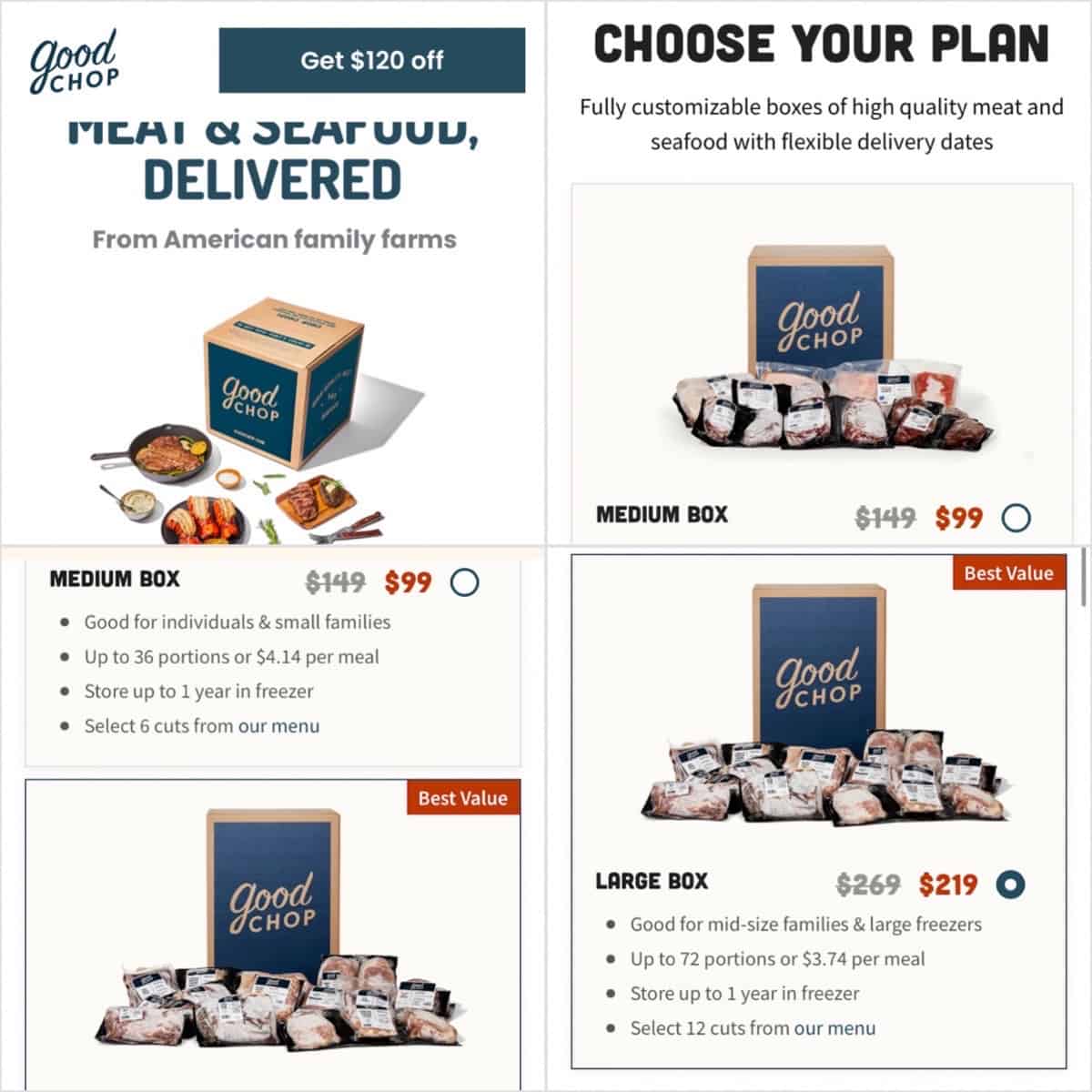 Good Chop Menu
After choosing your box (I went with medium), you can pick your cuts of meat. Here are the current Good Chop meats available:
Regular ground beef
100% grass-fed ground beef (you get the same amount as regular in your box, so why not choose this?)
Ground bison
Burger patties
Regular ranch steaks (AKA boneless chuck shoulder center cut steak)
100% grass-fed ranch steaks
100% grass fed beef hot dogs
Top sirloin steaks
Tri tip
100% grass-fed flank steaks
Porterhouse steak
T-bone steak
100% grass-fed beef filet mignon
Beef stew meat
Boneless beef ribeye steak
New York strip steaks
Organic chicken wings
Boneless skinless chicken thighs
Organic chicken drumsticks
Organic ground chicken
Boneless skinless chicken breasts
Pork tenderloin
Thick-cut uncured bacon
Ground pork
Ground Italian pork sausage
Boneless pork butt
Pulled pork
Bratwurst sausage
Mild Italian sausage links
Pork chorizo sausage
Pork loin roast
Boneless pork chops
St. Louis pork ribs
Gulf shrimp
Smoked sockeye salmon
Rockfish
Sea scallops
Alaskan halibut (limited quantity)
Wild caught Pacific cod
Wild-caught Alaskan sockeye salmon
Joe's KC BBQ sauce
Wow, right? So many great choices. After much deliberation, here's what I ordered:
30 ounces chicken thighs (skinless, boneless)
2 lbs grass fed ground beef
1.75 lb boneless pork butt
1 lb Gulf shrimp
30 ounces Pacific cod
30 ounces wild caught Alaskan sockeye salmon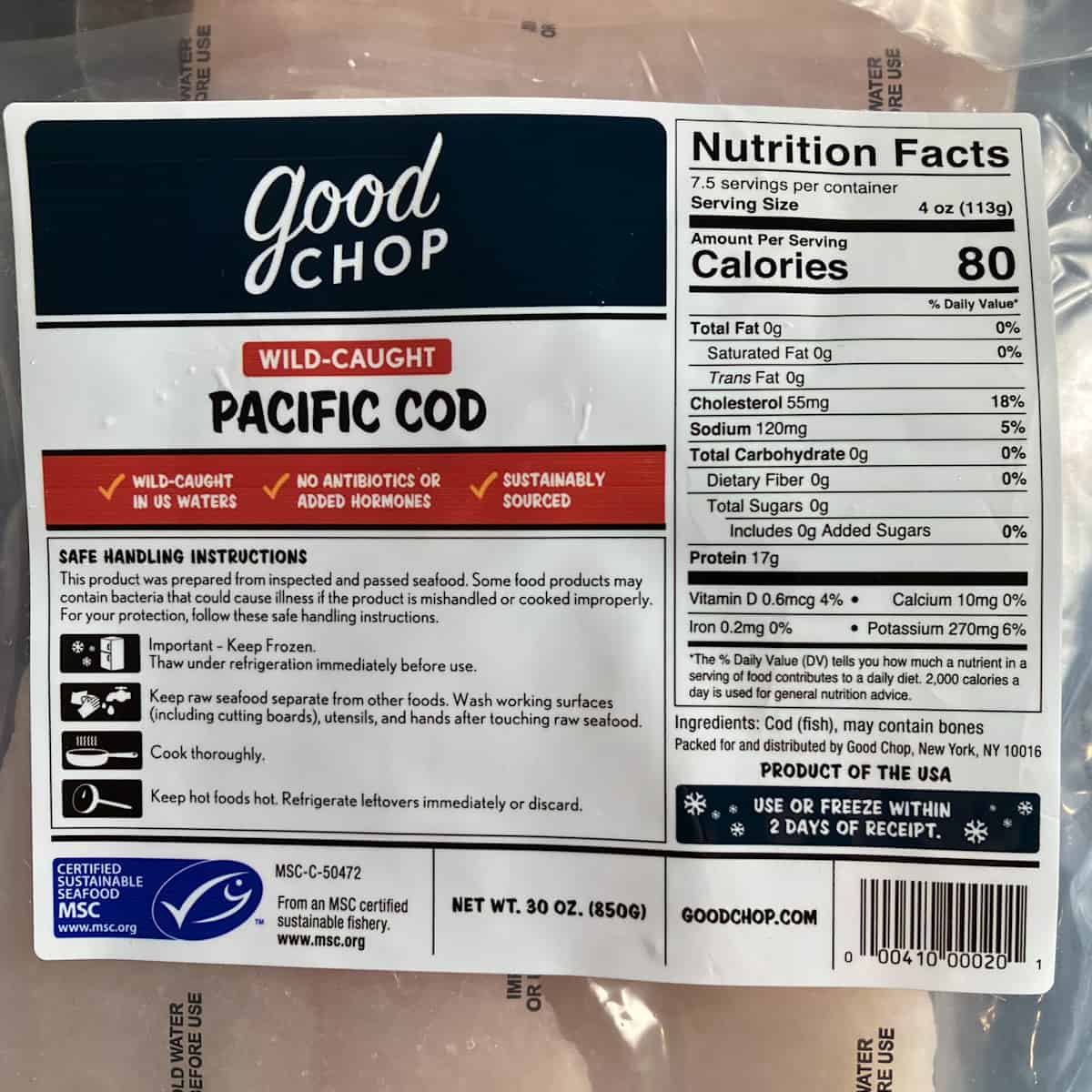 Is Good Chop meat grass fed?
Good Chop offers both grass-fed beef that is 100% grass fed and beef finished on grain from family farms. All of their beef is from Angus breeds. Most of their steaks from grain-finished beef are USDA choice.
In addition, Good Chop says their seafood is wild-caught or raised and sustainably harvested on US farms. Most of Good Chop's seafood options are MSC certified (i.e., certified by the Marine Stewardship Council). Their chicken and pork are fed a 100% vegetarian diet (aside from milk protein in the case of the pork).
Does grass fed beef taste like deer meat?
No, I find that in general, grass fed beef tastes fairly similar to conventional grocery store beef. It's grass fed AND grass finished beef that tends to have a more gamey taste like deer, IMVHO.
Is 100% grass fed beef better?
"Better" always depends on what you're looking for. If it's important to you that your beef spent time on pasture, grass fed might be what's best for your family. That said, conventional beef almost always costs less but is also nutritious, and it's perfectly fine if that's what you can afford.
Is the Good Chop Beef USDA-graded?
Good Chop carries a lot of beef that is pastured, grain-finished, and USDA choice grade (source). They also carry a limited selection of USDA prime grade beef. Like Butcher Box, their 100% grass fed beef isn't USDA graded (lean cows with continuous access to pasture don't tend to produce well-marbled meat).
Good Chop Cost
How much does Good Chop delivery service cost? Here is the Good Chop pricing:
| Good Chop Box Size | Good Chop Box Price | Good Chop Shipping Price |
| --- | --- | --- |
| Medium Box | $149 | $9.99 |
| Large Box | $269 | $9.99 |
Please note that these prices are correct at the time of writing. Good Chop cost is subject to change; check their website for the most accurate pricing info.
You will likely pay much less than the prices above for your first few boxes. For instance, I paid $99 with free shipping for my medium box with their current promo deal.
So, are Good Chop meat subscriptions cheaper? The answer to whether Good Chop saves money depends on how you currently shop. Check out the comparison of Good Chop vs grocery store vs Whole Foods prices below.
How often does Good Chop deliver?
Good Chop sends a box every four weeks. You can pause or cancel a scheduled delivery up to 5 days before the delivery at 11:59PM PT. (You cannot reschedule your first delivery on their website.)
Good Chop Shipping Cost
Good Chop offers $9.99 flat rate shipping. They occasionally offer promos for free shipping on your first box.
Does Good Chop take EBT?
Does Good Chop take food stamps? Unfortunately, Good Chop does not accept EBT or Food Stamps at this time.
How does Good Chop work?
Ordering Good Chop is quite intuitive. However, here are step-by step directions for how to order Good Chop if you need it:
Visit goodchop.com here. Their most current discount offer should appear on the screen. At the moment, it's $100 off throughout your first three boxes. ($50 off your first box, $30 off your second box, and $20 off your third box.)
Choose your plan. You can choose either a medium or large box.
Select types of meat, poultry, and seafood. You can make six selections with the medium box, or twelve choices with the large box.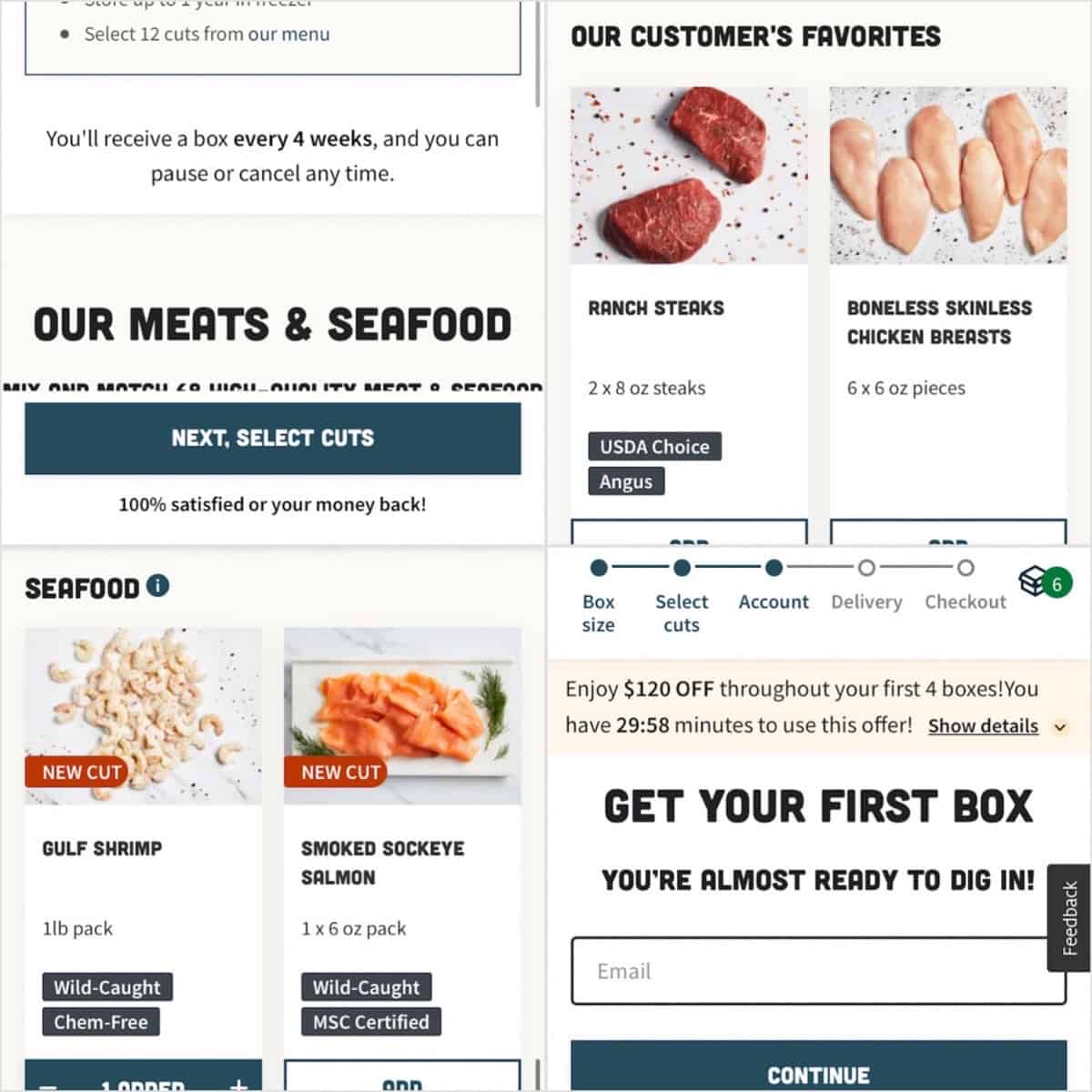 4. Enter your email. Enter the email you'd like connected to your Good Chop account. They'll use it to send you order information and special promotions.
5. Enter your delivery address and choose your delivery day. Good Chop delivers on Tuesday, Wednesday, Thursday, and Friday. You can choose which day you'd like to receive your monthly order and whether you want your first order ASAP or the following week. (Pause or cancel delivery at any time.)
6. Submit payment info. Next, give Good Chop your credit card information, or pay with Apple Pay. Hit submit, and your Good Chop order will be on its way. So easy!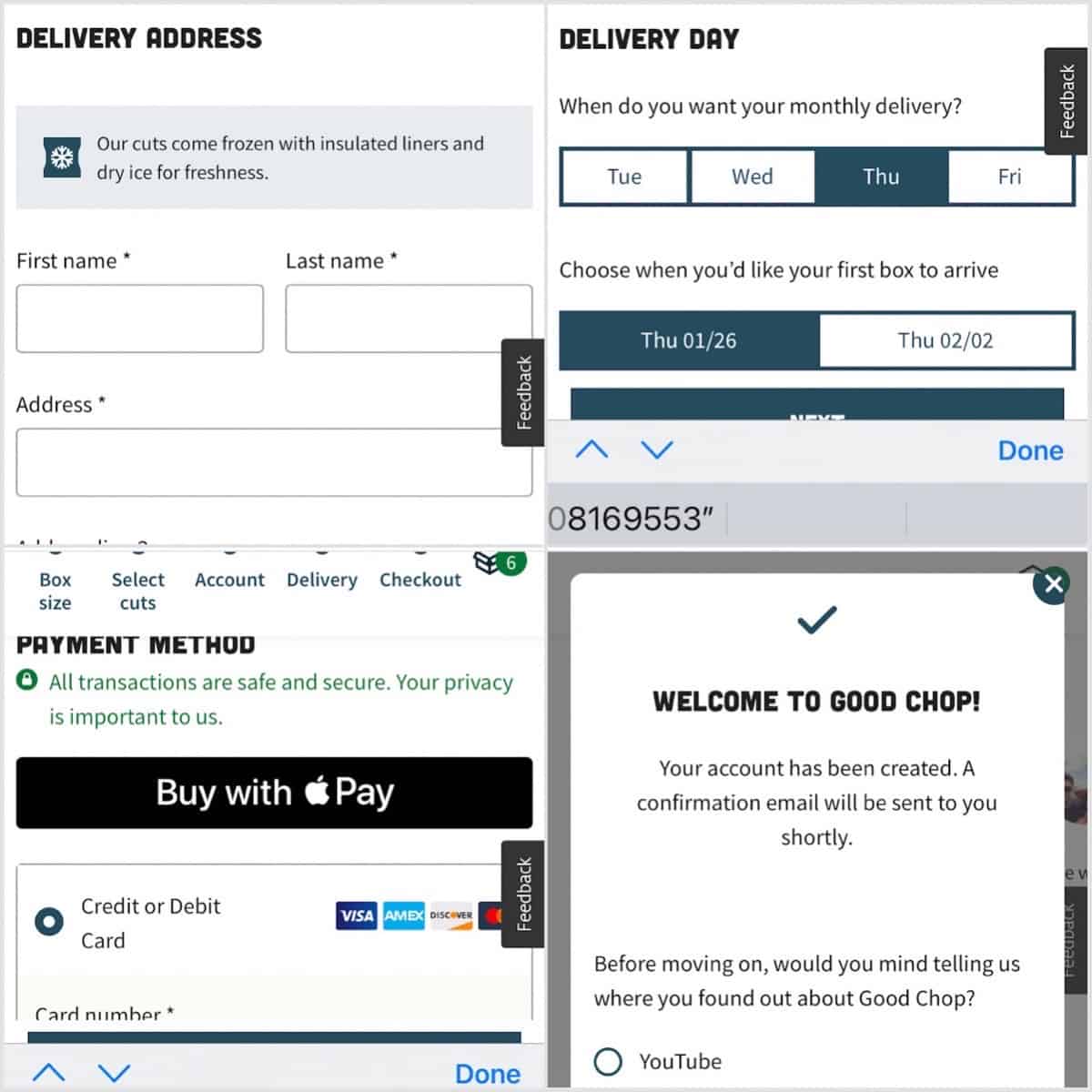 7. Check out the specials. After you order, you can check out the optional add-on deals in your account. These are often limited quantity items sold at a special discount. Skip them or opt in, your choice!
How long does it take Good Chop to deliver?
Good Chop delivers monthly, Tues-Fri between 8AM and 8PM. Your first delivery will arrive on the date you set, within 2 weeks of placing the order. Your second order will autoship 4 weeks later, unless you modify the shipment date in your account.
How does Good Chop stay cold?
Good Chop uses a combination of dry ice and insulated packaging to keep their meats cold. They skipped the dry ice in my box, since I live in a cold climate and it's winter. Everything in my FedEx box was frozen solid and fresh looking, with no freezer burn.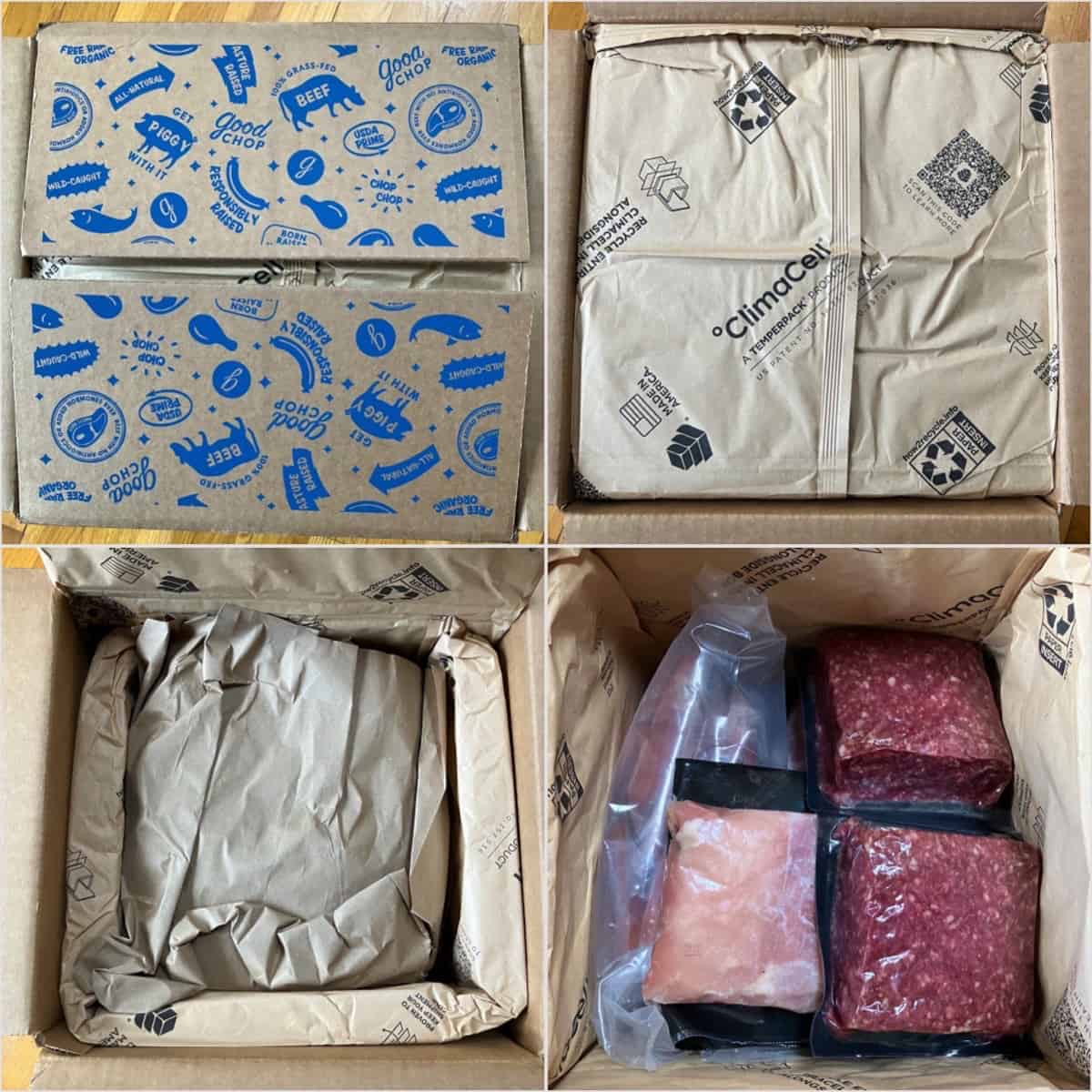 I also had a trial box of Good Chop sent to a friend in Florida. Everything arrived frozen to him as well, and he did have a package of dry ice in his box. So if you live in a warmer climate, they still seem to do a good job shipping frozen meat.
You don't have to be home to receive your box. Good Chop states though that the box shouldn't stay outside for more than 6-8 hours after delivery (source).
After removing the meat from the box, store it in the freezer or refrigerator. If the food arrives above 40F, Good Chop advises discarding the products and contacting their customer care.
Is Good Chop a legit company?
Is Good Chop trustworthy? Is Good Chop a good company? This wouldn't be an honest review of Good Chop if I didn't share the negative aspects. Here are the cons of Good Chop (IMHO):
You need adequate freezer space available for your order.
The meat is probably not sourced from farms local to you. However, it is all American meat, fish, and poultry.
The meat probably isn't cheaper than conventional meat from the grocery store. If you are on a tight grocery budget, home delivered meat boxes may not be the best choice for you.
You will still need to travel to the store for fruits, vegetables, dairy products, and other foods.
Good Chop Complaints
Good Chop gets 2.2/ 5.0 stars on Trustpilot, but only has 10 reviews. The complaints largely seem to be due to customer service issues and order mistakes. My order was perfect, but it looks like occasional mistakes do happen.
Good Chop has a 100% satisfaction money-back guarantee. They state on their site that if you're unhappy with their product or service, contact them. They'll issue a refund or credit your account- your choice.
Is Good Chop hard to cancel?
Cancelling Good Chop is easy, and there's no need to talk to customer service to do it. Here's how to cancel Good Chop:
After entering your Good Chop login, go to "Settings" in your account.
Click on "Deactivate my plan." Then click on "Cancel anyway."
Select a reason for cancelling your Good Chop subscription, then click "Deactivate now."
Finally, type in a reason for cancelling, and click "Deactivate my plan." That's it!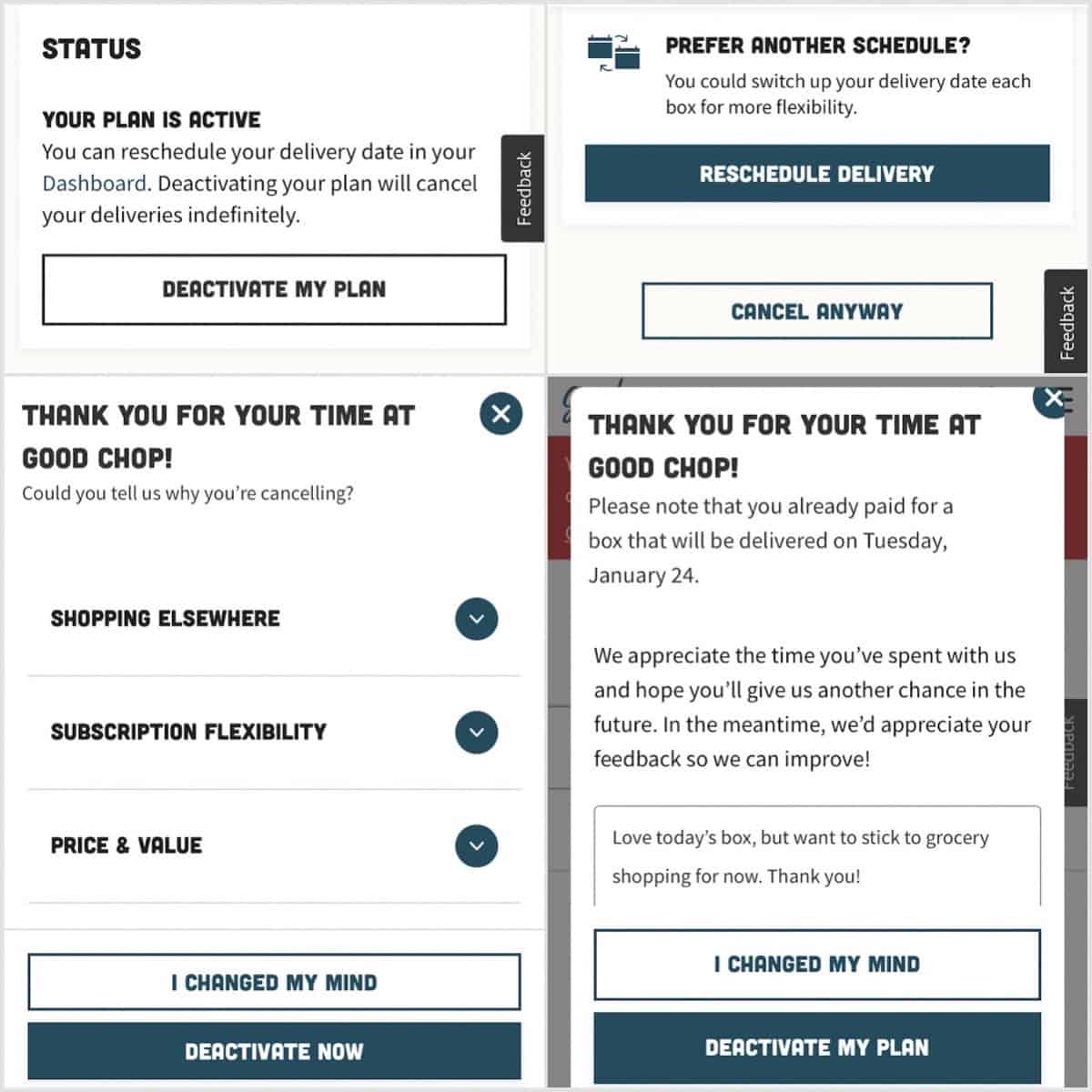 The Good Chop cancellation process took me less than 5 minutes. I did not see a way to remove my credit card info from the site, FYI. However, I have not been charged since cancelling.
The main thing you want to be careful about is cancelling in time. Since I just wanted to try it out, I cancelled on the day I received my box. (That said, I was really happy with Good Chop, and may reinstate my plan in the future.)
After you cancel, you may want to take another quick look at your account. I found an offer for a Good Chop free trial box to send to a friend. For only $9.99 shipped, the friend can choose 3 Good Chop selections to ship to their home. It's an absolutely amazing deal!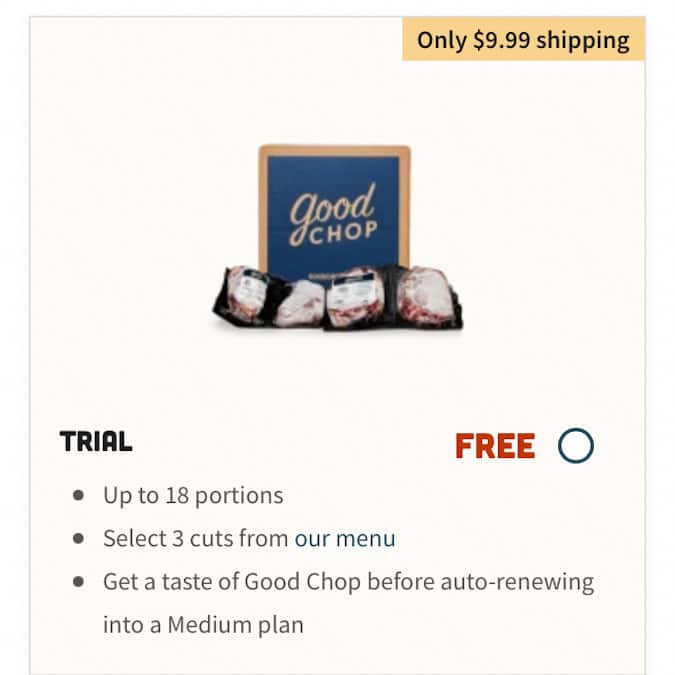 Can you skip a Good Chop delivery?
Yes, you can skip deliveries with Good Chop. You can do so at any time within your account, up to 5 days before the delivery day at 11:59PM PT.
Good Chop vs Grocery Store Prices
Here is a price comparison of my $99 medium Good Chop box to Costco and Whole Foods prices:
| Item | Weight | Costco Price | Whole Foods Price |
| --- | --- | --- | --- |
| Skinless Boneless Chicken Thighs | 30 ounces | $8.14 | Get Price |
| Grass-fed Ground Beef | 2 lbs | $13.75* | Get Price |
| Boneless Pork Butt | 1.75 lbs | $5.20 | Get Price |
| Gulf Shrimp | 1 lbs | $15.99 | Get Price |
| Pacific Cod | 30 ounces | $21.94 | Get Price |
| Wild Alaskan Sockeye Salmon | 30 ounces | $28.12 | Get Price |
| Total | | $93.14 | $104.93 |
*Not grass fed
As you can see, my Good Chop box is a little more than if I shopped at Costco. Of course, I'd need to buy bigger bulk packages of many of these foods at Costco, ultimately spending more.
The sale price of my Good Chop box (for first-time buyers) is less than a similar purchase at Whole Foods. You're not even paying extra for the convenience of Good Chop shipping the food directly to your door. Based on this cost comparison, I think Good Chop was worth trying out.
Good Chop vs Crowd Cow
Crowd Cow is a high-end meat and seafood delivery service, known especially for their expensive Japanese Wagyu. Crowd Cow orders can be one time or recurring, your choice. The Crowd Cow minimum order is $99, or $149 for free shipping.
For the everyday shopper with a typical grocery budget, Good Chop is likely the more affordable choice. If you'd like some pricey Wagyu beef and other special items for a fancy event, you may want to check out Crowd Cow.
Good Chop Customer Service
Reach Good Chop customer service using the help chatbot in the lower right corner of their contact page. Alternatively, call 929-203-4850 Monday-Friday from 7AM to 9PM EST or Saturday-Sunday 7AM to 7PM EST.
Who owns Good Chop?
According to their terms of service page, Good Chop is owned by Online Meat and Seafood, Inc. (source).
FAQs
Is Good Chop owned by Hello Fresh?
No, Good Chop doesn't appear to be owned by Hello Fresh and is not listed on their brands page here.
What's included in each Good Chop box?
Each Good Chop box includes 6 or 12 cuts of meat, poultry, and/or seafood, picked by you. You can also choose special add-on deals for your box.
What is the best meat company to order from?
Butcher Box is best if you want the widest selection of grass fed, grass finished beef. If you're a regular grocery store shopper with a more typical grocery budget, I'd choose Good Chop. US Wellness Meats is my favorite place to order organ meats and cuts of meat I can't find elsewhere.
Does Good Chop deliver to my area?
Good Chop delivers to most of the continental United States. Enter your zip code on their website to ensure they deliver to your address.
Does Good Chop save money?
Good Chop may save you money, especially if you take advantage of the promo offers for first-time orders. Ordering through Good Chop is convenient, and may save you time on extra trips to the store. (Time is money, after all.)
Good Chop Recipes
Here are some recipes I made with my Good Chop order:
You may also appreciate this info on How to Defrost Chicken Fast.
Other Reviews
Join our community! Subscribe to be kept up-to-date on all of the latest and greatest recipes! You can also follow me on Pinterest, Twitter, Instagram, and YouTube!
Good Chop Video