The Chick-Fil-A salads menu includes the Market Salad, Cobb Salad, and Spicy Southwest Salad. There's also a Chick Fil A side salad, the Chick Fil A Kale Crunch Salad. This is a new Chick Fil A salad that replaced the discontinued Chick Fil A superfood side salad. Learn more about the Chick Fil A menu salads and Chick-fil-a salad dressings, including prices and calories, and get a Chick Fil A salad copycat recipe here!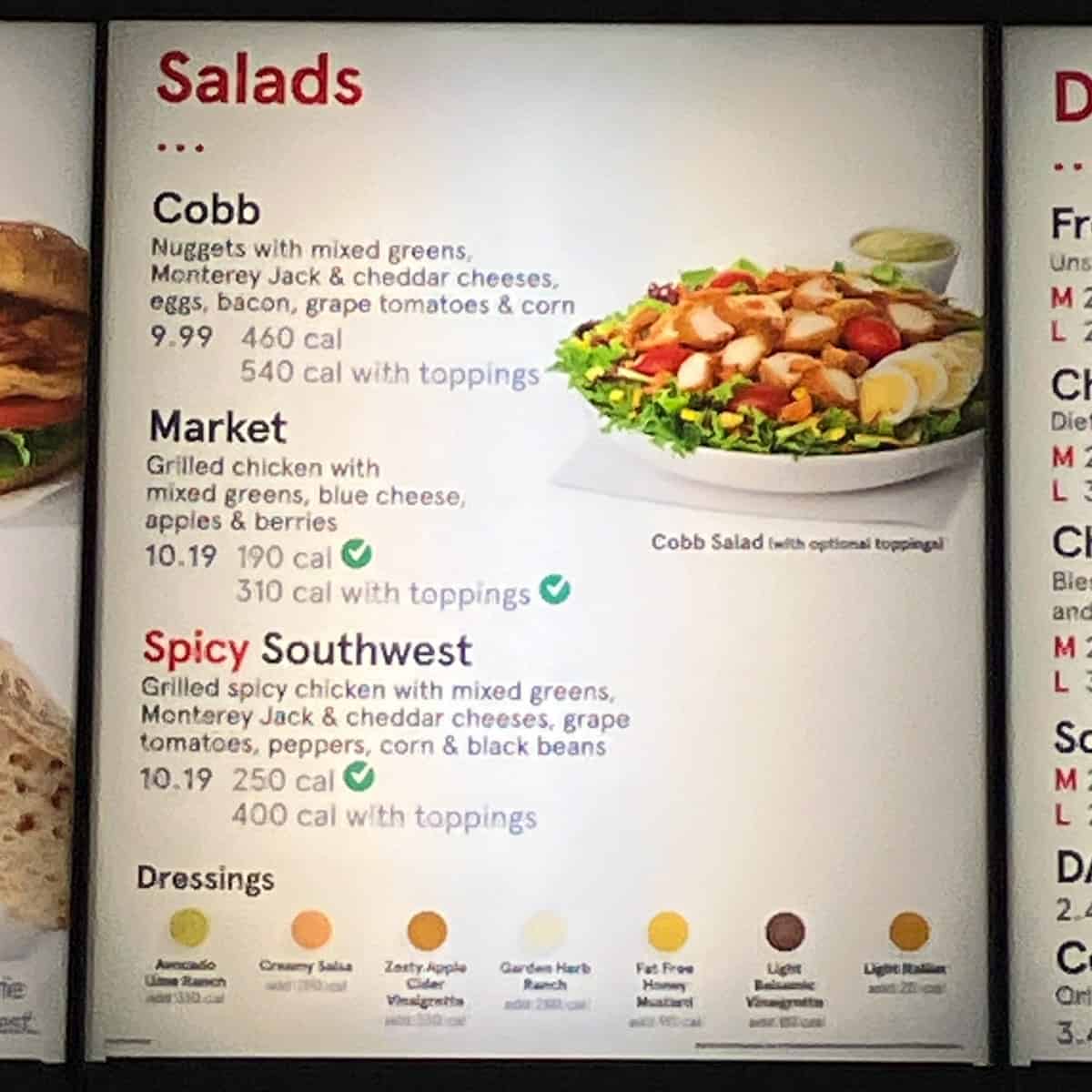 Jump to:
🥗 Chick Fil A Salads Menu
Here is a quick rundown of the Chick Fil A menu with prices:
Chick-Fil-A Cobb Salad $9.99
Chick-Fil-A Market Salad $10.19
Spicy Southwest Salad $10.19
Chick-Fil-A Kale Crunch Side Salad $4.49
Please note that Chick Fil A menu board prices may vary by location. The salad prices include your choice of dressing.
Chick-Fil-A discontinued their Superfood Side Salad in 2020 and replaced it with the Kale Crunch Side. They discontinued their regular Side Salad in 2023 (a simple salad of lettuce, tomatoes, and cheese), but then brought it back at certain Chick-Fil-A locations (source).
What type of salads does Chick Fil A have?
Here is a table of the Chick Fil A salad menu with calories and price. Please note this nutrition info includes the salad toppings but not the dressing:
| Chick-Fil-A Salad | Calories | Price |
| --- | --- | --- |
| Cobb Salad | 540 | $9.99 |
| Market Salad | 310 | $10.19 |
| Spicy Southwest Salad | 400 | $10.19 |
| Kale Crunch Salad | 170 | $4.49 |
Chick-Fil-A Salad Dressings
Chick Fil A salads come with your choice of dressing packet for free with the salad. Here are the Chick Fil A salad dressing options:
Avocado Lime Ranch 310 calories
Creamy Salsa 290 calories
Zesty Apple Cider Vinaigrette 230 calories
Garden Herb Ranch 280 calories
Fat Free Honey Mustard 90 calories
Light Balsamic Vinaigrette 80 calories
Light Italian 25 calories
The dressing options are in really tiny print on the menu board, so it's hard for my old eyes to see them. I hope this info helps you out if you feel the same!
🏆 What is the best Chick-Fil-A salad?
IMVHO, the best Chick-Fil-A salad is the Cobb salad. I've tried all the Chick-Fil-A salads, and this is the one I order the most. Apparently, the Cobb salad is the most popular Chick-Fil-A salad (source), so I'm not alone in being a fan.
That said, taste is subjective, so why not see what's in each of the Chick-Fil-A salads and pick the one that sounds good to you? Here's the ingredients in the Chick-Fil-A salads (and don't forget you can switch out the dressing):
Cobb Salad
Ingredients: Chick-Fil-A nuggets, mixed greens, roasted corn kernels, Monterey Jack cheese, cheddar cheese, bacon, sliced hard-boiled egg, grape tomatoes
Toppings: Charred tomato and crispy red bell peppers
Dressing: Avocado lime ranch dressing (I prefer this one topped with honey mustard instead.)
Market Salad
Ingredients: Grilled chicken breast, mixed greens, crumbled blue cheese, chopped red and green apples, strawberries, blueberries
Toppings: Harvest nut granola and roasted almonds
Dressing: Zesty Apple Cider Vinaigrette Dressing (I prefer the light balsamic vinaigrette on this.)
Ingredients: Grilled spicy chicken breast, fresh bed of mixed greens, grape tomatoes, blend of Monterey Jack and cheddar cheeses, black beans, roasted corn, red bell peppers, poblano chiles
Toppings: Chili lime pepitas and seasoned tortilla strips
Dressing: Creamy salsa dressing
Ingredients: Curly kale, green cabbage
Topping: Salty roasted almonds
Dressing: Apple cider and Dijon mustard vinaigrette
Superfood Salad
Ingredients: Kale and broccolini
Toppings: Dried sour cherries and roasted nut blend (includes glazed walnuts, roasted almonds, and glazed pecans)
Dressing: Maple vinaigrette dressing
Please note that this salad is no longer available at Chick-Fil-A restaurants, but you can make it at home with my copycat recipe below!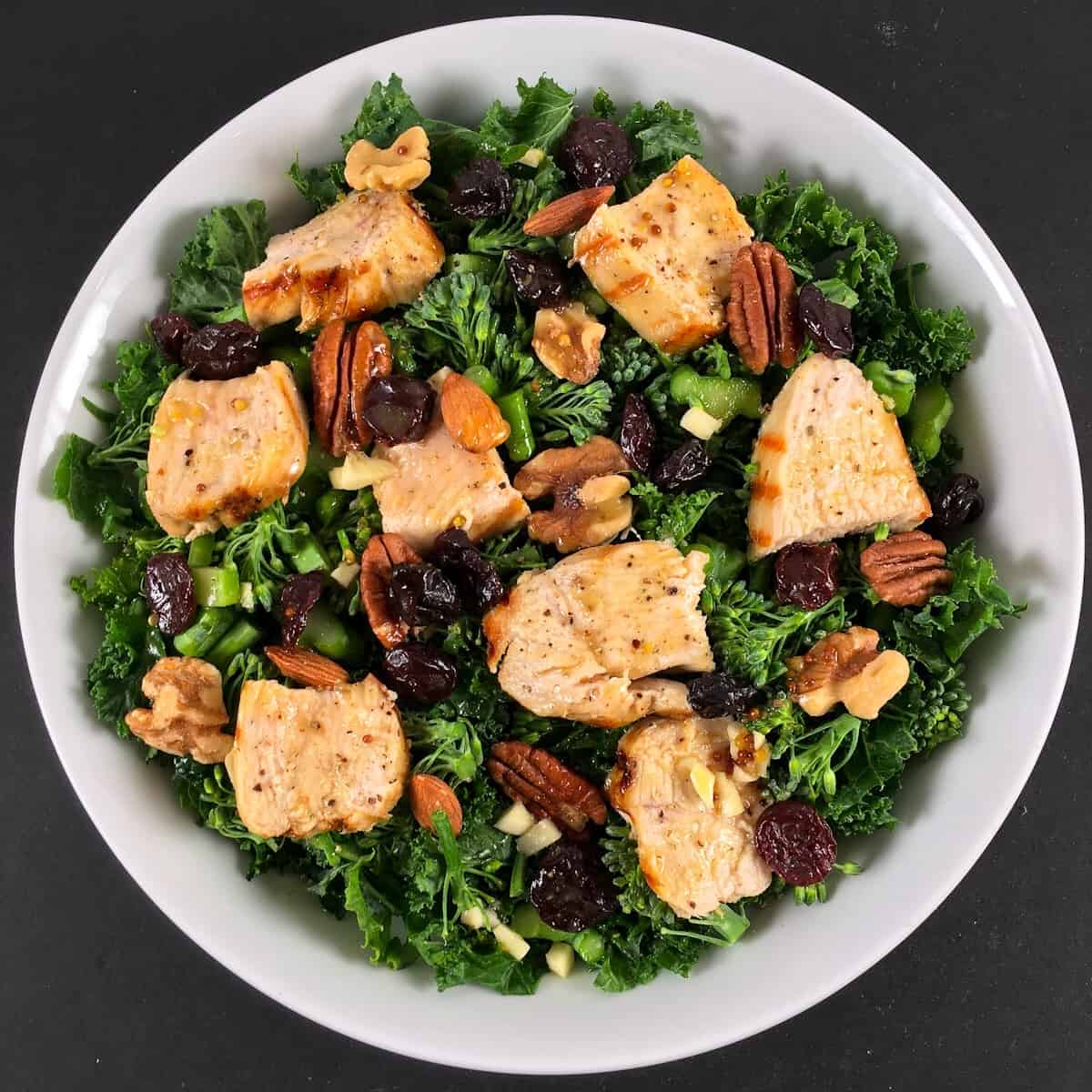 ➕ What is the healthiest salad at Chick-Fil-A?
"Healthy" always depends on what an individual needs. If you want the lowest calorie entrée salad at Chick Fil A, choose the market salad. It's packed with fruits and vegetables, and offers lean protein from grilled chicken. Choose one of the low-calorie dressings (light Italian, light balsamic, or honey mustard) for a low calorie meal with high volume.
If healthy for you means gluten free, know that Chick-Fil-A does not prepare food in a gluten-free environment. However, they provide information on their website on menu items that do not contain gluten, which you can find here.
You can swap out the chicken and dressing on any of the Chick-Fil-A salads. Choose a grilled chicken option for a lighter meal (or no chicken for a vegetarian salad). Here are the chicken options for the Chick-Fil-A salads:
Grilled filet (cold or warm)
Spicy grilled filet (cold or warm)
Nuggets
Grilled nuggets
Chick-n-Strips
Filet
Spicy filet
👩‍🍳 More Salad Recipes
Now that you've checked out the Chick-Fil-A salads menu and learned how much are Chick Fil A salads, here are some other salads to try:
📖 Recipe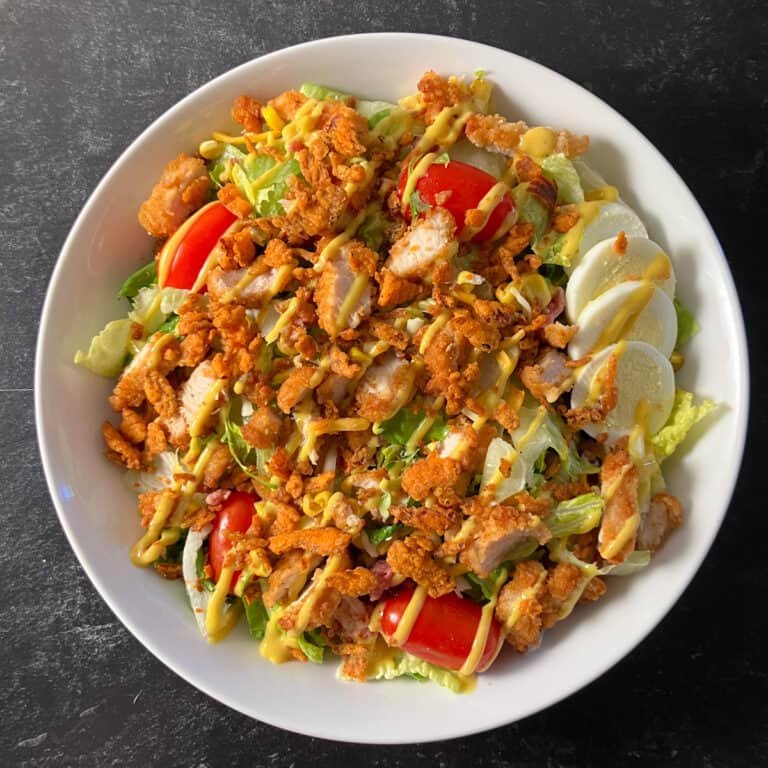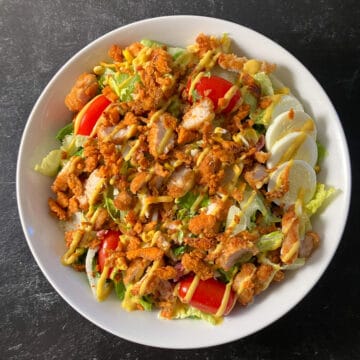 Chick-Fil-A Salads Menu (+ Chick Fil A Side Salad Recipe!)
Learn more about the Chick Fil A menu salads and get a Chick Fil A salad copycat recipe here!
Ingredients
10

ounces

curly kale

(284 grams)

8

ounces

broccolini

(227 grams; about one small bunch)

½

cup

dried cherries

¼

cup

toasted walnuts halves

¼

cup

toasted almonds

¼

cup

toasted pecans

1

lb.

grilled chicken breast

(454 grams) optional
For the maple vinaigrette:
2

tablespoons

olive oil

3

tablespoons

maple syrup

3

tablespoons

apple cider vinegar

2

teaspoons

Dijon mustard

1

clove

garlic, crushed
salt and pepper, to taste
Don't be a stranger! 😊
If you love this recipe, please come back and leave a rating. This helps readers and I'd love to hear from you. Thank you ❤️
Instructions
Rinse the kale under cool running water. Remove the tough stems and chop the kale into bite sized pieces. Place the kale in a large bowl and massage it for several minutes with clean hands. This step is important to get the raw kale more tender.

Rinse the broccolini under cool running water. Chop it into small pieces (do include the stems). Divide the kale and broccolini between 4 meal prep containers or salad bowls.

Divide the dried cherries, toasted nuts, and chopped chicken evenly between the bowls. Drizzle with the dressing.
To make the maple vinaigrette:
Make the maple vinaigrette salad dressing by putting olive oil, maple syrup, cider vinegar, Dijon mustard, crushed garlic, salt, and pepper in a jar. Put the lid on the jar and give it a shake to combine the ingredients.

To keep your salad from getting soggy, add the dressing right before you are ready to eat. Enjoy!
Notes
💭
Expert Tips from a Dietitian
This is a level 1 recipe (may help support fat loss).
Is Chick Fil A salad good for you?
Considering that McDonald's
dropped the salads from their menu (
source
)
, I think it's awesome Chick-Fil-A is offering salads! At the very least, we can say that Chick-Fil-A has offerings that are healthier than McDonald's and some other fastfood chains. Not so many fast food restaurants have a kale salad on the menu and other healthier and low calorie fast food options.
It can be tough to access veggies (particularly fresh vegetables) when traveling. These salads can help you increase your vegetable intake while you are on the road. They provide phytonutrients, fiber, and an assortment of essential vitamins and minerals that tend to be lacking in fast food.
I like to add grilled chicken breast for lean protein to this side dish salad recipe to make it a full meal. Swap out the chicken with
Air Fryer Tofu
or
Smoked Tofu
for a vegan or vegetarian option. To make it keto or low carb, use sugar free maple syrup and skip the cherries. This recipe is perfect for meal prep!
Nutrition information is for one serving of the recipe and includes the optional chicken.
nutrition info disclaimer

All recipes on this website may or may not be appropriate for you, depending on your medical needs and personal preferences. Consult with a registered dietitian or your physician if you need help determining the dietary pattern that may be best for you.

The nutrition information is an estimate provided as a courtesy. It will differ depending on the specific brands and ingredients that you use. Calorie information on food labels may be inaccurate, so please don't sweat the numbers too much.
Nutrition
Calories:
484
kcal
Carbohydrates:
41
g
Protein:
34.4
g
Fat:
21.4
g
Saturated Fat:
2.6
g
Sodium:
154.1
mg
Fiber:
5.7
g
Added Sugar:
9.3
g
Vitamin A:
252.8
% DV
Vitamin C:
229.3
% DV
Calcium:
28.8
% DV
Iron:
17.9
% DV
🔥 Other Fast Recipes
Join our community! Subscribe for all of the latest and greatest recipes, and follow me on Facebook, Pinterest, Instagram, and YouTube!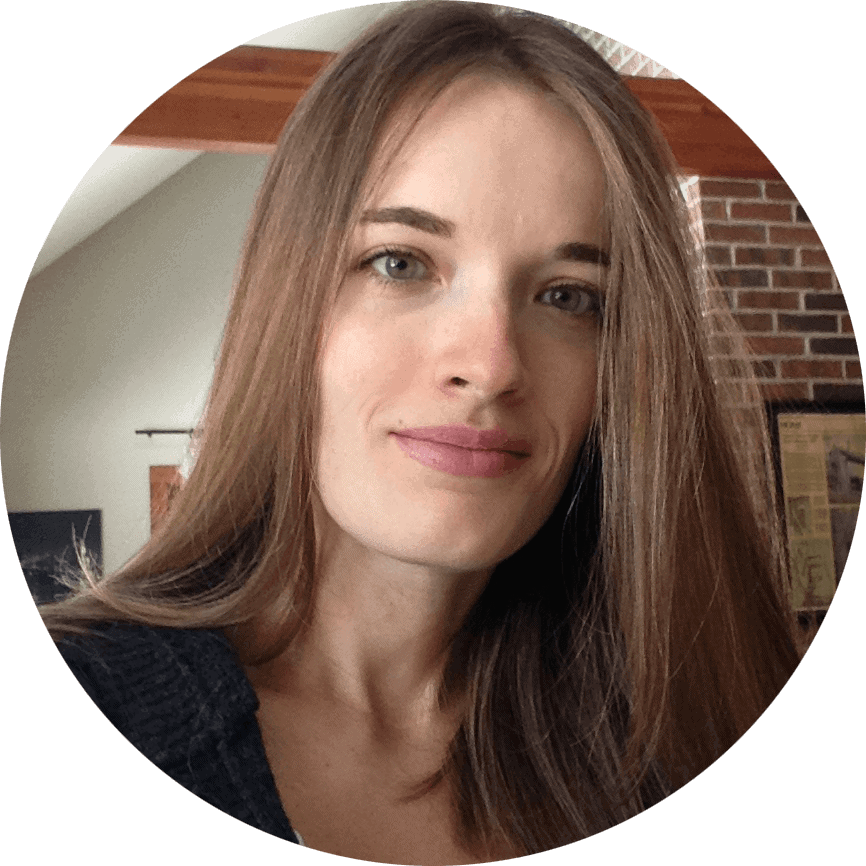 Hello! I'm Summer, a registered dietitian and home chef who loves to cook, eat, and create high quality content for you! Every recipe on this site has been tested by me to help ensure your success in the kitchen. All eaters are welcome here 🙂