Learn how to make easy high calorie vegan meals! Get tips to make vegan meals for weight gain, including modifications for special diets (such as low carb and gluten free). You'll love how easy it is to customize your high calorie vegan dinner using my vegan foods for weight gain list! High calorie plant based foods can be a wonderful foundation for healthy weight gain.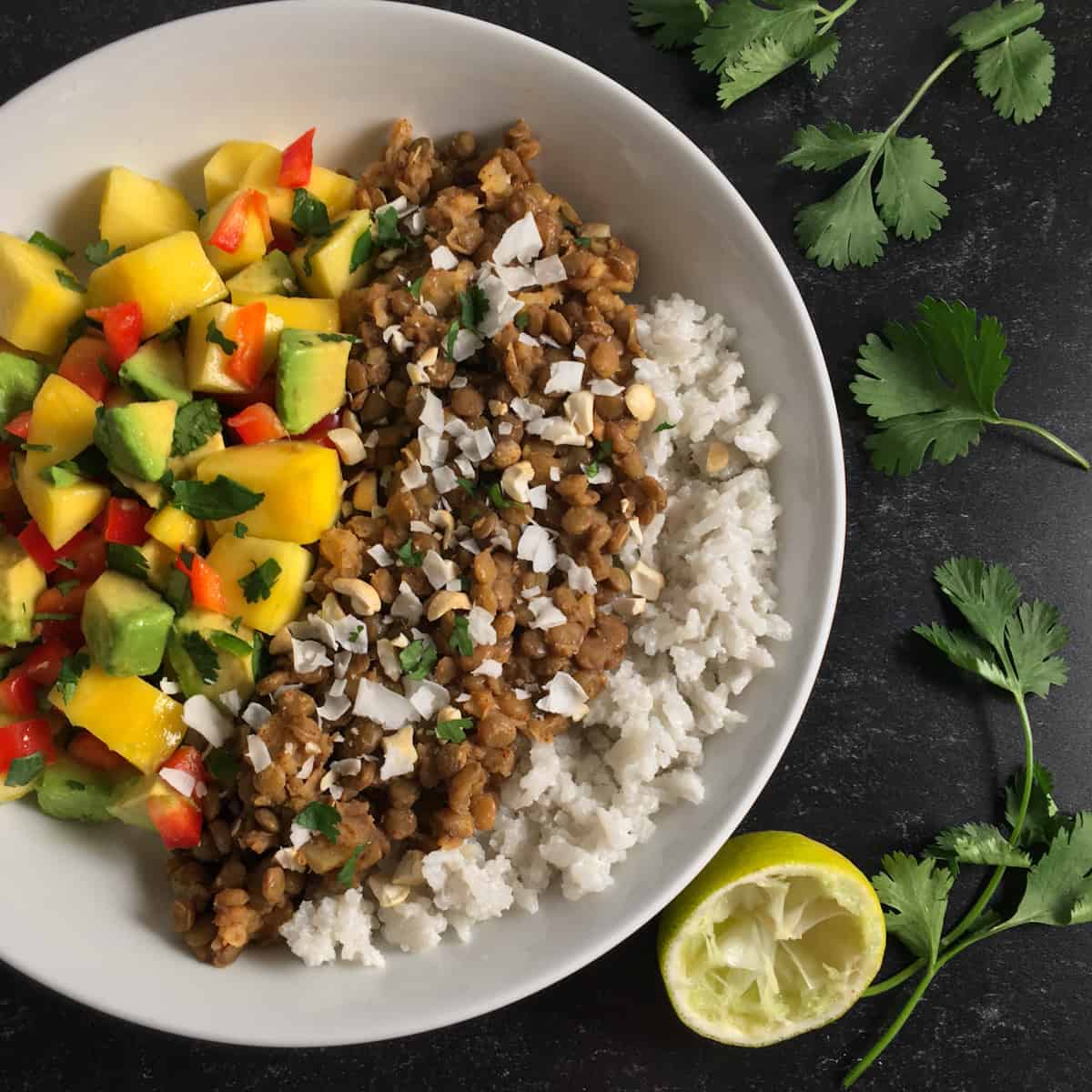 What can vegans eat to gain weight? It's easy to construct a high calorie vegan diet when you use calorie dense vegan foods.
By "calorie-dense," I mean foods that are high calorie and low volume. Foods that don't fill you up too early (before you eat enough calories) may help you gain weight.
No matter what type of diet you follow, you need to maintain a calorie excess to gain weight. Fats are the most calorie-dense macronutrient, so vegan recipes for vegan weight gain should not be low fat.
Luckily, there are many high fat vegan foods to add to a high calorie vegan dinner. These include olive oil, coconut, avocado, nuts, seeds, etc. I'm going to cover these in more detail below.
At the end of the article, I have a great example of a high cal vegan meal to help you gain weight. These tropical lentil bowls are served with rich and creamy coconut rice as well as a fresh mango-avocado salsa. Make this plant-based meal prep ahead, and you will have some crave-worthy lunches ready for you on busy weekdays.
Jump to:
🥘 25 High Calorie Vegan Meals
If you're looking for vegan meals for weight gain, you've come to the right place! Check out these 25 high calorie vegan recipes to help you on your journey:
High Calorie Vegan Breakfast
High cal vegan breakfasts can include things like smoothies, granola, and avocado toast. Here are some ideas to get you started:
High Calorie Vegan Lunch Ideas
The recipes in this section are mostly side dishes, and should be paired with some plant-based protein (next section). You could also make a high calorie sandwich, curry, lasagna, pasta salad, or something else if you don't like the burrito bowl and other ideas below:
High Protein Vegan Meals
Many of the best vegan protein sources are lean proteins, but that doesn't mean you should skip them. Protein is important in vegan weight gain meal plans (and all meal plans). You could make one of these recipes, or use store bought vegan burgers, seitan, tofu, hummus, and so on for convenience:
High Calorie Vegan Snacks
Snacking between meals can be another helpful weight gain strategy. Here are some easy vegan snack ideas for weight gain you may enjoy:
🌱 High Calorie Vegan Foods List
How do vegans get calories? Vegan high calorie foods, of course! (Of course, the moderate and low calorie foods also contribute).
When making meals for weight gain, try to get a balance of healthy fats, protein, and carbs in there. The below list includes some of the best vegan foods for weight gain, along with their calories and serving size.
Other dried fruits, nuts, and seeds (hemp, chia, sunflower, etc.) are also great options. Don't use a low-fat margarine substitute for a high calorie vegan recipe. You need high calorie foods to make a high calorie plant based meals!
📋 Calories in Vegan Foods
One serving of the high calorie vegan recipe at the end of the article has 793 calories, 90.4 grams net carbs, and 20.6 grams protein. It contains many energy-dense vegan foods, such as full-fat coconut milk, avocado, cashews, and coconut flakes.
⭐ High Calorie Vegan Meal Benefits
There are fake vegan meats, cheese, etc. substitutions currently available for just about any animal-based food that you can imagine. However, these products are usually ultra-processed and nutritionally inferior to the animal-based foods they replace. They typically require heavy fortification to mimic the nutrient content of animal-based foods.
Vegan cheeses, for example, often don't match the protein and calcium content of dairy cheese but are just as high in saturated fat. And unlike the naturally occurring fat in dairy cheese, the plant-based cheeses often contain a lot of added oil.
One big benefit of meal prepping high calorie vegan meals if that you can make them WFPB ("Whole Food, Plant Based"). This means they're filled with nutritious, healthy foods with nutrients contained within their natural food matrices. Here are some other advantages of this healthy vegan recipe:
Phytonutrients and fiber: The vegetables and other plant foods in this recipe are packed with beneficial phytochemicals and fiber.
Customizable: When you make your own food, you can make it lower fat or higher fat according to your preferences. If you're into bodybuilding, you can make high protein vegan meals.
Cheap: Lentils, rice, and some of the other foods in this recipe are some of the cheapest foods by calorie you can buy. If you want to gain weight without spending a lot of money, legume and grain-rich vegan recipes can help!
Gluten free vegan meal: This recipe is also naturally gluten free, perfect for those with celiac disease or non-celiac gluten sensitivity (NCGS).
Tasty: Plant-heavy meals can be delicious! The beautiful colors and complex flavors in this plant-forward dish make it easy to enjoy a hearty meal.
🔪 How to Gain Weight on a Vegan Diet
The bottom line of gaining weight on any diet is that you must consistently consume more calories than your body needs. Your body can then use this excess for muscle and fat stores.
It can often be easier to eat more when we are offered a variety of foods. (Think about how easy it is to overeat at a buffet.) This vegan meal contains three flavorful components: spiced pineapple lentils, creamy coconut rice, and a mango-avocado salsa.
Don't miss the full recipe at the bottom of the post!
🌡️ Reheating Vegan Meal Prep for Weight Gain
For meal prep, you'll need eight containers. Use four 3½-cup containers for the lentils and rice and four 2-cup containers for the mango-avocado salsa. I like to add the freshly chopped avocado in right before serving, to help prevent browning.
These foods can be kept covered in the fridge for up to 3-4 days. The lentils and rice freeze well, but the fresh salsa does not.
Reheat chilled lentils and rice in the microwave on high for 2-3 minutes. Use a microwave-safe container, and cover the food with a paper towel. Add the avocado mango salsa, and serve.
❓ Are there high calorie vegan meal delivery services?
If you don't mind cooking at home, Green Chef meal kits may meet your needs. You can read my review of Green Chef here: Green Chef review. Purple Carrot is another option that offers some vegan meals above 600-700 calories.
💭 Expert Tips from a Dietitian
This is a level 3 recipe (weight maintenance and active lifestyles). This meal is a bit of a "healthy decadence," with all of the lush coconut milk. If it's too rich for you, make the rice with 1¼ cups water and 1¼ cups coconut milk instead. (This swap will lower the calories, but may be a good idea if it helps you eat more.)
This meal is not low fat or low saturated fat. Some fat in the diet is essential; it's particularly critical when you're trying to increase energy-dense foods for weight gain.
High-fat foods pack a lot of calories into a small volume. While carbs and protein provide 4 calories per gram, you get 9 calories per gram with fats. This may make it easier to eat an excess of calories for weight gain before you get full.
Whether you are vegan or not, and regardless of your weight composition goals, it's important to eat a balanced diet. You want to make sure you are eating a large enough variety of foods to meet your essential vitamin and mineral needs. You also want to get adequate amounts of the essential amino acids and essential fatty acids.
This recipe showcases some of variety that is available with plant-based diets. If well planned, you can meet your weight gain goals with a vegan diet. (P.S. If constructed differently, you can use a vegan diet for weight loss too.)
FAQs
👩‍🍳‍ Other High Calorie Recipes
Want more high calorie dinner meals or high cal breakfasts? Try these:
If you're an omnivore, don't miss the entire collection of High Calorie Recipes. And here's our collection of Vegan Recipes.
Join our community! Subscribe to be kept up-to-date on all of the latest and greatest recipes! You can also follow me on Pinterest, Twitter, Instagram, and YouTube!
The Disclaimer…
All recipes on this website may or may not be appropriate for you, depending on your medical needs and personal preferences. Consult with a registered dietitian or your physician if you need help determining the dietary pattern that may be best for you.
The nutrition information is an estimate provided as a courtesy. It will differ depending on the specific brands and ingredients that you use. Calorie information on food labels may be wildly inaccurate, so please don't sweat the numbers too much.
For more information on how the three recipe levels may help with a weight management goal, refer to my overnight oats no sugar post. Let's get cooking!
📖 Recipe